Love a big bowl of soup? I've gathered my favorite soup recipes, including my favorite stews and chilis. Here are 40 soup recipes that are perfect for a cold night, or when you're craving a big bowl of comfort food!
There are lots of soup recipes to choose from here, but if you want even more, make sure to check out all of our Soup Recipes!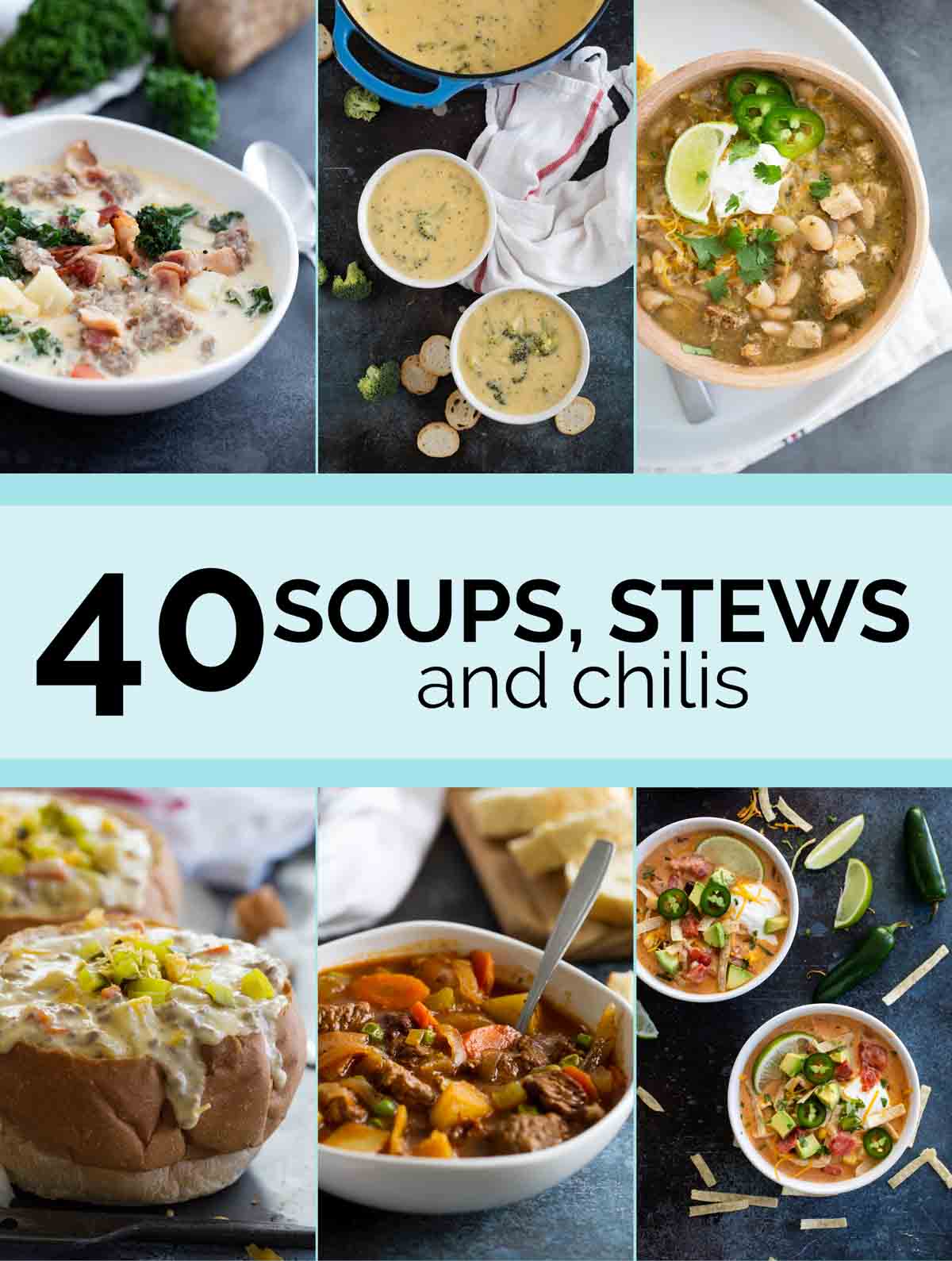 Who is tired of winter? Raise your hand!
Me, me, me!! I can't tell you how ready I am for warm days and picnic lunches and late sunlight. I would be more than happy if I didn't have to endure another snowstorm this year. I'm looking forward to watermelon and lemonade and ice cream sandwiches.
But too bad mother nature doesn't see it the same way. At least not quite yet. There is still some winter to be had. Technically, only a few more weeks. But since I live in Utah, and the snowstorms can last until April or May, I guess I'd better find a way to make it through it.
And that way is food. Soups. Warm stews. Hearty chili to warm you from the inside out. I guess that is one good reason that winter isn't gone quite yet.
I've pooled together 40 of my favorite soup recipes to keep you warm until the weather starts to do that.  There's plenty of time to make one or two!!
Soup Tips and Tricks
Make sure you read through your recipe before you start. And make sure you have all of the ingredients. There's nothing worse than getting halfway through a recipe and realizing you are missing one ingredient.
I like to do as much prep work before I start the recipe as I can, like dicing any vegetables or measuring out liquids.
Remember that a recipe is mostly just a guideline – if you don't like one ingredient, swap it out if it makes sense. Spices are easy to change up. Make it your own!
If a recipe calls for a broth, (like chicken broth or beef broth), you can swap in stock, or vice versa. Just remember that broth is thinner and doesn't have as much flavor as stock. Most of my recipes call for broth because it is more affordable and easier to find.
Keep the dice on vegetables even so that they cook evenly. You also want to make sure you don't cut them too big.
Making Soup Ahead of Time
Most soups can be made ahead of time, and many get better if they cook longer. But it's important to read the recipe and determine if the soup recipe you've chosen will work.
Most chilis do really well if you make them ahead of time. The flavors tend to meld together and become better.
If a soup calls for pasta, do not add the pasta if you are making it ahead of time. You can cook the pasta separately and add it just before serving.
If you have a soup simmering on the stove for longer than the recipe calls for. some of the liquid will evaporate, so you may need to add more liquid.
How to Freeze Soup
I freeze soups more than I freeze anything else. Many of them freeze very well! But if a soup has a lot of dairy, pasta, or potatoes, I tend to skip those. Dairy and potatoes tend to get really grainy once thawed, and if there is a lot of pasta, it can get mushy. Some soups with pasta will freeze well, though, so sometimes it takes some trial and error.
When freezing soup, make sure it is at room temperature or cold from the refrigerator before freezing it.
I like to transfer the soup to a ziplock bag. Then I will put that bag on a baking sheet and put it in the freezer. Once the soup is frozen, remove the baking sheet, and you have a flat bag of soup that's easy to stack and store.
When ready to eat the frozen soup, it's easiest to place the soup in the refrigerator to let it thaw overnight. Many soup recipes can also be added directly to a slow cooker where it can thaw and reheat.
Soup Recipes
Now that you've got all of the tips and tricks, here are my 40 favorite soup, stew, and chili recipes!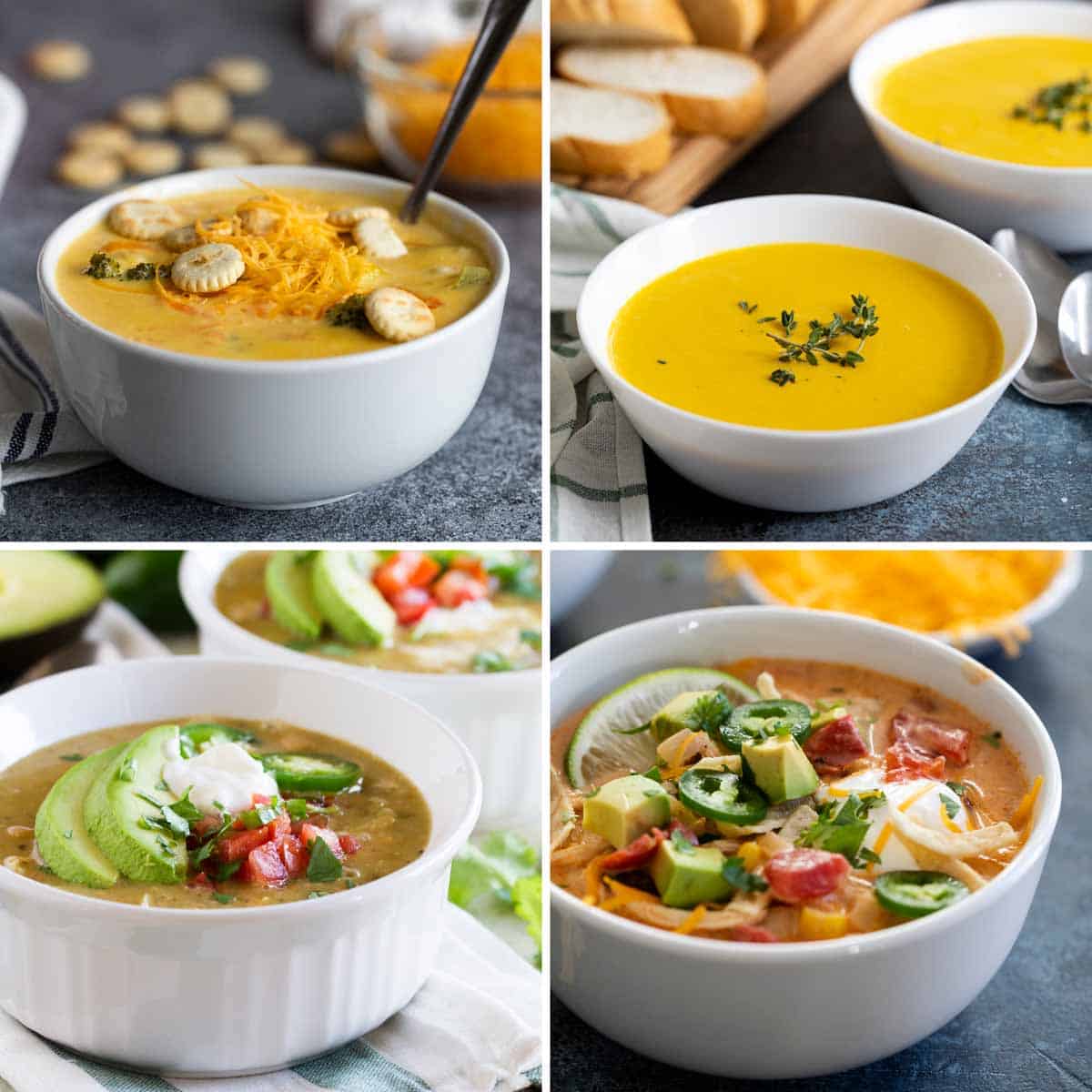 Broccoli Cheddar Soup – This soup only uses real cheddar, and you get tons of veggies in this one, too!
Butternut Squash Soup – I love that this soup is creamy and filled with butternut squash flavor. And it's a bonus that it's made in the slow cooker!
White Chicken Chili – I've been making this version of chili for years and years. It's my favorite white chili recipe.
Creamy Chicken Tortilla Soup – Feeling like a little bit of Tex-Mex? This soup is what you need!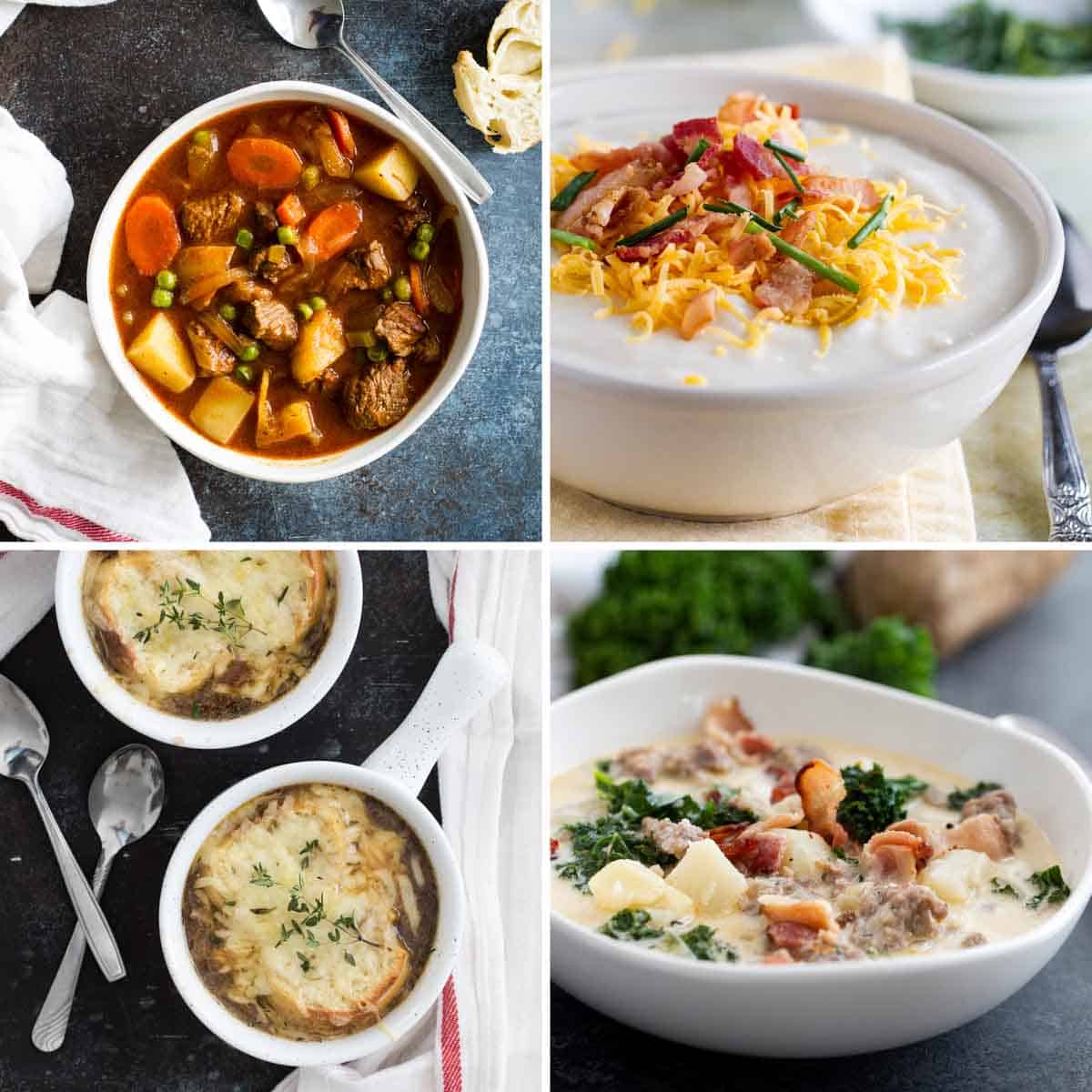 Homemade Beef Stew – This is the most comforting stew – perfect for a cold night.
Crockpot Potato Soup – All the flavors of a baked potato in a soup!
French Onion Soup – There is something about this soup that always seems a bit fancy to me, so it's perfect for a date night in.
Zuppa Toscana – If I'm craving soup, this is the recipe I'll most likely be grabbing. This is one of my all-time favorite soups.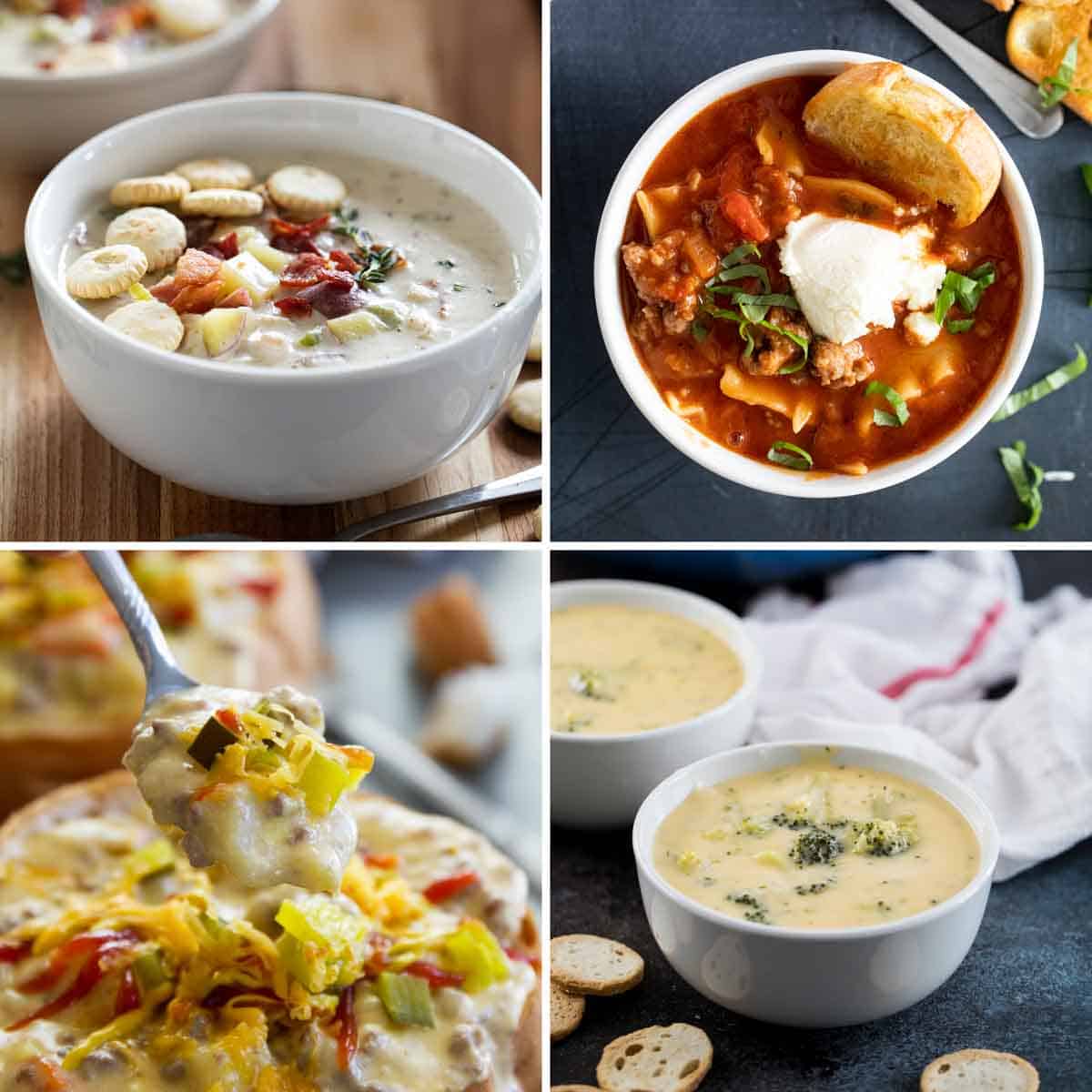 Clam Chowder – I'm pretty picky when it comes to clam chowder, so you can believe me when I say this one gets two thumbs up.
Lasagna Soup – This soup is so packed with flavor! It's perfect with some fresh French bread.
Crock Pot Cheeseburger Soup – Break out the slow cooker for this family favorite.
Broccoli Cheese Soup – If you are looking for a super creamy broccoli cheese soup, this is the one you want. So good!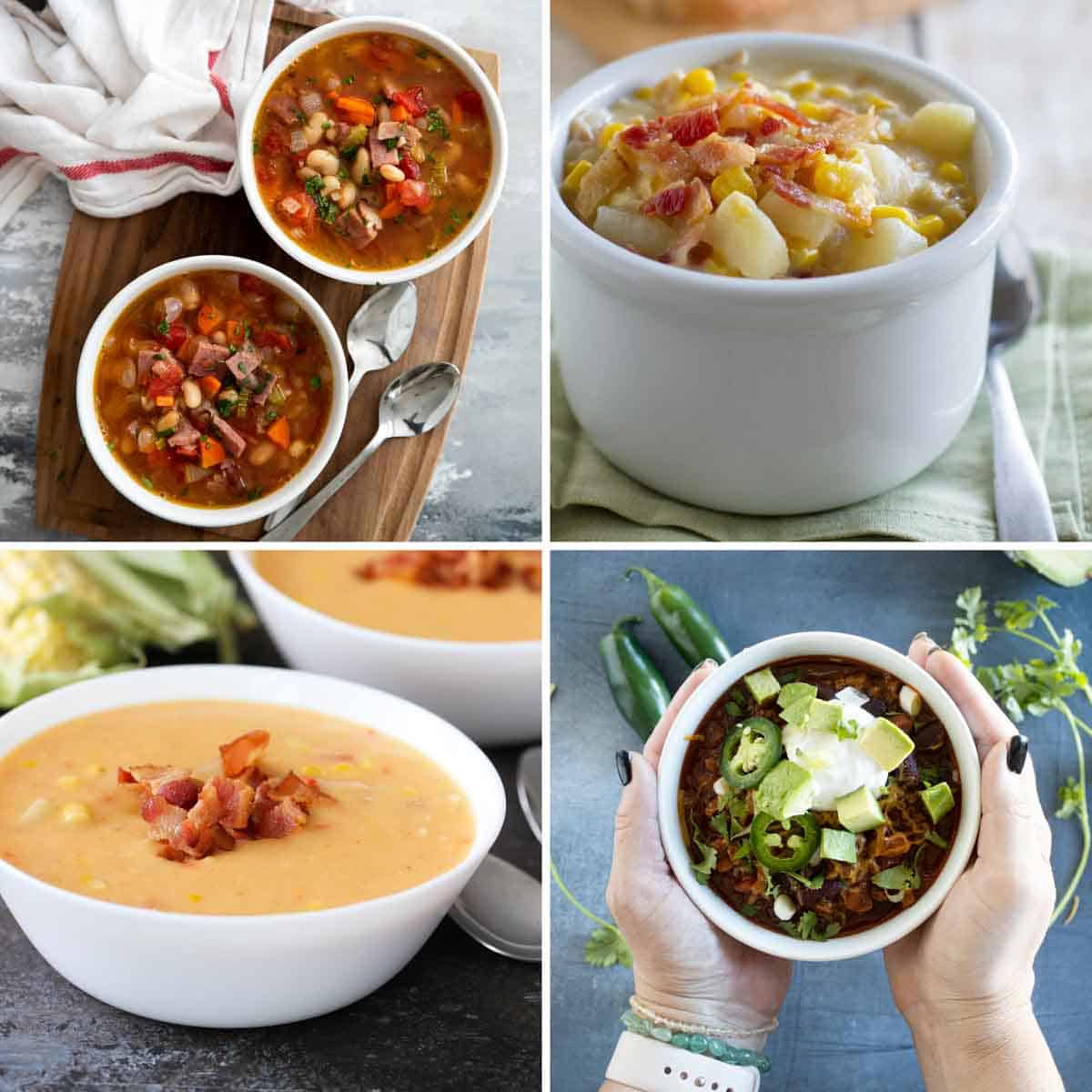 Ham and Bean Soup – Another great soup that uses up leftovers, this is packed with flavor.
Crock Pot Corn Chowder – You can make this with fresh or frozen corn, so you can make it all year long.
Corn Chowder with Bacon – This is an easy corn chowder that can be made easily on a weeknight.
Crock Pot Chili – I make this chili recipe more than any other. It's super easy, cooks all day in the slow cooker, and we never have any leftover because everyone loves it.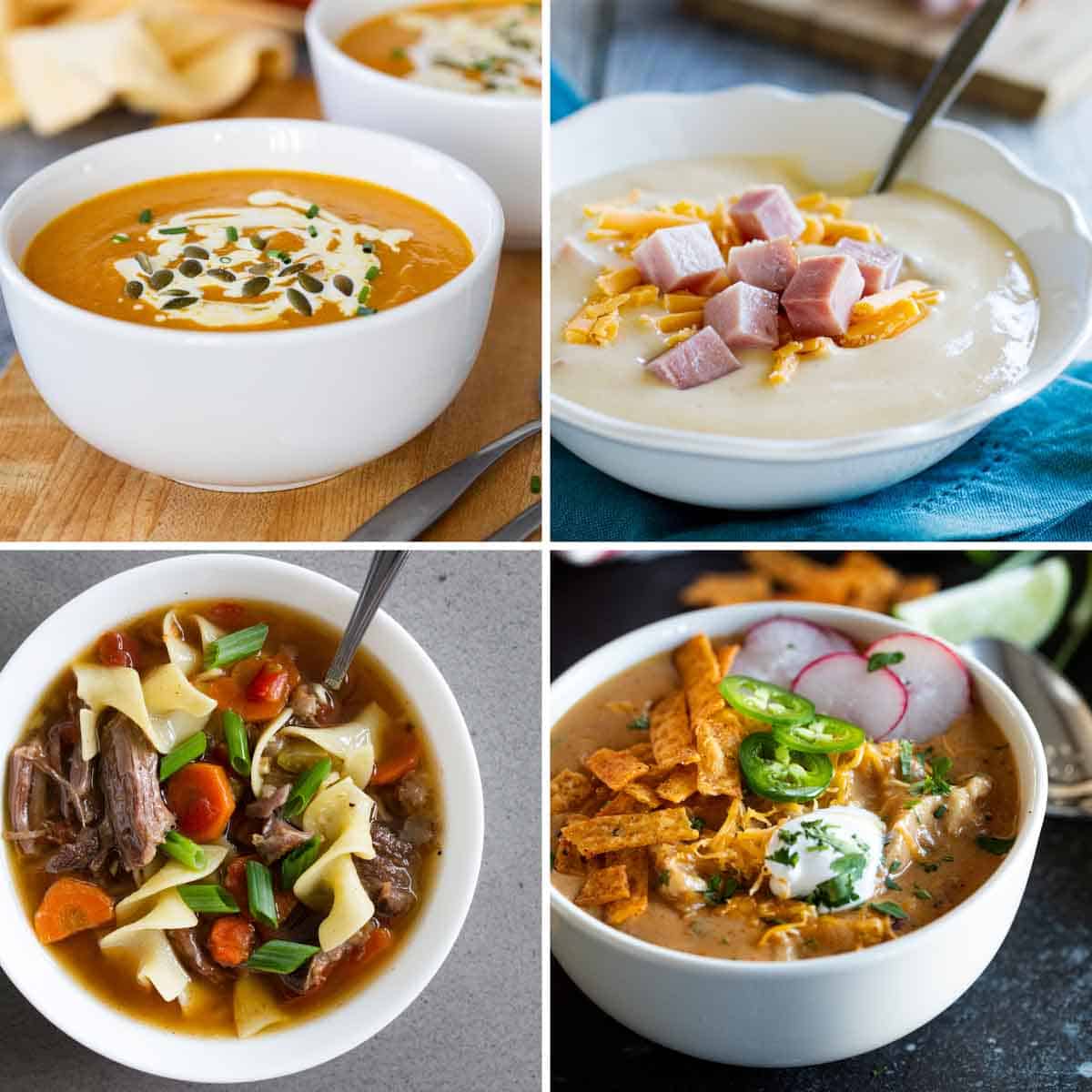 Pumpkin Soup – This pumpkin soup is so good that I'll make it year round – no need to wait for autumn!
Cauliflower Soup with Ham and Cheese – I actually like to make this when I have leftover Easter ham, but you can easily leave the ham off, as well.
Slow Cooker Beef Noodle Soup – This is hearty and delicious, and bonus is that it's made easier by letting it cook in the slow cooker.
Chicken Enchilada Soup – Skip the rolling and make your enchiladas into soup, instead!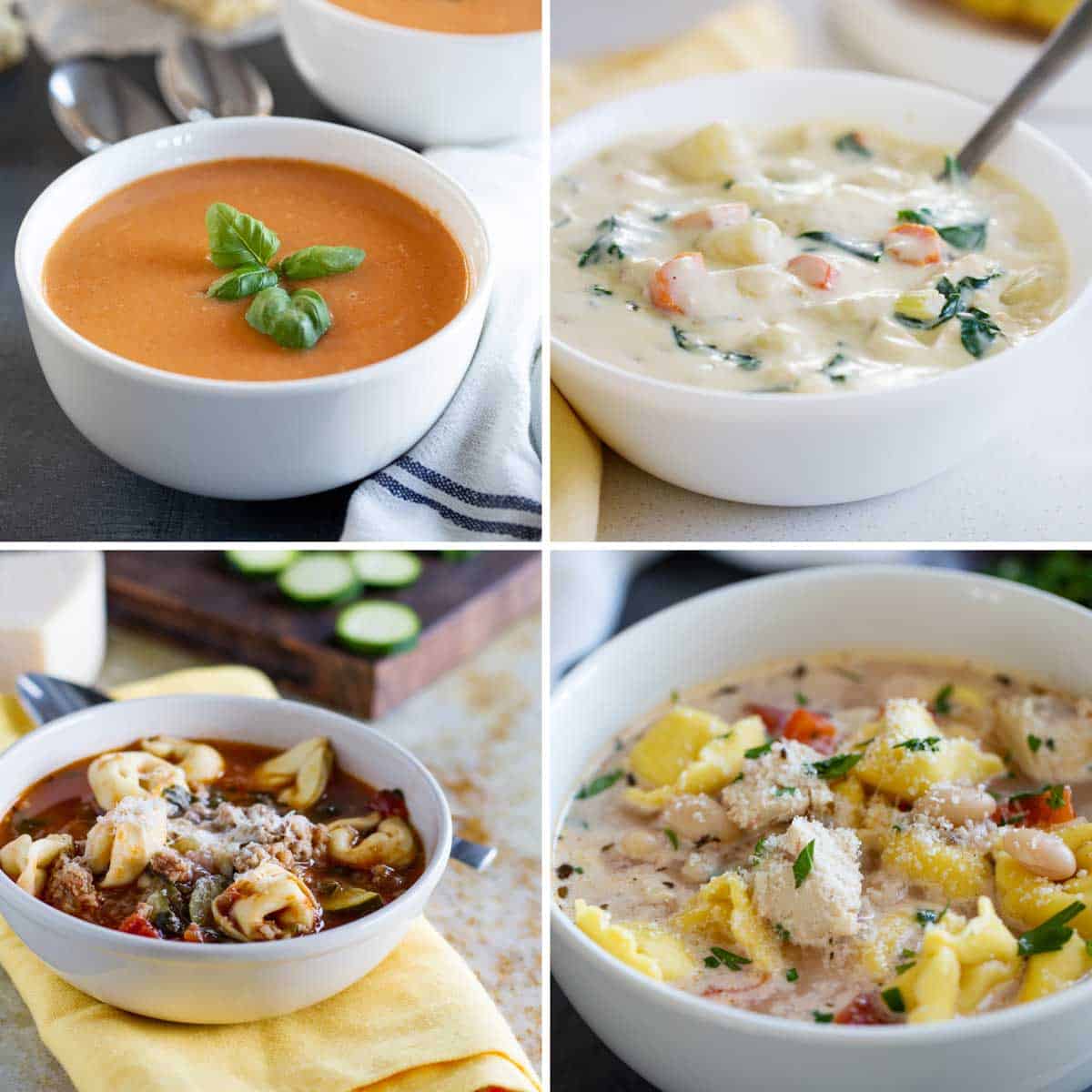 Tomato Basil Soup – This is another great slow cooker soup. Serve it up with a grilled cheese sandwich for an easy dinner.
Chicken and Gnocchi Soup – A knock of off the Olive Garden favorite, this one just might be better than going out!
Sausage Tortellini Soup – this soup is packed with flavor! I also love that it has a lot of vegetables.
Chicken Tortellini Soup – Make this one easier by having your chicken cooked ahead of time. It's creamy and delicious!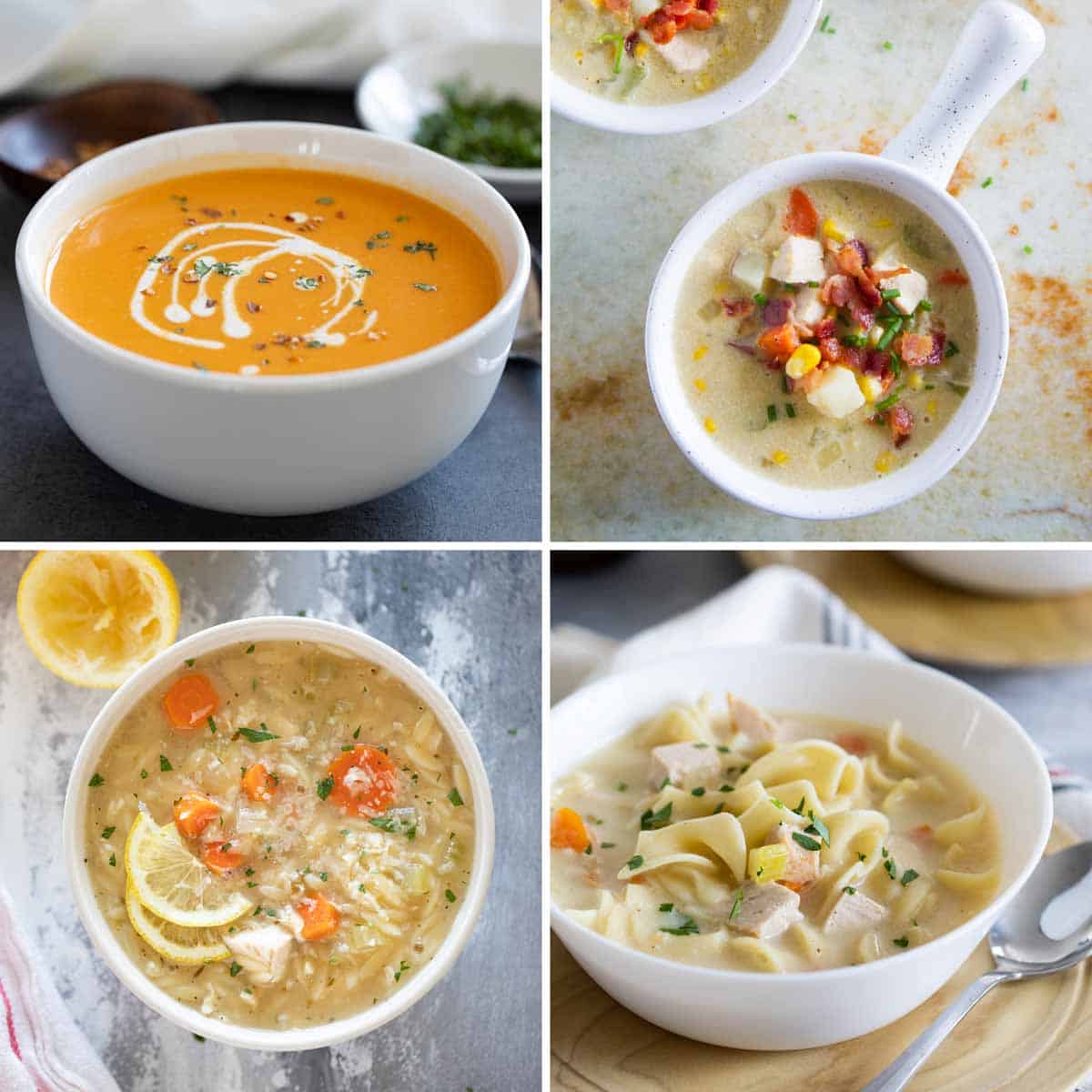 Sweet Potato Soup – If you love sweet potatoes, this one is for you! It's not necessarily filling enough for dinner, but would make a great starter or a great lunch.
New England Chicken Corn Chowder – I love that this recipe has all of the great chowder ingredients, plus chicken to make it super filling.
Lemon Chicken Orzo Soup – I love the fresh flavors of this soup. It's comforting, yet light.
Turkey Noodle Soup – This is another favorite when I have leftover turkey.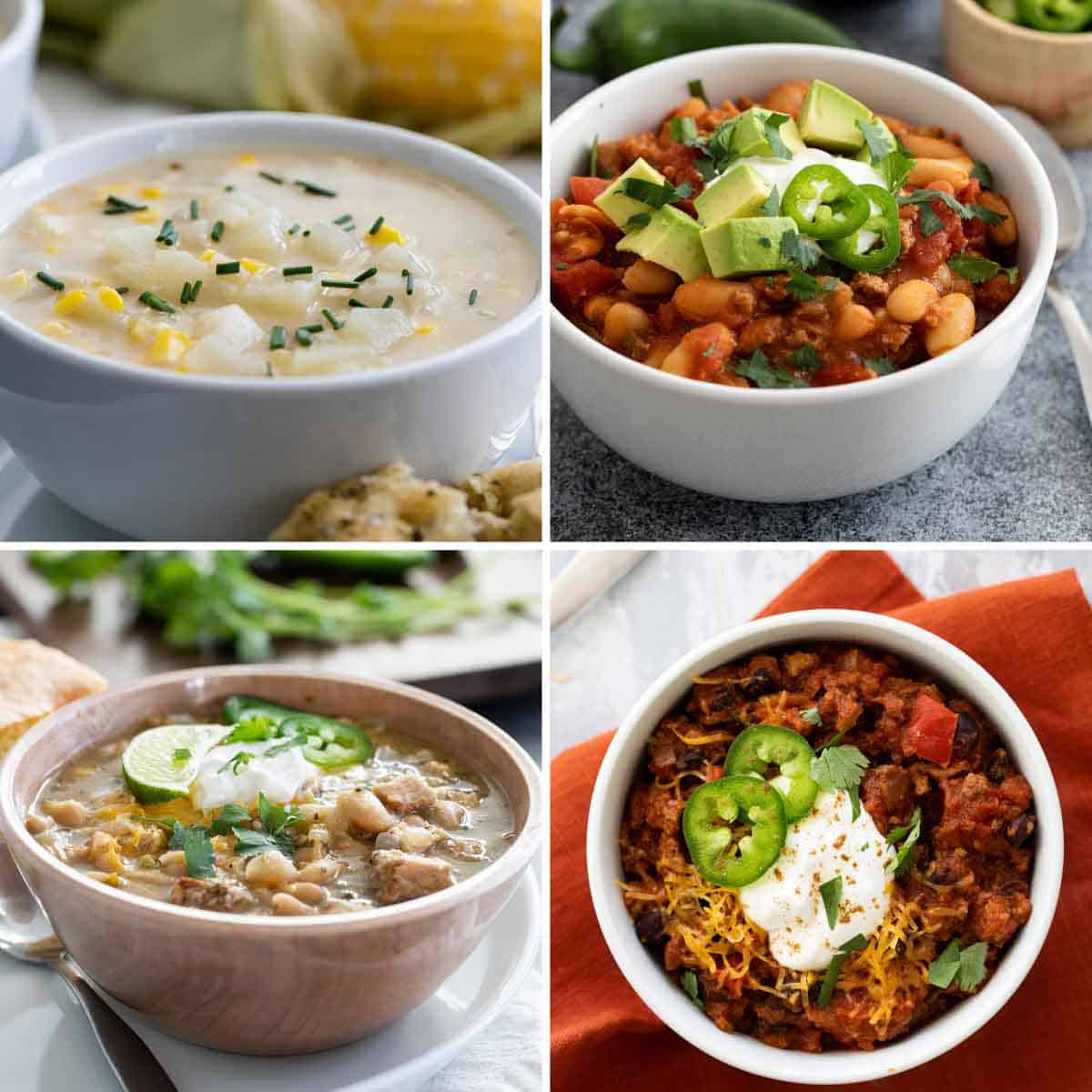 Potato Corn Chowder – I'm cheating a little bit by including this recipe in a round up of soups to warm you up, because this is a perfect end of summer soup. But if you have some corn frozen in the freezer, you can swap that in.
Ground Turkey Chili – A healthier, fast chili recipe, this one hits all the right notes!
White Turkey Chili – This is perfect for the day after Thanksgiving, but you can also sub in chicken and make it all winter long.
Pumpkin Chili – I love every kind of chili, but this one is fun for when you want to change things up.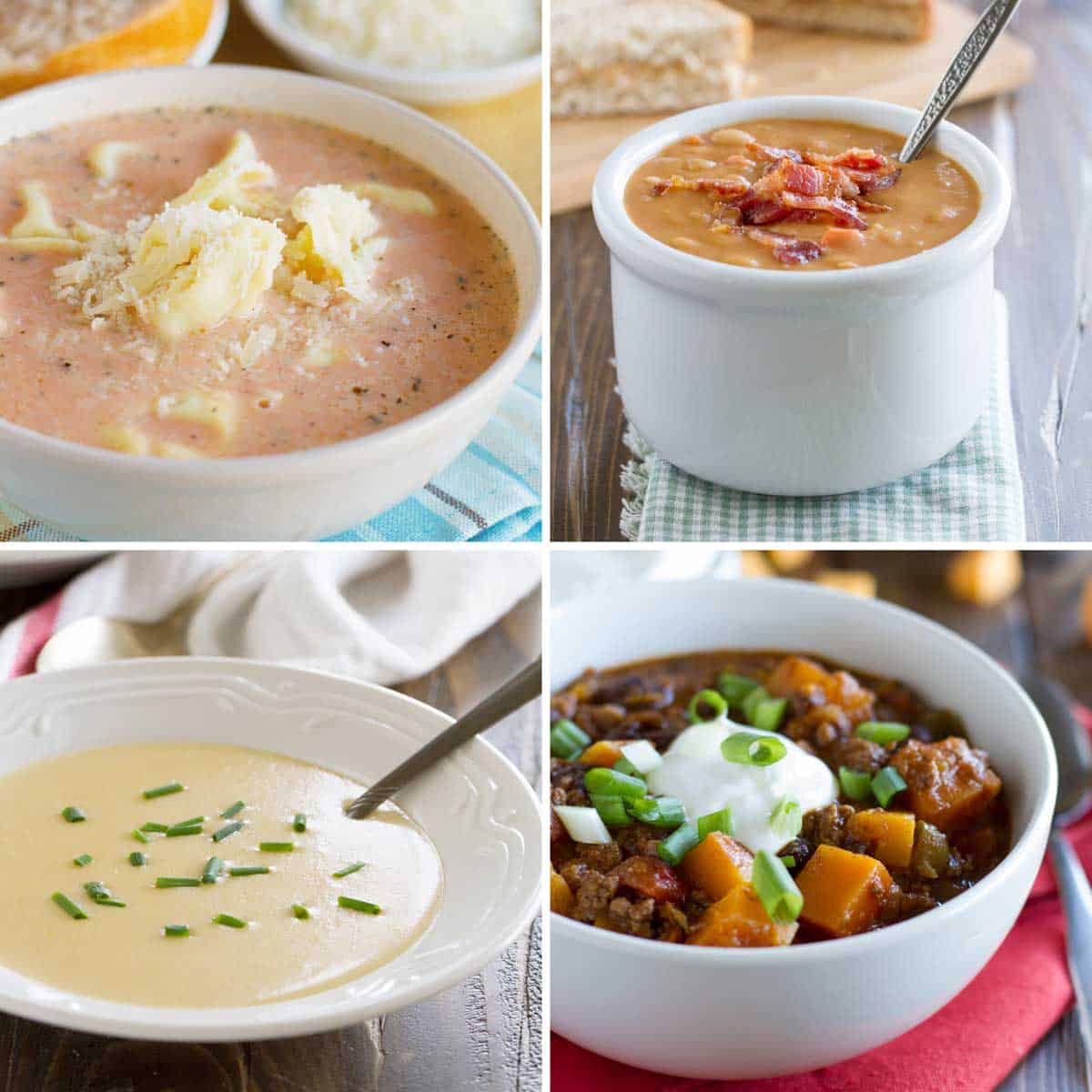 Tomato Tortellini Soup – This soup has so much tomato flavor, and is made into a hearty meal by adding tortellini.
Homemade Bean and Bacon Soup – So much better than canned! Just read the reviews on this one – so many other people agree with me!
Cheddar Cheese Soup – This is based on an old time recipe that would be served to special guests.
Butternut Squash Chili with Beef – Make this for your next chili cook off. It's always a hit and a great way to change things up.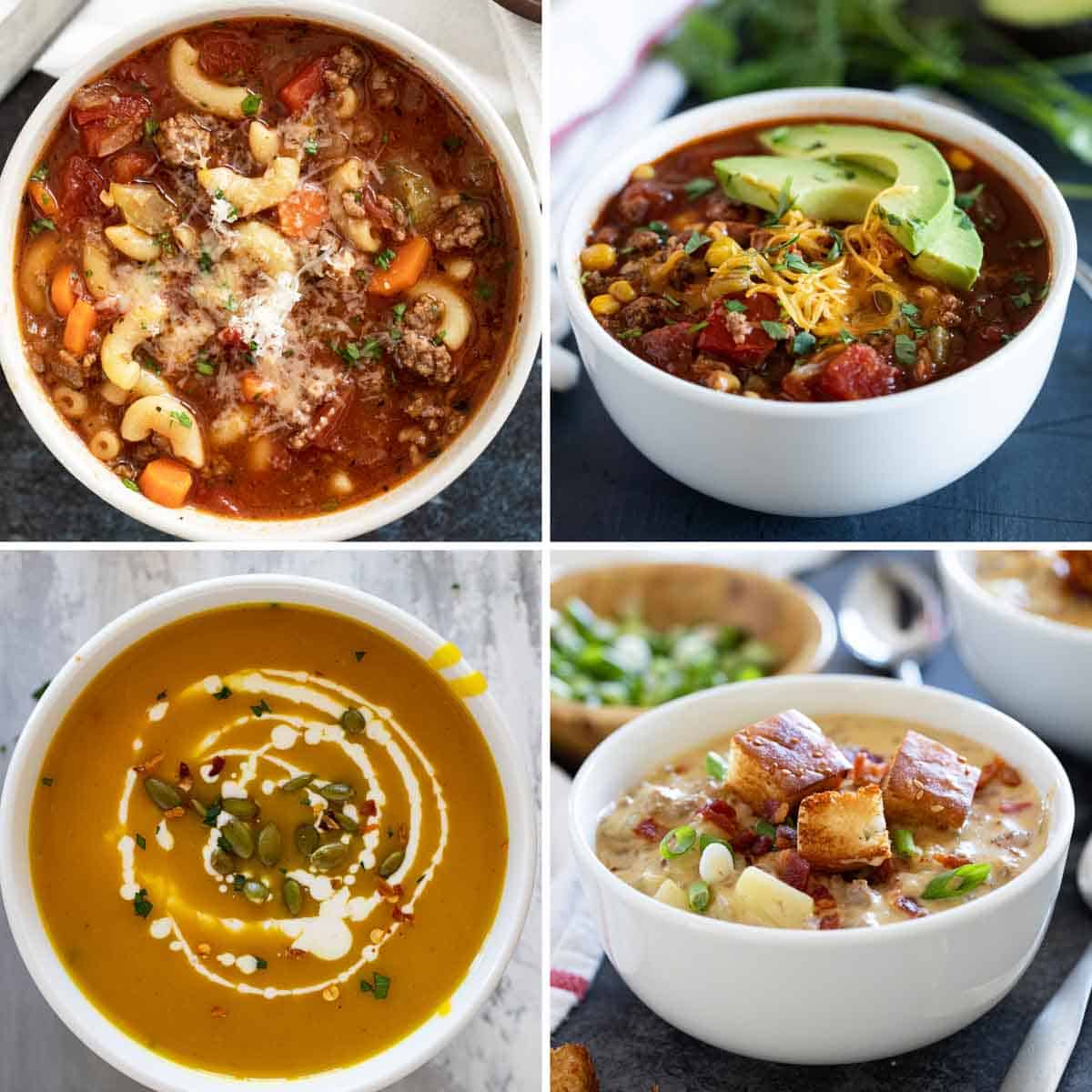 Hamburger Soup – A soup from my childhood, this soup is a family hit!
Taco Soup – Skip taco Tuesday and make this Taco Soup instead.
Curried Butternut Squash Soup – The curry flavor in this soup is just perfect. This makes the perfect lunch.
Bacon Cheeseburger Chowder – This is similar to my cheeseburger soup, but done much quicker.