Welcome to Taste and Tell Thursdays! Come link up your posts below!

Who is tired of winter?  Raise your hand!
Me, me, me!!  I can't tell you how ready I am for warm days and picnic lunches and late sunlight.  I would be more than happy if I didn't have to endure another snowstorm this year.  I'm looking forward to watermelon and lemonade and ice cream sandwiches.
But too bad mother nature doesn't see it the same way.  At least not quite yet.  There is still some winter to be had.  Technically, only a few more weeks.  But since I live in Utah, and the snowstorms can last until April or May, I guess I'd better find a way to make it through it.
And that way is food.  Soups.  Warm stews.  Hearty chili to warm you from the inside out.  I guess that is one good reason that winter isn't gone quite yet.
I've pooled together 40 of my favorite soup recipes to keep you warm until the weather starts to do that.  There's plenty of time to make one or two!!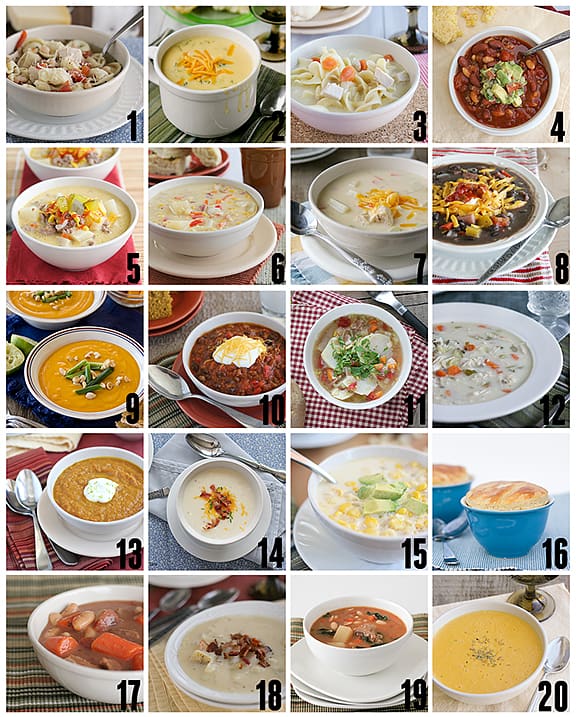 1 – Easy Chicken Tortellini Soup 2 – Cheesy Vegetable Chowder 3 – Creamy Turkey Noodle Soup 4 – Easy Slow Cooker Chili with Avocado Salsa 5 – Slow Cooker Cheeseburger Soup 6 – Slow Cooker Bacon and Corn Chowder 7 – Cheesy Chicken Chowder 8 – Black Bean and Ham Soup 9 – Thai Butternut Squash Soup 10 – Slow Cooker Pumpkin Chili 11 – Bacon, Leek, Potato and Tomato Soup 12 – Creamy Wild Rice and Turkey Soup 13 – Spicy Carrot Ginger Soup 14 – Baked Potato Soup 15 – Crab and Corn Soup 16 – Salmon and Dill Chowder 17 – Tuscan Beef Stew 18 – Baked Potato Soup 19 – Asturian Beef Stew 20 – Creamy Butternut Squash Soup
21 – Tomato Basil Parmesan Soup 22 – Crock Pot Chili 23 – Sausage-and-White Bean Cassoulet 24 – Chicken Enchilada Soup 25 – Corn and Chipotle Chowdah 26 – Turkey and Bean Chili 27 – Chicken and Cheese Enchilada Chowder 28 – Toasted Orzo Chicken Soup 29 – Moroccan Lentil Stew 30 – Cream of Tomato Soup 31 – Corn Sausage Chowder 32 – Slow Cook Tuscan Sausage and Bean Soup 33 – Onion Chowder 34 – French Onion Bread Soup 35 – Corn and Bacon Chowder 36 – Broccoli Cheese Soup 37 – Clam Chowder 38 – White Turkey Chili 39 – Minestrone 40 – Creamy Sweet Potato Soup