Skip the can – this Homemade Bean and Bacon Soup is hearty and filling and filled with veggies and chunks of bacon!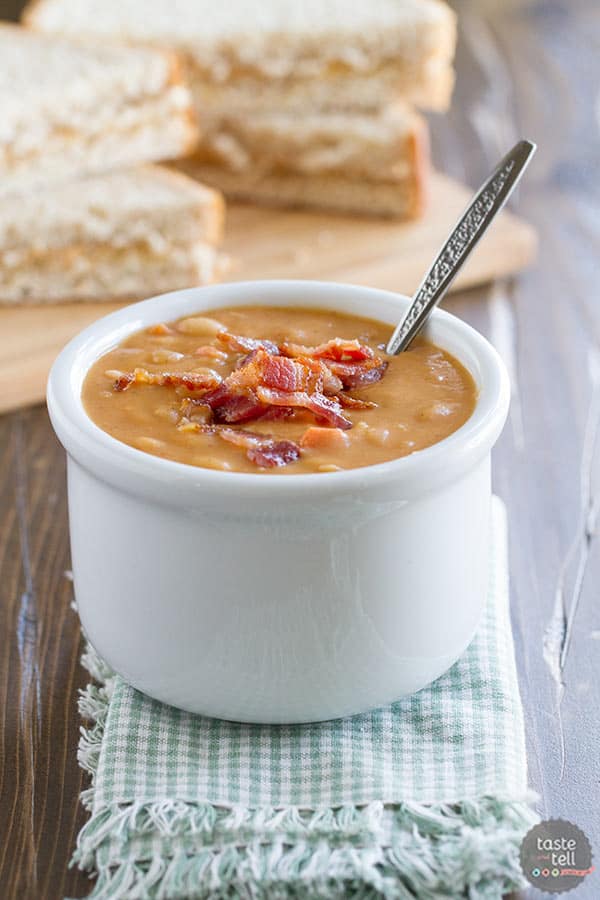 Growing up, Sundays were always the same. If we had morning church, we would come home from church, and lunch would be soup and sandwiches. I don't remember ever having anything but soup and sandwiches for lunch on Sundays.
My mom would heat up several different kinds of canned soup, then make up a bunch of peanut butter sandwiches. We are a family that likes to dip, and peanut butter sandwiches got dipped into the soup. So the majority of the sandwiches were just peanut butter, but there were always some with peanut butter and honey. (And for the record – I must have always loved the sweet and salty combination, because to this day, I love a peanut butter and honey sandwich dipped into my soup!)
One of my favorites on those Sunday afternoons was the bean with bacon soup. I don't know why I loved it so much, but I would always choose it over the chicken noodle or split pea with ham.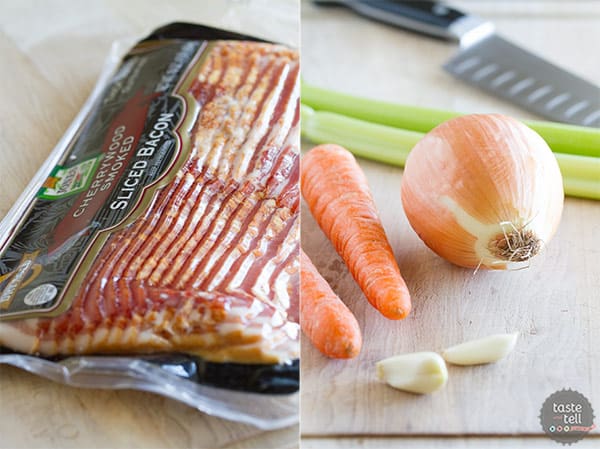 Well, my daughter has this love of soup. She would probably eat homemade soup every day if I made it for her, but since that's just not possible 🙂 we always have a few cans of chicken noodle soup on hand. That girl can eat an entire can of soup for lunch herself.
One day, at the grocery store, I was letting her choose out a few cans of soup. And there I saw it – the Bean with Bacon soup. I decided to buy a can to have on hand for if I ever wanted to eat it for lunch.
Fast forward a few weeks, and my daughter gets home from school, asking for soup for lunch. I go to the pantry, and not a can of her beloved chicken noodle soup left. She sees my can of Bean and Bacon soup, and asks for it. I begrudgingly say yes.
And then she only eats like 2 bites of the soup. After she left the table, I decide to eat a bowl of it for lunch since it was already open and out.
And I ate about 2 bites of it and was done.
I don't know if my tastebuds have just grown up, or what, but I did not like it. It tasted overwhelmingly of smoke, and not like real smoke. Like liquid smoke.
It tasted completely fake.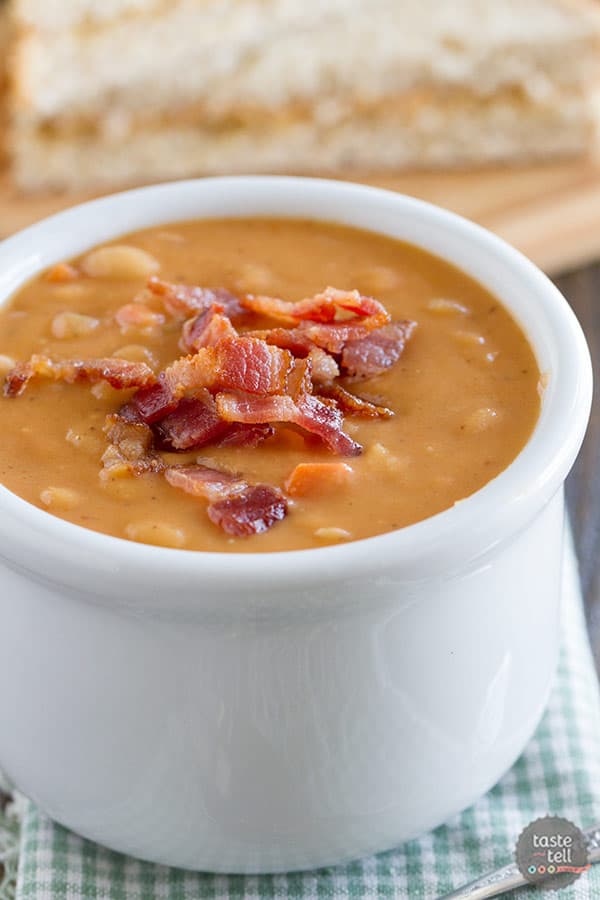 I was sad, but only for a minute. Because right then, I decided that I needed to make a homemade bean and bacon soup – with flavor from real smoked bacon.
One eye opener for me when I visited the Culinary Institute of America with Jones Dairy Farm last year was that a lot of companies use liquid smoke to flavor their meats and bacon. I felt duped. When something says smoked, I'm thinking it's actually spent some time in a smoker, but that isn't always the case.
For my soup, I knew I wanted actual smoked bacon, not liquid smoke or bacon that had been flavored with liquid smoke. So naturally, I chose my favorite Jones Dairy Farm bacon – their Dry Aged Cherrywood Smoked Bacon. I've said it here a thousand times before, but no other bacon compares to this bacon in my eyes.
After choosing the perfect bacon, the rest was pretty easy. Some beans, veggies and chicken broth are cooked together. Half of the mixture is pureed to give you that thick, creamy texture. Add in some tomato sauce and stir in the bacon – it's the soup that blows that soup of my childhood out of the water. Seriously – this bean and bacon soup was so good – there will be no more cans of soup in my future!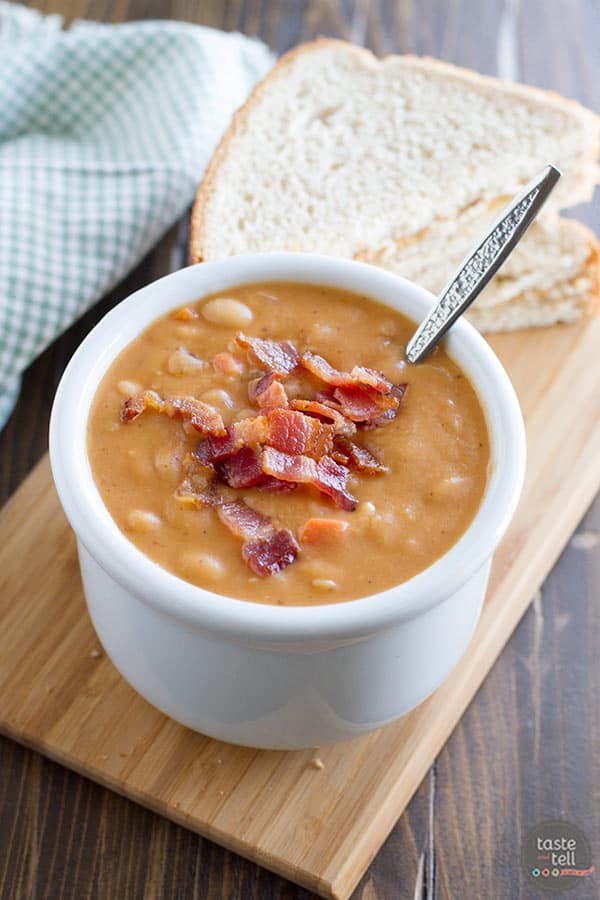 WATCH HOW TO MAKE THIS HOMEMADE BEAN AND BACON SOUP BELOW!
Like what you see here? Make sure you are following Taste and Tell for more great recipes and ideas!!

Facebook ** Pinterest ** Twitter ** Instagram ** Google+
or you can subscribe to my newsletter or Feedly or Bloglovin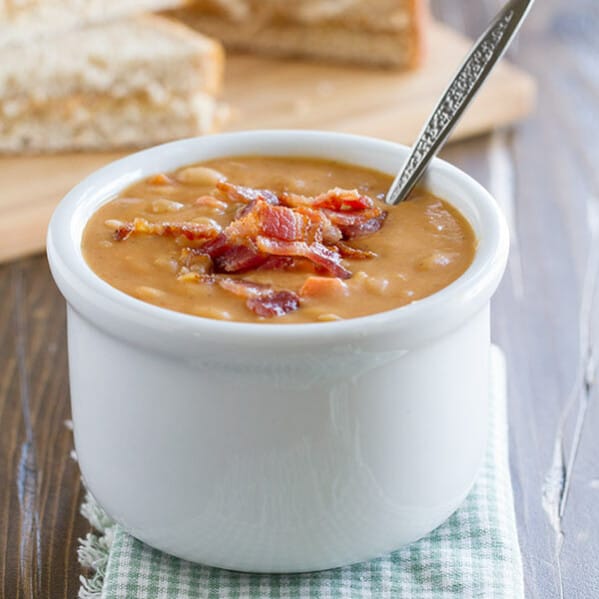 Homemade Bean and Bacon Soup
---
Author:
Prep Time: 15 mins
Cook Time: 1 hour 15 mins
Total Time: 1 hour 30 mins
Yield: 4 servings 1x
Description
Skip the can – this Homemade Bean and Bacon Soup is hearty and filling and filled with veggies and chunks of bacon!
---
Scale
Ingredients
8 oz. Jones Dairy Farm Cherry Hardwood Smoked Bacon, diced
1 cup diced yellow onions
1 cup diced carrots
1 cup diced celery
2 cloves garlic, minced
4 cups chicken broth
3 cans (15 oz each) Great Northern beans, drained and rinsed
salt and pepper
1 can (8 oz) tomato sauce
---
Instructions
Cook the bacon in a soup pot or Dutch oven until crisp. Remove with a slotted spoon to a paper towel lined plate. Discard all but about 2 tablespoons of the bacon grease.
To the hot bacon grease, add the onions, carrots and celery. Cook over medium heat until they start to soften, about 5 minutes. Add the garlic and cook an additional minute. Stir in the chicken broth and beans. Season to taste with salt and pepper. Bring to a bubble then reduce the heat to low and let the soup simmer for 1 hour.
Remove half of the soup to a blender or food processor. Process until smooth. Return the puree to the soup pot and stir into the remaining soup. Add the tomato sauce and 3/4 of the reserved bacon and stir to combine. Taste and season to taste with salt and pepper. Let the soup simmer until it is heated through, about 5 minutes. Serve topped with the remaining bacon.
Don't miss a thing! Follow me on Pinterest to see what I'm pinning!
Visit Taste and Tell's profile on Pinterest.



I am in a working relationship with Jones Dairy Farm, and this post has been sponsored. I'm so glad to be able to work with companies and organizations that I truly believe in. Thank you for supporting them, too.