No one will even know this Tomato Tortellini Soup starts with a short cut! This soup is filled with tomato flavor and the tortellini makes it nice and hearty.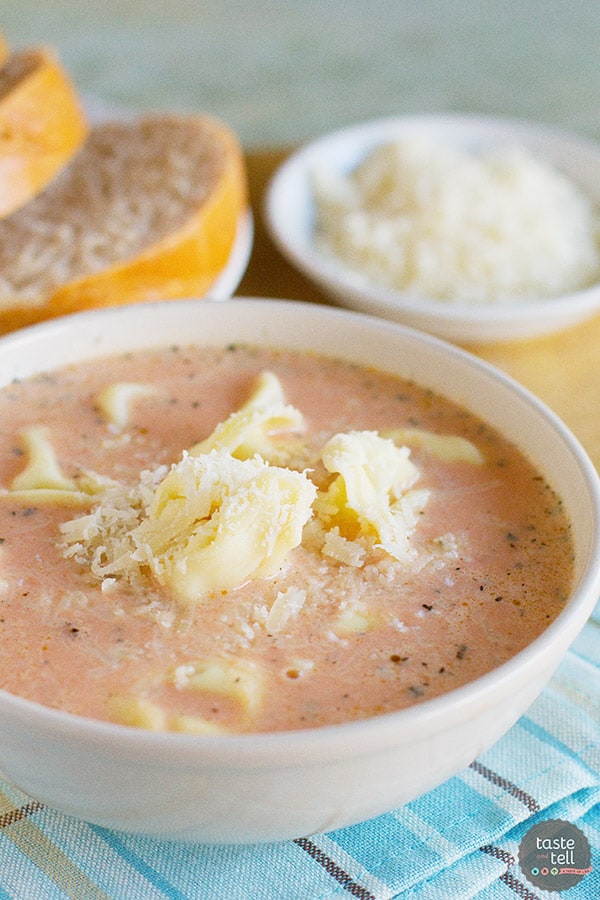 I have always said that I work best under pressure. It's not how I prefer things, but how things always end up. But I think I'm gonna make it!
At the beginning of the year, my one goal here was to do 52 cookbook reviews. Well, in typical Deborah fashion, I've put so much off until the very last, which is why you are seeing so many cookbook reviews this month. I have considered giving up, but today's review is number 44, so I can't give up now!!
I have often been asked what my favorite cookbook is. That is the hardest question for me, as the answer just might change from day to day. But I will often say that I am a lover of any and all of the Taste of Home cookbooks. I think it's because they are full of recipes from people just like me. Real people at home, just wanting to make good food for their friends and family.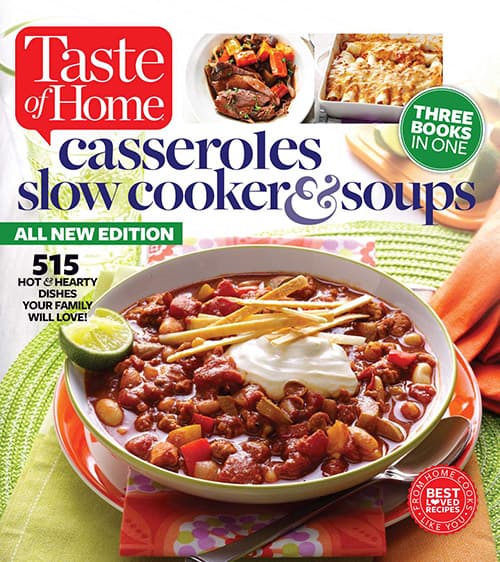 While I have lots of Taste of Home cookbooks, I don't think I've ever reviewed one – until now!! And this book – Casseroles, Slow Cooker and Soups, is just perfect for this time of year. What better time than now for comfort foods and hearty dishes?
This cookbook is over 300 pages of comfort food. It is broken up into 3 sections – just like the name suggests. I went through the book and marked the pages with recipes that I wanted to make right away, and am embarrassed by how many sticky notes are in this book. I know many of the Taste of Home cookbooks are recipes that are recycled through many different cookbooks, but I actually don't mind that too much.
Here are the details:

Number of Photos: lots. Most of the photos are a quarter to half page big, but there is a photo of most of the dishes.

Difficulty Level of Recipes: easy. These are recipes that are made and submitted by people just like you and I, so they are made for beginning to moderate cooks.
Availability of Ingredients: easy. I'm guessing you can find all of the ingredients at any grocery store.
Other Recipes I Want to Try:
Broccoli Chicken Lasagna
Black Bean Nacho Bake
Polenta Chili Casserole
Lemon Chicken and Rice Soup
Chili and Cheese Crustless Quiche
Fiesta Sweet Potato Soup
Roasted Garlic Butternut Soup
Buy Casseroles, Slow Cooker and Soups on Amazon.
So – I'm not one to always jump to the shortcut. I love them when things are busy, but really, most of the time, it's just as fast to grab the fresh ingredients to make in place of the shortcut. But that being said, I have had my fair share of times when I just need something fast and something easy.
Enter this Tomato Tortellini Soup. The base of this soup is made from canned tomato soup. Which, yeah, I'm not a huge fan of on its own. But I had to give this a try, and when I quizzed my husband after dinner, he had no idea that it started with canned soup. And he can usually tell things like that.
All you need is about 25 minutes, and a few ingredients. This soup recipe really couldn't get any easier. My favorite part is the sun dried tomatoes (YUm!) and my kids and husband went crazy over the tortellini. This is a home run of a family friendly meal that we all devoured!



Like what you see here? Make sure you are following Taste and Tell for more recipes and ideas!
Facebook | Pinterest | Instagram | Twitter | Google+ | Weekly Newsletter | Feedly | Bloglovin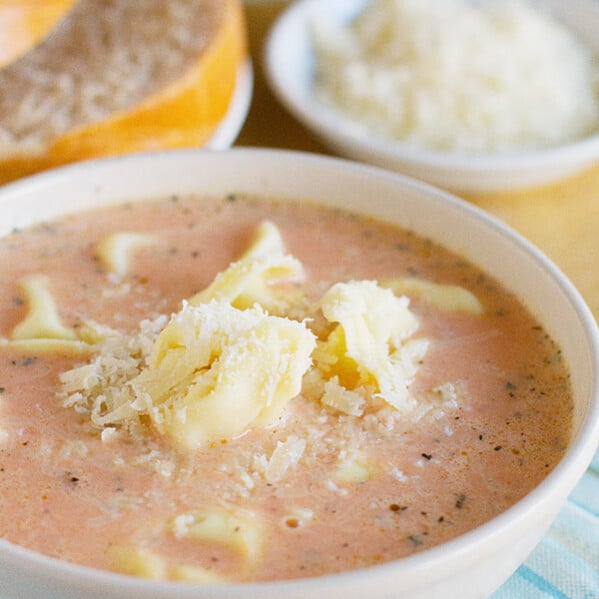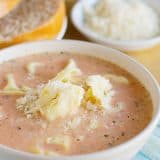 Tomato Tortellini Soup
---
Prep Time: 5 mins
Cook Time: 20 mins
Total Time: 25 mins
Yield: 8 servings 1x
Description
No one will even know this Tomato Tortellini Soup starts with a short cut! This soup is filled with tomato flavor and the tortellini makes it nice and hearty.
---
Scale
Ingredients
1 package (9 oz) refrigerated cheese tortellini
2 cans (10 3/4 oz each) reduced-sodium condensed tomato soup, undiluted
2 cups vegetable broth
2 cups milk
2 cups half-and-half
1/2 cup chopped oil-packed sun-dried tomatoes, drained
1 teaspoon onion powder
1 teaspoon garlic powder
1 teaspoon dried basil
1/2 teaspoon salt
1/2 cup shredded Parmesan cheese
additional Parmesan cheese, for serving
---
Instructions
Cook the tortellini according to package directions. Drain and reserve.
Meanwhile, in a Dutch oven or large soup pot, combine the soup, broth, milk, half and half, tomatoes, onion powder, garlic powder, basil and salt. Heat completely, stirring often.
Carefully add the tortellini and the 1/2 cup Parmesan cheese. Serve topped with additional Parmesan, if desired.
Don't miss a thing! Follow me on Pinterest to see what I'm pinning!
Visit Taste and Tell's profile on Pinterest.



**I was sent a copy of this book from the publisher for review purposes. All opinions are my own. This post contains affiliate links. If you purchase an item from Amazon from the link Taste and Tell receives a small commission. Thank you for supporting Taste and Tell through your purchases!**