All of the flavors of lasagna in this easy, comforting Lasagna Soup Recipe! This soup is the perfect way to warm up with a taste of Italy.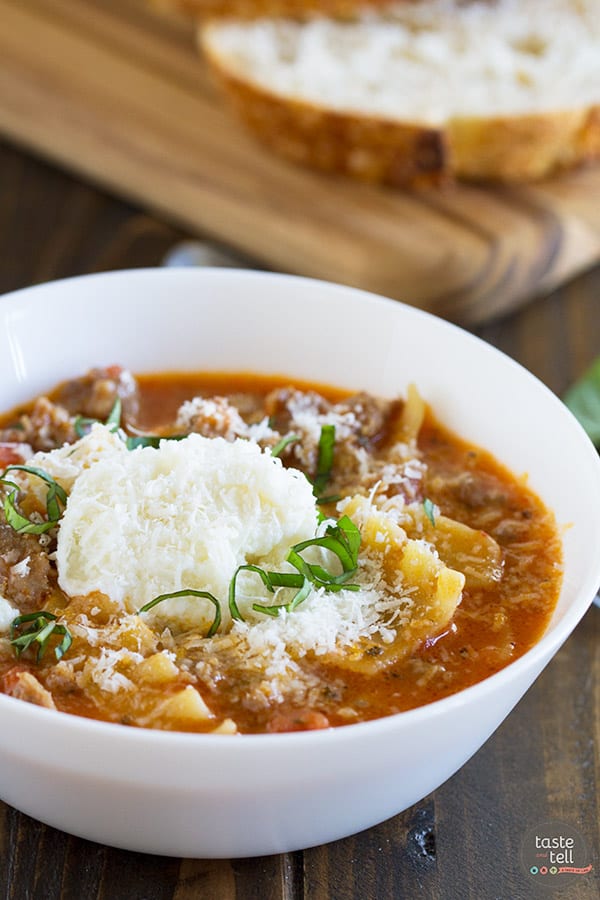 Last week was one of the craziest/busiest weeks I've had in awhile. And that's saying a lot, because lately, I feel like I've been running around non-stop. Between deadlines and travel and family schedules and a whole day filming (more about that to come!), I feel like I didn't even have a chance to catch my breath. And I'm pretty sure my family felt it, too, since they can probably count on one finger how many times I actually made dinner last week. 😉
Things definitely look better this week, but even with our regular schedules, it takes some planning. And some quick cooking.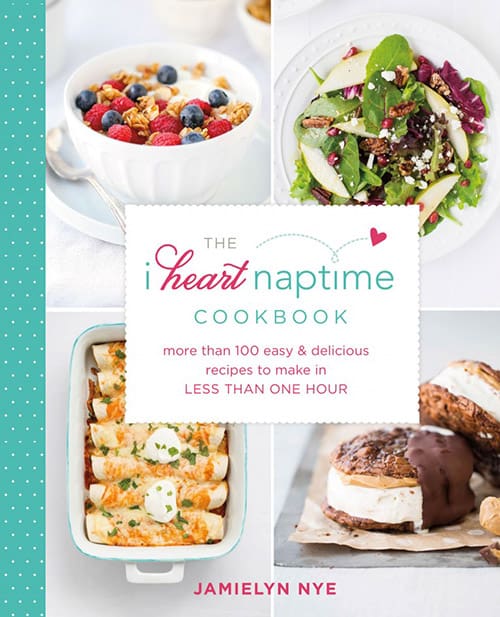 Enter today's cookbook review – The I Heart Naptime Cookbook. Written by blogger Jamielyn Nye from I Heart Naptime, this cookbook contains over 100 recipes that you can make in under 1 hour. Yes, please!!
This book is filled with all kinds of great recipes. Of course, I will be using the dinner recipes often, but there are also breakfasts, side dishes, party recipes, soups, salads, desserts and so much more. And as a bonus, she even includes some fun things like templates for spice jar labels, cupcake tags, and how make sundae kits. This really is such a fun book!
Here are the details:
Number of Photos: lots! The photos are plentiful and beautiful throughout the book.
Difficulty of Recipes: easy. Since you are able to make all of the recipes in under an our, they are meant to be easy!
Availability of Ingredients: easy. I didn't see any hard to find ingredients – they were all common, family friendly ingredients.
More recipes I want to try:
Caramelized Apple German Pancakes
Fluffy Buttermilk Biscuits
Roasted Balsamic Carrots
BBQ Chopped Chicken Salad with Cilantro Ranch Dressing
Lemon Chicken Linguine
Green Chile Shredded Beef
Dressed-Up Cheese Ball
Boyfriend Cookies
Seven-Layer Chocolate Pretzel Bars
Buy The I Heart Naptime Cookbook on Amazon.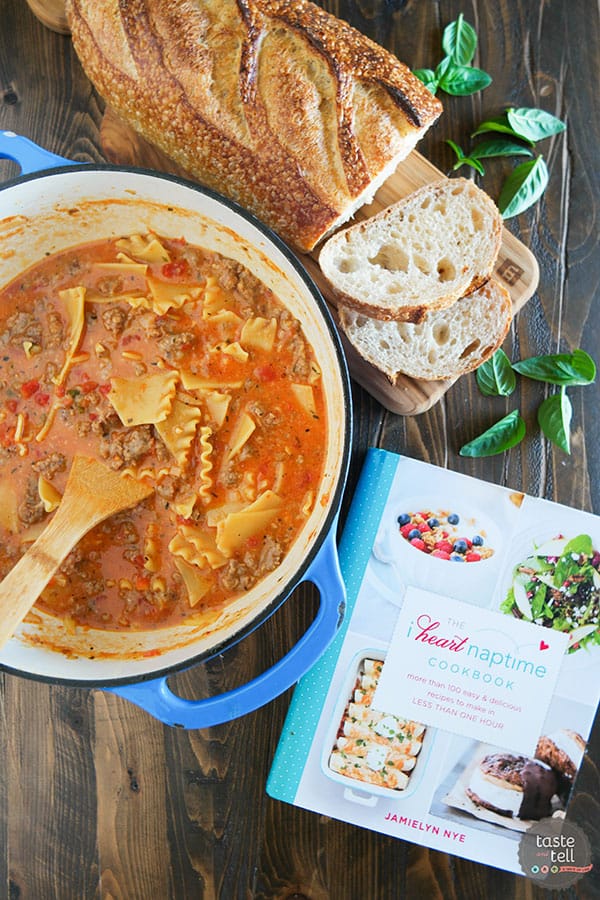 I had a lot of recipes bookmarked. It was easy to find a lot of things that I wanted to make. For some reason, though, I kept coming back to this Lasagna Soup Recipe. I almost changed my mind more than once, simply because I already had a lasagna-themed recipe on the menu for that week. But every time, I just kept coming back to this soup. I guess we must just really like lasagna flavored recipes!! So I decided to just go with it, knowing that we would love it.
I've mentioned this before, but my daughter loves soup. If you ever ask her what is her favorite thing that I make, the answer will always be soup. And now that it's starting to cool down outside, I can see lots of soup in our future.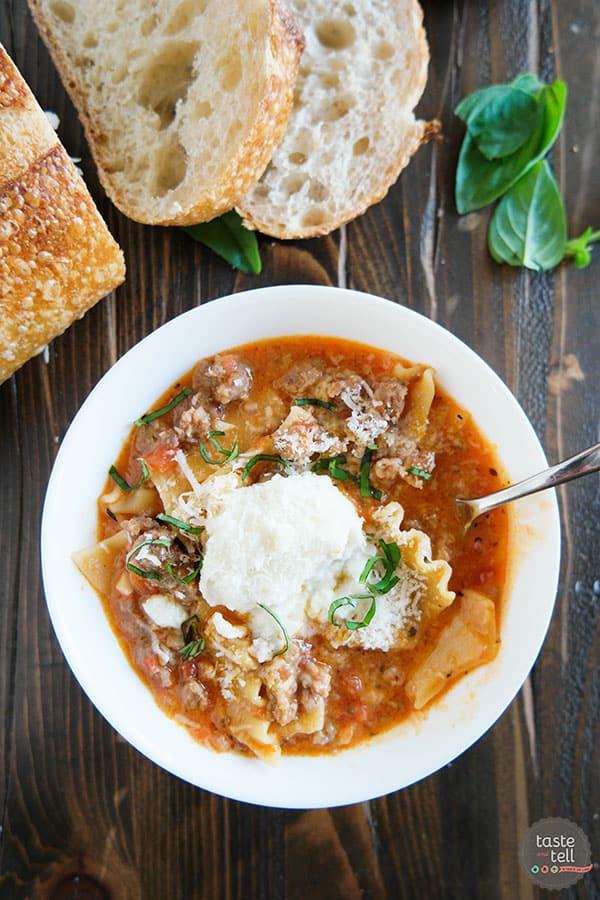 This Lasagna Soup Recipe was everything that I was hoping it would be. You really do get all of the flavors of lasagna in a bowl. The recipe says that the ricotta on top is optional, but I would not recommend skipping it. It was the perfect ending touch for this recipe.
This is a thicker soup, and the longer it sits, the less liquid you have because the noodles soak it all up. In fact, if you have leftovers the next day, don't plan on it even looking like soup. But you can always thin it out some more with some extra chicken stock.
As the temps get lower and lower, I can see this Lasagna Soup Recipe (as well as many other recipes from this book) on my table!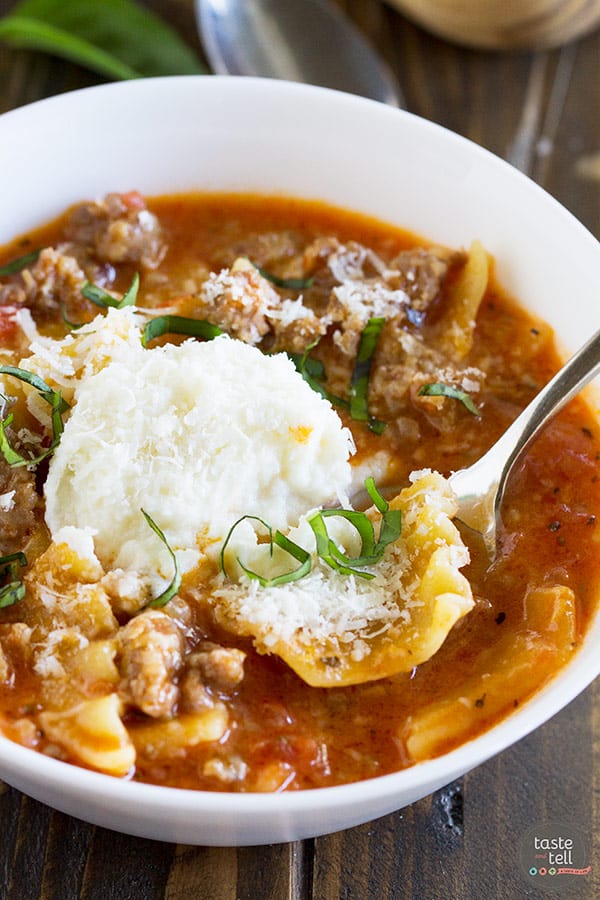 Like what you see here? Make sure you are following Taste and Tell for more recipes and ideas!
Facebook | Pinterest | Instagram | Twitter | Google+ | Weekly Newsletter | Feedly | Bloglovin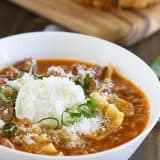 Lasagna Soup Recipe
---
Author:
Prep Time: 20 mins
Cook Time: 23 mins
Total Time: 43 mins
Yield: 4-6 servings 1x
Description
All of the flavors of lasagna in this easy, comforting Lasagna Soup Recipe! This soup is the perfect way to warm up with a taste of Italy.
---
Scale
Ingredients
1 tablespoon extra-virgin olive oil
1 cup chopped yellow onion
3 garlic cloves, minced
1 pound Italian sausage, casings removed
4 cups chicken stock
1 (15-ounce) can petite diced tomatoes, with juice
1 (6-ounce) can tomato paste*
1 teaspoon ground oregano
1/4 teaspoon ground thyme
1/4 cup fresh basil, chopped, plus more for garnish
8 uncooked lasagna noodles, broken into bite-sized pieces
1 cup finely shredded mozzarella cheese
1/2 cup finely grated Parmesan cheese, plus more for garnish
salt and black pepper
Ricotta cheese, for serving
---
Instructions
In a large pot, heat the olive oil over medium heat. Add the onion and cook for 3 minutes. Stir in the garlic and cook for 1 minute. Add the sausage and cook, breaking it up with a wooden spoon as it browns, for about 10 minutes. Pour off any extra grease from the pan and slowly stir in the chicken stock.
Add the tomatoes with their juice, the tomato paste, oregano, thyme, and basil. Bring to a boil over medium high heat. Add the lasagna noodles and cook until the noodles are tender, 8 to 10 minutes. Reduce the heat to low, then stir in the mozzarella and Parmesan. Season with salt and pepper.
Ladle the soup into bowls and top with Parmesan, fresh basil, and ricotta, if desired.
Recipe Notes:
*I didn't have enough tomato paste on hand, so I only used about 2 tablespoons. It worked!
This is a thick soup, and will get thicker as it sits and the pasta soaks up more of the liquid. If you want to thin it out, you can add more chicken stock.
Recipe from The I Heart Naptime Cookbook
SHOP THIS POST!
Don't miss a thing! Follow me on Pinterest to see what I'm pinning!
Visit Taste and Tell's profile on Pinterest.