Perfect for Thanksgiving leftovers, this slow cooked White Turkey Chili is filled with fresh flavors.
Photo Updated November 2012
I know – there have probably been a bazillion recipes for White Turkey Chili since Thanksgiving. It's one of those great ways to use up the leftovers. But if you're like me, I didn't have any leftovers to use up. That's the bad thing about not living at home anymore, and not hosting Thanksgiving dinner. So when all of the leftover recipes started showing up all over online and on tv, I didn't have the chance to make them. But they all sounded so good!! So what if you don't have actual leftovers? Just do what I did and buy some turkey cutlets, cook them up, and pretend they are leftovers so you can have the White Turkey Chili!!
I saw this on The CBS morning show the day after Thanksgiving. It sounded really good, so I went home and looked up the recipe online. The recipe comes from Williams Sonoma. I also saw this same recipe in a Williams Sonoma catalog that I was flipping through at my in-laws this last weekend.
This was delicious!! The perfect meal for a cool night. My husband didn't like that it was called chili – chili to him is a lot thicker. But it was tasty, and he ate a bowl full, plus more in his lunch the next day!! I think that you could easily substitute chicken for this as well. The only change I made was instead of using 3 cans of cannellini beans, I used one can, along with one can of navy beans and one can of northern beans. I would definitely make this again!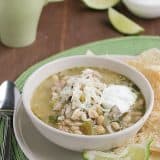 White Turkey Chili
---
Prep Time: 15 minutes
Cook Time: 3 hours
Total Time: 3 hours 15 minutes
Yield: 6-8 servings 1x
Description
Perfect for Thanksgiving leftovers, this slow cooked white turkey chili is filled with fresh flavors.
---
Scale
Ingredients
2 Tbs. olive oil
1 large yellow onion, diced
Salt and freshly ground pepper, to taste
2 tsp. toasted ground cumin
5 garlic cloves, minced
1 jalapeño, seeded and minced
1 lb. Anaheim chilies, roasted, peeled and diced, or 3 cans (each 7 oz.) whole fire-roasted Anaheim chilies, diced
4 to 4 1/2 cups low-sodium chicken broth, warmed
1 lb. diced cooked turkey
3 cans (each 15 oz.) white beans, drained and rinsed, or 4 1/2 cups cooked white beans, drained
2 Tbs. minced fresh oregano
1/3 cup minced fresh cilantro
1/4 cup cornmeal
Shredded jack cheese, sour cream and lime wedges for serving
---
Instructions
In a large sauté pan over medium heat, warm the olive oil. Add the onion, season with salt and pepper and cook, stirring occasionally, until softened, 5 to 7 minutes. Add the cumin, garlic and jalapeño and cook, stirring, for 30 seconds. Stir in the chilies and 3 1/2 cups of the broth, then transfer to a slow cooker. Stir in the turkey, beans, oregano and cilantro.
Put the cornmeal in a small bowl and slowly whisk in 1/2 cup of the broth. Stir the cornmeal mixture into the turkey mixture. Cover and cook on high for 3 hours. Thin the chili with more broth if needed.
Ladle the chili into warmed bowls. Serve with cheese, sour cream and lime wedges.
—————–
From Williams-Sonoma via The Early Show