Fresh or frozen corn comes together with crabmeat to give you a delicious and simple soup, made in the slow cooker.
I always feel funny posting about soup when it's still summer outside. And despite the back-to-school talk and the anticipation of fall, summer is still in full swing here. But really, this is the perfect time of year to have soup made with farm-fresh ingredients. Think about it – tomato soup made from tomatoes straight from the garden. And corn soup, made with corn fresh off the cob. There is no need to wait for cold weather!!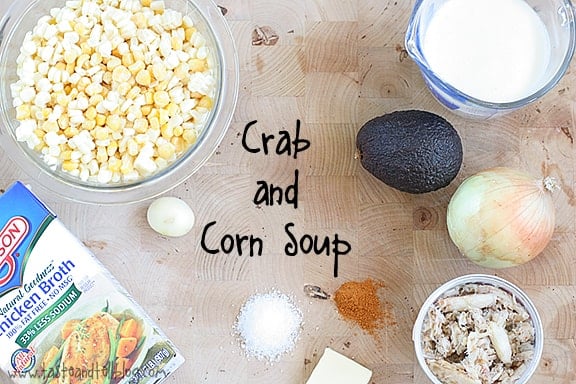 This recipe actually came to me at the perfect time. I've been having a crazy busy week. And if it wasn't for this recipe, which takes a whole 10 minutes to throw together, we may have not had dinner on the table.  This soup has lots of flavor, and a little bit of a kick from the cayenne pepper.  This is what I imagine that I would eat on a weekly basis if I lived somewhere on the coast.  And the avocado on top is really a must, in my opinion.  It brings a lovely coolness and creaminess to the dish that I know I would have missed if it wasn't there. I pretty much followed this recipe to a T.  I did use both fresh and frozen corn, since I had some of both on hand and I was trying to use up what I had.  And I think that a chopped up red bell pepper would have been a lovely addition to this soup.  There is the option to thicken the soup a bit by pureeing part of it, but I opted to keep the soup as is.  You can also add in some potatoes, which would make it a bit heartier.  Either way, this soup really did make a great dinner!
Recipe Rating: 8 out of 10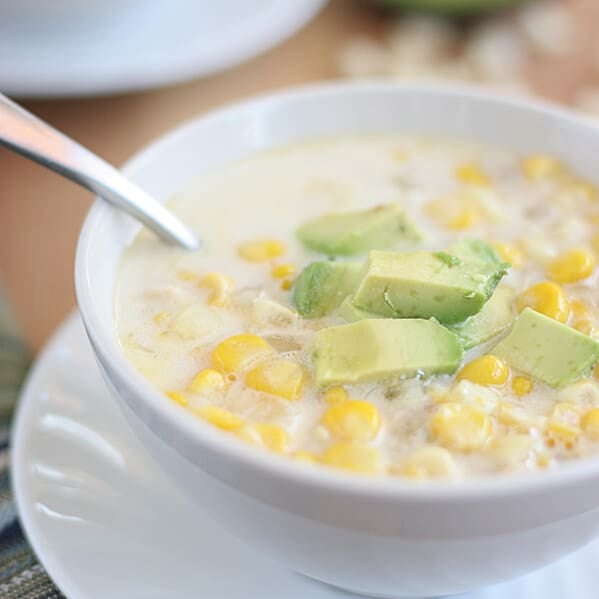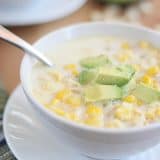 Crab and Corn Soup
---
Prep Time: 10 minutes
Cook Time: 8 hours
Total Time: 8 hours 10 minutes
Yield: 6 servings 1x
Description
Fresh or frozen corn comes together with crabmeat to give you a delicious and simple soup, made in the slow cooker.
---
Scale
Ingredients
1 quart chicken stock
1 tablespoon butter
1 cup chopped onion
32–ounces fresh or frozen corn
2 garlic cloves, chopped
1 teaspoon kosher salt
1/2 teaspoon cayenne pepper
1 (6-ounce) can lump crabmeat, drained
1 cup half-and-half or heavy cream
1 avocado, for garnish
---
Instructions
Put the chicken stock, butter, onion, corn, garlic, salt, cayenne pepper and crabmeat in a 4 quart slow cooker. Cover and cook on high for 4 hours or for 8 hours on low. If you want a thicker soup, pulse a handheld blender a few times or scoop out a cup and blend in a blender or food processor (be careful – it's hot!) and add back in. Stir in the half-and-half or cream before serving and garnish with avocado.
Recipe Notes: