Dinner in under 30 minutes! These Chicken Lettuce Wraps are your solution for an easy chicken dinner that packs a punch of flavor.
We love a good Asian inspired meal, and these Chicken Lettuce Wraps are at the top of our favorites list! Also make sure to check out this Mongolian Beef, Beef and Broccoli, Sweet and Sour Meatballs and Homemade Teriyaki Sauce.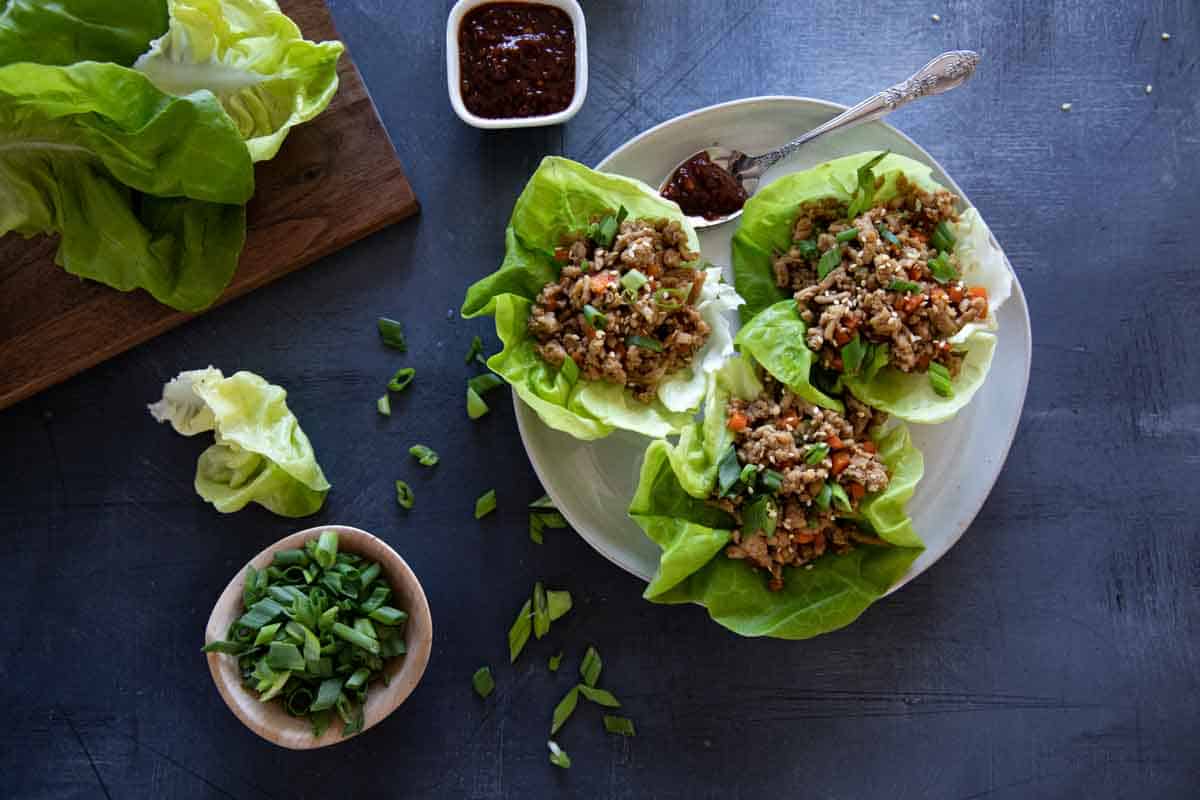 Do you ever feel like your life is so crazy that you are losing your mind left and right? I honestly feel like the older I get, the more balls there are in the air, and it's only a matter of time before I realize that I've forgotten to juggle 2 or 3 of them.
Because my life is so crazy, I am always on the lookout for easy and fast dinners. I feel like a broken record lately, actually, because I feel like all I talk about is my obsession with quick and easy dinners. But I think you all love them too – at least I hope so, because here is another one!
I am one that believes that you can never go wrong with chicken lettuce wraps. I've made a few versions in the past, but I love this one because of its simplicity. And the fact that the sauce is made from hoisin sauce.
Under 10 ingredients, and it was done in under 30 minutes – you can't beat it!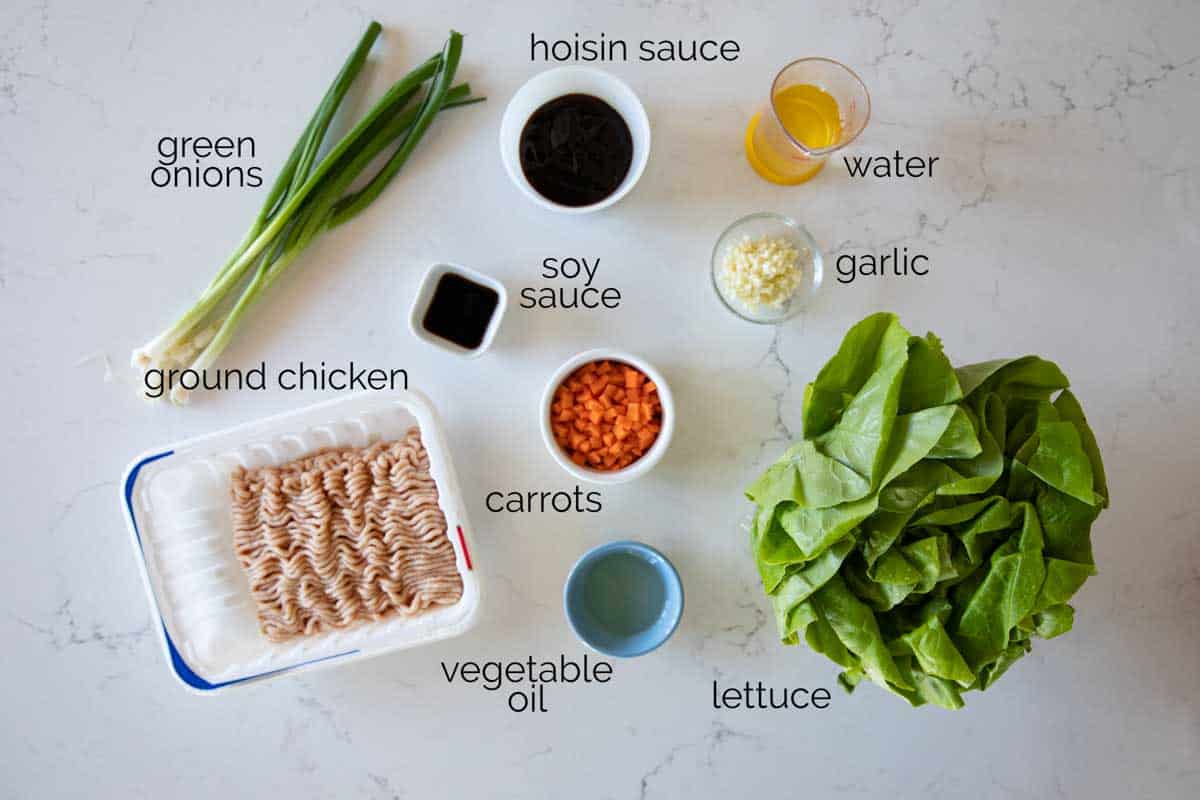 Ingredients
Hoisin Sauce: Hoisin sauce is a Chinese bbq sauce. It is a thicker sauce, and has a pretty distinct flavor. I really love it, and use it in several recipes, like this Stir Fry Sesame Chicken or General Tso's Chicken. There are recipes online for subs, but in my opinion, nothing really takes the place of hoisin sauce. It should be easy to find at any grocery store in the Asian section.
Soy Sauce: I like to use low-sodium so that the final dish isn't too salty.
Oil: I use vegetable oil, but any neutral oil will work.
Ground Chicken: I will admit that I don't use a lot of ground chicken because I find it dry, but it really works in this recipe. But you could always sub in ground beef or ground pork, or chopped mushrooms for a vegetarian version.
Carrot: I actually really love the carrots in this recipe, and find that they add something different. The trick is to cut them fairly small so that they cook quickly. You could also sub in bell peppers, or leave the veggies out altogether.
Garlic: The garlic adds a lot of flavor, but if you don't like garlic, you could always leave it out.
Green Onions: You'll use the whole green onion – the whites get cooked in the filling, and you top the lettuce wraps with the greens.
Lettuce: Of course you'll need lettuce to serve the filling in! I have more information about the types of lettuce you can use below.
Optional Lettuce Wrap Toppings
We will usually serve the lettuce wraps as is, but you can always top them with even more!
Sesame Seeds: If using sesame seeds, I suggest toasting them first for optimum flavor.
Chili Garlic Sauce: This is my favorite, and I serve it at the table for whoever wants to add it. It can be spicy, so the kids usually skip it, but I love it!
Sriracha: Same as above, it's great to serve to those who want extra heat.
Fried Rice Noodles: If you've ever had the lettuce wraps at PF Chang's, you'll know what these are! I don't like to go through the hassle, but they are always an option!
Chopped Peanuts: Add some peanuts for some crunch.
Cilantro: I like cilantro on everything, and it will add some great brightness.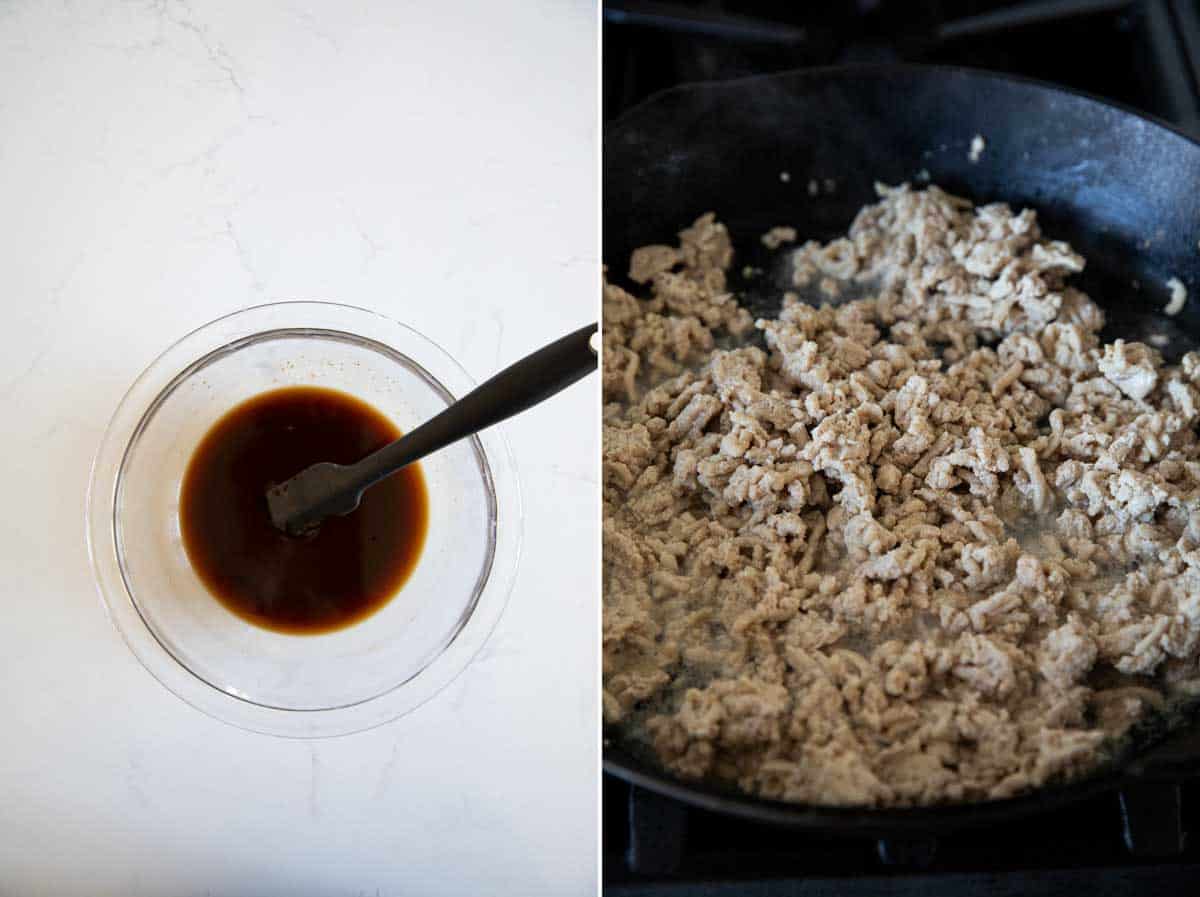 How to Make Chicken Lettuce Wraps
1: Combine the hoisin sauce and soy sauce with some water. Set this aside.
2: Heat part of the oil in a skillet, and add the chicken. Cook it until it is browned, breaking it up as it cooks.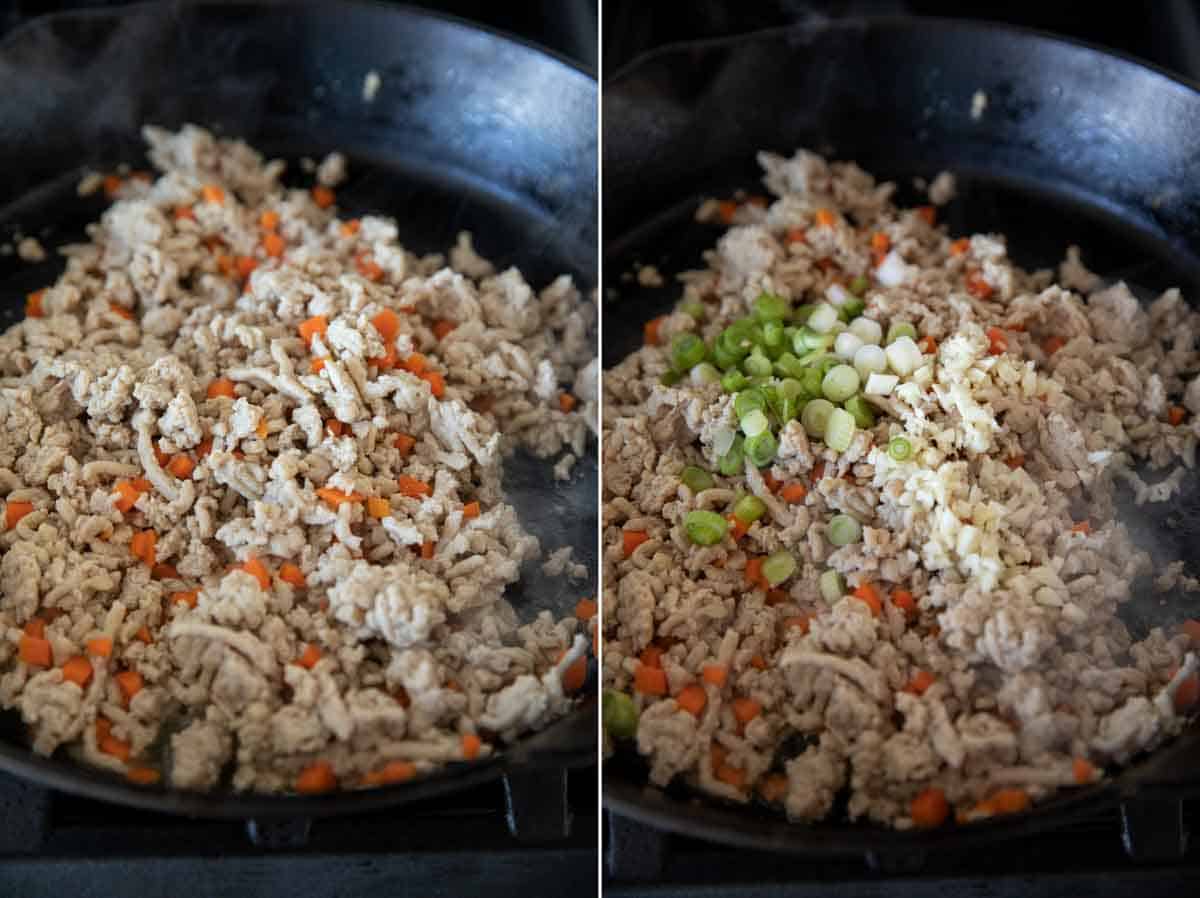 3: Add the carrots and the rest of the oil and cook until the carrot starts to soften.
4: Add the garlic and the whites of the onions and cook another minute.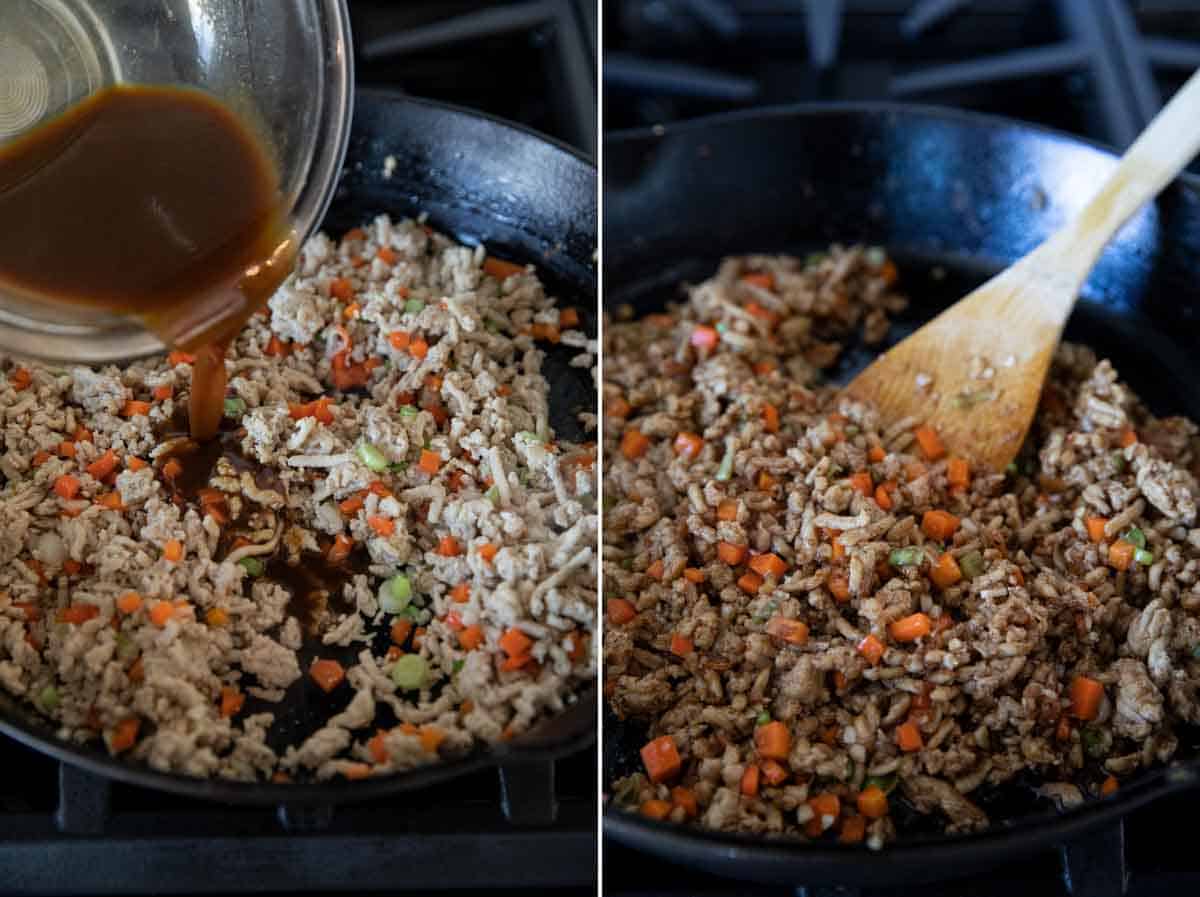 5: Add the reserved hoisin sauce mixture.
6: Stir and cook until it is all slightly thickened. Serve the mixture in your lettuce leaves!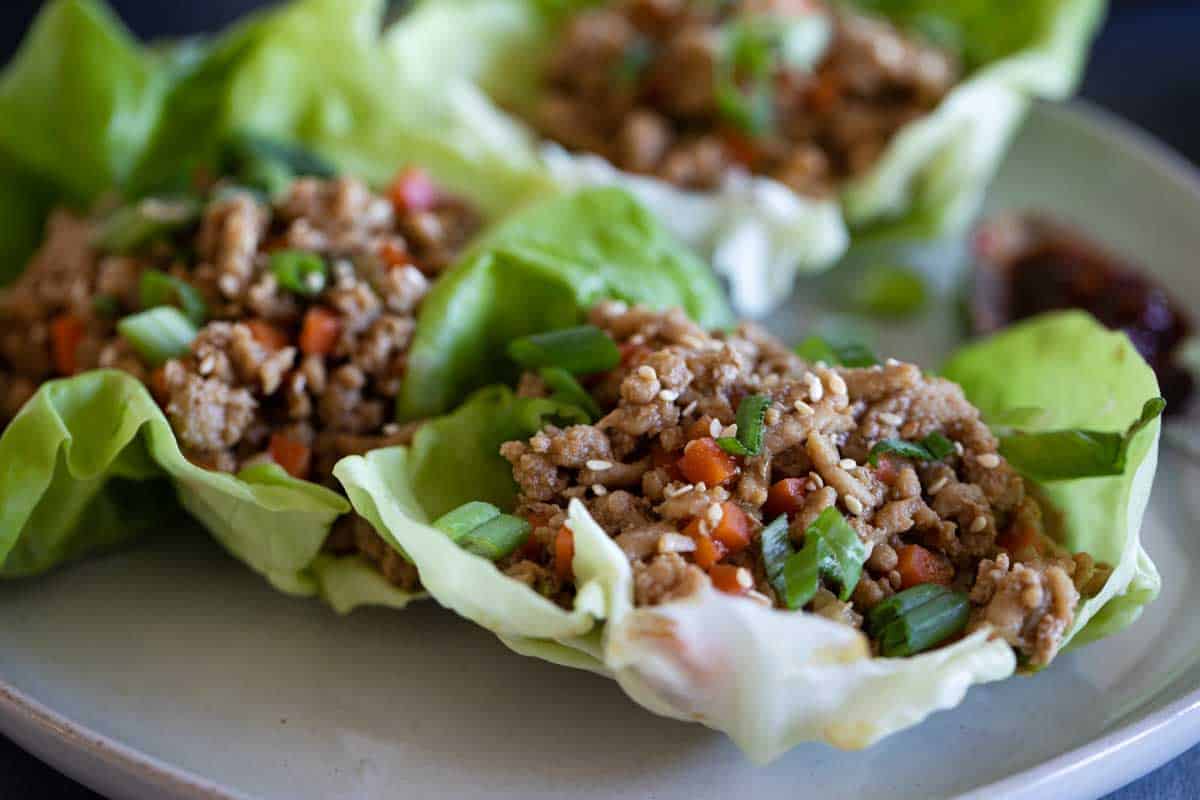 What Kind of Lettuce to Use for Lettuce Wraps
I have made my fair share of lettuce wraps before, and I feel like I've tried every kind of lettuce. There are a few choices you have:
Iceberg Lettuce: If you've ever been to PF Chang's, their lettuce wraps come out with iceberg lettuce. I love the crispness of iceberg, but I have the hardest time actually taking the leaves apart without completely destroying them. That is why iceberg is not my favorite.
Butter Lettuce: You can often find butter lettuce at your local grocery stores. It's leaves are perfect for lettuce wraps! They really are the perfect size and they are always easy to take apart. The biggest problem, though, is that butter lettuce is usually quite pricey. And you don't get very many leaves. So I rarely get butter lettuce, even though it works so nicely.
Romaine Hearts: My favorite lettuce to use for lettuce wraps are Romaine hearts. They are crisp, like the iceberg, and are easy to take apart into individual leaves. You do get more of a longer "taco" then an "wrap", but I'm ok with that!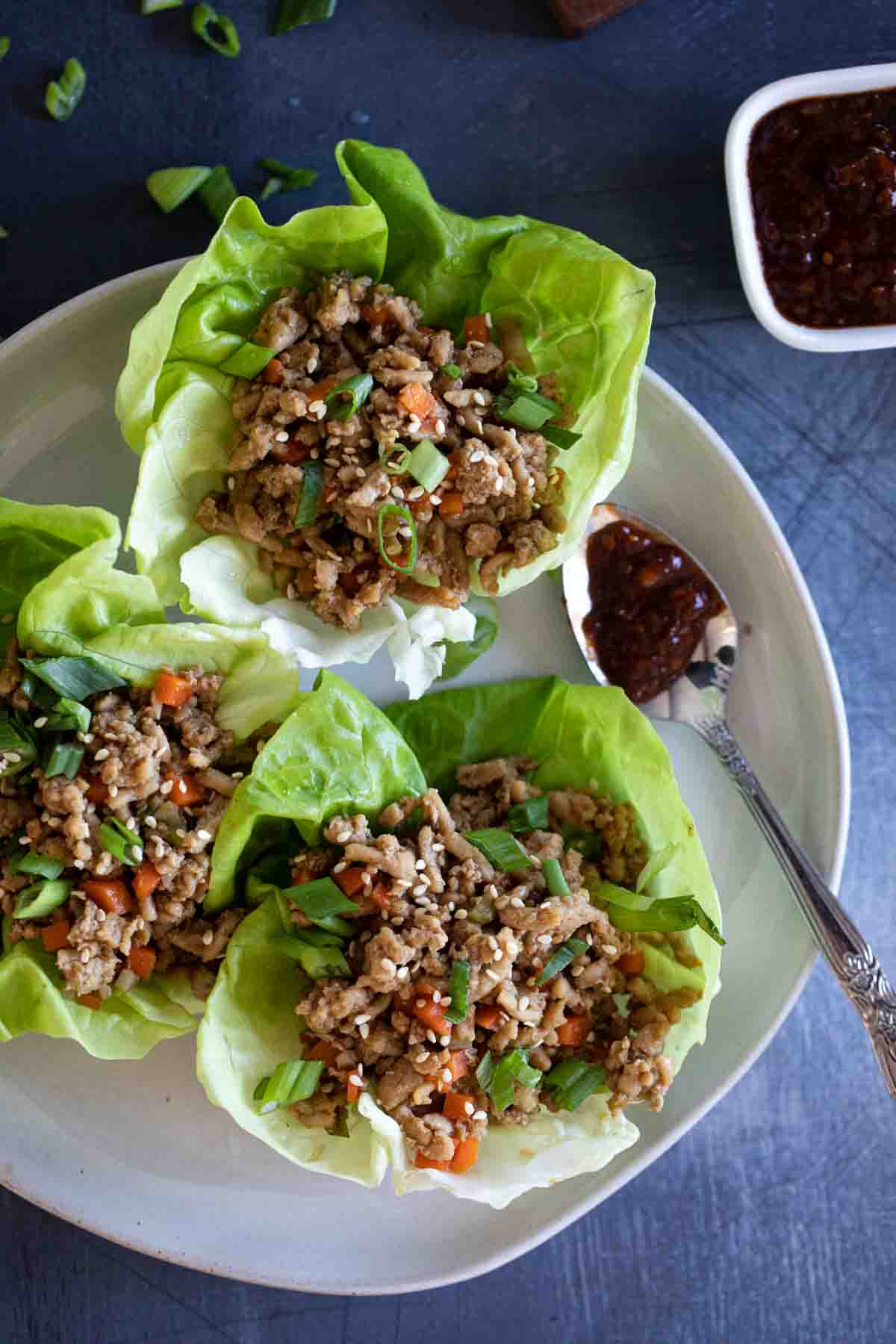 Tips and Tricks
The filling can be made ahead of time and reheated to serve. You may need to add more liquid if it dries out, though.
You can also make extra and freeze the filling. I like to freeze any leftovers (if there are any!) in individual portions so I can use them for easy lunches.
Leftovers need to be stored in the refrigerator. They should last about 3 days in the refrigerator.
Don't care for lettuce wraps? The filling also works well in a tortilla as a taco filling!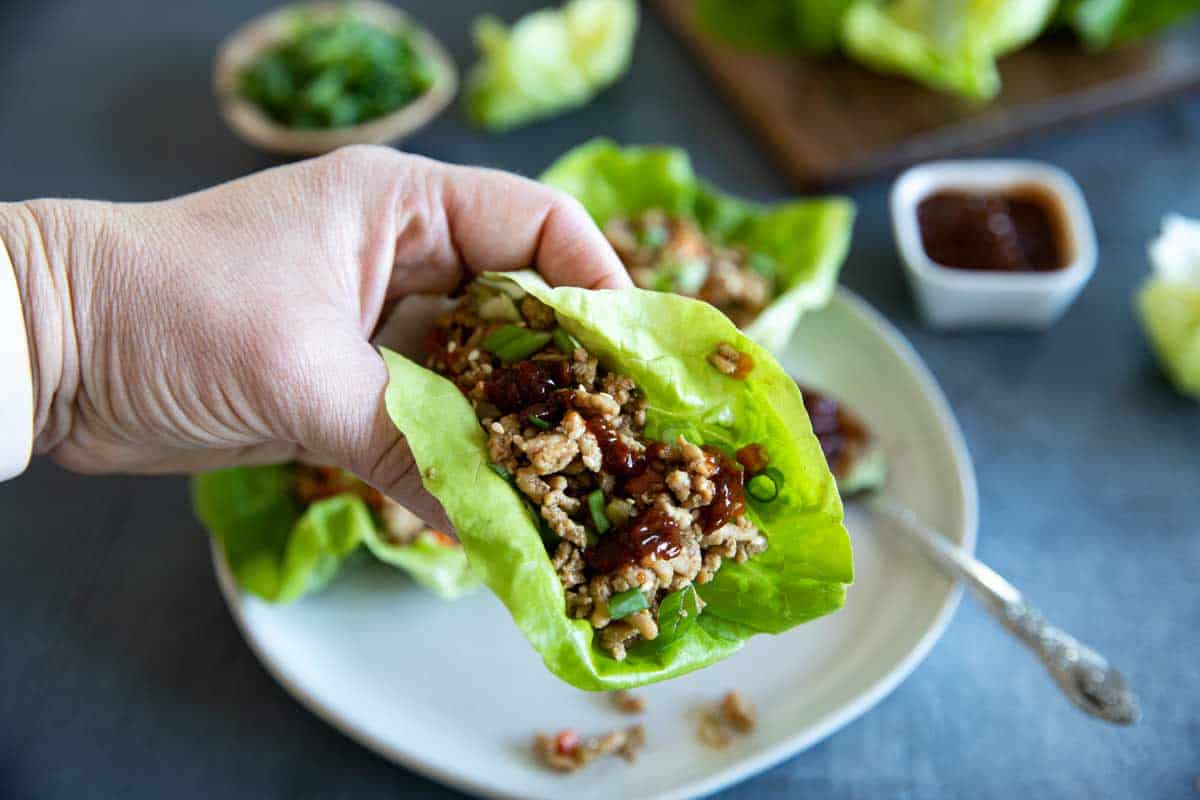 More Asian Recipes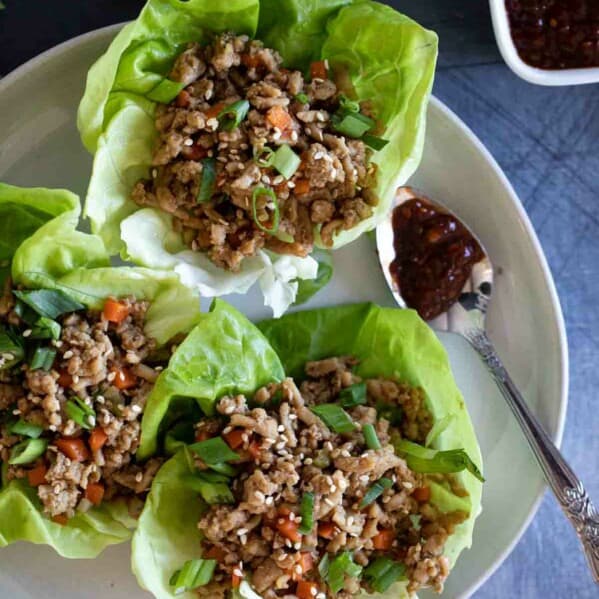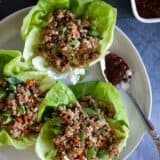 Chicken Lettuce Wraps
---
Author:
Prep Time: 15 minutes
Cook Time: 10 minutes
Total Time: 25 minutes
Yield: 4 servings 1x
Category: Main Dish
Method: Stovetop
Cuisine: Asian
Description
Dinner in under 30 minutes! These Chicken Lettuce Wraps are your solution for an easy chicken dinner that packs a punch of flavor.
---
Scale
Ingredients
1/3 cup water
1/4 cup hoisin sauce
1 tablespoon low sodium soy sauce
2 tablespoons vegetable oil
1 lb ground chicken
1 large carrot, peeled and finely diced
3 cloves garlic, minced
4 green onions, whites and greens, chopped
1 large head of lettuce, leaves separated
---
Instructions
In a small bowl, combine the water, hoisin, and soy sauce.
Heat a large skillet over medium-high heat. Add 1 tablespoon of the vegetable oil and the chicken and cook, breaking up the chicken as it cooks, until browned, about 5 minutes.
Reduce the heat to medium and add the carrot and the remaining 1 tablespoon of vegetable oil.
Cook for 2 minutes, then add the garlic and the green onion whites and cook an additional minute.
Stir in the hoisin mixture and continue to cook until the sauce thickens, another 1-2 minutes.
To serve, place some of the mixture in a lettuce leaf and top with some of the green onion greens.
Recipe Notes:
recipe source: Every Day with Rachael Ray January/February 2014
SUBSTITUTIONS: You can use ground beef or ground pork instead of ground chicken.
The carrots can be substituted with another vegetable of your choice. I would choose something with a little crunch, like red bell pepper, but mushrooms would be delicious, as well.
FREEZE: You could make extra filling and freeze for later. If reheating on the stove, you will most likely need to add some additional liquid, or the filling may be dry.
STORE: Store any leftovers in the refrigerator for up to 3 days.
Nutrition information provided as an estimate only. Various brands and products can change the counts. Any nutritional information should be used as a general guide. Additional toppings are not calculated.
Nutrition
Serving Size: 1/4 of recipe
Calories: 309
Sugar: 10 g
Sodium: 539 mg
Fat: 18 g
Saturated Fat: 4 g
Unsaturated Fat: 7 g
Trans Fat: 0 g
Carbohydrates: 15 g
Fiber: 3 g
Protein: 22 g
Cholesterol: 85 mg
Keywords: chicken lettuce wraps, lettuce wraps, chicken lettuce wraps recipe