Dinner in under 30 minutes! These Asian Chicken Lettuce Wraps are your solution for an easy chicken dinner.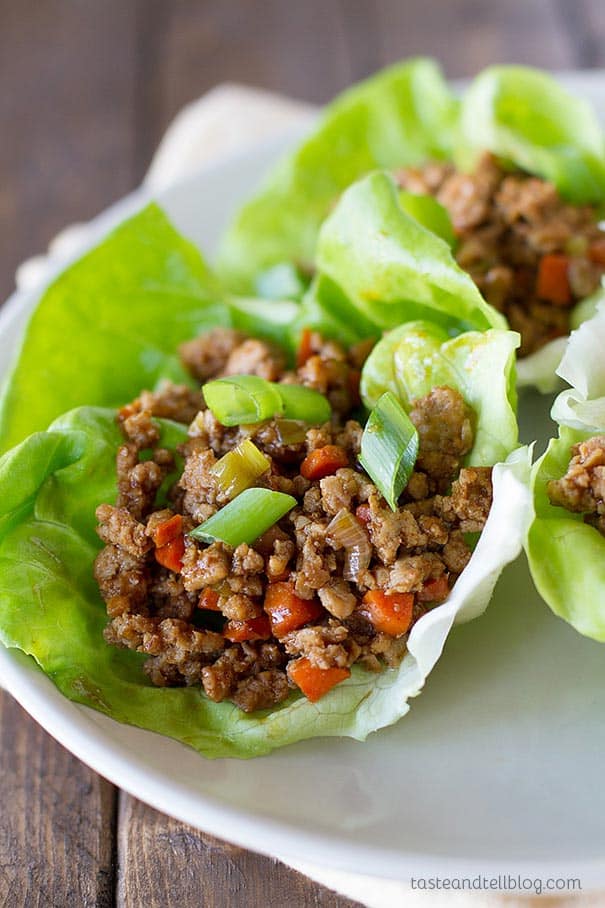 Do you ever feel like your life is so crazy that you are losing your mind left and right? I honestly feel like the older I get, the more balls there are in the air, and it's only a matter of time before I realize that I've forgotten to juggle 2 or 3 of them.
My husband and I were talking last week, and he asked me when fall break was for my daughter. I told him that I didn't even know. I knew that she was out of school next Monday, but I didn't recall seeing when fall break was on the calendar.
So, not even thinking about it, I left town earlier this week for work. And then I got a text on Monday morning from a neighbor, reminding me that Fall Break was this week.
Luckily, fall break didn't start until after I got home, and even if it had started before I got home, I have a great babysitter that would have been able to roll with the punches. But I had to think to myself – how in the world did I miss this??

Because my life is so crazy, I am always on the lookout for easy and fast dinners. I feel like a broken record lately, actually, because I feel like all I talk about is my obsession with quick and easy dinners. But I think you all love them too – at least I hope so, because I'm back with another one today!
I am one that believes that you can never go wrong with chicken lettuce wraps. I've made a few versions in the past, but when I saw this one from Rachael Ray, I knew I had to try it because of it's simplicity. And the fact that the sauce is made from hoisin sauce.
These Asian Chicken Lettuce Wraps came together as easily as I was hoping for. The only problem I ever have with lettuce wraps is that I cannot for the life of me ever get the lettuce into perfect little bowls like you always see. Or like when you go to PF Changs. Seriously – I'm sure they have it down to a science, but I always end up destroying half of the head of lettuce before I get one or two pieces that work well. This time, I bought a head of Bibb lettuce, thinking that because of the roundness and shape of the lettuce, that it would work perfectly. Boy, was I wrong! Luckily, my family is good with going with what they are given and we make it work, even if the wraps aren't always pretty.
These Asian Chicken Lettuce Wraps make the perfect easy dinner, but they'd also make an easy appetizer as well.
Under 10 ingredients, and it was done in under 30 minutes – you can't beat it!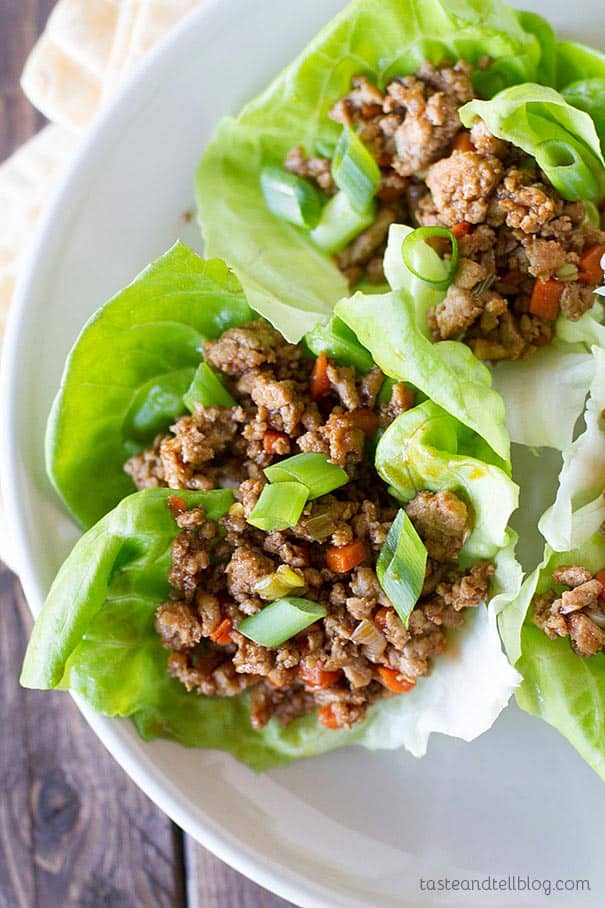 Like what you see here? Make sure you are following Taste and Tell for more great recipes and ideas!!

Facebook ** Pinterest ** Twitter ** Instagram ** Google+
or you can subscribe to my newsletter or Feedly or Bloglovin


Print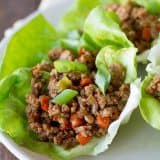 Asian Chicken Lettuce Wraps
Prep Time:

15 mins

Cook Time:

10 mins

Total Time:

25 mins

Yield:

4 servings
---
Description
Dinner in under 30 minutes! These Asian Chicken Lettuce Wraps are your solution for an easy chicken dinner.
---
Ingredients
1/4 cup hoisin sauce
1 tablespoon low sodium soy sauce
2 tablespoons vegetable oil
1 lb ground chicken
1 large carrot, peeled and finely diced
3 cloves of garlic, minced
4 scallions, whites and greens, chopped
1 large head of lettuce, leaves separated
---
Instructions
In a small bowl, combine the hoisin, soy sauce and 1/3 cup water.
Heat a large skillet over medium-high heat. Add 1 tablespoon of vegetable oil and the chicken and cook, breaking up the chicken as it cooks, until browned, about 5 minutes.
Reduce the heat to medium and add the carrot and the remaining 1 tablespoon of vegetable oil. Cook for 2 minutes, then add the garlic and the scallion whites and cook an additional minute. Stir in the hoisin and continue to cook until the sauce thickens, another 1-2 minutes.
To serve, place some of the mixture in a lettuce leaf and top with some of the scallion greens.
---
More Chicken Lettuce Wraps: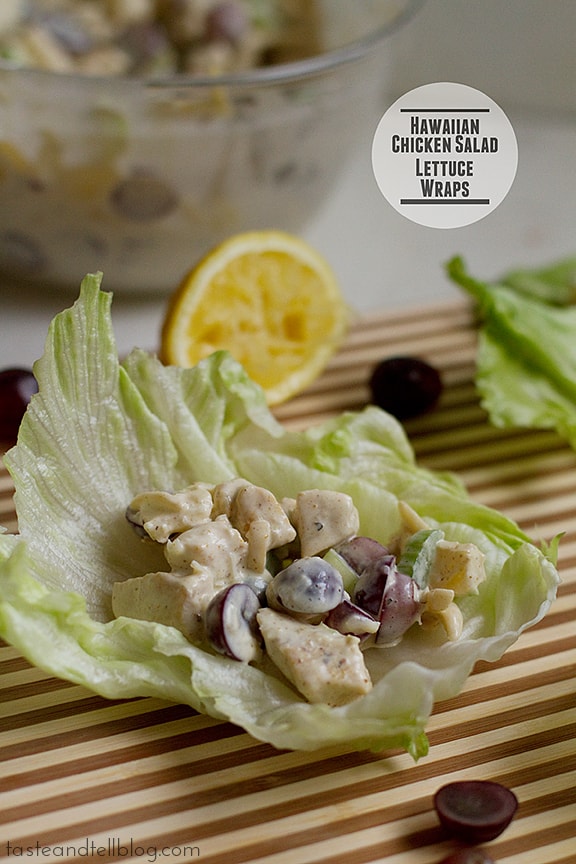 Hawaiian Chicken Salad Lettuce Wraps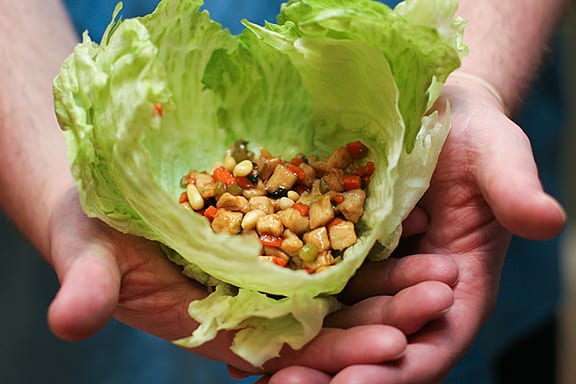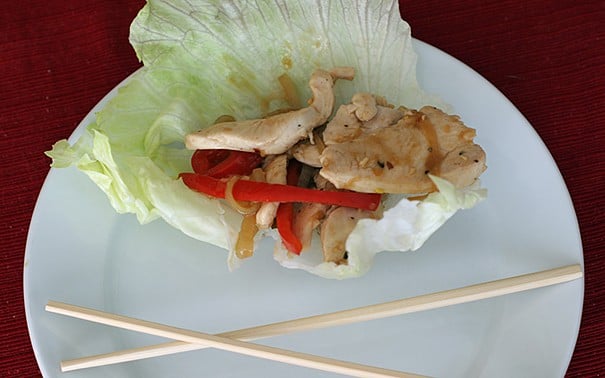 Chicken Lettuce Wraps Around the Web:
Chicken Cashew Lettuce Wraps from She Wears Many Hats
PF Chang's Copycat Lettuce Wrap from Rasa Malaysia
Spicy Shredded Chicken Lettuce Wrap Tacos from Kalyn's Kitchen