This Turkey and Bean Chili is filled with ground turkey, lots of veggies and just the right amount of spice. It is a healthy and easy dinner idea!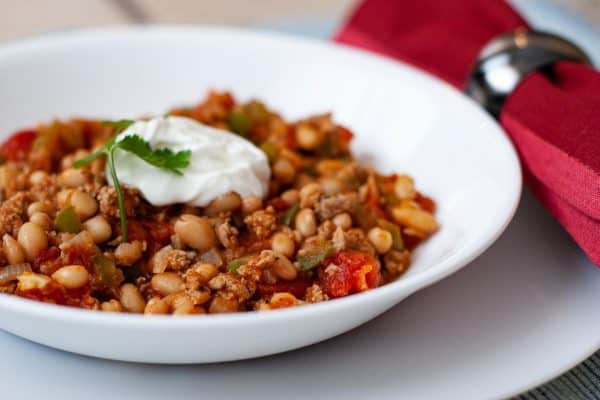 I know I talked last week about being all excited for Spring and the food that the season brings. And then today I'm posting a chili recipe. I know I'm full of contradictions!! But this chili was really good. And honestly – I'd eat chili any time of year, no matter what the weather!
I bought a subscription to Real Simple almost a year ago. I got a super good deal – it was next to free – so I thought, why not? And then the magazines started coming, and I remembered why not. It's because I have a 1-year old, and absolutely no time to sit down and read magazines.
But although I can't say that I've read each magazine cover to cover, I can tell you that I have really come to love the recipes in this magazine. At first, they didn't look very exciting, but the more of them that I've made, the more I realize that these simple recipes with few ingredients are sometimes the tastiest and best recipes. And this one is no exception. I don't usually love ground poultry because it seems pretty dry and tasteless to me, but this recipe is different. The ground turkey went perfectly in it. There wasn't one thing I would change about this recipe! And now I'm quite sad that my subscription is almost over…
I loved this topped with sour cream and cilantro. And it would be even better served with a slice of cornbread.
Maybe holding onto the cold nights isn't so bad, afterall.
More Chili Recipes:
Easy Slow Cooker Chili with Avocado Salsa
Slow Cooker Pumpkin Chili
Flatlander Chili
Crock Pot Chili
White Bean Chicken Chili
Butternut Squash Chili with Beef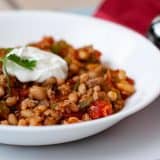 Turkey and Bean Chili
---
Author:
Prep Time: 15 mins
Cook Time: 30 mins
Total Time: 45 minutes
Yield: 4 servings 1x
Category: Main Dish
Method: Stove Top
Cuisine: American
Description
This Turkey and Bean Chili is filled with ground turkey, lots of veggies and just the right amount of spice. It is a healthy and easy dinner idea!
---
Scale
Ingredients
1 tablespoon extra virgin olive oil
1 medium onion, chopped
1 green bell pepper, chopped
1 pound ground turkey
2 tablespoons tomato paste
2 teaspoons chili powder
1 teaspoon ground cumin
1 (28-oz) can diced tomatoes
2 (15-oz) cans navy beans, drained and rinsed
salt and pepper
sour cream, for serving
cilantro, for serving
---
Instructions
Heat the oil in a large saucepan over medium-high heat. Add the onion, bell pepper, and garlic and cook, stirring occasionally, until tender, 4 to 6 minutes.
Add the turkey and cook, breaking up with a spoon, until no longer pink, 3 to 5 minutes more. Stir in the tomato paste, cumin, and chili pepper and cook, stirring, for 1 minute.
Add the tomatoes (with their juices), the beans, ½ cup water, 1¼ teaspoons salt, and ¼ teaspoon pepper and bring to a boil. Reduce heat and simmer, stirring occasionally, until slightly thickened, 12 to 15 minutes. Serve with the sour cream and cilantro.
Recipe Notes:
adapted from Real Simple February 2010