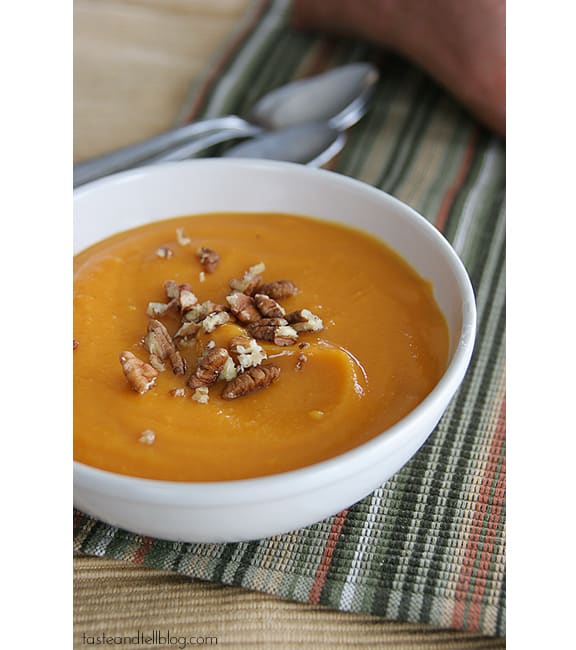 Photo Updated December 2012
I think all of these food blogs are getting to me. My style of cooking/baking and my tastes are changing without me even realizing it!! I have had this blog for just over 8 months, and I have tried many things that I had never had before, and have learned about many things that I have never heard of before. When I was reading through blogs yesterday and ran across Abby's post for Creamy Sweet Potato Soup, I had to stop for a few minutes when I realized that I really wanted some and that it sounded really good. Why is this, you ask? I don't like sweet potatoes. I never really have. Granted, I probably haven't tried them in years, but I have never liked them, so how could I start liking them now? I considered myself even more crazy when I found myself making a grocery list with the ingredients to stop at the store on my way home. When I got home and my husband asked what I was making, I told him that I must be in a strange mood – I was craving sweet potato soup after seeing a blog post earlier that day. He didn't even know that I don't like sweet potatoes, but he was happy because it sounded good to him.
This recipe was super easy – and fast if you take of the 45 minutes to roast the sweet potatoes. While making it, I realized that I had run out of ginger (and the grocery store I was shopping at after I ran out didn't have any!?!) so I decided to grate in a bit of fresh nutmeg. I also added the optional curry powder.
The result?? I LOVED it!! So now I'm wondering, do I really not like sweet potatoes, or did I just convince myself I didn't many years ago? I may just have to explore this vegetable a little more….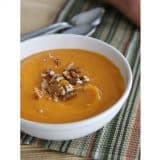 Creamy Sweet Potato Soup
---
Prep Time: 15 minutes
Cook Time: 1 hour
Total Time: 1 hour 15 minutes
Yield: 4 servings 1x
Description
A simple sweet potato soup with an extra flavor kick from nutmeg and curry.
---
Scale
Ingredients
2 large sweet potatoes
2 cups chicken broth, divided
1 tablespoon butter
1 tablespoon all-purpose flour
dash of freshly grated nutmeg
Dash of curry power
1 cup fat-free evaporated milk
1 Tbsp chopped pecans, for garnish
---
Instructions
Preheat the oven to 400F. Pierce the potatoes in several places with a fork and roast in the oven until tender, about 45 minutes. Remove from oven and let cool enough to handle. Remove the skins and roughly chop the potatoes.
Combine the potatoes with 3/4 cup of the chicken broth in a blender or food processor. Blend until smooth.
In a medium saucepan, melt the butter. Stir in the flour and cook for 1 minute. Stir in the nutmeg and curry. Whisk in the milk. Cook, stirring constantly, until slightly thickened. Cook one minute more, then add the potato mixture and remaining 1 1/4 cups chicken broth. Cook until heated through, about 5 minutes.
Serve topped with chopped pecans, if desired.
—————
Adapted from Confabulation in the Kitchen