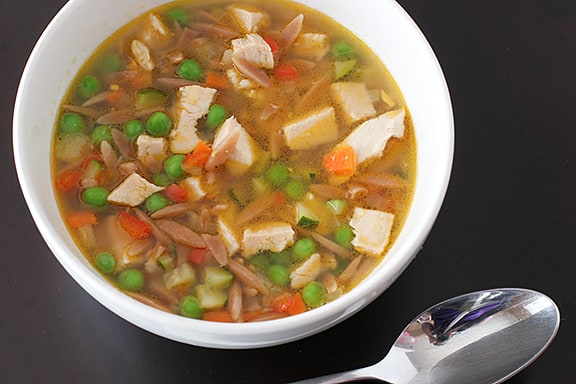 Is anyone else as tired of the winter as I am? I'm usually ok until after Christmas, but then I start itching for Spring. And this winter hasn't even seemed that cold to me – but it's just dreary and drab every day. I could use some sunshine!!
But the thing I do love about winter is the fact that we can eat lots of soup. (Not that warm weather stops me from eating soup…) One day last week, I was tired of the chilly weather, and craving something that was full of veggies. And this soup recipe popped right out at me. I'll admit, I liked it just ok the night I made it, but once it sat overnight – the leftovers were fantastic! Even though the pasta has soaked up a lot of the liquid, but still – it was great as leftovers. And I totally forgot to add the parsley and lemon peel at the end, and from reading other reviews online, I really wish I wouldn't have forgotten that step. But this may be making another appearance on my table, because most of these ingredients are pantry staples for me. Perfect for a night when I don't have anything else planned on the menu!
Toasted Orzo Chicken Soup
from Every Day with Rachael Ray February 2010
Serves 4
Total cooking time: about 30 minutes
One 32-ounce container (4 cups) chicken stock
1 pound skinless, boneless chicken breast
2 tablespoons butter
3/4 cup orzo pasta
2 tablespoons extra virgin olive oil
1 small zucchini, finely chopped
1 carrot, finely chopped
2 shallots or 1 small onion, finely chopped
2 cloves garlic, finely chopped
salt and pepper
1 cup frozen peas
1/4 cup finely chopped flat-leaf parsley
2 teaspoons grated lemon peel
In a medium pot, bring the chicken stock and chicken to a simmer. Lower the heat and poach the chicken for 12 minutes.
Heat a dutch oven or soup pot over medium heat. Add the butter to melt. Add the orzo and cook, stirring, until deeply toasted, 3 to 5 minutes. Transfer to a plate.
Add the EVOO, 2 turns of the pan, to the dutch oven. Add the zucchini, carrot, bell pepper, shallots and garlic; season with salt and pepper. Cook, stirring occasionally, until the vegetables are softened, 7 to 8 minutes. Return the orzo to the pot.
Remove the chicken from the stock. Skim and discard the fat from the stock; transfer the stock to the dutch oven. Chop, dice or shred the chicken and add to the soup with 2 cups water. Bring the soup to a boil and cook until the orzo is just tender, 5 minutes. Add the peas during the last minute of cooking. Turn off the heat; stir in the parsley and lemon peel. Serve immediately.
Others who have made this recipe: