Hearty and filling, this Sausage and Tortellini Soup is the perfect way to warm up on cool nights.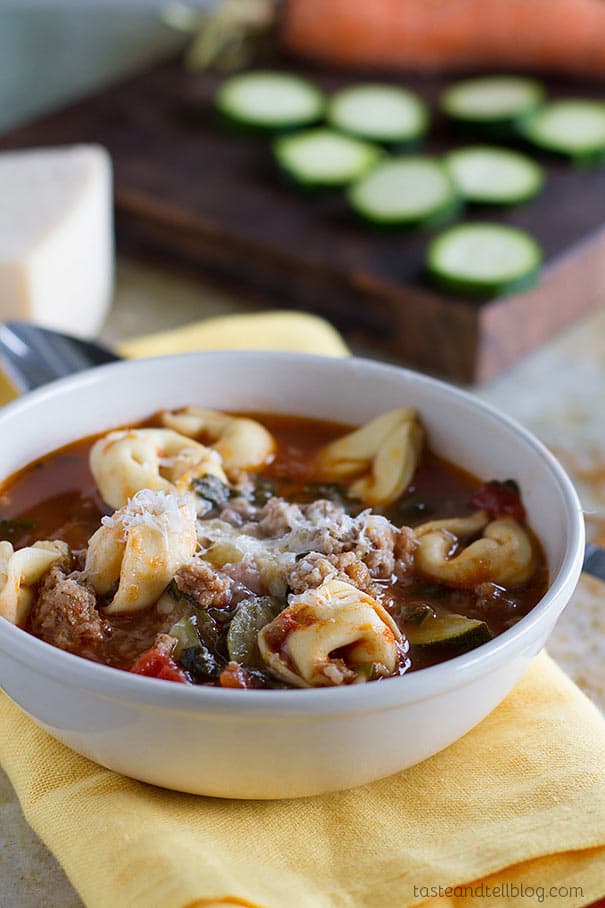 We have been having the most beautiful fall I think I have ever seen here in Utah. Usually it seems like we go from 98ºF and sunny to 43ºF and snowing. Ok, maybe I'm exaggerating a little bit – it does seem like we usually get about 2 weeks of fall before the snow moves in to stay for months and months.
But this year, it has been different. Beautiful days in the 70s. Cool nights, but not so cold that you have to turn on the heater. They are the kind of days where you can get away with wearing either boots or flip flops. I seriously want it to stay like this forever.
Alas, I know that the brutal winter is just ahead of us. I don't hide the fact that I'm more of a warm weather girl than a cold weather girl. But one thing that makes me not hate the cold quite as much is knowing that we are heading into soup season.

I'm a girl who will eat soup year round, no matter what the temperature is like outside. But there is nothing quite like serving up a big bowl of hot soup, (preferably with a big slice of homemade bread), when the temperatures outside have dropped. It's warm and cozy and this is one instance where food just makes you feel good.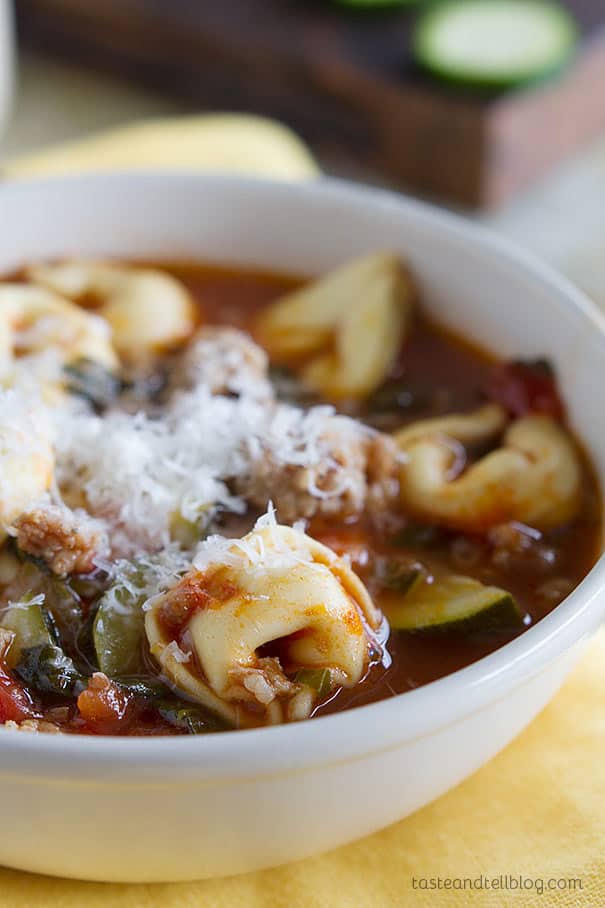 This Sausage and Tortellini Soup is the perfect soup as we transition to colder weather. You still get lots of veggies with the zucchini, carrots and spinach, and the pasta is a great way to turn this into an easy main dish. But the star of the show for me is the sausage. I use the Jones Dairy Farm Pork Sausage Roll (it's not just for breakfast, folks!). I love that it is all-natural with no preservatives, no MSG and it's even certified gluten-free. And only 4 ingredients – pork, water, salt and spices. It's pretty rare to see such a simple ingredient list these days!!
This soup does take a little bit of time to cook, but the hands on time is pretty minimal. This is a great soup to start and have on the stove on those nights when life is crazy and everyone isn't able to eat at the same time. Or with Halloween coming up, we usually have chili, but I'm thinking this Sausage and Tortellini soup would work perfectly. I could get it going on the stove and have it there warm as the kids get back from trick or treating!!
I'll be enjoying the rest of our mild fall, but winter doesn't look as bleak with thoughts of soup like this Sausage and Tortellini Soup on the horizon!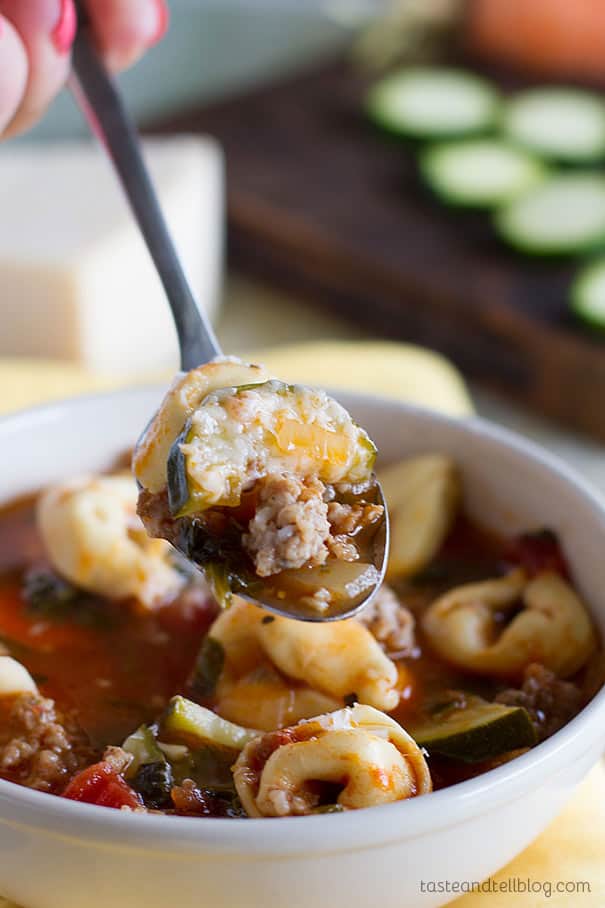 Like what you see here? Make sure you are following Taste and Tell for more great recipes and ideas!!

Facebook ** Pinterest ** Twitter ** Instagram ** Google+
or you can subscribe to my newsletter or Feedly or Bloglovin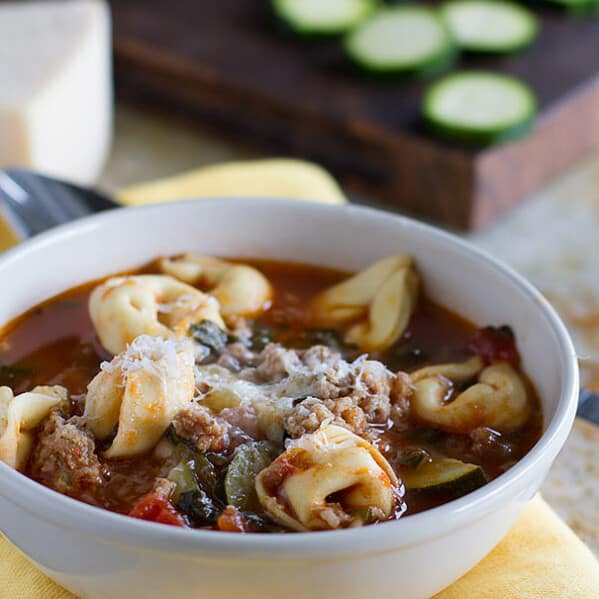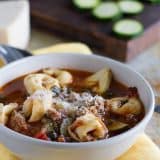 Sausage and Tortellini Soup
---
Prep Time: 20 mins
Cook Time: 1 hour 10 mins
Total Time: 1 hour 30 mins
Yield: 4-6 servings 1x
Description
Hearty and filling, this Sausage and Tortellini Soup is the perfect way to warm up on cool nights.
---
Scale
Ingredients
1 roll (12 oz) Jones Dairy Farm sausage
1 cup chopped onion
2 cloves garlic, minced
5 cups chicken broth
1 can (14.5 oz) diced tomatoes, drained
1 cup thinly sliced carrots
2 tablespoon minced fresh basil
1 teaspoon dried oregano
1 can (8 oz) tomato sauce
1 1/2 cups sliced zucchini
8 oz fresh tortellini
2 cups fresh spinach
freshly grated parmesan
---
Instructions
In a large pot or Dutch oven, cook the sausage over medium heat, breaking it up as it cooks until browned and cooked through. Add in the onion and garlic and cook until softened, about 5 more minutes. Stir in the chicken broth, drained tomatoes, carrots, basil, oregano and tomato sauce. Reduce the heat to medium-low and cook uncovered for 30 minutes.
Add the zucchini and cover the pot. Cook for an additional 20 minutes. Uncover and add the tortellini and spinach. Cook for 10 minutes or until the tortellini is soft. Serve topped with Parmesan cheese.
**Thank you to Jones Dairy Farm for sponsoring this post. Because of sponsors like Jones Dairy Farm, I am able to bring you all of the recipes I feature here.**