All of the flavors of your favorite cheeseburgers, but in a fantastic slow cooker soup, this Crock Pot Cheeseburger Soup is filled with ground beef and lots of veggies all in a creamy, cheesy soup.
Looking for crock pot soups to keep you warm all fall and winter long? Try this Crock Pot Cheeseburger Soup, Crock Pot Corn Chowder, Crock Pot Chili or Crock Pot Potato Soup.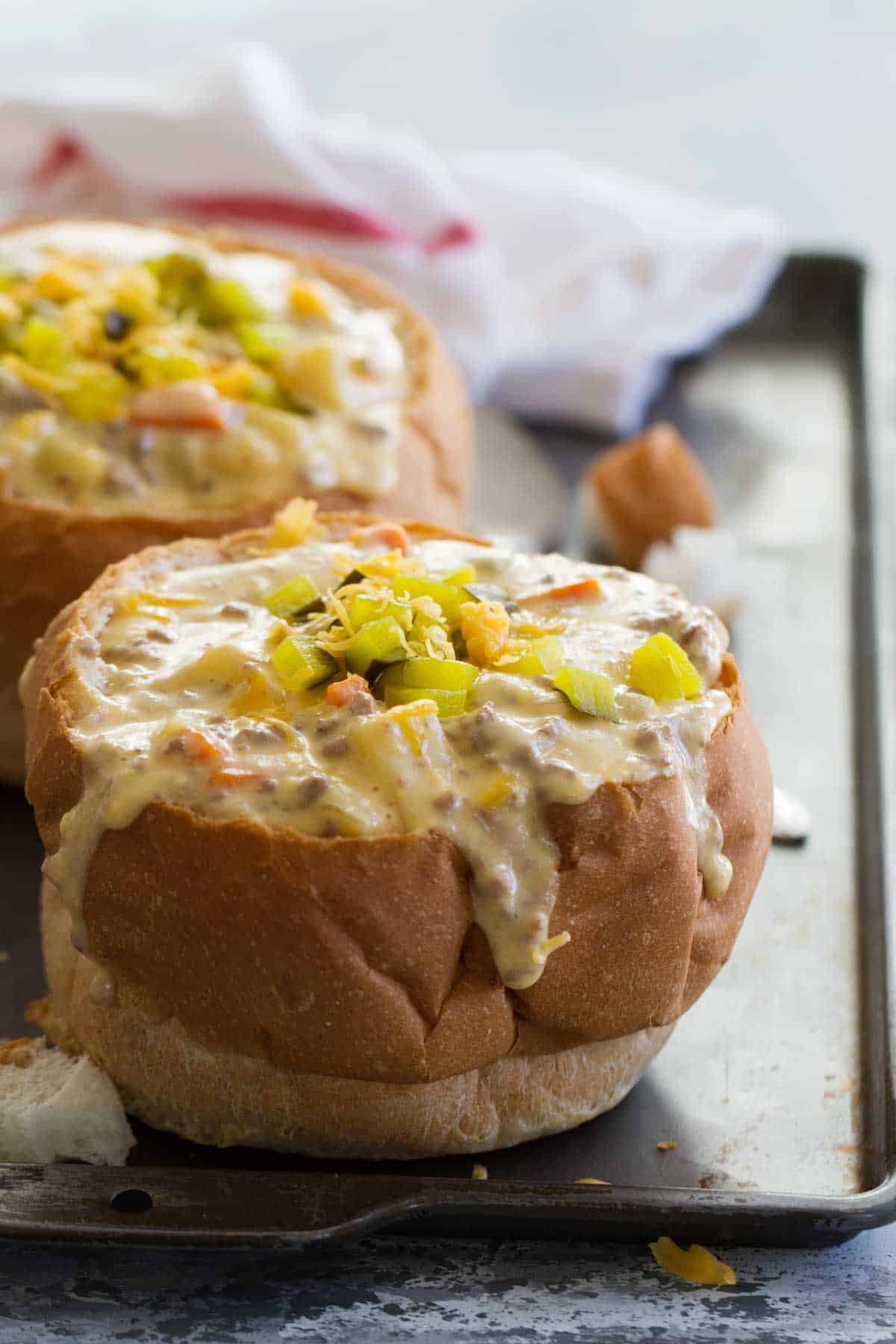 I am a soup lover, through and through. During a crazy cold snap in the weather recently, I went to the archives, looking for a cozy soup to make for dinner. I came across this Crock Pot Cheeseburger Soup. Upon seeing it, I was craving it, so I knew I needed to go make this recipe again!
And wow, how am I glad that I did. Every bit of this was eaten at the end of the meal, which isn't really very common among my picky eaters. This slow cooker soup is the best way to satisfy that cheeseburger craving when it's cold outside!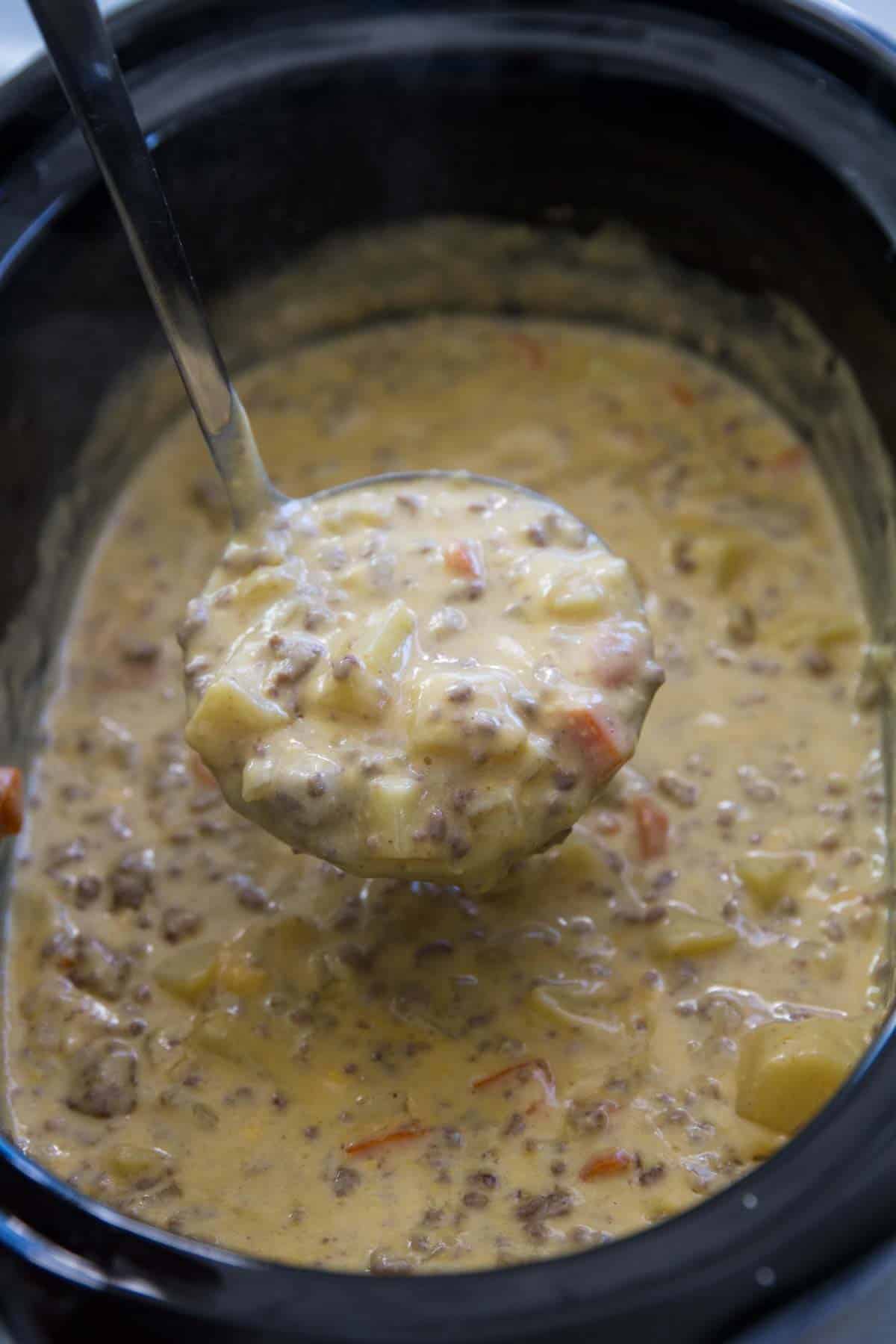 Ingredients
Chicken Broth: This is the base of your soup.
Potatoes: I will usually just use russet potatoes that have been peeled and chopped. You could also use red potatoes, and in that case, you could leave the peels on, if desired.
Onion, Carrot and Garlic: All three are important for flavor!
Salt and Pepper: I'm always a fan of seasoning the soup to taste with salt and pepper.
Ground Beef: I'll usually get a 85% or 90% lean ground beef. Since you are cooking the ground beef before adding it to the soup, it's not as important since you can drain the beef if it has lots of fat.
Flour: The flour will thicken the soup, so you won't want to skip this. If you don't want to use flour, you can always make a cornstarch slurry to add into the soup instead. I would probably use 2 tablespoons of cornstarch whisked with 2 tablespoons of water, and stir that into your soup when you add in the beef and cheese.
Milk: I use 2% because that's what we keep on hand, but whole milk would make it even creamier!
Processed Cheese: Aka Velveeta. Read below for ideas for substitutions.
Toppings: To really bring in the cheeseburger flavor, I like to add diced pickles and sometimes a bit of ketchup and mustard. But even just an extra sprinkling of cheese is great!
How to Make Slow Cooker Cheeseburger Soup
Combine the onions, carrots, potatoes, and garlic with some chicken broth in the slow cooker. Season with salt and pepper, and let it cook on low until the veggies are soft, 3-4 hours.
Cook the ground beef until browned, then stir the flour into the beef. Stir in the milk and let it cook until it is slightly thickened. This will help you to make your soup a little thicker.
Add the ground beef mixture to the slow cooker. Stir in the cubed cheese, and allow the soup to cook for another hour to melt the cheese.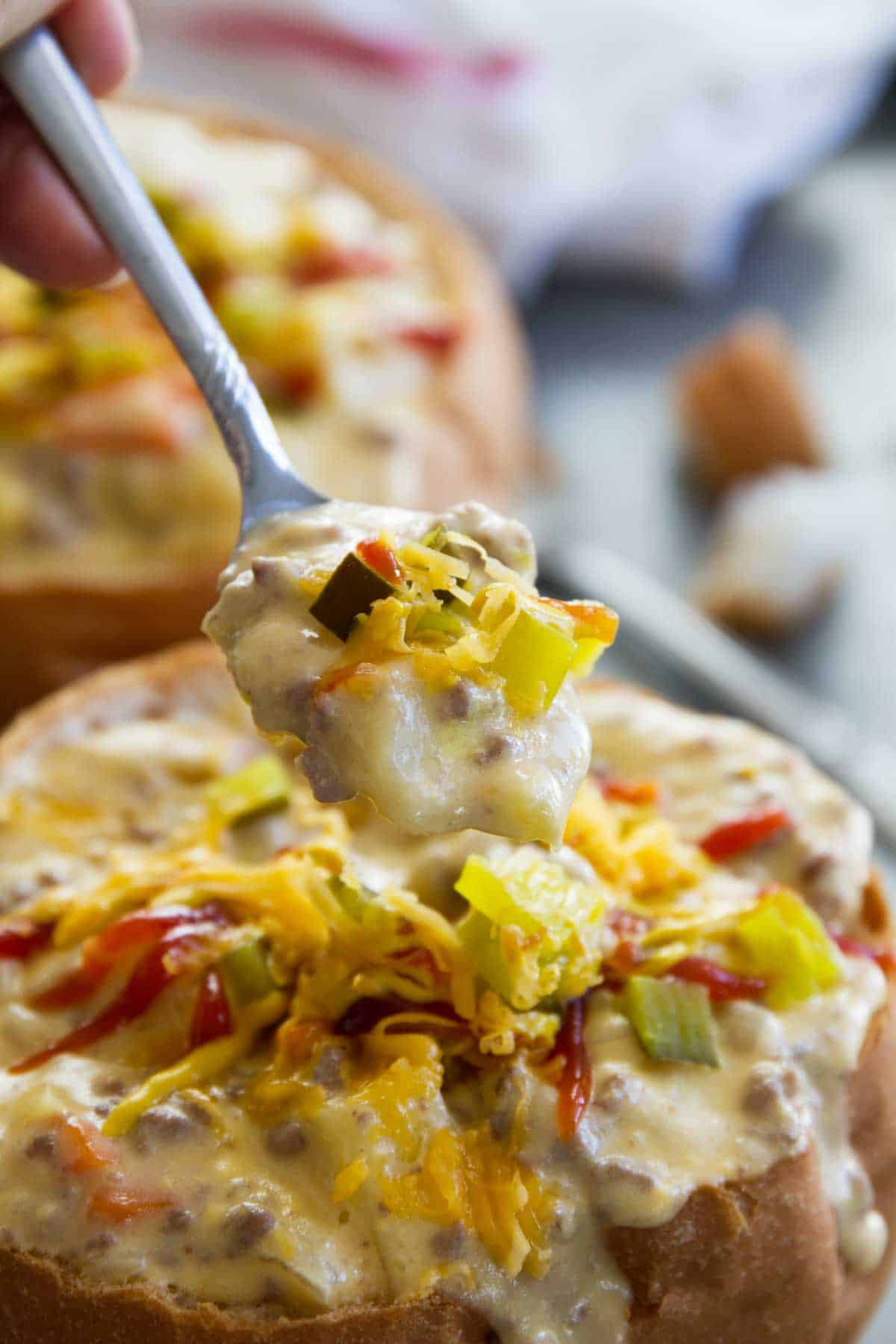 Tips
I know some people are not into the whole Velveeta addition, but I tried to make this without it and it just is never the same and it didn't really taste like a cheesy soup. So I settled on the Velveeta. It actually really gives the slow cooker soup that cheeseburger flavor because don't most cheeseburgers have American cheese anyway? But if you'd like to add a substitution for the Velveeta, you can add in 1 1/2 cups shredded cheddar cheese along with 4 ounces of cream cheese.
The chicken broth can also be substituted with beef broth. I just usually have chicken stock on hand, so that's what I use.
I like to cook the ground beef by itself and add it later because I don't always love the texture of meat that has been in the slow cooker all day. If you want, you can cook the ground beef mixture ahead of time.
Want to make this on the stove top instead of in a slow cooker? Follow the same steps, using a soup pot instead of the crock pot. Your cook time will be much less – you'll basically want to just cook until the vegetables are softened.
Storage
The leftovers can be stored in the refrigerator in a container with a lid for up to 3 days.
Technically you can freeze the leftovers, as well, but the thawed soup will not be as good as when it is fresh. Potatoes tend to get grainy when they are frozen and then thawed, so be aware that it may have a different texture if you decide to freeze it.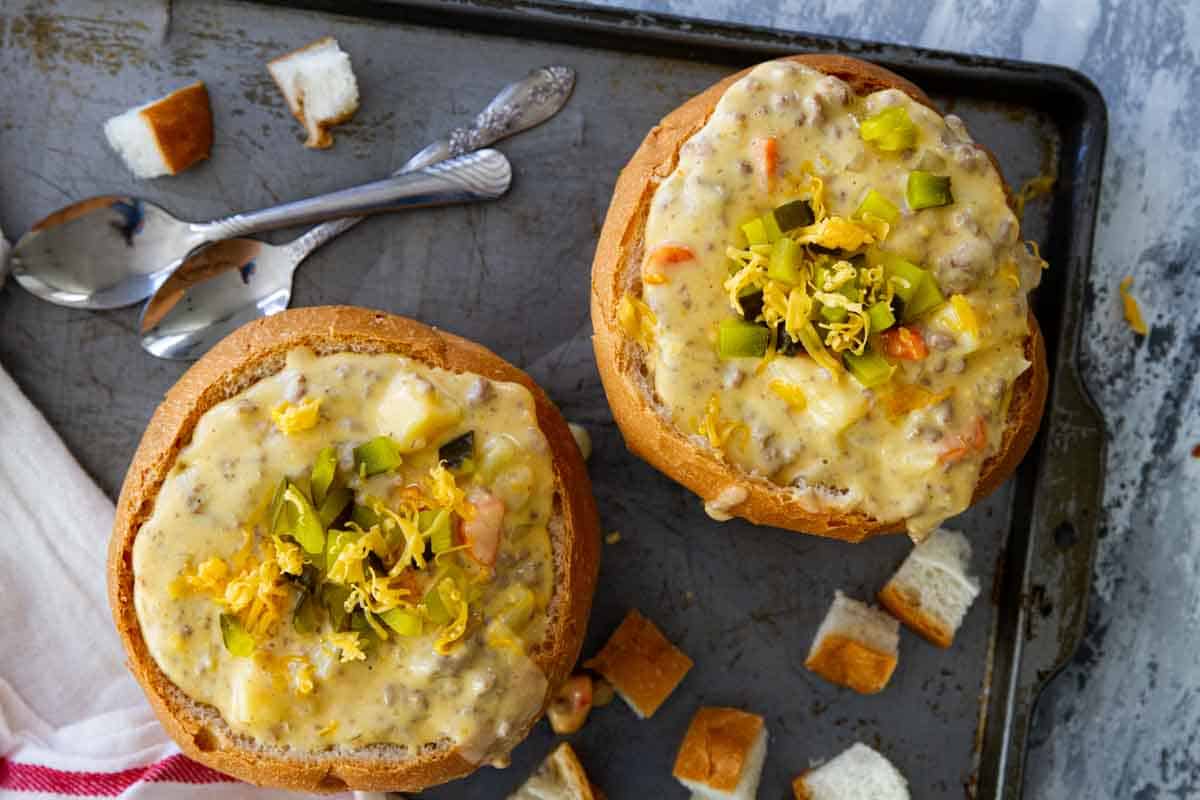 More Crockpot Soups
Broccoli Cheese Soup
Homemade Beef Stew
Chicken and Gnocchi Soup
White Chicken Chili
Zuppa Toscana
Tools Used to Make this Slow Cooker Cheeseburger Soup
A 5-quart slow cooker would be perfect for this recipe. I have a 6 quart, and it worked, as well, although the vegetables and liquid only took it to about half full for the first part of the recipe.
I love using a bench scraper to move the veggies from the cutting board to the slow cooker.
And of course, you need a good ladle for serving up your cheeseburger soup!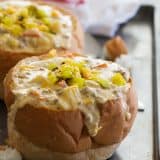 Crock Pot Cheeseburger Soup
---
Author:
Prep Time: 20 minutes
Cook Time: 5 hours 20 minutes
Total Time: 6 hours
Yield: 6 servings 1x
Category: Main Dish
Method: Slow Cooker
Cuisine: American
Description
All of the flavors of your favorite cheeseburgers, but in a fantastic slow cooker soup, this Crock Pot Cheeseburger Soup is filled with ground beef, lots of veggies all in a creamy, cheesy soup.
---
Scale
Ingredients
3 cups chicken broth
2 cups peeled and diced potatoes
1 cup diced onion
1/2 cup diced carrot
2 cloves garlic, minced
Salt and pepper
1 lb ground beef
1/4 cup all-purpose flour
1 cup 2% milk
1 lb processed cheese (aka Velveeta)
Toppers: shredded cheddar, diced pickles, ketchup, mustard
---
Instructions
Place the chicken broth, potatoes, onion, carrot and garlic in a 5 quart slow cooker. Season to taste with salt and pepper. Set the temperature to low and cook for 3-4 hours, until the vegetables are all soft.
Cook the ground beef over medium-high heat in a skillet, breaking it up as it cooks. Once it has cooked through, sprinkle the flour over the beef and stir to combine. Pour in the 1 cup of milk and stir. Let the mixture cook until it thickens slightly.
Pour the ground beef mixture into the slow cooker. Cube the cheese, then add the cheese to the soup and stir to combine. Allow the soup to cook for another hour, stirring once or twice, until the cheese is melted.
Serve the soup hot in a bread bowl, topped with diced pickles and ketchup and mustard, if desired.
Recipe Notes:
Nutrition information provided as an estimate only. Various brands and products can change the counts. Any nutritional information should only be used as a general guideline.
Nutrition counts do not count toppers or bread bowl.
Nutrition
Serving Size: 1/6 of recipe
Calories: 482
Sugar: 10 g
Sodium: 1134 mg
Fat: 18 g
Saturated Fat: 8 g
Unsaturated Fat: 0 g
Trans Fat: 0 g
Carbohydrates: 41 g
Fiber: 3 g
Protein: 36 g
Cholesterol: 96 mg
Keywords: cheeseburger soup, crock pot cheeseburger soup