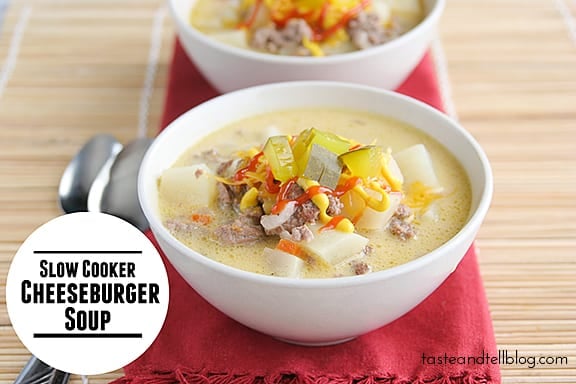 First of all, thank you so much for all of your comments yesterday. I've always believed in the goodness of mankind, and that was all reaffirmed yesterday. Thank you so much for all of your support and kind words!!
And now – to the last of the slow cooker recipes using Progresso's new Recipe Starters. I'm going back to a soup today. For some reason, I just really love soups made in the slow cooker. This soup is made with the Creamy Three Cheese Recipe Starter, which I think is probably my favorite of the starters – simply because I think it's probably the most versatile.  (and unrelated – for some reason, I can never spell versatile correctly the first time around.  Thank goodness for spell check!)  I am a cheese lover, and anything that adds some great cheesy flavor is a winner in my book!
I'm a huge cheeseburger fan, but I don't think that I have ever tried to make a cheeseburger soup before.  It's been on my list forever, and this was the perfect excuse to try one.  And I'm telling you – cheeseburger soup is going to be a regular in our house.  I loved all of the cheeseburger flavors, all in a comforting bowl of soup.  And although it seems a little bit weird, topping the whole thing with some chopped pickles, mustard and ketchup really brought the whole thing together.
This is another one to add to your slow-cooker list!!
 

Slow Cooker Cheeseburger Soup
Change up your normal cheeseburger – by putting those flavors into a slow cooked soup!
Ingredients
1 lb ground beef
1 cup diced onion
½ cup diced carrot
1 clove garlic, minced
1 can (18 oz) Creamy Three Cheese Progresso Recipe Starter
2 cups chicken broth
2 cups peeled and diced potatoes
1½ cups shredded cheddar cheese
Optional toppers
Additional cheddar cheese
Ketchup
Mustard
Diced dill pickles
Instructions
In a 12-inch sauté pan, brown the ground beef. Add in the 1 cup diced onion, ½ cup diced carrot and minced garlic and cook an additional 5 minutes. Add into a 3½ to 4 quart slow cooker.
Pour in the can of Creamy Three Cheese Progresso Recipe Starter, 2 cups chicken broth and 2 cups of diced potatoes.
Cook on low for 3-4 hours, or until the potatoes are fork tender. Stir in the 1½ cups of shredded cheddar cheese and cook just until the cheese is melted. Serve topped with additional cheddar cheese, ketchup, mustard and diced dill pickles.
**This post is sponsored by Progresso, but all opinions are my own.**