Super easy to make at home, this Clam Chowder recipe is creamy and flavorful and with the best clam flavor.
Give me a good chowder and I'm a happy girl! For more chowder, check out this Crock Pot Corn Chowder or this Potato Corn Chowder.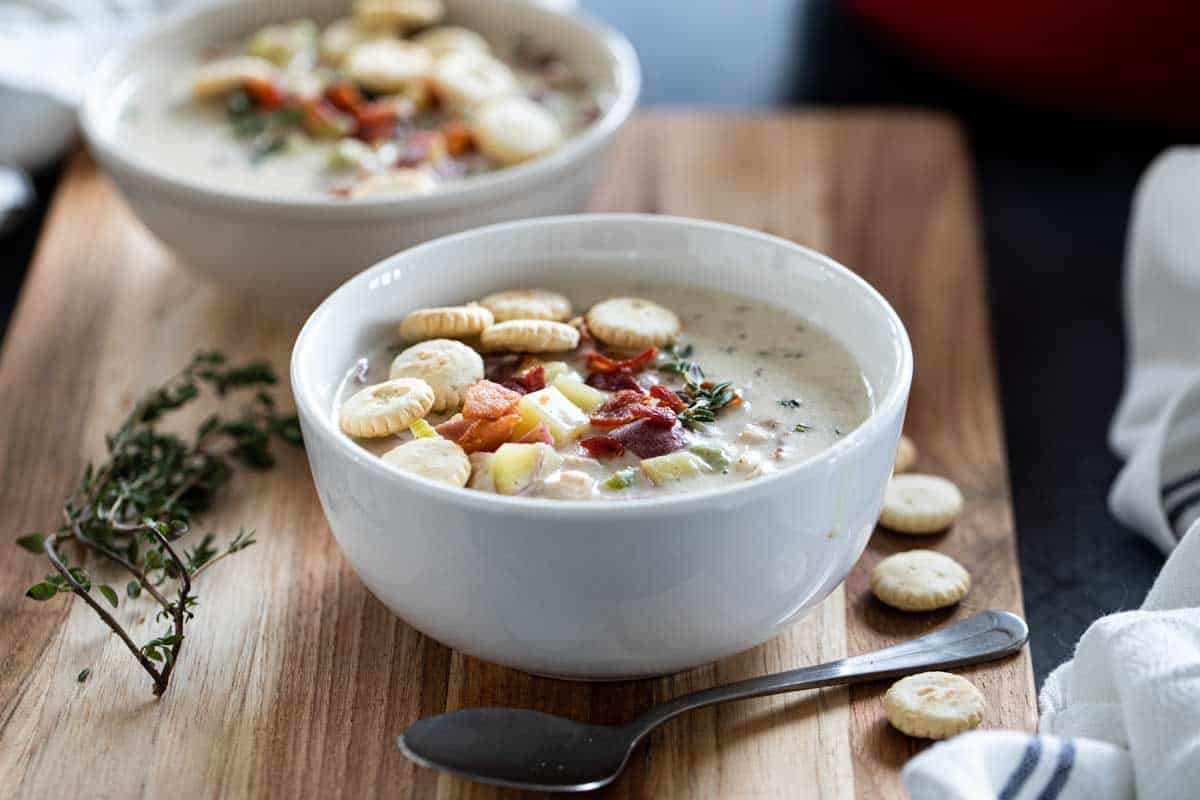 I know that clam chowder originated in the northeastern US, but it will always remind me of San Francisco. We took a family vacation there years ago, when my kids were quite small, and my daughter still talks about how she remembers eating clam chowder from a bread bowl.
It may be super touristy, but I'll take those memories any day!
But you don't have to travel to San Francisco or to Boston for a good bowl of clam chowder. You can make it in your very own kitchen!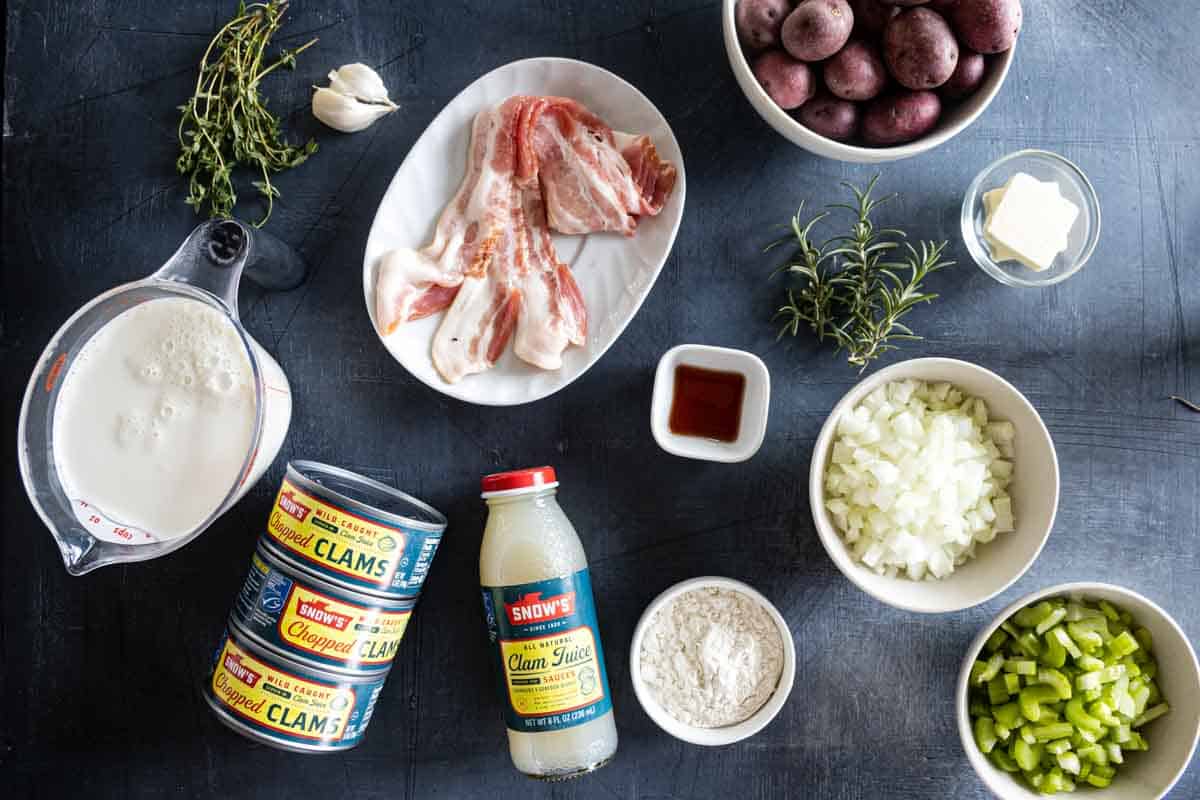 Ingredients
Clams: I live in Utah, where the fresh clams are definitely not plentiful. In fact, I've never even cooked fresh clams. Good thing this recipe is amazing with canned clams! I've tried both baby clams and chopped clams, and while both were good, the chopped clams were the best.
Bacon: Not only do you get the bacon pieces throughout the chowder, but your veggies are cooked in the bacon grease, bringing in lots more flavor.
Celery, Onions & Garlic: These are all for flavor. Usually my kids complain if there is celery in soup, but no one even complained in this chowder!
Flour: The flour is to thicken up the chowder. I have not tested this with a gluten free alternative.
Clam Juice: While testing this recipe, I originally was using chicken broth, but it was really missing the clam flavor. So I would say that in a pinch, chicken or vegetable broth would work, but I highly suggest using clam juice.
Half and Half: Half and half definitely is the best, in my opinion. See below for substitutions if you don't have half and half.
Potatoes: I like using baby red potatoes. You could also use russets, but would need to peel them first. Either way, make sure you dice the potatoes fairly small.
Rosemary & Thyme: Technically these can both be left out, but I think the rosemary and thyme are what really make this recipe stand out!
Red Wine Vinegar: This is a trick I learned years ago – adding a bit of vinegar to soup at the very end. It helps to balance the flavors and bring some brightness to the soup.
Salt and Pepper: Always salt and pepper!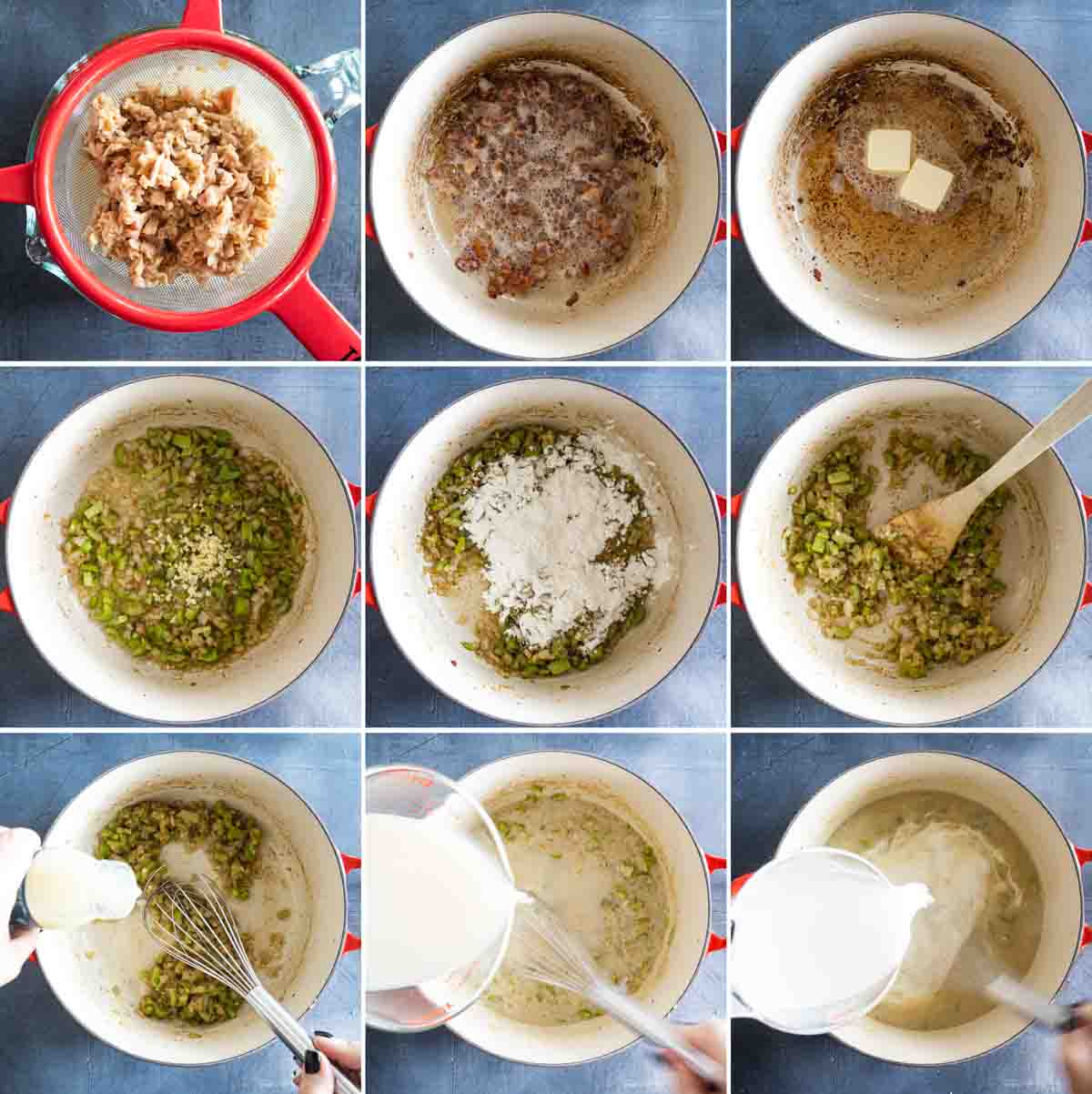 How to Make Clam Chowder
It may look like a lot of steps, but this comes together in well under an hour!
CLAMS: Drain the clams, but reserve the juice, because you are going to use it. I like to do this in a sieve because then I will rinse the clams.
BACON: Slice the bacon and cook it in a Dutch oven or heavy soup pan. I finally just invested in a Le Creuset Dutch Oven, but I had a Lodge Dutch Oven for years before the enamel started to come off. Once the bacon is crisp, remove it with a slotted spoon. Leave about 2 tablespoons of the bacon grease and discard the rest.
VEGGIES: Melt the butter in with the bacon grease and add the onions and celery. Cook until soft, then add the garlic for 30 seconds.
FLOUR: Stir the flour into the mixture. Let it cook for a minute or two.
LIQUID: Whisk in the clam juice and the reserved juice from the canned clams. Cook this until it starts to thicken, then add in the half and half.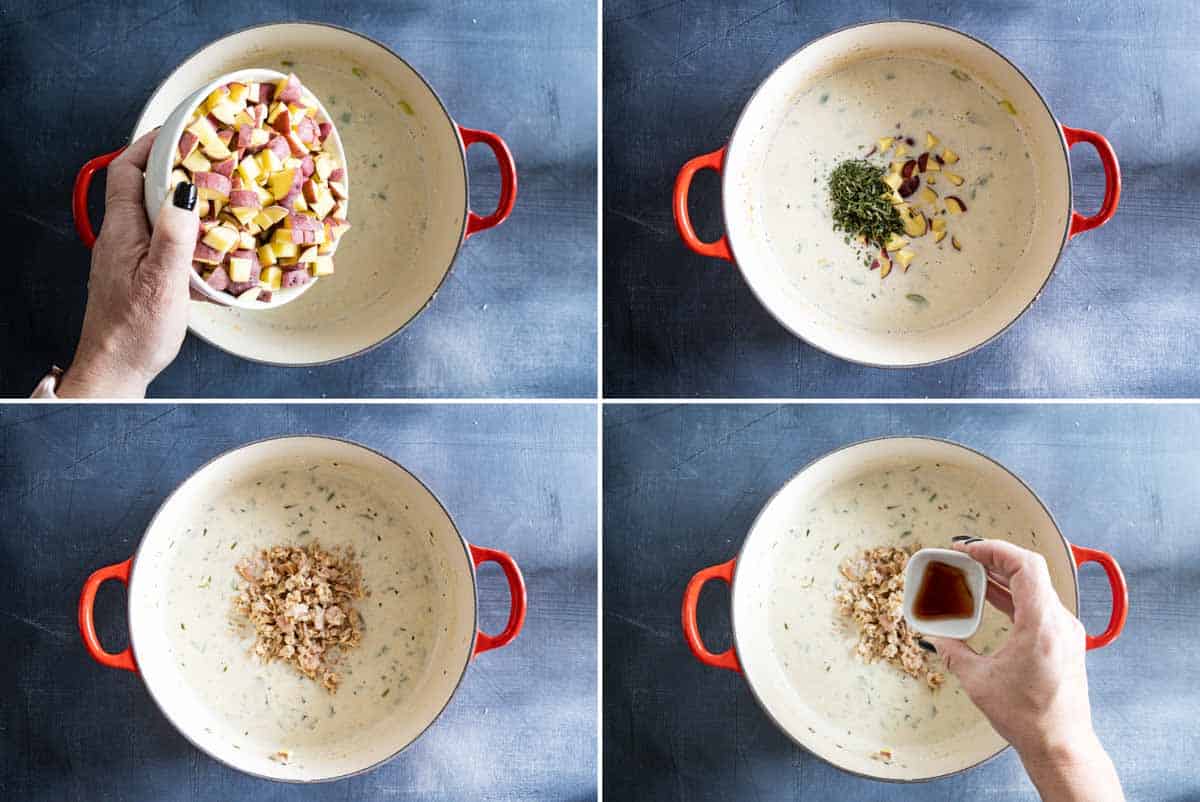 POTATOES: Stir in the potatoes.
SEASONING: Then add the thyme and rosemary. Cook until the potatoes are tender. Don't add the clams yet – they will get tough if you cook them too long.
CLAMS & BACON: A few minutes before you are ready to serve, stir in the clams and the reserved bacon.
VINEGAR: Add the vinegar, and cook for a minute or two until it is all warmed through. Don't forget to taste and season with salt and pepper.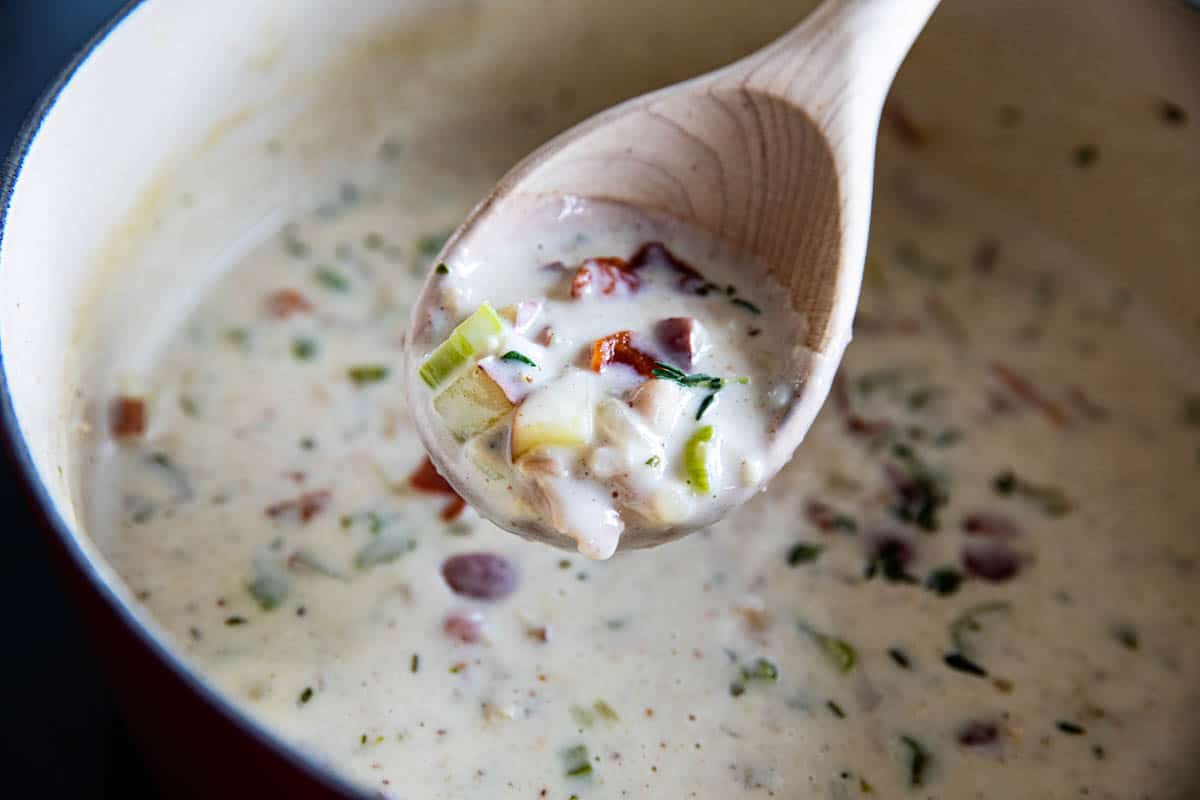 Topping Clam Chowder
This soup already has a lot going on, but here are a few ideas of what you can serve on top of your clam chowder:
Oyster crackers – I buy these just for clam chowder!
Fresh herbs – Parsley is easy, but I always like a little extra thyme and rosemary.
More bacon – This is the obvious answer, right? I will always fry up an extra slice or two of bacon so that I have some crispy bacon to serve on top.
Tips
This soup is pretty thick as written, but if you want it even thicker, whisk together a tablespoon of cornstarch with a tablespoon of water and whisk that in at the end.
Refrigerated, the leftovers will last up to 3 days.
I do not recommend freezing this recipe because of the dairy.
If you don't have half and half, you can use one cup of milk and one cup of heavy cream. I don't suggest using all milk unless you are using whole milk. And all heavy cream would make a very rich soup.
Make sure to taste at the end and season with salt and pepper. I like a lot of pepper!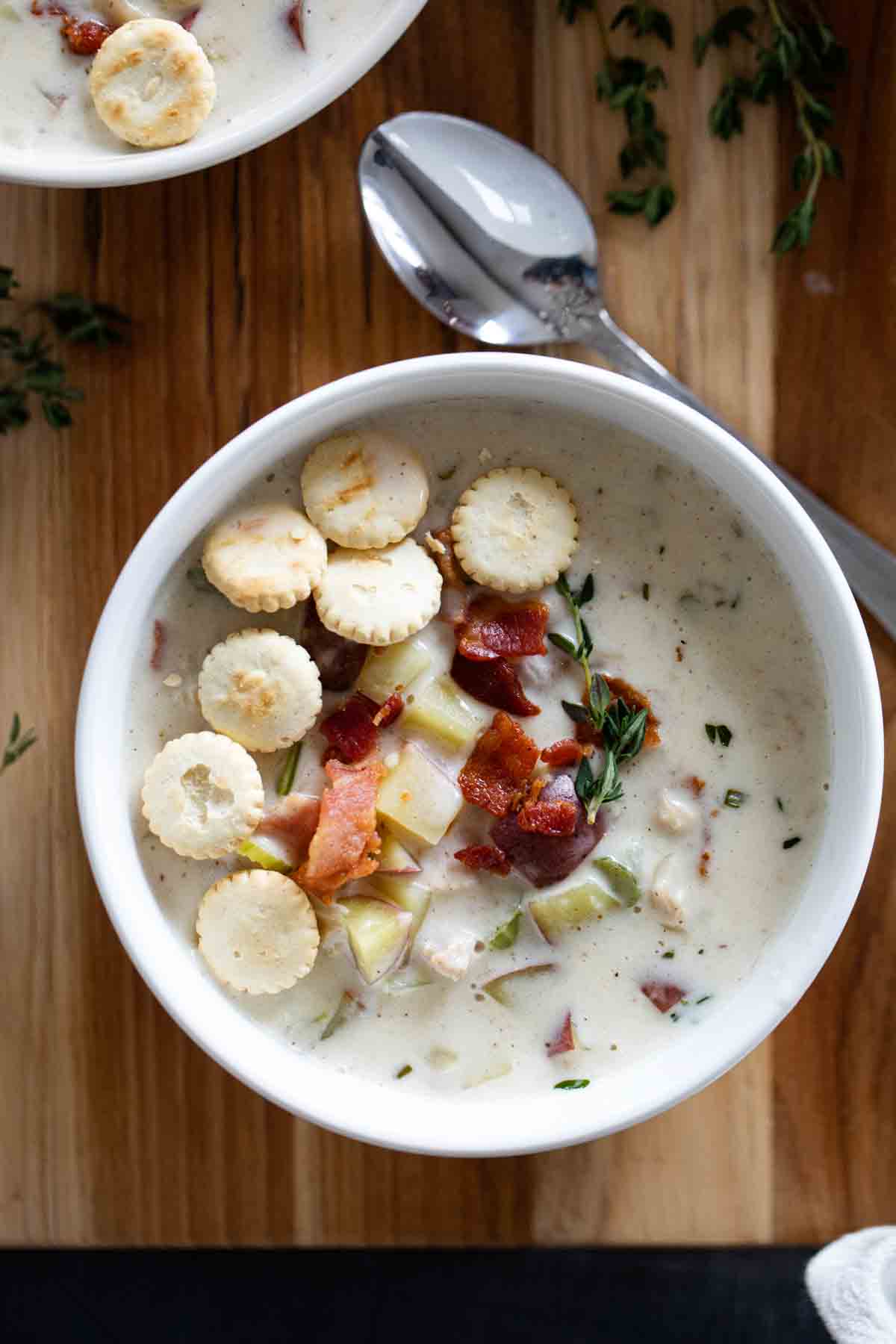 More Favorite Soup Recipes
Creamy Chicken Tortilla Soup
Turkey Noodle Soup
Chicken Wild Rice Soup
Baked Potato Soup
Crockpot Potato Soup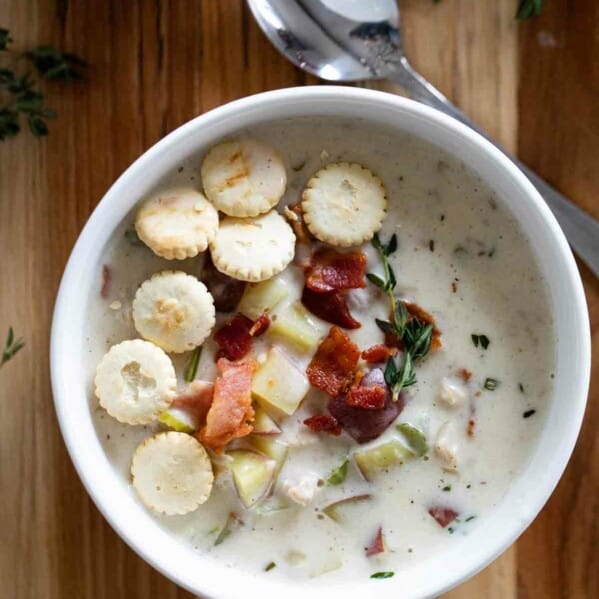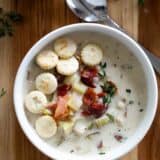 Clam Chowder
---
Author:
Prep Time: 20 minutes
Cook Time: 25 minutes
Total Time: 45 minutes
Yield: 6 servings 1x
Category: Soup
Method: Stove Top
Cuisine: American
Description
Super easy to make at home, this Clam Chowder recipe is creamy and flavorful and with the best clam flavor.
---
Scale
Ingredients
3 cans (6.5 oz each) chopped clams
4 slices bacon, chopped
2 tablespoons butter
1 cup diced celery
1 cup diced onions
2 cloves garlic, minced
4 tablespoons all-purpose flour
1 (8 oz) jar clam juice
2 cups half and half
1 pound baby red potatoes, cut small
1 tablespoon rosemary, chopped
1 tablespoon thyme, chopped
1 tablespoon red wine vinegar
Salt and pepper, to taste
---
Instructions
Drain the clams, reserving the juice. Rinse the clams and set aside.
Place the bacon in a Dutch oven or large, heavy soup pot. Cook over medium heat until crisp. Remove bacon with a slotted spoon, and discard all but about 2 tablespoons of the bacon grease.
Add the 2 tablespoons of butter to the pot. Add the celery and onion and cook until softened. Add the garlic and cook an additional 30 seconds.
Sprinkle in the flour and stir until the vegetables are coated.
Slowly start whisking in the jarred clam juice. Whisk in the reserved clam juice from the canned clams.
Cook over medium stirring constantly until it starts to thicken.
Whisk in the half and half, then stir in the potatoes, rosemary and thyme.
Cook over medium heat, being careful to not let the soup boil, until the potatoes are tender about 15 minutes.
Stir in the reserved clams, reserved bacon, and red wine vinegar. Season to taste with salt and pepper.
Cook until heated through, another minute or two, and serve.
Recipe Notes:
Nutrition information provided as an estimate only. Various brands and products can change the counts. Any nutritional information should be used as a general guide. Nutrition information does not include toppings.
Nutrition
Serving Size: 1/6 of recipe
Calories: 321
Sugar: 5 g
Sodium: 1107 mg
Fat: 15 g
Saturated Fat: 9 g
Unsaturated Fat: 6 g
Trans Fat: 0 g
Carbohydrates: 35 g
Fiber: 2 g
Protein: 15 g
Cholesterol: 52 mg
Keywords: clam chowder, clam chowder recipe, best clam chowder