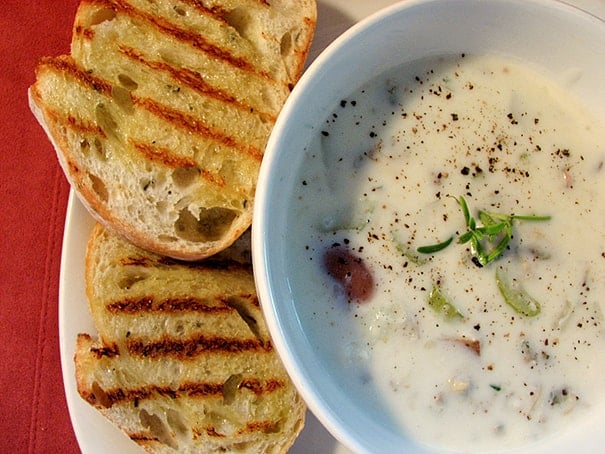 Where does the time go? I see blogging events all of the time that I want to take part in, but before I know it, the deadline has come and gone. I really wanted to take part in Meeta's Monthly Mingle, but of course, the deadline is today and I haven't made anything yet. I really wanted try my hand at gnocchi for the last round of Hay Hay It's Donna Day, but of course, the deadline passed me by. Well, for Tami's Super Soup Challenge, my entry was supposed to be posted before today, but I'm running a bit behind. I meant to post on Saturday, but ran out of time, and then didn't get around to it on Sunday, so even though I'm a little late, I still want to share!!
I was originally going to post a corn and cheese chowder that I was making, but then I saw Peabody's Smoked Corn Soup, and there was no way I was posting my corn soup for the same event as hers – she puts me to shame!
I was actually reading blogs one day and ran across a post about clam chowder. I really had a craving for it after that. This was several weeks ago and temperatures were still in the upper 90's, low 100's. (This has been the second hottest summer on record in Utah!) I texted my husband and asked him if he thought it was too hot to eat chowder for dinner – he is a soup/chowder fan, so of course, he was up for it.
I started off with a recipe that my aunt had put in a family cookbook that was just put together. Once it was all put together, (no offense to my aunt!) I felt like it needed something more. I think that blogging and reading other food blogs has upped my confidence in the kitchen a bit, and I'm not so hesitant to try to alter recipes on my own. I used to be a stick-to-the-recipe kind of girl. I went out to the garden to get some herbs – rosemary & thyme – and chopped those and added them to the chowder. I also fried up a little bit of cut up bacon and added that, as well as a bit of the bacon grease to the pot. This was so much better!! I also added more clams than the recipe called for, as well as the clam juice from the can. I also substituted red potatoes for regular – I read somewhere that red potatoes work well because the skin helps to keep them together instead of turning to mush.
Josh really liked this. He ate all of the leftovers over the next day or two. I liked it, but even though I rinsed the clams, they were still quite gritty to me, and that kind of ruined it for me. Maybe next time I will use regular clams instead of baby clams and take extra care to make sure they are rinsed off completely.
We ate this with some grilled bread and it was a perfect weeknight meal, even with the heat outside!!
Clam Chowder
Adapted from my Aunt Debbie
1 cup celery, sliced
1 cup onions, diced
2 cups potatoes, cubed
20 oz. can baby clams
3/4 cup butter
3/4 cup flour
1 quart half & half
3-4 slices of bacon, fried and chopped
Couple tablespoons of bacon grease
1 Tablespoon red wine vinegar
1/4 – 1/2 teaspoon sugar
1 Tablespoon fresh rosemary, chopped
1 Tablespoon fresh thyme, chopped
Salt and Pepper to taste
Put celery, onion and potatoes in a large pot. Cover with water – just enough to cover the vegetables. Boil until soft. Drain and reserve water.
Drain clams – reserve juice. Rinse clams thoroughly.
Melt butter and add flour. Mix to make a roux. Add half and half, reserved water, reserved clam juice, bacon and grease. Add clams. Add in vinegar, sugar, and herbs. Heat though. Add salt and pepper to taste.