Total comfort food, a chicken gravy is served over biscuits in this Chicken a la King.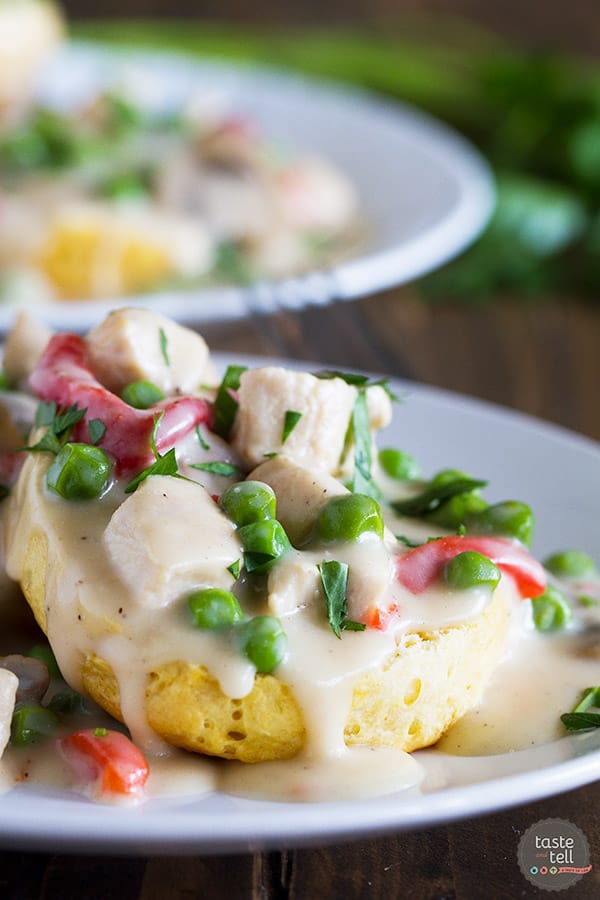 Photos Updated May 2016
I have several recipes in my "go-to" list that most people probably wouldn't consider blog worthy. They are nothing special – nothing you would cook for company, but something you would make on a week night when you need something easy and comforting. This is one of those meals. It may not look like much, but if you know me, you know that I don't duplicate recipes very often. And I have made this one probably 5 or 6 times in the last two or three years. That should say something!!
I almost entered this in Psychgrad and Giz's event that just passed – Tried, Tested and True. I ended up going with my favorite spaghetti sauce because it is more of a crowd pleaser. But this recipe is so perfect for a quick meal.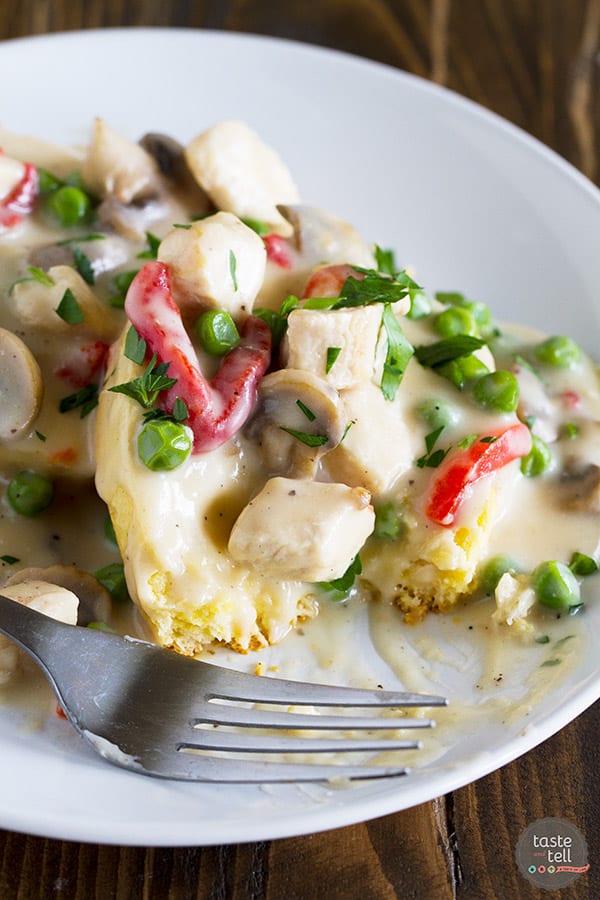 The recipe comes from a Pillsbury cookbook – 30 Minute Meals. If you've seen my list of cookbooks, you'll notice that I own quite a few Pillsbury cookbooks. I got many of them years back- mostly because they have a lot of pictures and they are very do-able recipes. They probably won't teach you a ton about cooking if you already know how to cook, but they helped me out with quite a few meals back in my single days when I didn't cook a whole lot.
This recipe – in typical Pillsbury style – uses a prepackaged ingredient: the biscuits for the base. But the good thing about this recipe is that you could totally use your favorite biscuit recipe, and then the whole thing would be homemade. I'll admit that I often used the canned ones for this – mainly because I go to this recipe when I need something quick and easy, and it doesn't get any easier than plopping the biscuits out of the can onto a baking sheet. And really – I love the flaky layer ones – they are just something I have never been able to duplicate at home! But feel free to substitute.
The only thing I change is to sauté fresh mushrooms instead of using canned ones. Like I said with my spaghetti sauce, I'm not a fan of canned mushrooms. Also, I have left the pimientos out at times when I didn't have any, and it didn't effect the dish much. They do make it look more colorful, though!
Nothing fancy, nothing special – but sometimes all you need is delicious and comforting – and this totally fits the bill!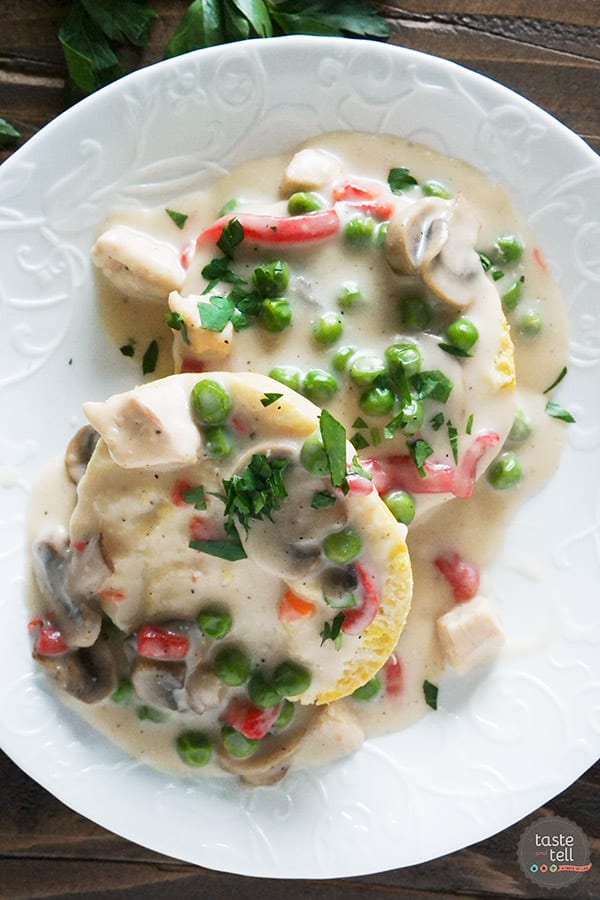 Like what you see here? Make sure you are following Taste and Tell for more recipes and ideas!
Facebook | Pinterest | Instagram | Twitter | Google+ | Weekly Newsletter | Feedly | Bloglovin
Print
Chicken á la King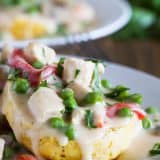 Total comfort food, a chicken gravy is served over biscuits in this Chicken a la King.
Prep Time:

15 mins

Cook Time:

15 mins

Total Time:

30 mins

Yield:

4 servings
Ingredients
1 (12 oz) can refrigerated fluffy buttermilk biscuits (or make homemade)
1 tablespoon olive oil
8 oz fresh mushrooms
1/4 cup butter
1/3 cup all-purpose flour
1 1/2 cups chicken broth
1 1/4 cups milk
12 oz cooked chicken, cubed or shredded
1 cup frozen sweet peas
1 (2 oz) jar diced pimientos, drained
salt and pepper
Instructions
Bake the biscuits according to the directions on the can.
Heat the olive oil in a large skillet over medium heat. Add the mushrooms and cook until softened and browned. Remove to a plate and wipe the skillet clean.
Return the skillet to the stove and place over medium-low heat. Add the butter and melt. Add the flour and stir, cooking for about 1 minute. Slowly add the broth and the milk, whisking constantly. Continue to cook until the mixture boils and thickens. Once thickened, stir in the chicken, peas, mushrooms and pimientos. Season to taste with salt and pepper. Simmer for 5-10 minutes, until thoroughly heated.
To serve, split the biscuits in half and place on serving plates. Spoon the hot chicken mixture over the biscuits.
SHOP THIS POST!
More Easy Chicken Dinners: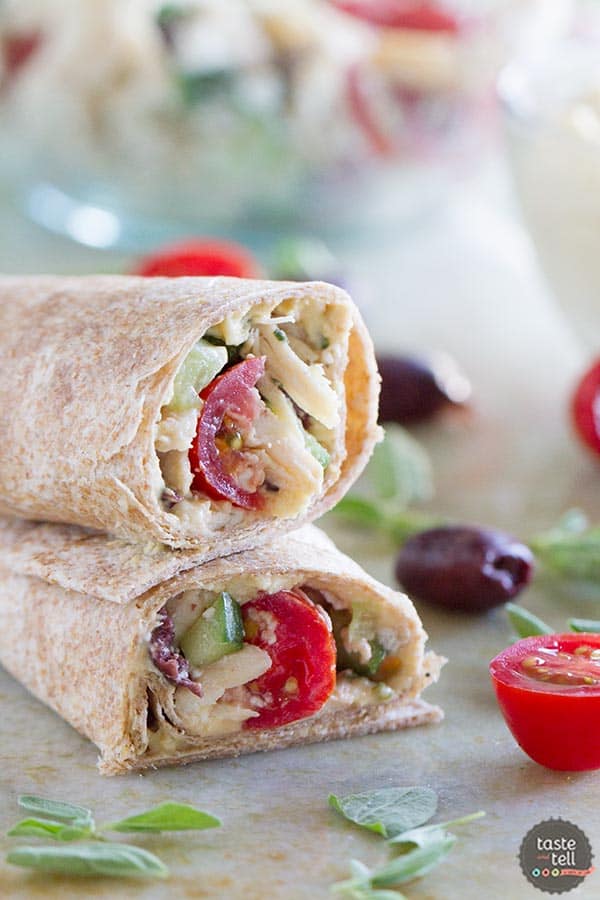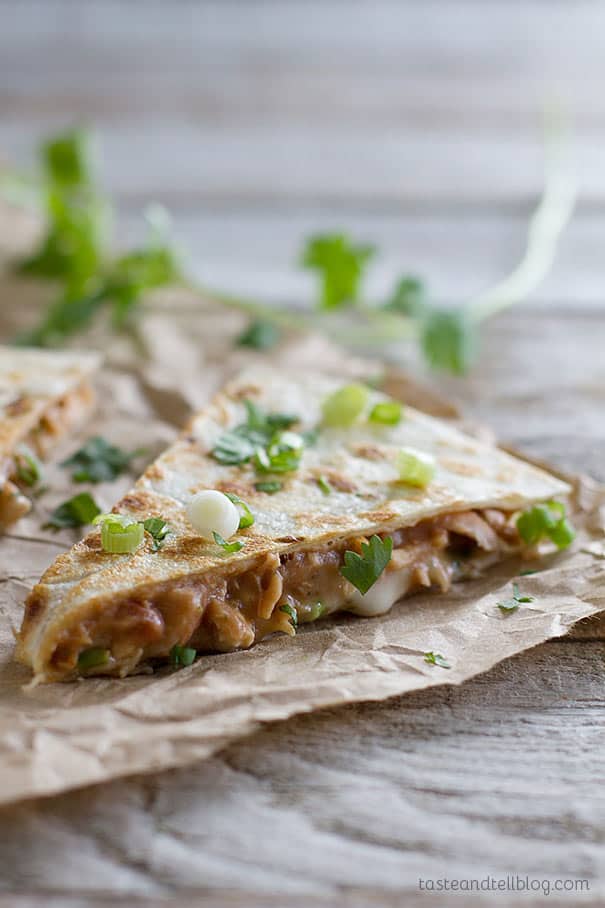 Rio Grande Chicken Quesadilla Recipe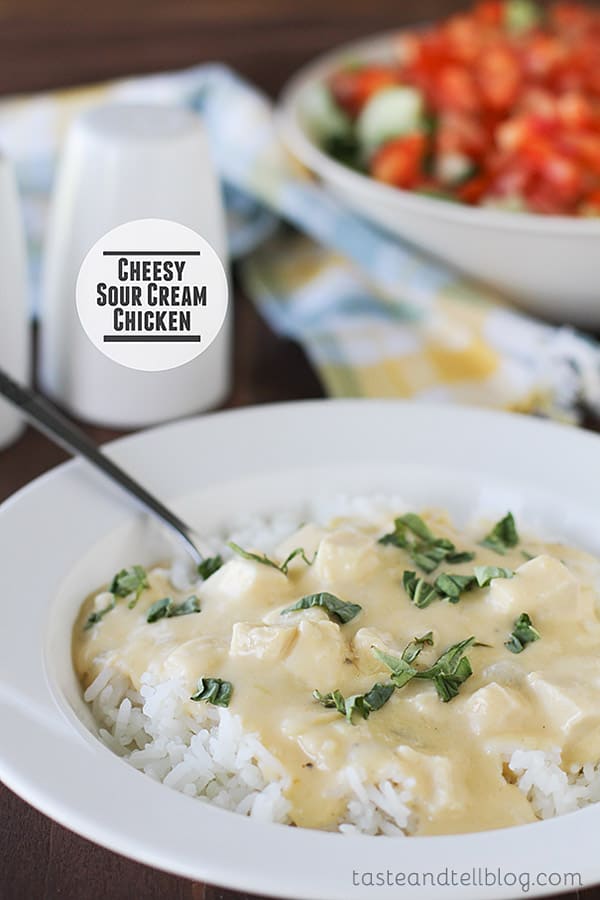 Around the Web:
Chicken and Bacon Honey Mustard Bake from Lauren's Latest
Crispy Chicken Thighs with Dijon and Dill from Rachel Cooks
One Pot Chicken and Orzo from Simply Recipes
Don't miss a thing! Follow me on Pinterest to see what I'm pinning!
Visit Taste and Tell's profile on Pinterest.