Total comfort food – this homemade Chicken a la King starts with an easy chicken gravy that is served over biscuits. This easy weeknight dinner can be on the table in 30 minutes!
I started making this chicken a la king recipe back when my husband and I first got married. And to this day, anytime I say that I am making it for dinner, he gets happy. He just loves this recipe!
This is a great weeknight dinner idea – you can have it on the table in 30 minutes. And it's perfect for when the weather starts cooling down, as it is a great comfort food dinner. But really, I make this one year round!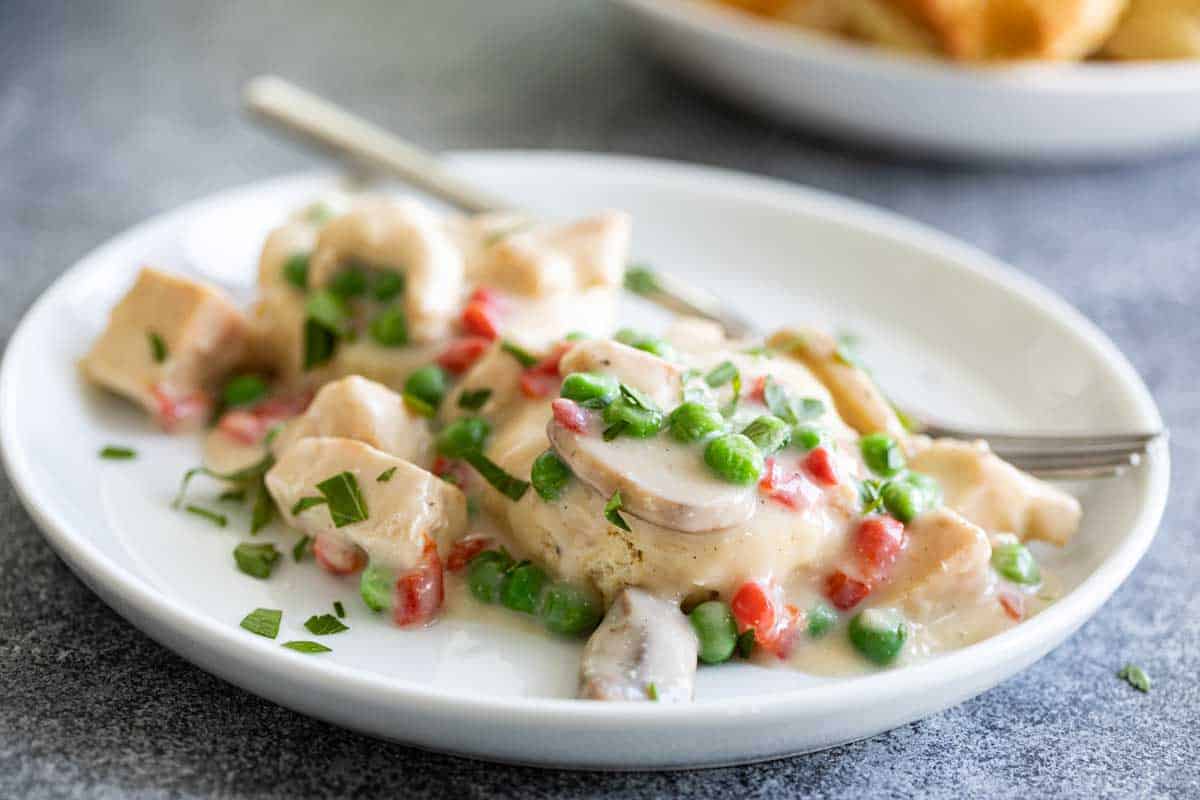 What is Chicken a la King?
Also known as King-Style Chicken, Chicken a la King usually consists of cooked, diced chicken in a cream sauce (or a chicken gravy) that is often served over bread, pasta or noodles. The sauce most often has mushrooms and vegetables. This dish is also known for using pimientos.
Its beginnings are unclear (there are several different stories of who first made it), but the first mentions were in the 1880s to 1890s. It became a popular dish in the mid to late 20th century.
I have always had Chicken a la King with biscuits instead of toast, and that is still what I prefer today.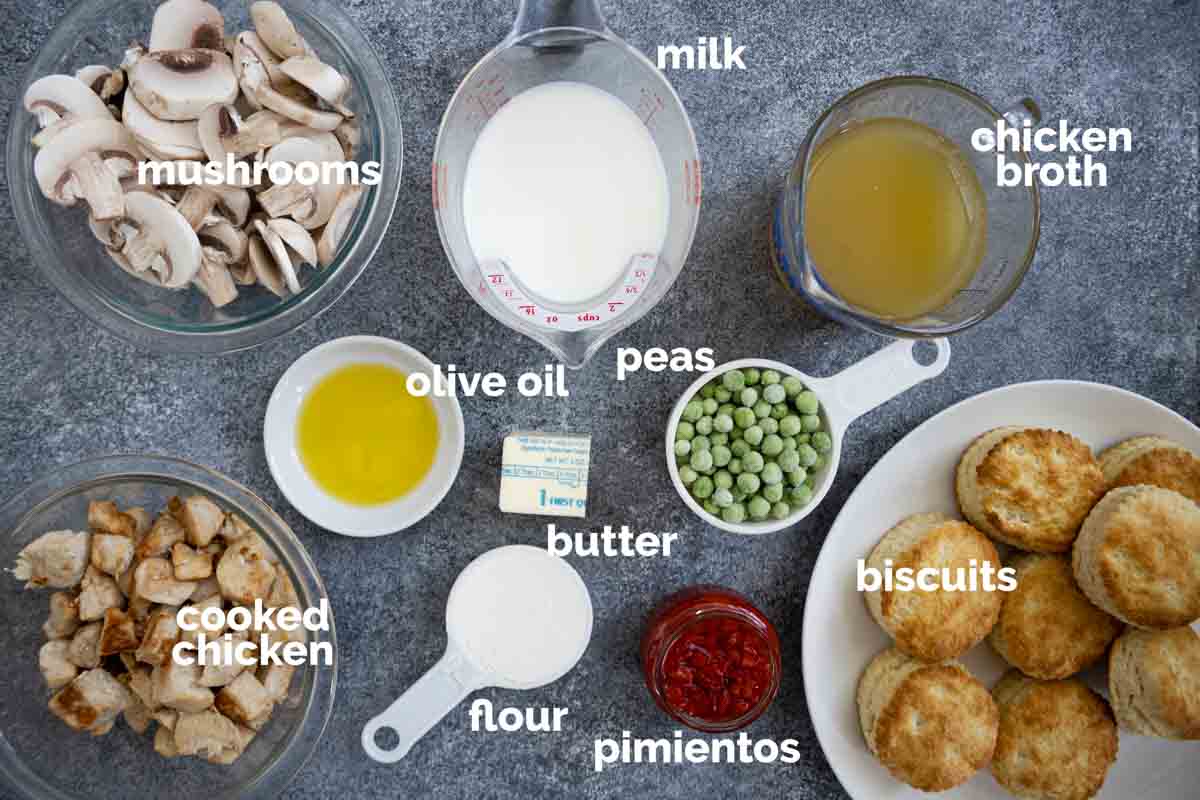 Ingredients:
Biscuits: The first few years that I made this, I always just used canned, refrigerated biscuits. Which is totally fine! But lately, I've been making Buttermilk Biscuits, and they are so good with this! If using refrigerated biscuits, start the biscuits before you make the gravy so it's all ready at the same time. If making homemade biscuits, it will take longer, but the biscuits can be made ahead of time.
Olive Oil: I use extra-virgin olive oil, but you could use any cooking oil that you love.
Mushrooms: I know there are a lot of people that don't love mushrooms, so if you are one, feel free to leave them out or sub in a different vegetable.
Butter: I use unsalted butter, but I don't think it will make much of a difference in this recipe if you use salted or unsalted since you'll season to taste at the end.
Flour: This is what will thicken up your gravy, so don't skip it. I have only ever tried all-purpose flour.
Chicken Broth & Milk: I like to use a mixture of chicken broth and milk. The broth brings in flavor while the milk adds to the creaminess.
Chicken: The biggest timesaver in this recipe is that it used pre-cooked chicken. This can be leftover chicken that you dice or shred, or if you make cooked chicken in bulk, this is a great recipe to use it with. If you want to make chicken ahead of time to save time in all kinds of recipes, I have a great guide: How to Make Shredded Chicken. You can also use rotisserie chicken.
Peas: I like to use frozen peas because they are my favorite, but you could use fresh or canned as well.
Pimientos: I actually think this was the very first recipe I ever used pimientos in. Pimientos (sometimes spelled pimentos) are actually a pepper. I buy the small jar with the diced pimientos that you can find at most grocery stores. You could also leave these out, or add in some sauteed, diced bell peppers, if desired.
Salt and Pepper: Salt and pepper are very important! Season to taste once your gravy is done so that it does not end up bland.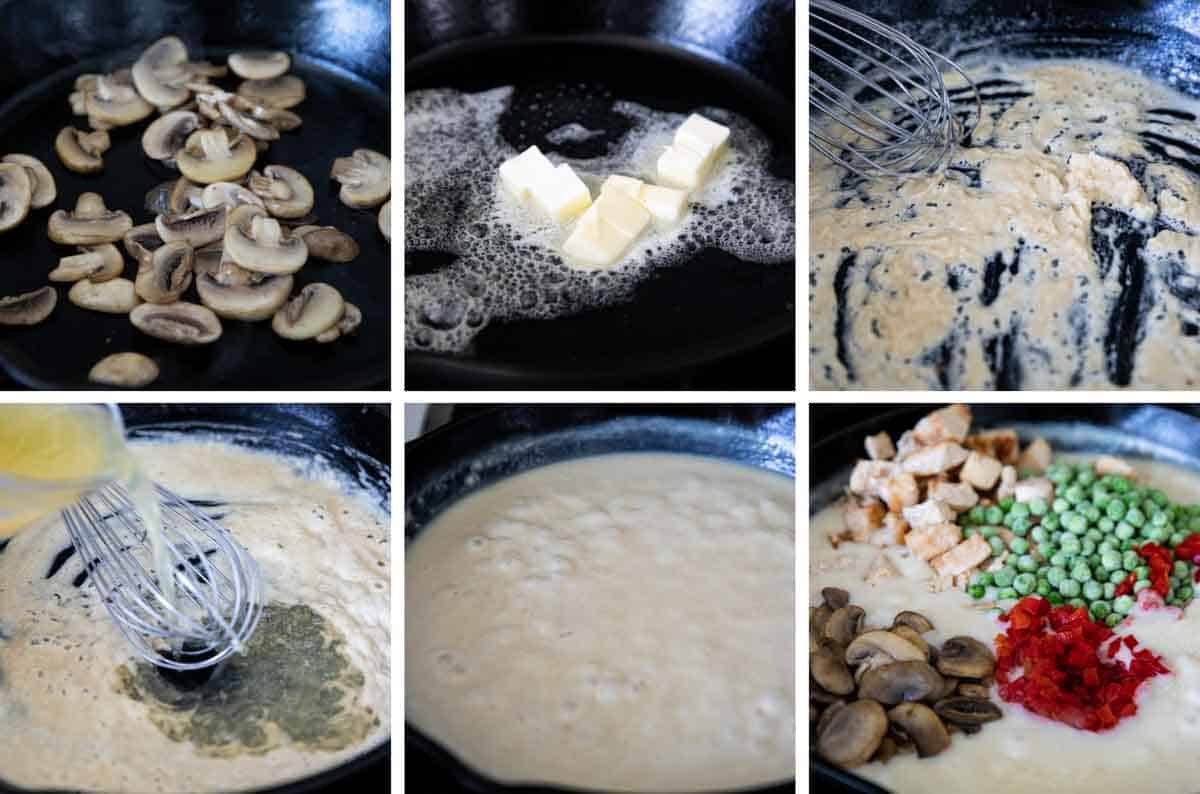 How to Make Chicken a la King
Cook the mushrooms: Saute the mushrooms until softened with the olive oil in a large skillet. I like to use a cast iron skillet. Remove from the skillet.
Melt the butter: In that same skillet, melt the butter.
Add the flour: When the butter is melted, whisk in the flour and cook for a minute.
Whisk in the liquid: Slowly add in the liquid, whisking the whole time to avoid lumps.
Thicken the sauce: Cook until the sauce has thickened and is bubbling.
Combine: Add in the mushrooms, peas, chicken and pimientos. Stir to combine.
To serve, split a biscuit and serve topped with the chicken gravy.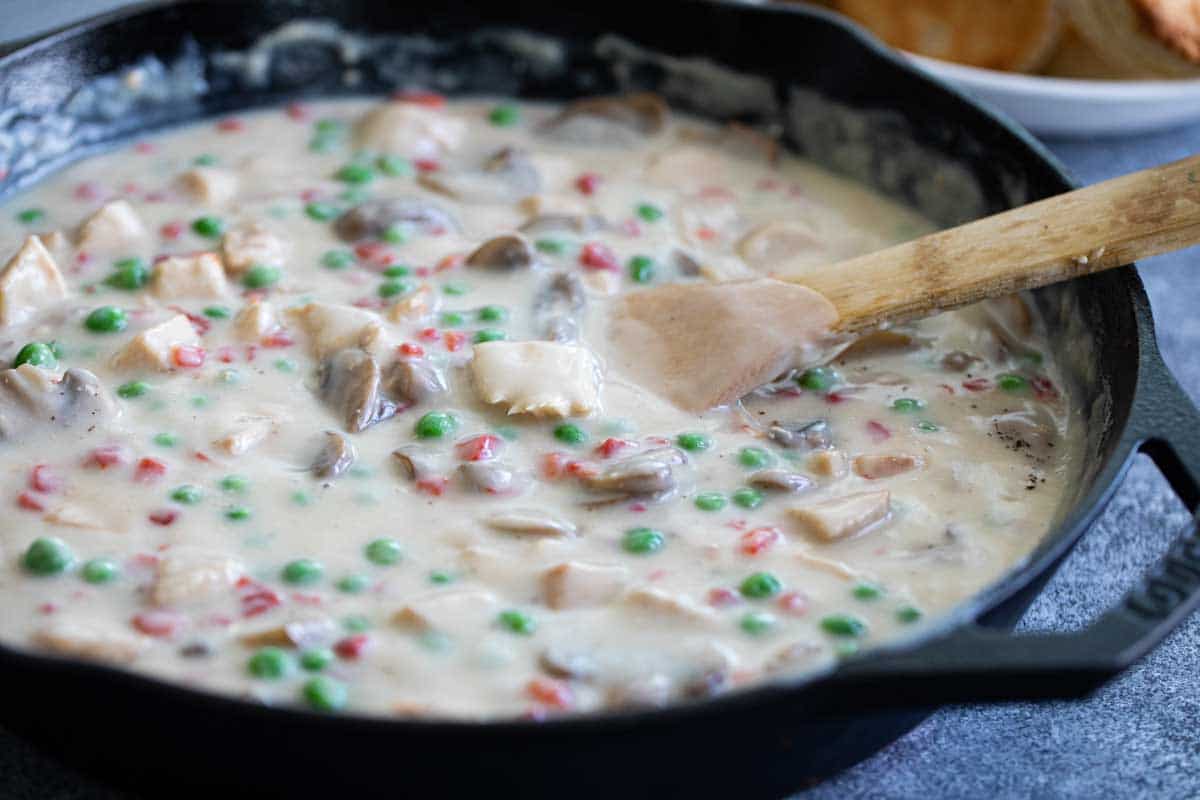 Chicken a la King Video
If you are a visual person, here is a short video showing you how to make Chicken a la King.
Tips and Tricks
This recipe is pretty adaptable. We love mushrooms, peas and pimientos, but feel free to change up the veggies to your liking. You could add onions, broccoli, cauliflower – or any vegetable you'd like to try.
Swap out the biscuits for mashed potatoes, rice or pasta. It would even be delicious using puff pastry shells!
I like to sprinkle on some fresh parsley before serving for some extra flavor and freshness.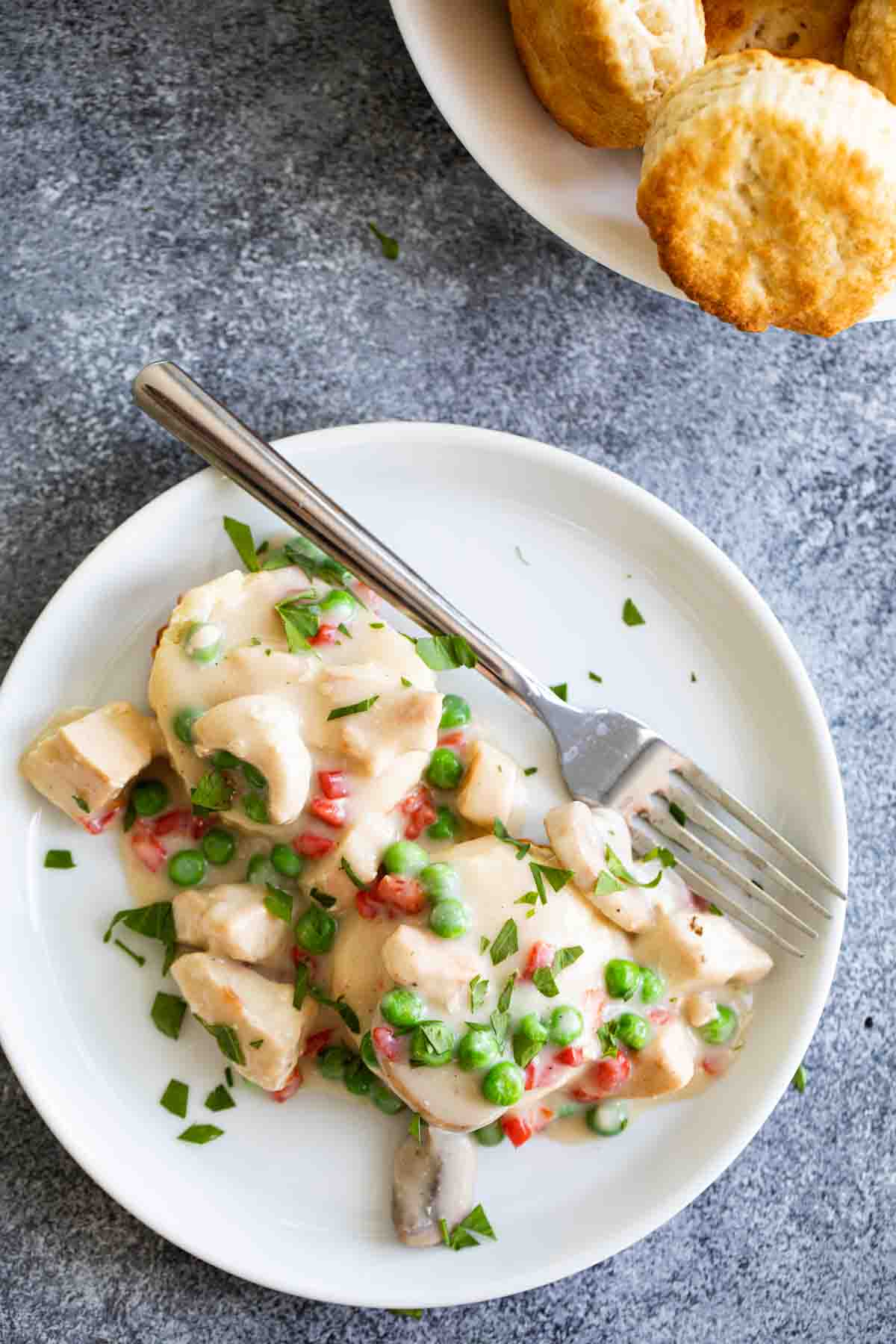 Make Ahead and Storage Instructions
The chicken gravy can be made ahead of time and reheated when it's time for dinner, and it also makes great leftovers!
Store any leftover gravy in the refrigerator for up to 3 days. The biscuits can be stored at room temperature.
To reheat, I like to gently reheat the gravy on the stove, or you could use a microwave, as well. I also like to heat the biscuits slightly in the toaster or the microwave.
More Favorite Chicken Recipes
Chicken Pot Pie
Butter Chicken
White Chicken Enchiladas
Huli Huli Chicken
Chicken Chimichanga Recipe
Poppy Seed Chicken
Chicken Divan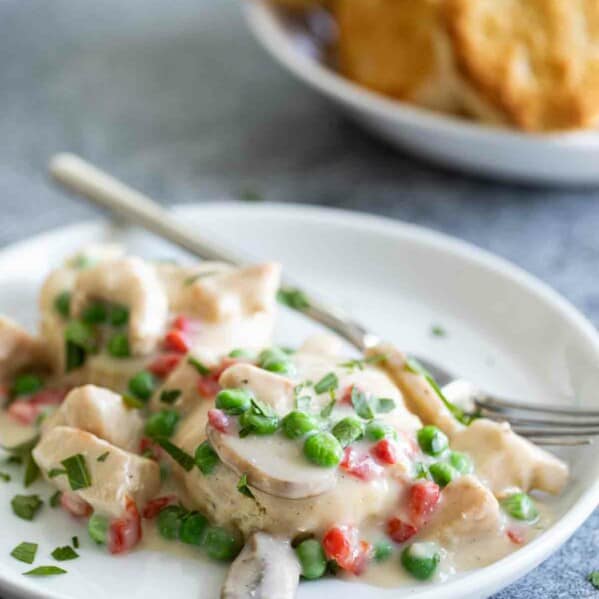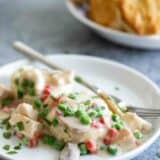 Chicken a la King
---
Author:
Prep Time: 10 minutes
Cook Time: 20 minutes
Total Time: 30 minutes
Yield: 8 servings 1x
Category: Main Dish
Method: Stovetop
Cuisine: American
Description
Total comfort food – this homemade Chicken a la King starts with an easy chicken gravy that is served over biscuits. This easy weeknight dinner can be on the table in 30 minutes!
---
Scale
Ingredients
1 tablespoon olive oil
8 oz fresh mushrooms
1/4 cup butter
1/3 cup all-purpose flour
1 1/2 cups chicken broth
1 1/4 cups milk
12 oz cooked chicken, cubed or shredded
1 cup frozen sweet peas
1 (2 oz) jar diced pimientos, drained
salt and pepper
---
Instructions
Heat the olive oil in a large skillet over medium heat.  Add the mushrooms and cook until softened and browned.  Remove to a plate and wipe the skillet clean.
Return the skillet to the stove and place over medium-low heat.  Add the butter and melt.  Add the flour and stir, cooking for about 1 minute.  Slowly add the broth and the milk, whisking constantly.  Continue to cook until the mixture boils and thickens.  Once thickened, stir in the chicken, peas, mushrooms and pimientos.  Season to taste with salt and pepper.  Simmer for 5-10 minutes, until thoroughly heated.
To serve, split the biscuits in half and place on serving plates.  Spoon the hot chicken mixture over the biscuits.
Recipe Notes:
*I will often make this using homemade biscuits, but to save time, I will also use the large refrigerated flaky biscuits (like these from Pillsbury).
Nutrition information provided as an estimate only. Various brands and products can change the counts. Any nutritional information should be used as a general guide.
Nutrition
Serving Size: 1/8 of recipe
Calories: 374
Sugar: 10 g
Sodium: 882 mg
Fat: 16 g
Saturated Fat: 8 g
Unsaturated Fat: 7 g
Trans Fat: 0 g
Carbohydrates: 39 g
Fiber: 3 g
Protein: 18 g
Cholesterol: 39 mg
Keywords: chicken a la king, chicken a la king recipe