Butternut squash, black beans, and ground beef star in this flavor packed Butternut Squash Chili with Beef.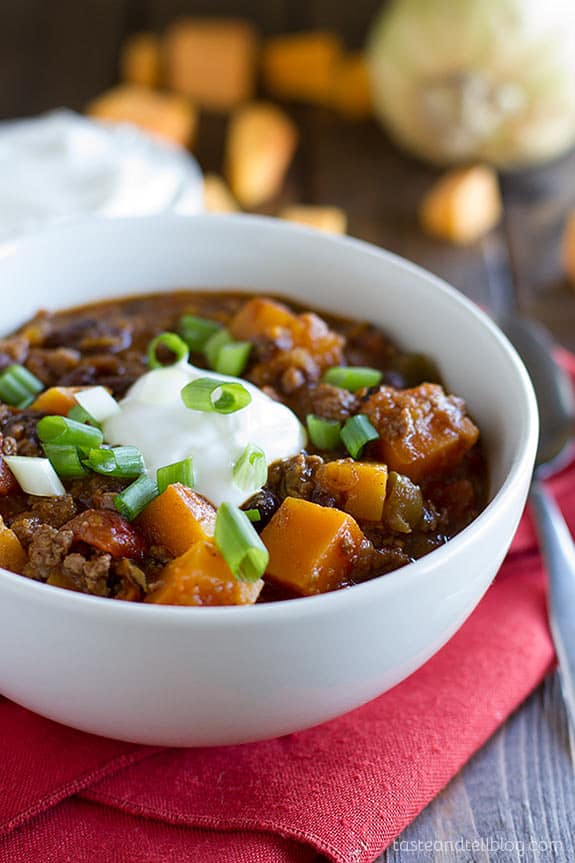 Once upon a time, not very long ago, I wanted to enter a chili contest. I knew that in order to stand out, I needed something a little bit different – not your run of the mill chili.
My original plan was go to vegetarian with a butternut squash chili. Chunks of butternut squash, lots of warm spices, and beans. I made the chili for dinner one night, and have to admit that I kinda liked it. But my husband was very "meh" about it. He told me that it would be better with more meat in it. When I told him that there wasn't any meat in it, he told me that was what it was missing. 🙂
So, while I thought it was good, I wanted it to be award winning good. So I went in and reworked a few things. Spices were changed, and meat was added. Lots of ground beef.
After my husband finished his second bowl, he told me – Now this is award winning chili!!
And just so I don't leave you hanging, as luck would have it, I didn't even get to take my chili to the chili contest. My car was in the shop, and the location was just too far for me to walk to with my kids. So, while we definitely loved this butternut squash chili, and I'm sure it would have done well in the contest, it didn't get to participate. Next time!!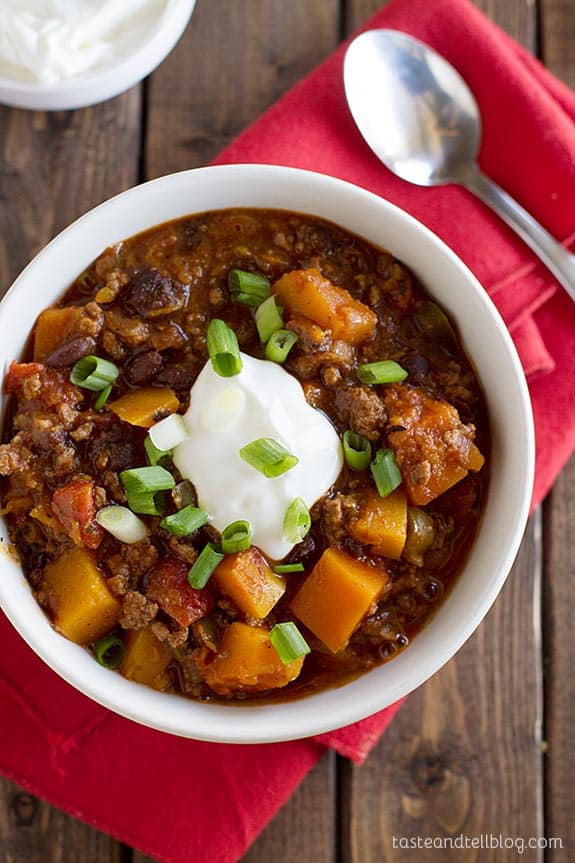 More Chili Recipes:
Crock Pot Chili 
Flatlander Chili
White Chicken Chili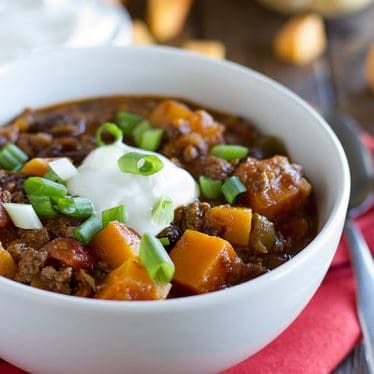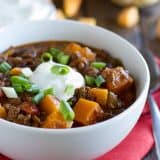 Butternut Squash Chili with Beef
---
Prep Time: 20 mins
Cook Time: 1 hour 15 mins
Total Time: 1 hour 35 mins
Yield: 6 servings 1x
Description
Butternut squash, black beans, and ground beef star in this flavor packed Butternut Squash Chili with Beef.
---
Scale
Ingredients
1 tablespoon chili powder
1 tablespoon cumin powder
2 teaspoons dried oregano
3 tablespoons olive oil
1 cup diced onion
1 cup diced bell pepper
1 lb ground beef
2 tablespoons tomato paste
2 tablespoons hot sauce (such as Frank's Red Hot)
2–3 cups beef broth
1 can (15 oz) black beans, drained and rinsed
1 can (14.5 oz) diced tomatoes, undrained
2 tablespoons cornmeal
1 (2 – 2 1/2 lb) butternut squash, peeled, seeded and cut into 1/2" cubes
---
Instructions
In a small bowl, combine the chili powder, cumin and oregano.
Heat the olive oil in a large Dutch oven or soup pot over medium heat. Add half of the spices and stir for 30 seconds. Add in the onion and bell pepper and cook, stirring frequently, until they start to soften, about 5 minutes.
Add in the ground beef and the remaining spice mix. Cook, breaking up the meat as it cooks, until the beef is no longer pink. Add in the tomato paste and cook until fragrant, about 30 seconds. Stir in the hot sauce.
Add 2 cups of the beef broth, the black beans, diced tomatoes and cornmeal. Stir to combine, then add in the cubed butternut squash. If desired, add more beef broth to thin out the chili.
Cover the pot and cook on medium-low for 45 minutes. Remove the lid and cook an addition 15 minutes, or until the butternut squash is tender. Season to taste with salt and pepper.