This easy Crock Pot Chili recipe only takes about 15 minutes to prep before you slow cook it all day long for the best crock pot chili. Mild enough for the whole family, but still packed with tons of flavor!
My favorite meals for busy days are crock pot soups and chilis! Some of my other favorites are Chicken Wild Rice Soup, Crockpot Potato Soup, and Crock Pot Cheeseburger Soup.
As soon as it gets cold, the first thing I start to crave is chili. My daughter actually really loves chili, and will often beg me to make it for her.
Well, there isn't a shortage of chili recipes here, but this is such an easy crock pot chili recipe which makes it the one that I make most of the time.
I also love that this is a crock pot recipe. It is so easy to make this in the morning and have a wonderful chili dinner that night.
Serve it up with this Corn Muffin Recipe, and dinner is a cinch!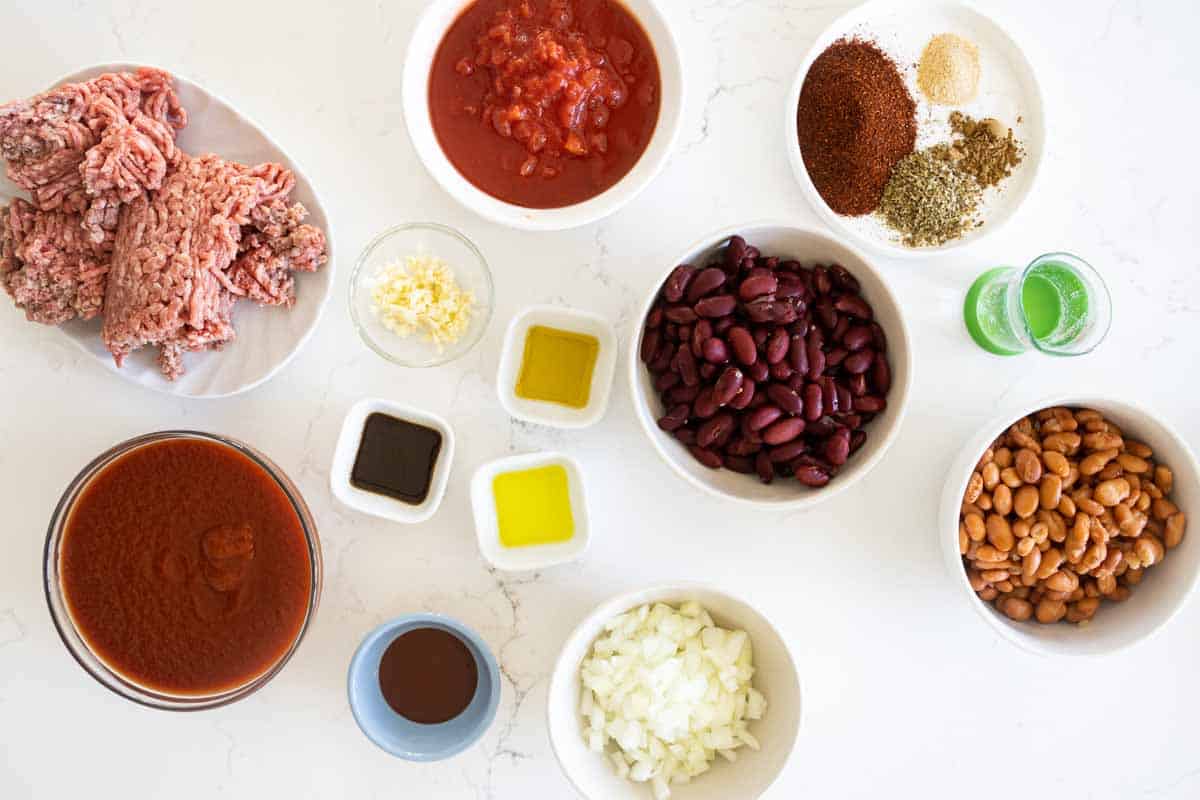 Ingredients
Olive Oil – I use extra virgin. This is just for cooking the onion and garlic, so you could even use your favorite oil (like vegetable, canola, etc.)
Onion and Garlic – These add lots of flavor!
Ground Beef – I like to use a leaner ground beef – at least 90%. If you use a fattier ground beef, just make sure and drain the fat before adding it to the crock pot.
Pinto Beans and Kidney Beans – This is my favorite combination of beans to use for this chili, but feel free to use what you like or what you have on hand!
Tomato Sauce – This is the liquid portion of the chili.
Diced Tomatoes – No need to drain before, the juices can go right in!
Spices: Chili Powder, Oregano, Cumin, Garlic Powder – You can play with the spices, as well, and change things up to your liking. This mix gives the chili lots of flavor without a ton of heat.
Worcestershire Sauce – The Worcestershire sauce gives the flavors depth and kind of brings everything together.
Hot Sauce – This is a hot sauce like Tobasco, or whatever you have on hand. Add more to make it spicier!
Pepperoncini Liquid – The secret ingredient! After first using this years and years ago, I've never gone back. This is just the liquid that is in the jar of pepperoncinis.
Water – Add more or less to make it thicker or thinner.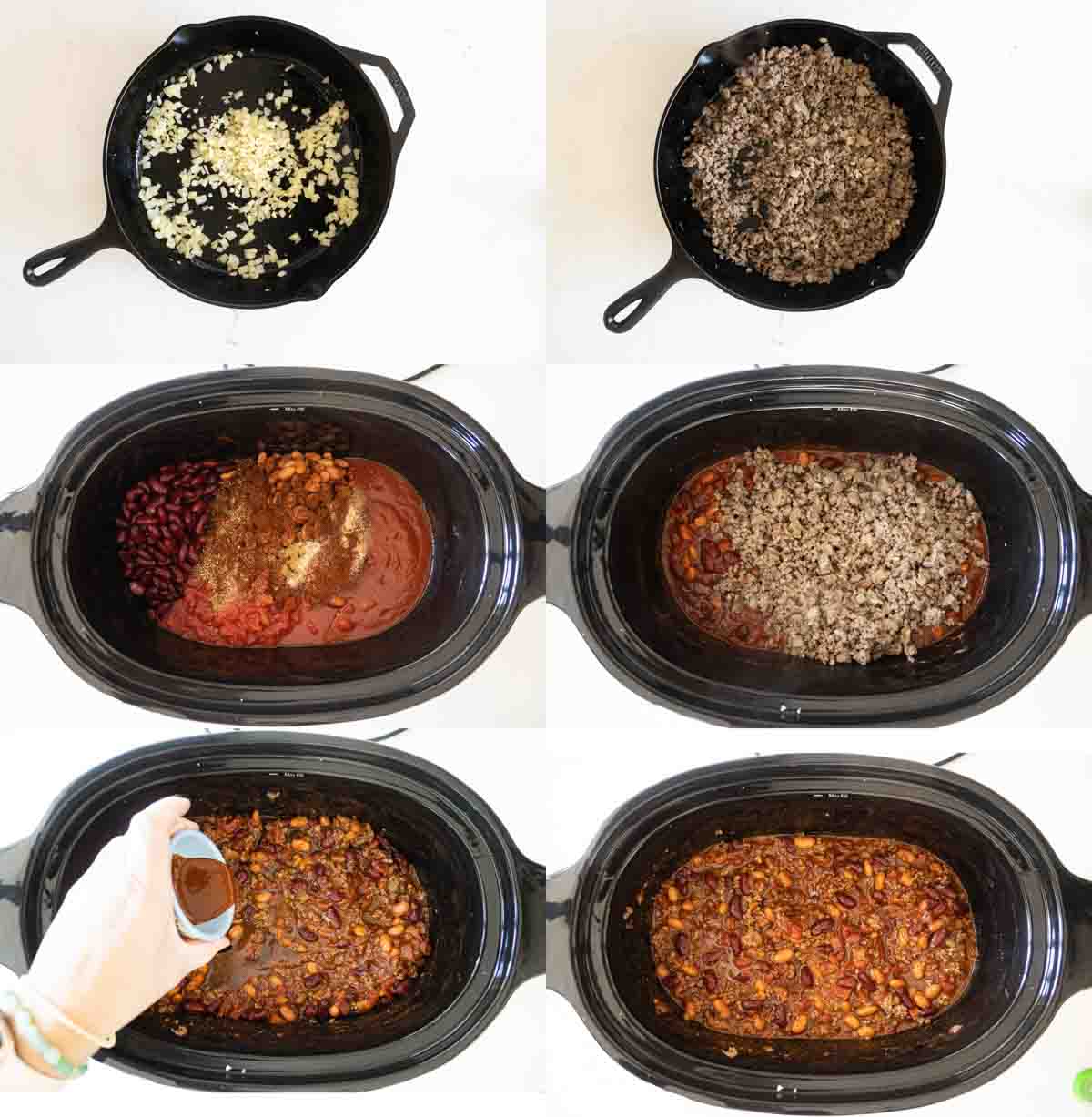 How To Make It
This Crock Pot Chili is very simple! It does take a little bit of prep work, but it is all worth it in the end.
Start by cooking your onion and garlic, then browning the ground beef. This needs to be done before the beef goes into the slow cooker.
Once the beef is cooked, all of the remaining ingredients get added to the crock pot, along with the cooked beef.
Cook the chili on low.
When you are ready to serve, scoop the chili out into bowls and top with your favorite chili toppings.
Crock Pot Chili Video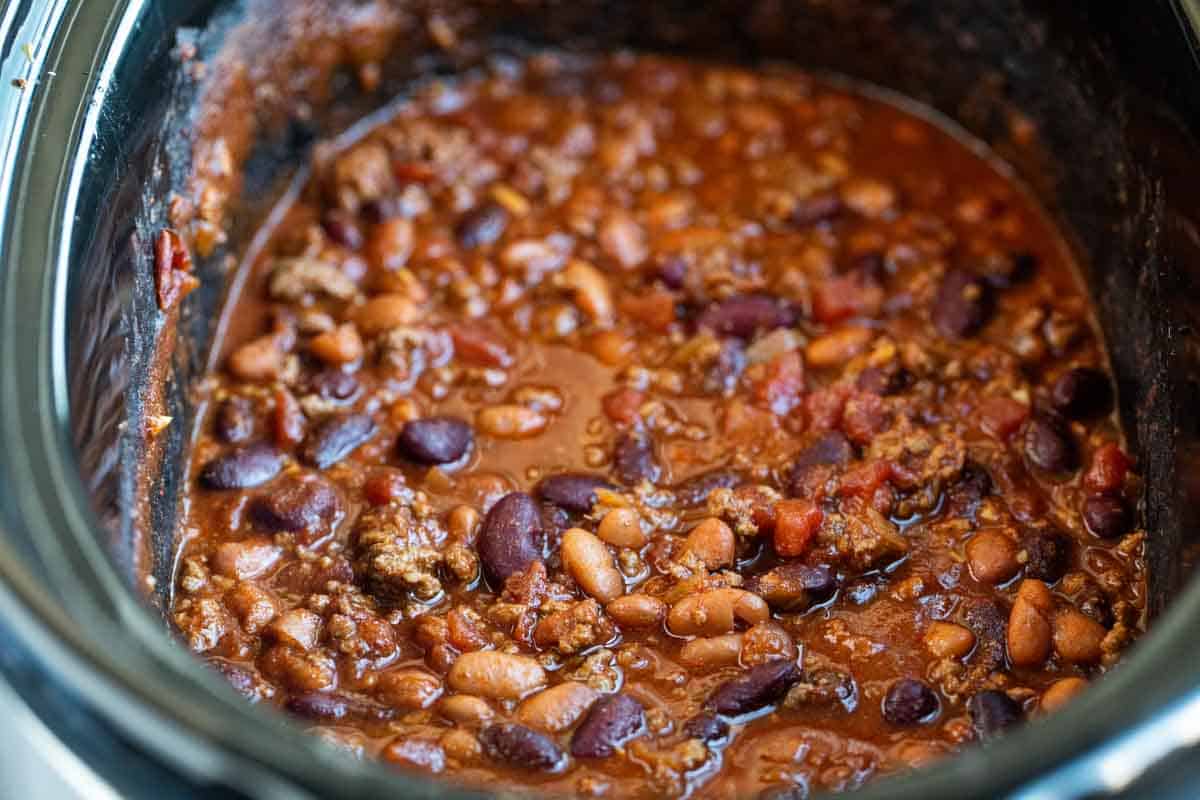 Chili Toppings
There really are no rules for chili toppings. You can get as creative as you want! But here are a few of my favorites.
shredded cheese
sour cream
diced avocados
diced tomatoes
jalapeno slices
tortilla chips or fritos
diced red onion
sliced green onions
lime wedges
Tips and Tricks
If you don't want to pull out the crock pot, this can be done on the stove top, as well. Just cook it on low and let it simmer all day. If it gets too thick, you can add more water, or add in beef broth for more flavor.
I think the secret to this recipe is the use of the juice from a jar of pepperoncinis. It's not a lot, but I feel like that takes this recipe from good to great. So don't skip out on it!
This chili is quite thick, so if you don't like your chili really thick, I would suggest adding more tomato sauce.
It's also not very spicy, so feel free to add in more chili powder to give it more kick.
And like most chili recipes, it is much better the next day!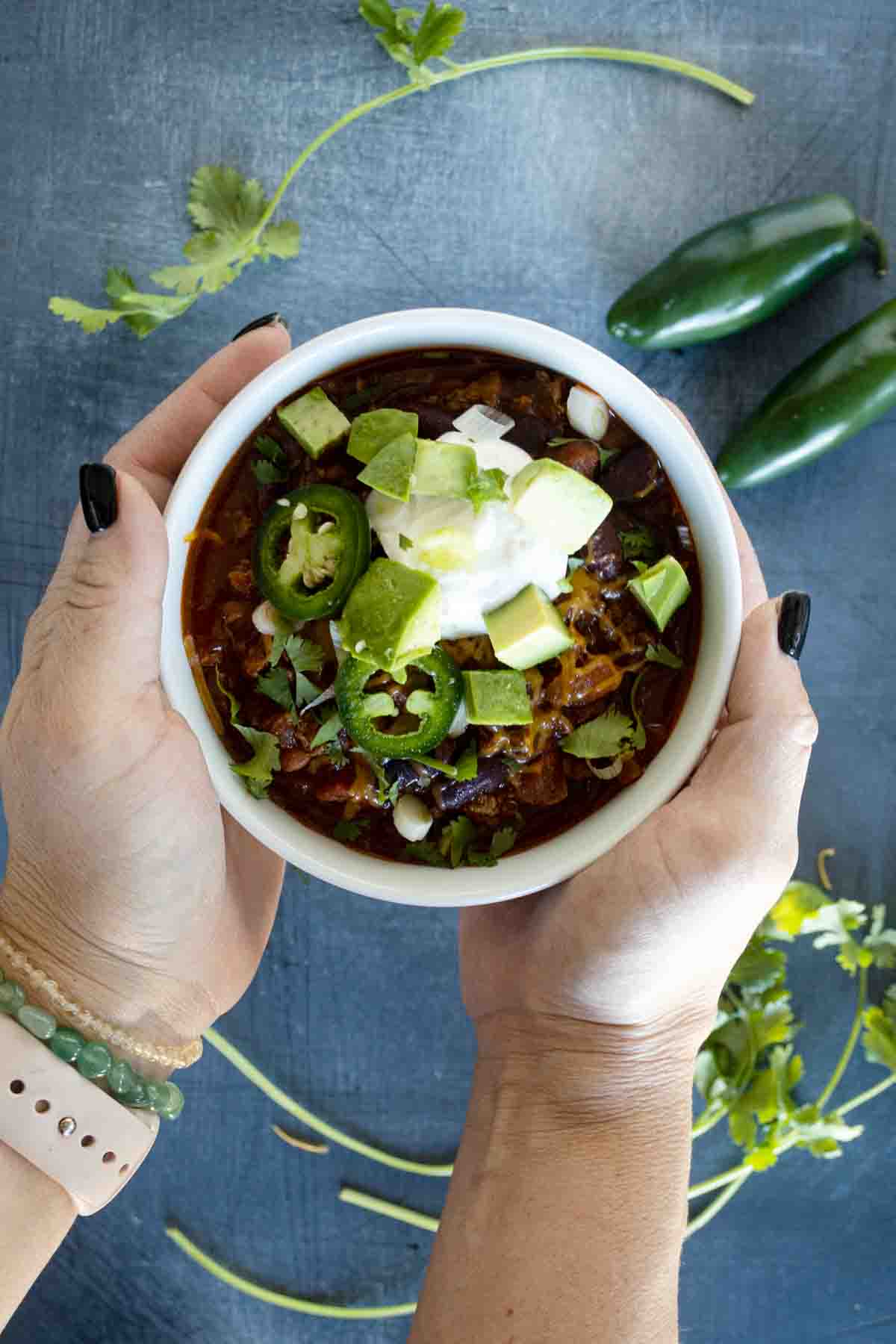 Frequently Asked Questions
How long does it take to cook chili in the slow cooker?
One of my favorite things about this recipe is that I can leave it in the slow cooker to cook all day long. This chili should be cooked on low for at least 4 hours, but like most chilis, this recipe is gets better the longer it cooks. Keep it on low and people can serve themselves all night long!
How can I make this chili spicier?
If you like a spicy chili, I suggest adding more chili powder as well as more hot sauce. Or more hot sauce can be stirred into individual portions, as well! I also like to add fresh jalapenos to the top of mine.
Can I double this recipe?
This is actually a really easy recipe to make for a crowd – the one thing you'll need to worry about is if it will fit in your slow cooker. You may need to use multiple slow cookers. It is a little harder to cut the recipe in half, simply because you'll have half cans of many of the ingredients left over. The good thing is that it is better the next day, so you'll want those leftovers!
Can I freeze it?
This chili freezes very well. I like to let it cool completely, then place it in a ziplock bag so that I can store it flat in the freezer. Let it thaw in the refrigerator overnight and then add it to your slow cooker in the morning and let it cook all day!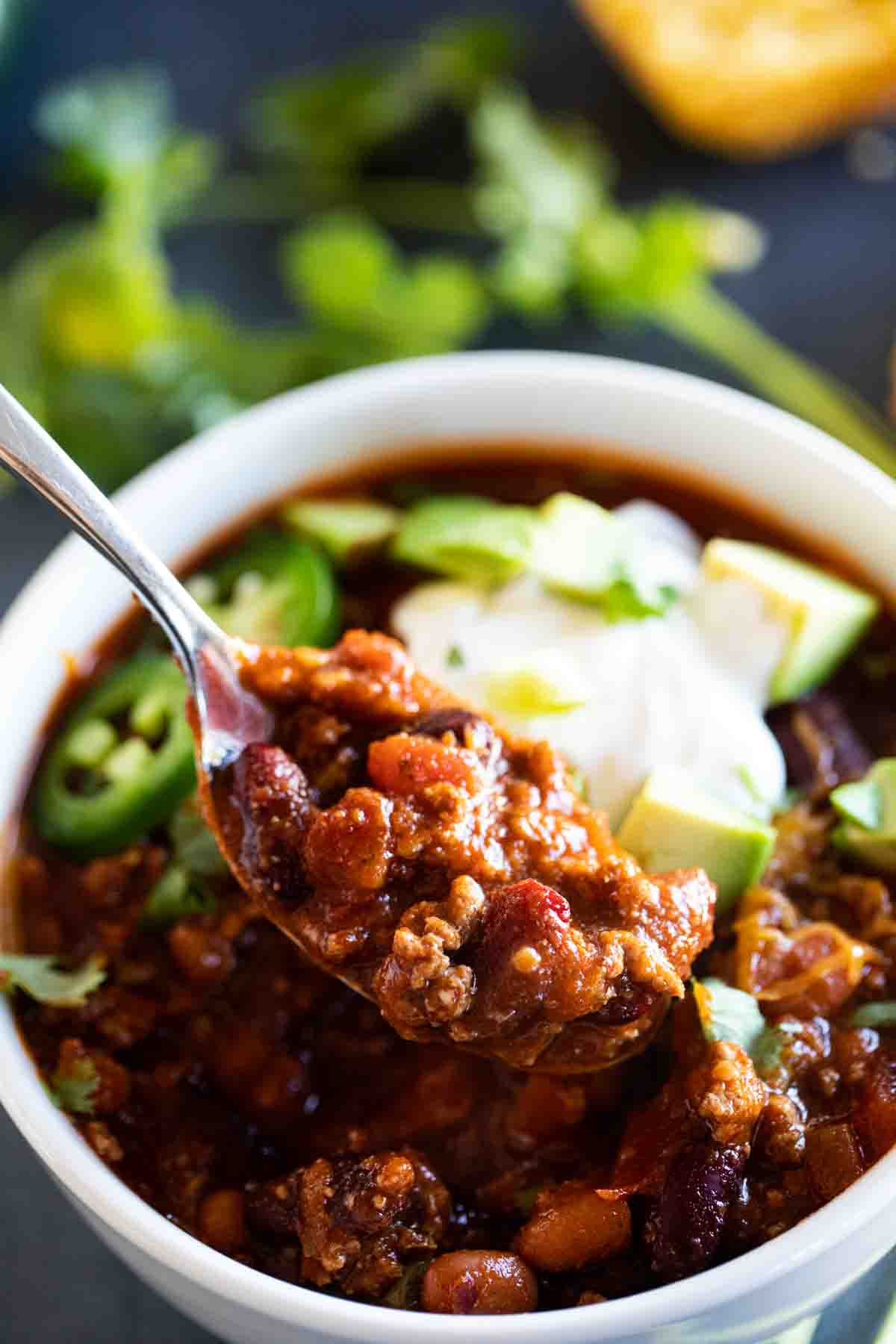 More favorite chili recipes:
White Chicken Chili
Ground Turkey Chili
Butternut Squash Chili with Beef
Cincinnati Chili Recipe
Pumpkin Chili
Tools
Of course you need a slow cooker! I have one similar to this one, and I love it! One of my favorite features is that it has low, medium and high heat settings.
You also need a skillet to cook the ground beef before it goes into the slow cooker. I always love a good cast iron skillet!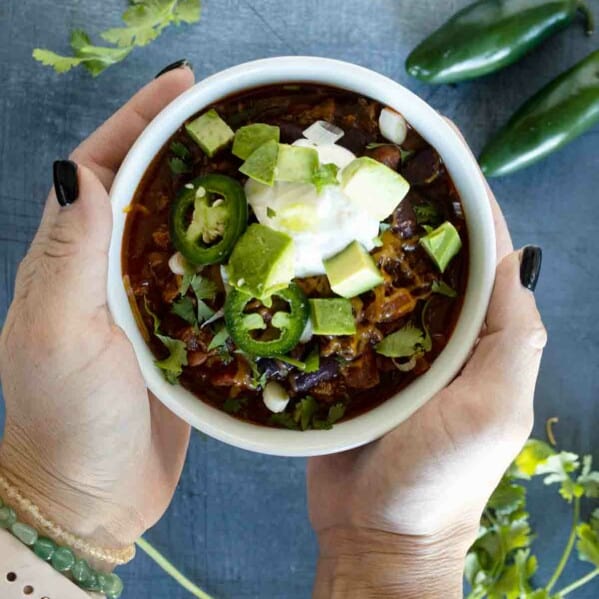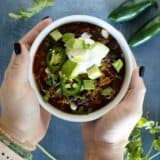 Crock Pot Chili
---
Author:
Prep Time: 15 minutes
Cook Time: 4 hours
Total Time: 4 hours 15 minutes
Yield: 6 servings 1x
Category: Main Dish
Method: Slow Cooker
Cuisine: American
Description
This easy Crock Pot Chili recipe only takes about 15 minutes to prep before you slow cook it all day long for the best crock pot chili. Mild enough for the whole family, but still packed with tons of flavor!
---
Scale
Ingredients
1/2 tablespoon extra virgin olive oil
1/2 large onion, diced
2 cloves garlic, minced
1 pound ground beef
1 (16 oz) can pinto beans, drained and rinsed
1 (16 oz) can kidney beans, drained and rinsed
1 (16 oz) can tomato sauce
1 (16 oz) can diced tomatoes
2 tablespoons chili powder
1/2 tablespoon oregano
1/2 teaspoon cumin
1/2 teaspoon garlic powder
1 tablespoon Worcestershire sauce
1 tablespoon hot sauce (such as Tobasco)
1 tablespoon liquid from a jar of pepperoncini peppers
1/4 cup water
Shredded cheese and sour cream, for topping
---
Instructions
Heat the olive oil in a large skillet. Add the onion and cook, just until translucent. Add the garlic and cook until fragrant, about 30 seconds. Add the ground beef and cook, breaking it up as it cooks, until it is browned and cooked through.
Place the pinto beans, kidney beans, tomato sauce and diced tomatoes in a large slow cooker. Stir in the chili powder, oregano, cumin and garlic powder. Stir in the cooked ground beef mixture.  Stir in the Worcestershire sauce, hot sauce and pepper liquid. If the chili is too thick, stir in the water.
Cook on low for at least 4 hours, but it can cook on low all day long!
Recipe Notes:
Nutrition information provided as an estimate only. Various brands and products can change the counts. Any nutritional information should be used as a general guide. Nutrition information does not include toppings.
Nutrition
Serving Size: 1/6 of recipe
Calories: 286
Sugar: 5 g
Sodium: 775 g
Fat: 14 g
Saturated Fat: 11 g
Unsaturated Fat: 1 g
Trans Fat: 0 g
Carbohydrates: 20 g
Fiber: 41 g
Protein: 20 g
Cholesterol: 34 mg
Keywords: crock pot chili, crock pot chili recipe, slow cooker chili