This Curried Butternut Squash Soup is an easy soup recipe with a kick of curry. Adjust the amount of curry powder depending on your spice preference.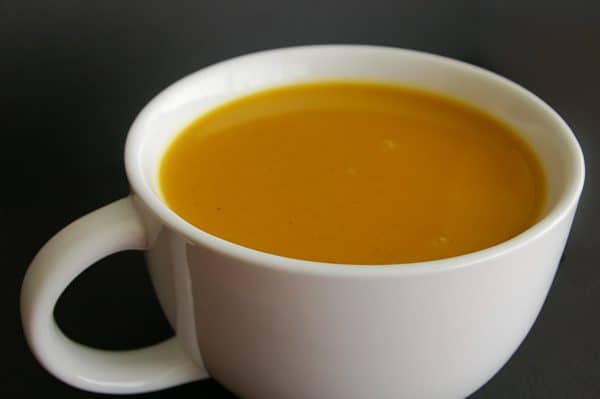 I have had a butternut squash that my in-laws brought over sitting on my counter for weeks now. I knew that I wanted to make soup with it, but I had never made butternut squash soup before. I have been seeing all kinds of recipes pop up over the internet in the last few weeks, but there were so many to choose from!!
So why did I choose this one? Well, first of all, I had everything for it at home. And second, I have mentioned before that my husband doesn't like anything with curry. I have decided to try to be sneaky and sneak things that he says he doesn't like into a few things, just to see if he will get over it. (I really think that he would like some things if he would just give them a chance!!) So I decided to make this soup so I could sneak in some curry powder and see if I could get him to like it. He really likes soup, so I figured I'd be safe.
Well, this recipe calls for 6 teaspoons of curry powder. I knew that I wouldn't be able to hide anything with 6 teaspoons of it, so I decided to cut it down to 2 teaspoons. As I was putting it in, though, I thought maybe that would be too much so I stopped at 1 1/2 teaspoons. I'm glad I did!! The spiciness was perfect for me, but he said that it was a little too strong for him. I do have to say though, that he did really like the soup. He even took some for his lunch the next day!!
This recipe is super easy and super fast – the biggest obstacle is peeling the butternut squash. Since I had never done this before, I didn't really know how to go about doing it. I went online for a few pointers, and the best thing I came up with was to cut the squash into smaller pieces and then I used a paring knife to remove the skin. I started with a vegetable peeler, but because the skin is so thick, it was a lot easier to use the knife. Besides the time it took to peel the squash, dinner was on the table in no time!!
We ate this with the Potato Rosemary Bread that I posted about, and it was a perfect fall dinner. This is one of the reasons I love fall!!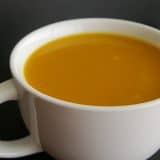 Curried Butternut Squash Soup
---
Author:
Prep Time: 15 mins
Cook Time: 20 mins
Total Time: 35 minutes
Yield: 4 servings 1x
Category: Soup
Method: Stove Top
Description
This Curried Butternut Squash Soup is an easy soup recipe with a kick of curry. Adjust the amount of curry powder depending on your spice preference.
---
Scale
Ingredients
1 tablespoon canola or vegetable oil
1 medium onion, diced
2 cloves garlic, minced
1 large butternut squash, peeled, seeded and cut into 1-inch cubes
6 cups vegetable or chicken stock
2 teaspoons curry powder
2 tablespoons honey
salt and pepper
---
Instructions
In a large soup pot, heat the oil over medium heat. Add the onion and cook until translucent. Add the garlic and cook another 30-60 seconds.
Add the butternut squash, stock, and curry powder. Bring to a boil, then lower the heat to a simmer. Cook until the squash is tender, about 15 minutes.
Turn off the heat and add the honey.
Use an immersion blender or a blender to blend the soup until smooth. Season to taste with salt and pepper.
Recipe Notes:
adapted from Ellie Krieger
Add more curry powder for more of a kick. The brand of curry powder will also alter the spice level.