Smooth and creamy with a hint of curry, this Curried Butternut Squash Soup is a comforting cold weather favorite. Both sweet and spicy, this is the kind of soup you want on a cold night!
If you love a good creamy soup, also try this Tomato Basil Soup or Pumpkin Soup.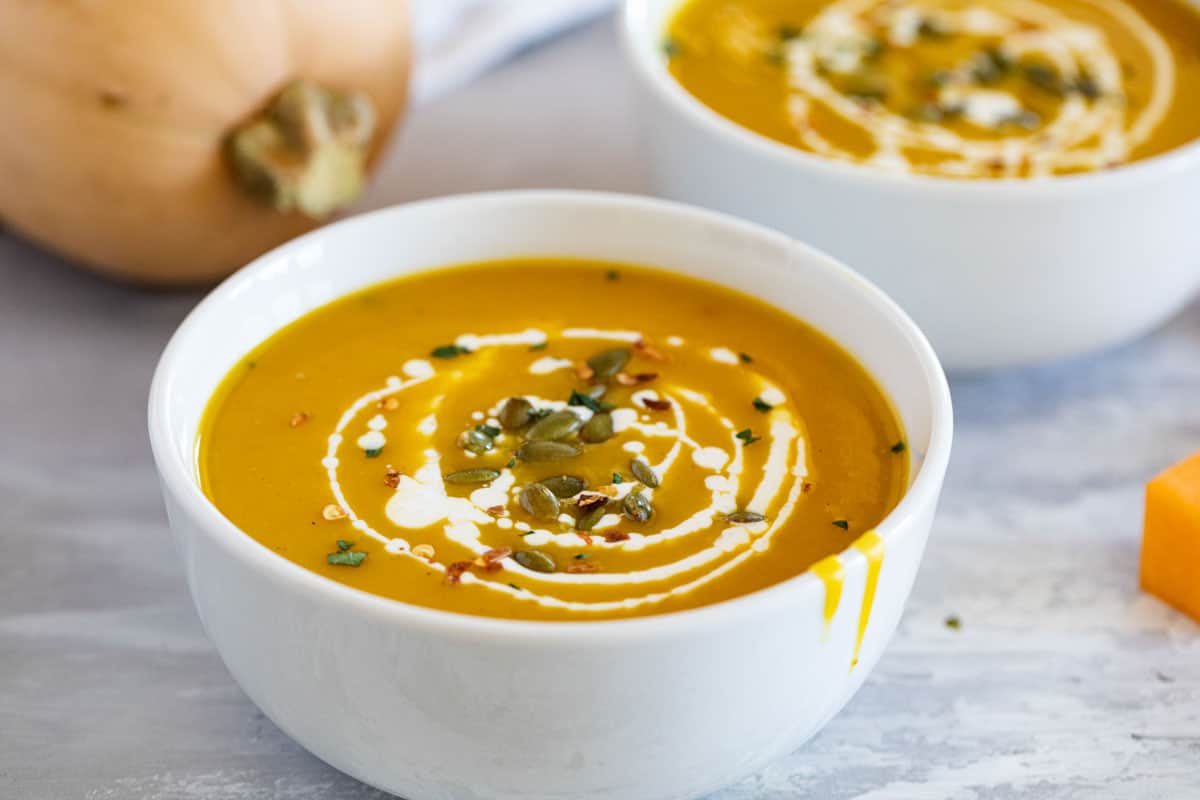 As much as I love my creamy butternut squash soup, sometimes you need a little spice in your life, and this curried butternut squash soup brings it!
I also love that this version is a healthy recipe with only a few ingredients. And once you've got your squash cubed, it all comes together quickly.
This recipe is also great because you can adapt the amount of spice. As written, we're only adding 2 teaspoons of curry powder, but if you love spice, you can double or even triple that amount. I like to keep it pretty mellow with just the 2 teaspoons, but then I'll add a bit of red chili to my serving.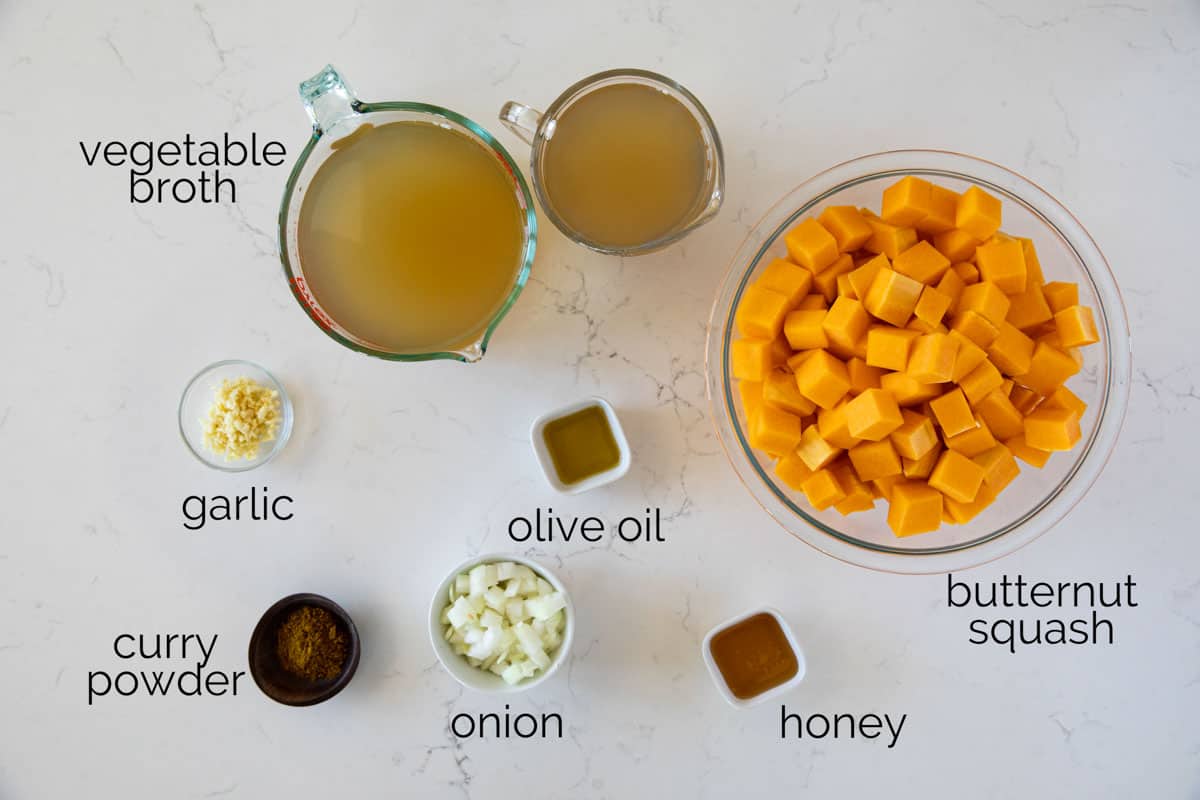 Ingredients
Olive Oil: I like to use extra virgin olive oil to saute my onion and garlic, but vegetable, canola, or avocado oil would work, too.
Onion: You'll want one medium onion. If you like lots of onion flavor, feel free to switch this up to a large onion.
Garlic: I like freshly minced garlic, and will usually add more than the 2-3 cloves called for in the recipe because I really like garlic.
Butternut Squash: I know – butternut squash is a pain to peel and cube. You can often buy it already cubed at the grocery store, but it is so much cheaper when you do it yourself. And once you taste this soup, you'll know the effort was worth it!
Curry Powder: There are many different curry powders on the market, and really, they can all taste different. I just used an organic store brand. When looking for curry powder, be aware that some are hot (they will usually be labeled) so know if you use a hot version, the heat level will be different. I found that with the 2 teaspoons of regular curry powder, the soup was not overly spicy at all, but had great curry flavor.
Vegetable Broth: You can also use chicken broth if you want some extra flavor.
Honey: The honey brings in a little sweetness and balance.
Salt and Pepper: Once your soup is done, you'll want to add salt and pepper to taste.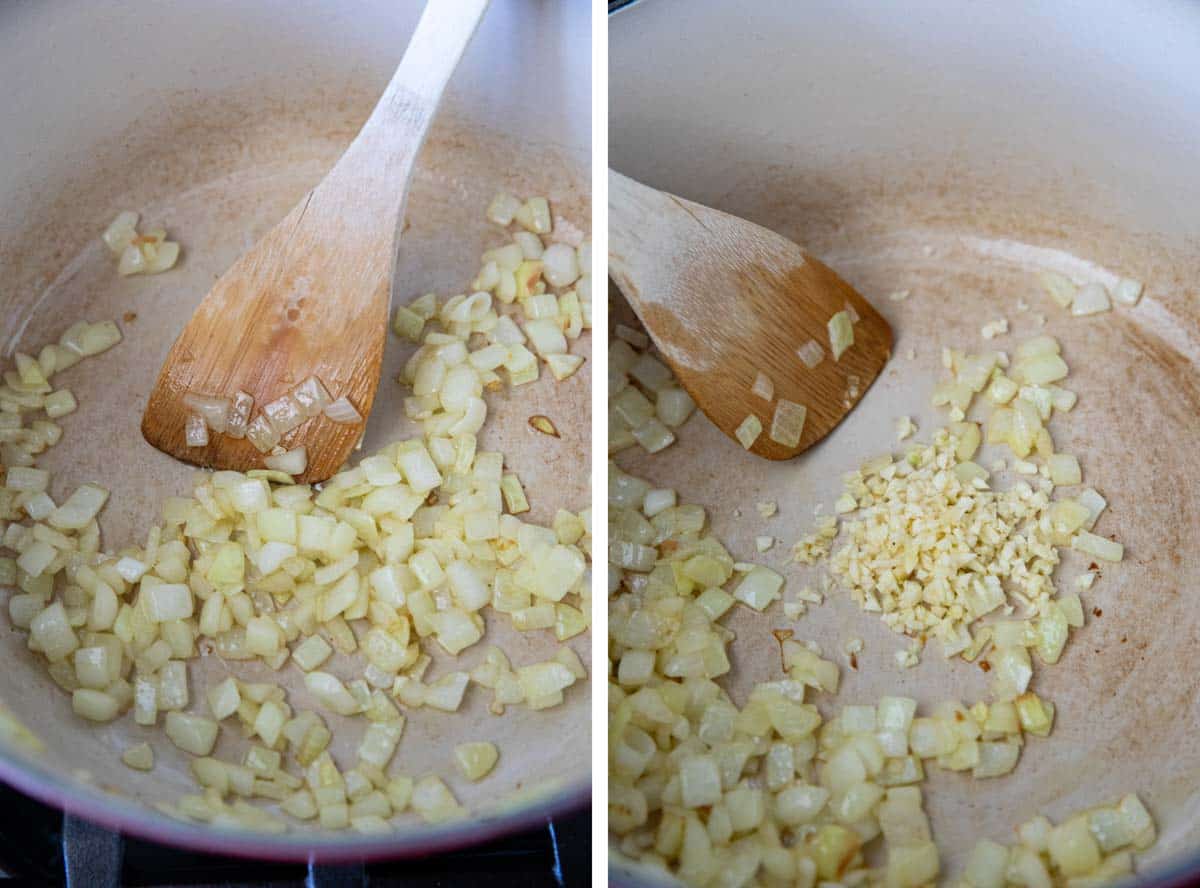 How to Make Curried Butternut Squash Soup
1: Cook the onion: heat the olive oil until shimmering, then add your onion. Cook until it is translucent and soft.
2: Add the garlic: stir the garlic in until it is fragrant. This will only take about 30 seconds.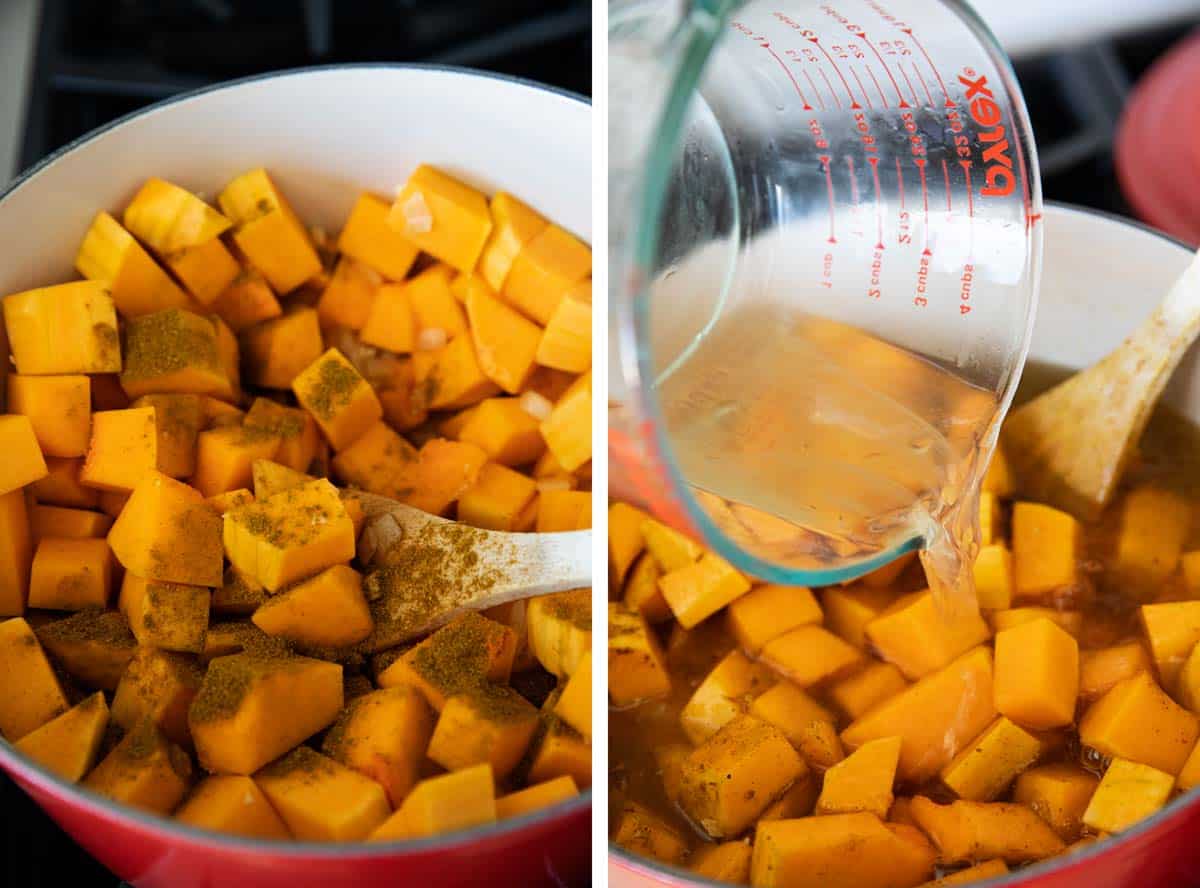 3: Stir in the squash: add the squash to the onions, and sprinkle the curry powder over the top. Stir this all together for a minute or two and allow the heat to wake up the curry powder.
4: Add the broth: Pour the broth in. It might not completely cover the squash, but it should be pretty close.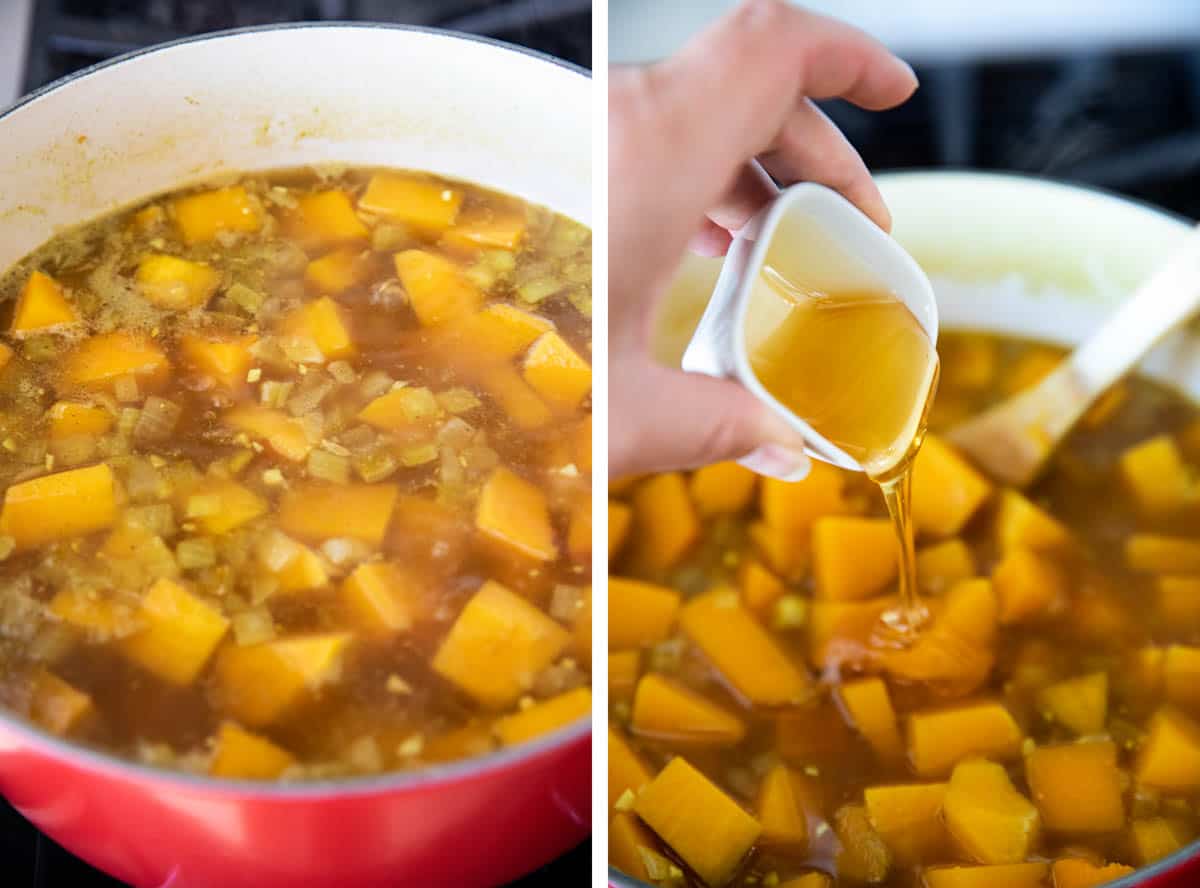 5: Boil: bring the mixture to a boil, then reduce the heat and let the soup cook until the squash is tender. This will take 15-20 minutes, depending on how big your pieces of squash are.
6: Add the honey: Turn off the heat and stir in the honey.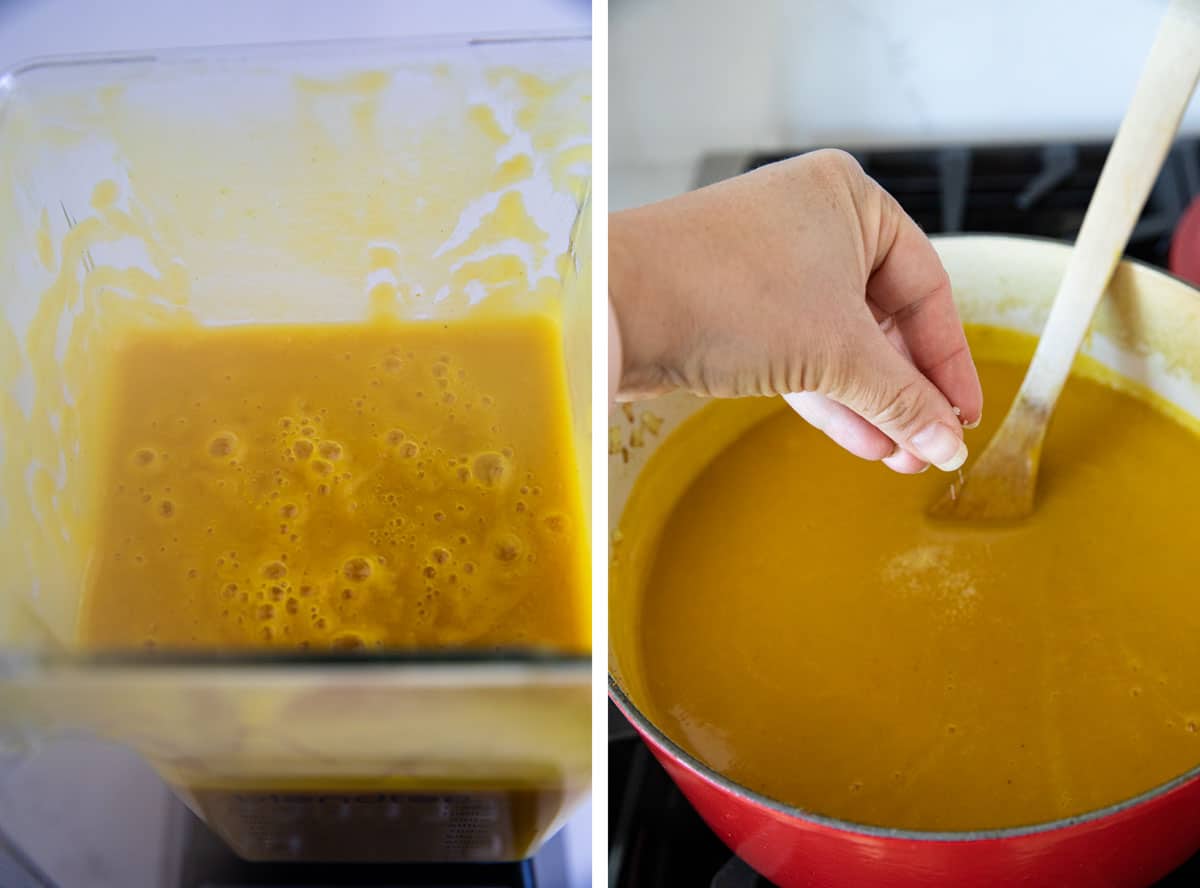 7: Blend: You can either use an immersion blender or a regular blender to blend the soup until it is creamy. If using a regular blender, you'll want to blend in 2 batches.
8: Season: Return the soup to the pot and taste, adding salt and pepper as needed.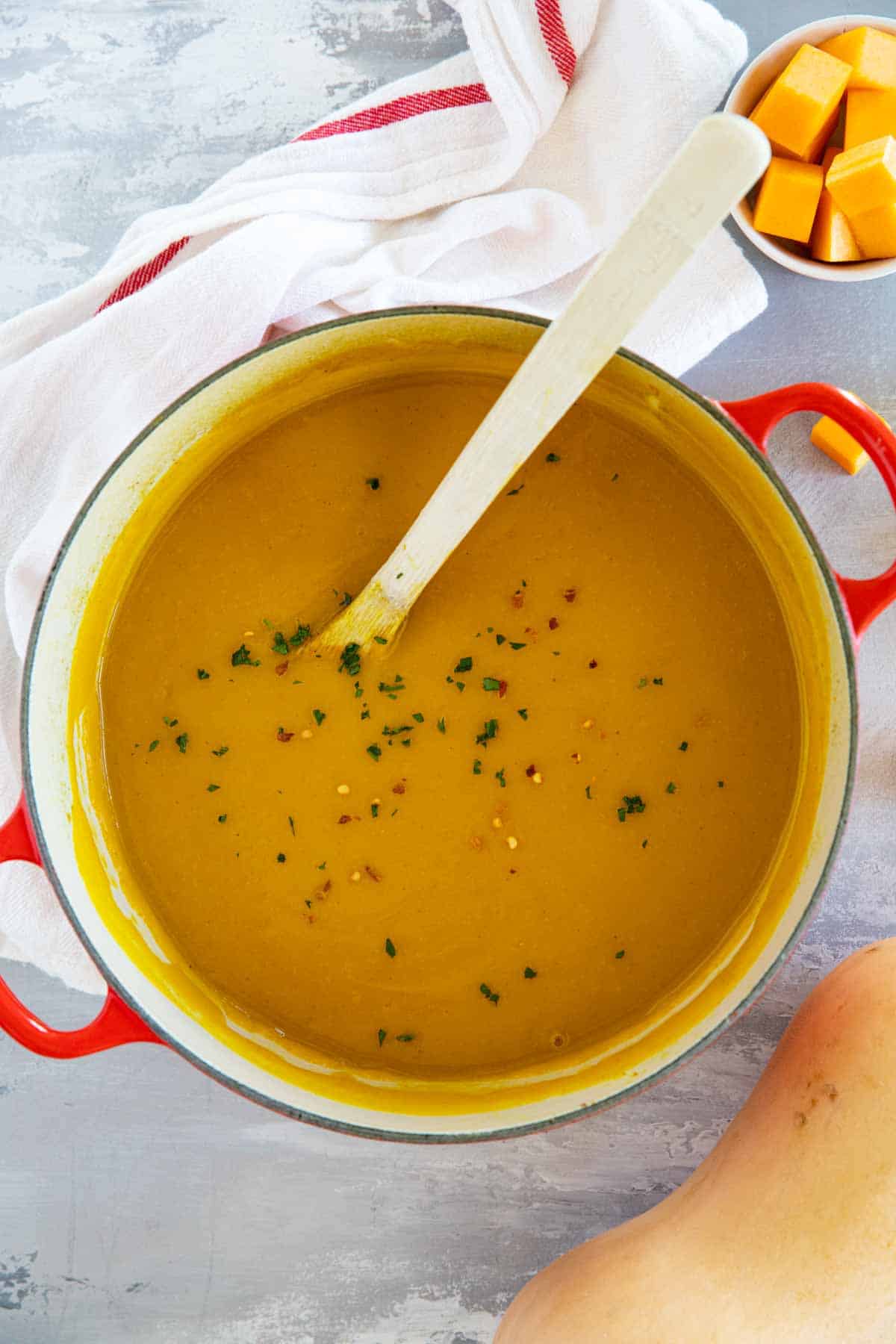 Variations
I talked a bit about curry powder above, but if you like it hot and spicy, use a hot curry powder.
Can't find a butternut squash? Substitute in a sugar pumpkin, acorn squash, or delicata squash.
I am all about the toppings, so I like to add a little drizzle of cream, pepitas, some parsley or cilantro, and some red chili flakes.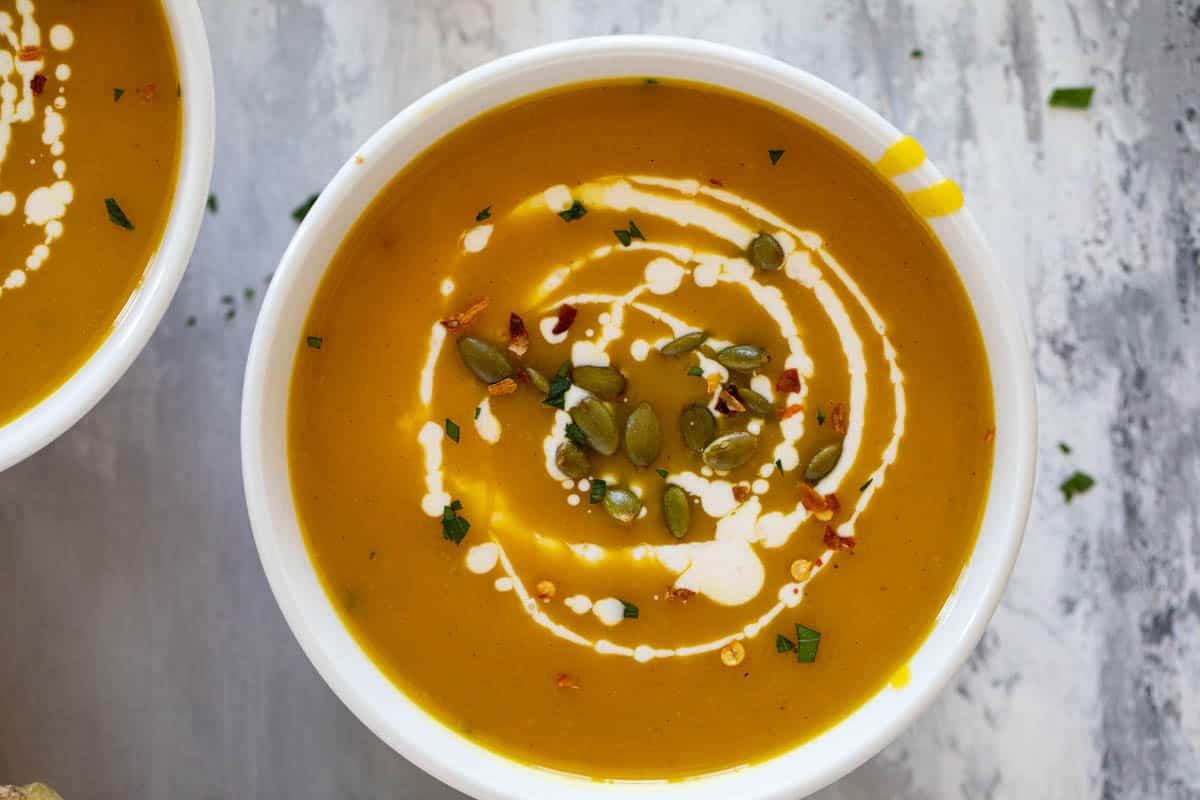 Storing, Freezing, and Making Ahead
Leftover soup needs to be refrigerated. It can be stored in the refrigerator for up to 3-4 days.
You can also freeze the leftovers for up to 3 months.
Need to make this ahead? Just make the soup and store in the refrigerator or freezer. Reheat gently over medium heat on the stove.
More Soup Recipes
Ham and Bean Soup
Broccoli Cheese Soup
Taco Soup
Cauliflower Soup with Ham and Cheese
Creamy Chicken Tortilla Soup
Zuppa Toscana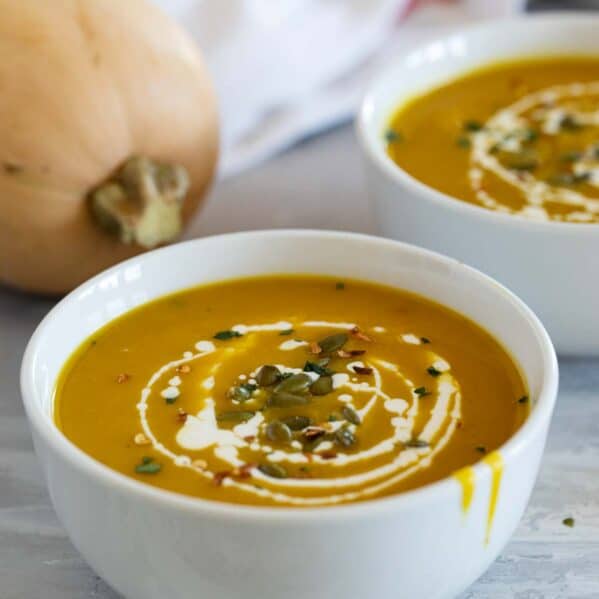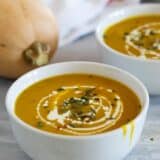 Curried Butternut Squash Soup
---
Author:
Prep Time: 20 minutes
Cook Time: 30 minutes
Total Time: 50 minutes
Yield: 6 servings 1x
Category: Soup
Method: Stove Top
Cuisine: Indian
Description
Smooth and creamy with a hint of curry, this Curried Butternut Squash Soup is a comforting cold weather favorite. Both sweet and spicy, this is the kind of soup you want on a cold night!
---
Scale
Ingredients
1 tablespoon extra virgin olive oil
1 medium onion, diced
2–3 cloves of garlic, minced
1 large butternut squash, peeled, seeded and cut into 1-inch cubes (about 2 1/2 to 3 pounds of cubed squash)
2 teaspoons curry powder
6 cups vegetable broth
2 tablespoons honey
Salt and pepper
---
Instructions
Heat the olive oil in a large Dutch oven or soup pot. Once shimmering, add the onion and cook until soft and translucent, about 5 minutes. Add the garlic and cook an additional 30 seconds.
Add the cubed butternut squash and the curry powder. Stir to coat and cook the curry powder slightly, for about 1-2 minutes. 
Pour in the vegetable broth.
Bring the mixture to a boil, then reduce the heat to a simmer and let it cook until the squash is tender, 15-20 minutes.
Once the squash is cool, turn off the heat and stir in the honey.
Use an immersion blender or blend the soup in batches in a blender until smooth. Return to the pot, if using a blender.
Taste, and season with salt and pepper as needed.
Recipe Notes:
Add more curry powder for more of a kick. The brand of curry powder will also alter the spice level.
Nutrition information provided as an estimate only. Various brands and products can change the counts. Any nutritional information should be used as a general guide.
Nutrition
Serving Size: 1 1/2 cups
Calories: 153
Sugar: 18 g
Sodium: 771 mg
Fat: 3 g
Saturated Fat: 0 g
Unsaturated Fat: 3 g
Trans Fat: 0 g
Carbohydrates: 32 g
Fiber: 7 g
Protein: 4 g
Cholesterol: 0 mg
Keywords: butternut squash soup, curried butternut squash soup