Eat like those on Downton Abbey with this silky smooth Royal Cheddar Cheese Soup. During the Edwardian era, this soup would be served whenever there were special guests present.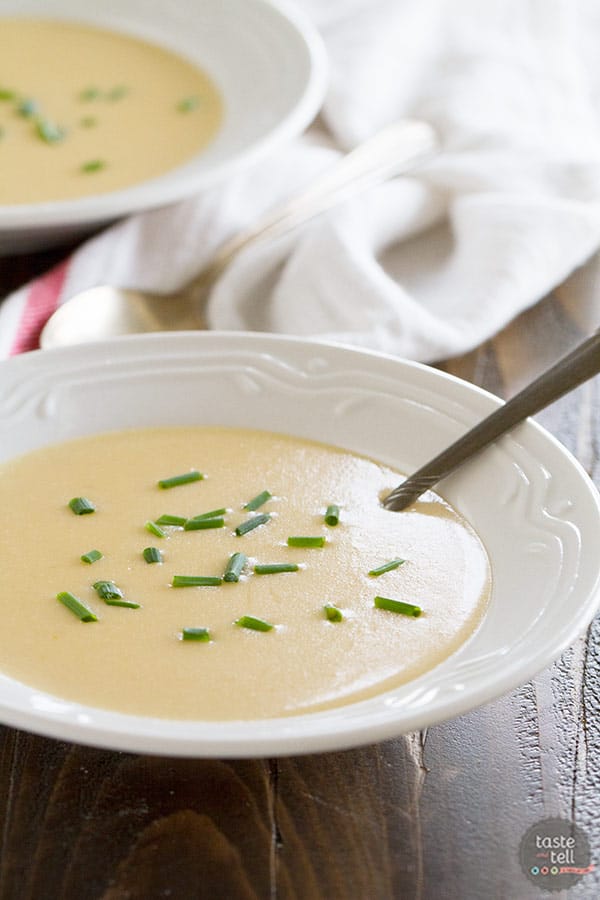 Well, I told you yesterday that this will be the year of the cookbook, so it's only fitting that I start it off with a cookbook review, right?? (and another one tomorrow!)
Actually, I received a copy of this cookbook – Edwardian Cooking – from the publisher a few months ago, and I put it on my counter, eagerly awaiting the return of Downton Abbey. I thought it would just make the most sense to talk about this book to celebrate Downton's return. And then through all of the craziness of the holidays, I nearly forgot to even open this book!!
But – just in time for the premier of Downton Abbey, I am here to share a cookbook with you all about the food from that era.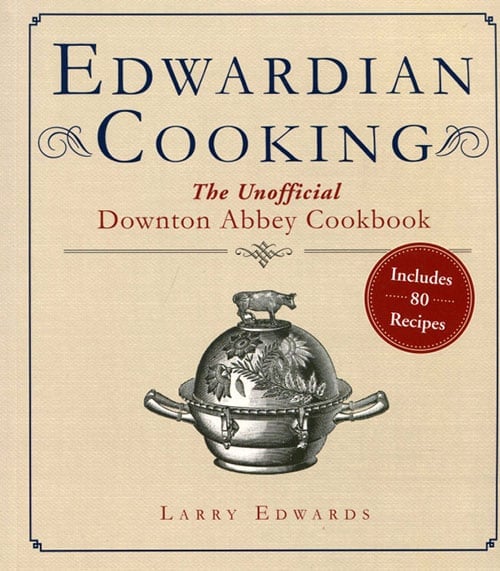 I really enjoy history. If I am reading a book, historical fiction is one of my favorite genres. I love hearing and learning about how people lived in years past. It's all kind of fascinating to me. So needless to say, I'm a big Downton Abbey fan. And I was really excited about this book, because not only is it about food, but it's also about the history from that time period.
I'm going to be honest – there are quite a few recipes in this book that I'm sure I'll never make, like the Spring Lamb Loaf or Mutton Pie. That being said, I think the novelty in this book is with the stories and the history that come with the recipes.
Here are the details:
Number of Photos: none. Yes, definitely the biggest drawback to this cookbook. It mentions in the introduction that there is a photo of every recipe, so I went digging a little bit and found my answers on amazon. Apparently many people were not very happy about mentions of photos when there were none to be found in the cookbook. One review said that they contacted the publisher, and the publisher said that they pulled the photos because of poor quality. They also found that the author has all of the photos on his Facebook page. Soooo – you won't get any photos in the cookbook, but if you want to see some photos, you can. Not ideal, I know. But because this book is more than just recipes – it's also about the history – I can forgive the lack of photos and still say this book is worth owning.
Difficulty Level of Recipes: easy to medium. All of these recipes have been recreated for the home kitchen and the home cook versus the multi-staff kitchen. I think the original recipes may have been more drawn out or more difficult, but these have all been made so that they are fairly simple. There are some baking recipes, so those may be a little more difficult, but overall, home cooks of any skill level shouldn't have a hard time cooking from this book.
Availibility of Ingredients: easy. The ingredients should be easy to find in most grocery stores. There are some ingredients that may have not been easy to find, like pheasant or treacle, so the author has changed up the recipe a bit to include ingredients that are easier to find, like chicken and molasses.
Other Recipes I Want to Try:
Brown Sugar Honey Balls
Cream Scones
Shredded Spiced Brussels Sprouts
Sour Cream and Onion Bread
Devonshire Strawberry Shortcakes
Lemon Cornmeal Cake
Buy Edwardian Cooking on Amazon.
And onto the soup! In all honesty, the cakes and cookies and breads from this cookbook were the most appealing to me, but when I went to cook from this book, I was in the depths of holiday baking and I just couldn't make myself bake another sweet treat. So instead, I made soup.
I love soup, and make it regularly, but what drew me to this recipe was the history behind it. According to the author, it was protocol that if bread was served, soup must be served as well. This Cheddar cheese soup recipe was one of the most popular among the aristocrats, and was served whenever special guests were present. I also found it interesting that the author said that soups were served at room temperature because it wasn't proper to blow on your soup. He also says that soups back then were served in shallow bowls.
When I went to make this soup recipe, I was actually afraid that it was just going to taste like a potato soup. Potatoes, after all, are a big component. But I was surprised to discover that this soup actually does taste more like Cheddar cheese than potatoes. We loved it, though, and loved the silky smooth texture and bold flavor from the cheese.
This recipe can get a little messy, though, as you have to puree it in a food processor or blender. It will not all fit in a typical blender or food processor, so be prepared to puree it in batches.
Although I didn't have any one to serve me this soup at room temperature, I did try for the shallow bowl, at least. But really, it was a hit. And I'm definitely excited to try out some of the sweet treats in the book!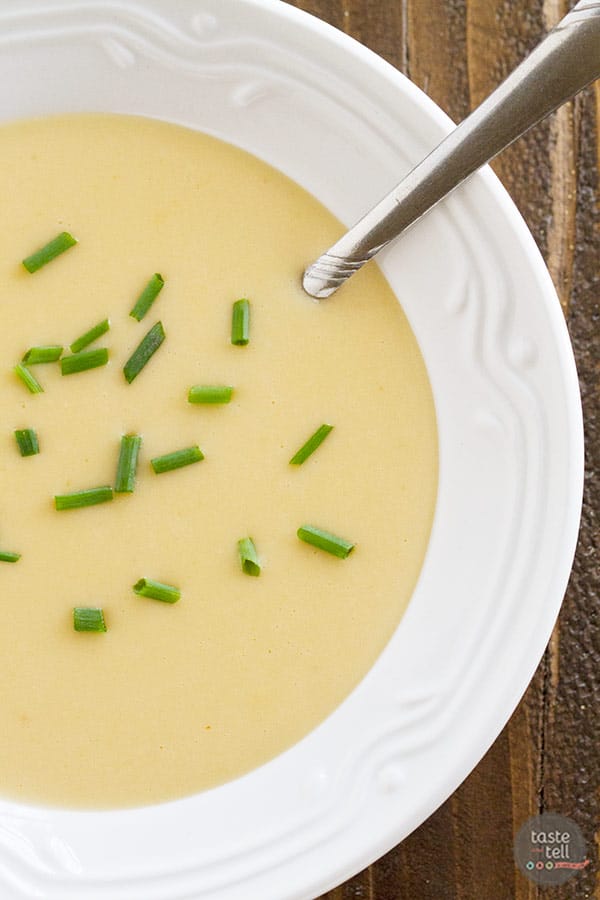 Like what you see here? Make sure you are following Taste and Tell for more great recipes and ideas!!

Facebook ** Pinterest ** Twitter ** Instagram ** Google+
or you can subscribe to my newsletter or Feedly or Bloglovin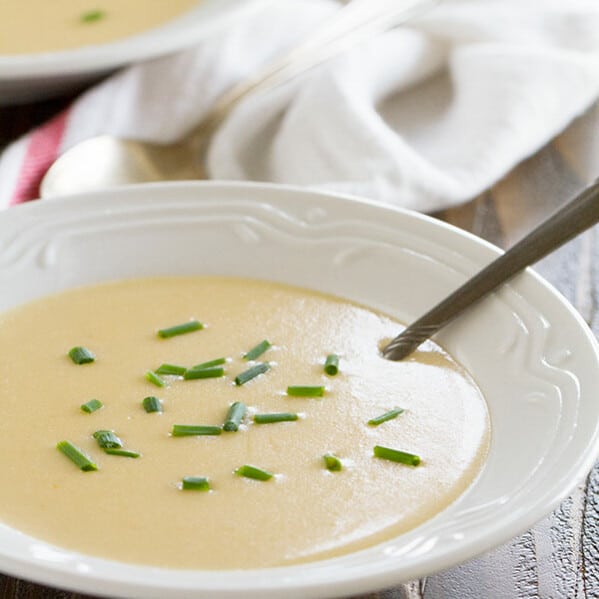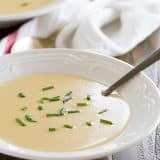 Royal Cheddar Cheese Soup
---
Prep Time: 10 mins
Cook Time: 35 mins
Total Time: 45 mins
Yield: 4-6 servings 1x
Description
Eat like those on Downton Abbey with this silky smooth Royal Cheddar Cheese Soup. During the Edwardian era, this soup would be served whenever there were special guests present.
---
Scale
Ingredients
1 tablespoon butter
2 medium yellow onions, chopped
2 medium russet potatoes, peeled and cubed
4 cloves of garlic, minced
6 cups chicken broth
1/2 teaspoon dry mustard
1 cup heavy cream
2 cups grated Sharp Cheddar cheese
3 tablespoons minced chives
---
Instructions
In a soup pot or Dutch oven, melt the butter over medium heat. Add the onions, potatoes and garlic and sauté for 10 minutes.
Add the chicken broth and bring it to a boil. Reduce the heat to a simmer and cook for 10 minutes.
Transfer the mixture to a food processor or blender. (You may need to do this in 2 batches.) Process until pureed.
To the soup pan, whisk the mustard into the cream. Stir the pureed mixture back into the soup pan and simmer for 5 minutes.
Stir in the Cheddar cheese into the soup and keep stirring until the cheese has melted.
Ladle the soup into soup bowls and garnish with the chopped chives.
Don't miss a thing! Follow me on Pinterest to see what I'm pinning!
Visit Taste and Tell's profile on Pinterest.