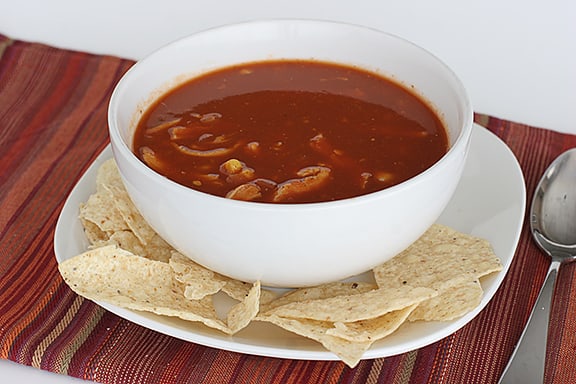 I have always said that I would love to live in Seattle.  The first thing that people say to me when I say that is "but it rains all the time!"  Well, call me crazy, but I love the rain.  We have been having rainy weather here every day since Monday, and I have been loving it.  Even when I had to run into work this morning while it was pouring, trying to keep myself somewhat dry.  But there is just something about the rain that I can't get enough of.  It's so cleansing and refreshing to me.
One thing the rain always does to me is makes me want to cuddle up on the couch with a book and eat warm, comforting food.  And soup is always perfect for a rainy day!!  This one is especially perfect because it only takes minutes to throw together so that you can get right back to that blanket and book that are waiting for you on the couch!
I actually made this a little while back to freeze to take to a neighbor.  I think soups are one of the most perfect foods to freeze!  You can throw it all in a big zip-top bag, or portion it out into individual servings in smaller zip-top bags.  And it is super easy to reheat when it's time to eat!  The lady that I made this for has even been asking for the recipe, she liked it that much!
And I have to apologize – I usually like to be very clear on where I get my recipes.  I know I found this online, but when I made it, my printer was out of ink so I just scribbled down some vague instructions and I cannot remember where I found it now.  So sorry!!
What do you like to do on rainy days?
Chicken Enchilada Soup
adapted from somewhere online…
serves 6-8
5 cups chicken, cooked and shredded
2 packages enchilada sauce (the dry powder packages)
2 29-ounce cans of tomato sauce
5 cups water
1 cup chopped onion
2 teaspoons minced garlic
14 ounces chicken broth
1/2 tablespoon chili powder
1 teaspoon salt
pepper
20 ounces frozen corn
Combine all ingredients except the corn.  Let simmer for at least 30 minutes.  (This also works great in the crockpot – stick it on low for a few hours and the flavors will have lots of time to meld together!)  Add the corn and continue to cook until the corn has warmed through – 5 to 10 minutes.