A creamy blend of corn, potatoes and red bell pepper, this Corn Chowder with Bacon is the perfect use for fresh or frozen corn. Super fresh and flavorful!
If you want some more of my favorite soups, try any of these 40 Soup Recipes!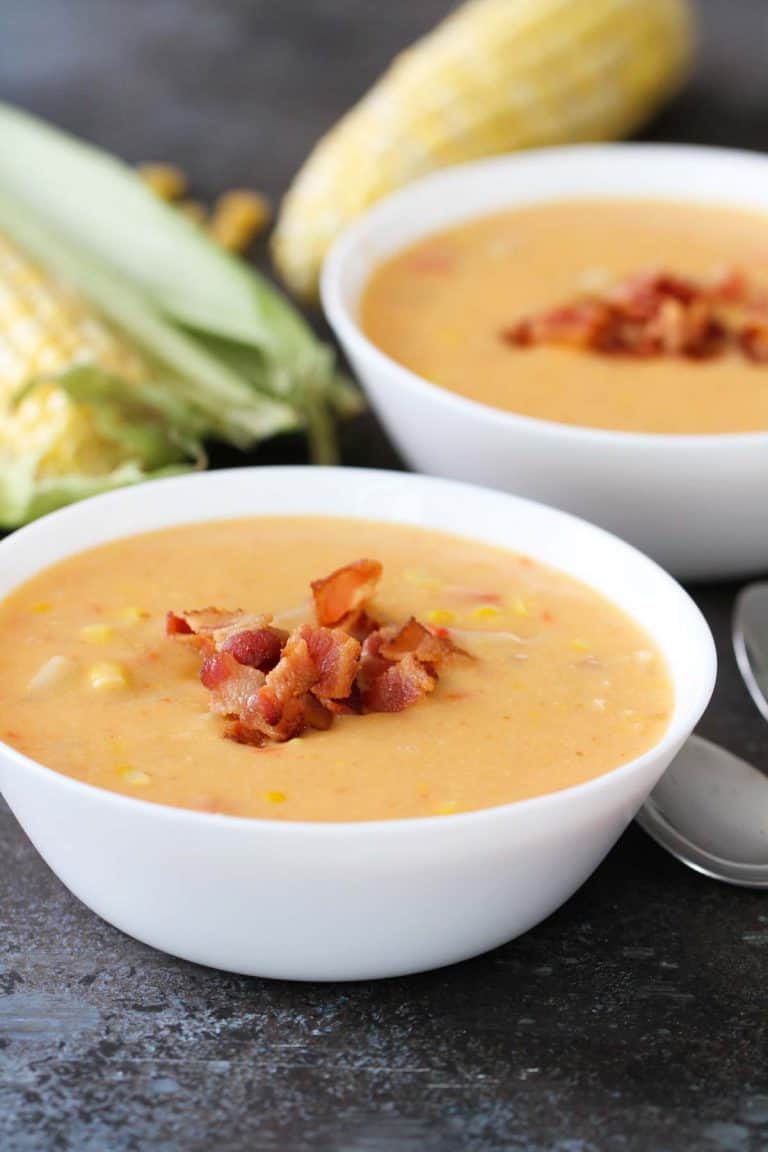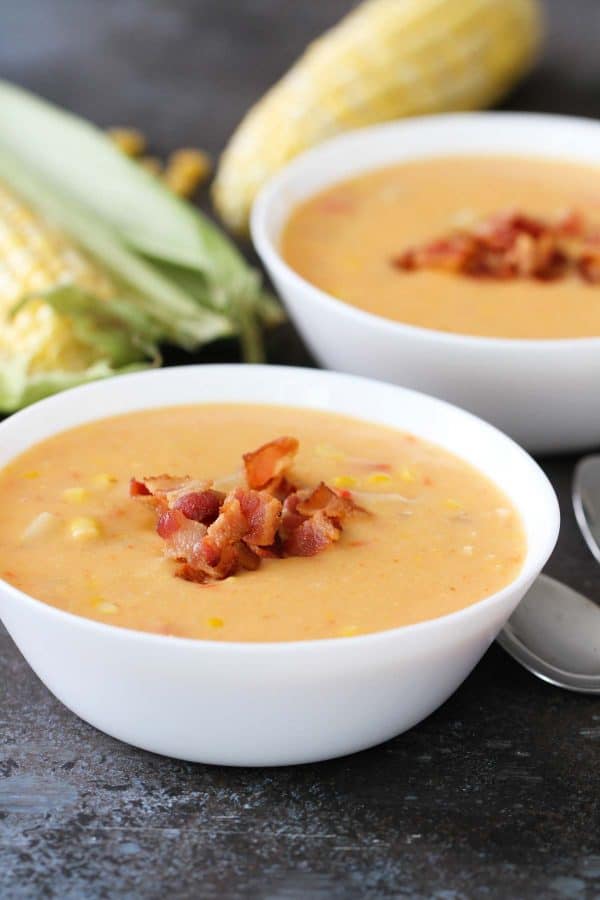 I originally posted this recipe in March of 2008, then actually updated the photos in September of 2012. But you know that I really love this recipe, because I'm here again, updating the photos yet again. I actually made this Corn Chowder with Bacon for a family dinner a couple of weeks ago, and new I had to update this post so I could reshare this recipe again. I know that we are into spring now, and maybe soup isn't the kind of food on your mind. But I know I've said it before and I'll say it again – soup is not just for cold weather! Especially a soup like this one that is so good with fresh corn. I'm a soup all year round kind of girl!
The original post from 2008 follows below: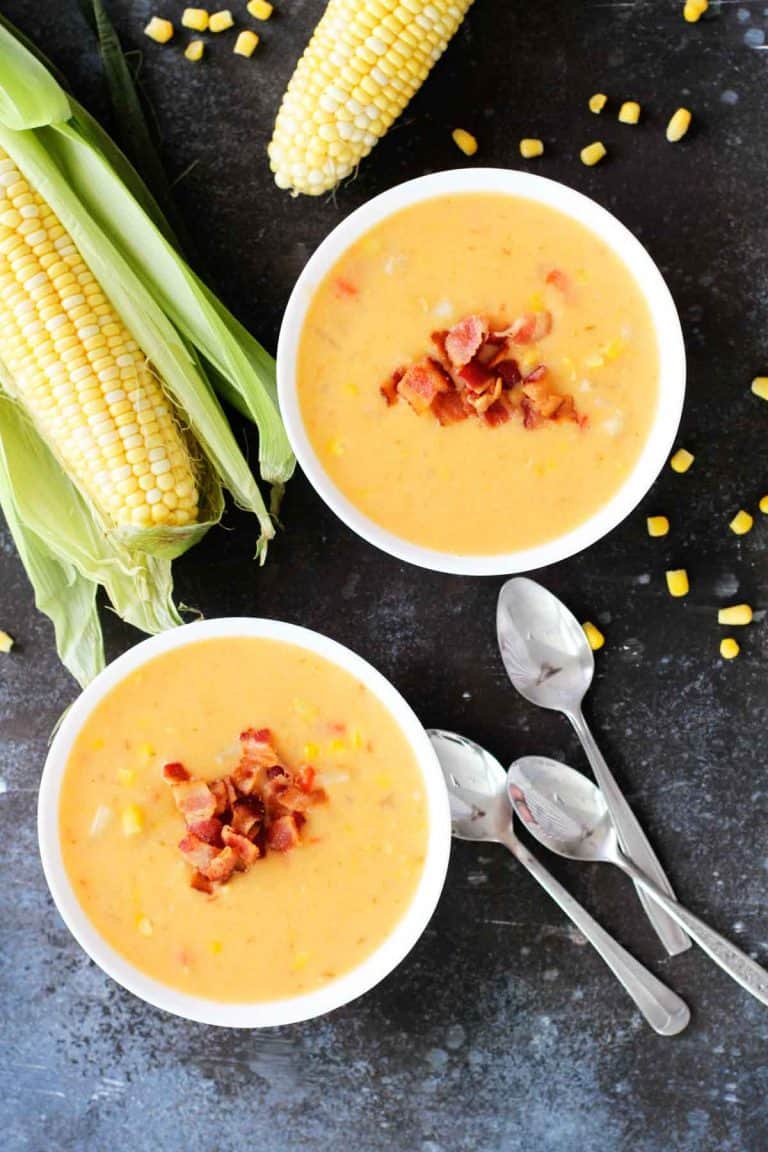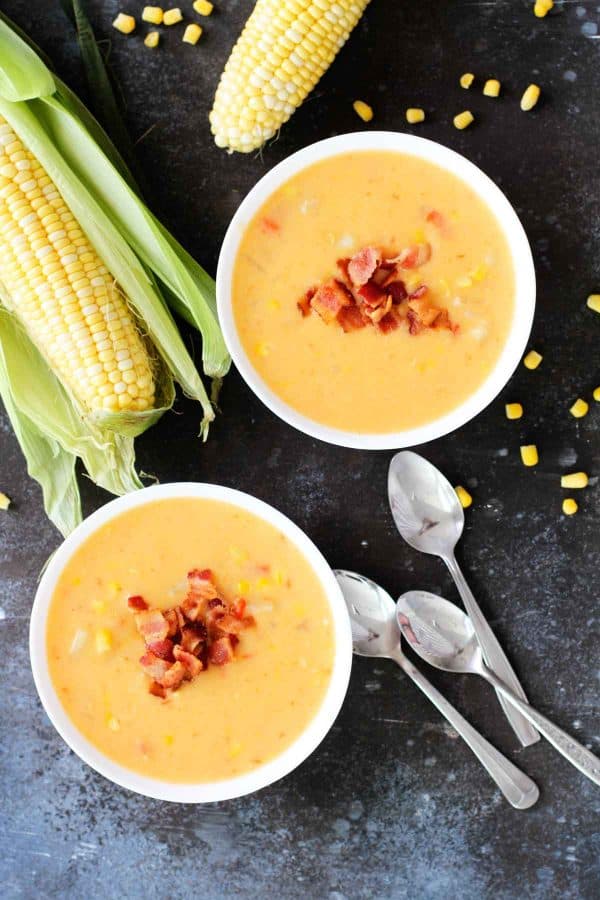 It is now less than 10 days until spring, so I might be quickly clearing my backlog of all winter meals over the next few days. I'm excited for the spring. It is my favorite season. I don't like the cold (so I'm not sure why I live in Utah!!) But I do have to admit that I'm going to miss the comfort food and soups of the winter. As much as I love the fresh fruits and vegetables that start coming in the spring, winter food is my favorite. I love a good warm bowl of soup or chili, or a comforting serving of shepherd's pie. The soups I have made this winter have held the starring roles in my mind. And as much as I've loved all of them that I've made, this one is my favorite – by far.
This is a Weight Watcher's recipe, but I have taken a few liberties with the recipe, probably making it a little less healthy and adding a few extra calories. But I'll take these extra calories, because the end result was fantastic! First of all, the recipe calls for turkey bacon. I'm not a huge fan of turkey bacon. If I'm going to eat bacon, I'm going to go big or go home. And the recipe said to cook the bacon in a few tablespoons of water – I had never heard of this method, but maybe it's because turkey bacon doesn't have enough fat. Then you are supposed to saute the veggies in some water (weird to me again), but since I had cooked pork bacon, I just sauteed the veggies in the bacon grease. I have also substituted a yellow bell pepper with a red one from time to time, and both work. The last change I made was the salt – the original recipe didn't call for any salt. Maybe I'm a salt junkie, but this soup definitely needed it. In fact, I tasted the soup before I served it, and didn't care for it. I added some salt, and all of a sudden, this was one amazing soup!!
Now I know that the weather is getting warmer, but I can't promise you that I won't eat a bowl of this once the fresh corn starts to be harvested from my garden this summer. Winter, spring, summer, fall – I'd gladly have a bowl of this any time of year!!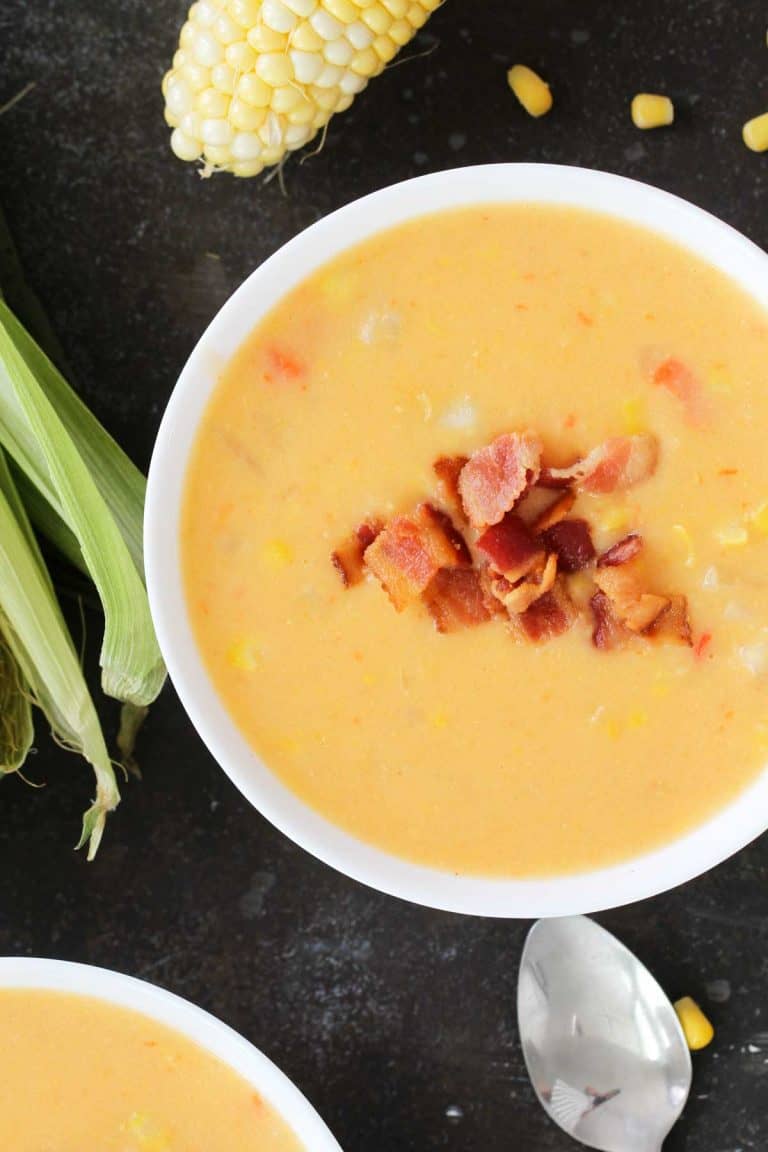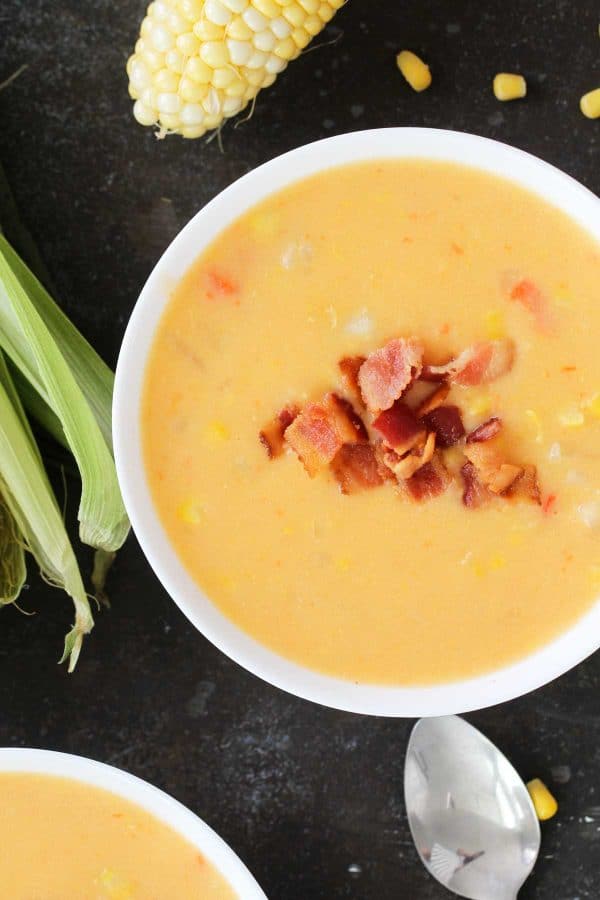 Looking for more corn filled soups?
Corn and Sausage Chowder
Crock Pot Corn Chowder
Grilled Corn and Potato Chowder
Crab and Corn Soup
Like what you see here? Make sure you are following Taste and Tell for more great recipes and ideas!!

Facebook ** Pinterest ** Twitter ** Instagram ** Google+
or you can subscribe to my newsletter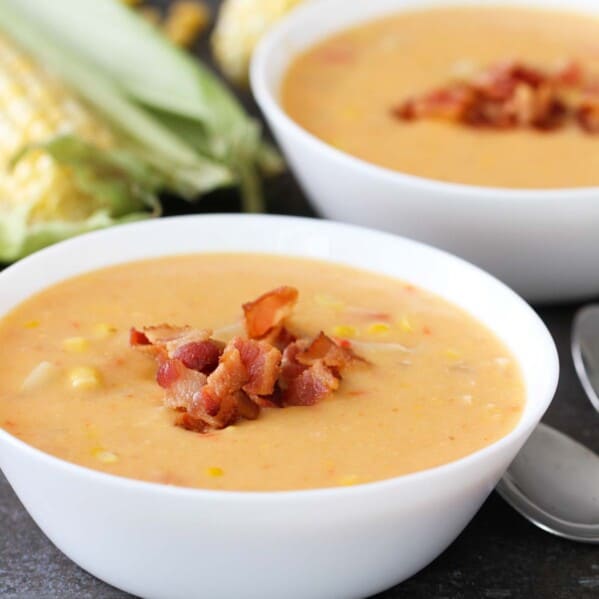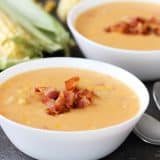 Corn Chowder with Bacon
---
Prep Time: 15 minutes
Cook Time: 25 minutes
Total Time: 40 minutes
Yield: 4 servings 1x
Category: Main Dish
Description
A creamy blend of corn, potatoes and red bell pepper, this Corn Chowder with Bacon is the perfect use for fresh or frozen corn. Super fresh and flavorful!
---
Scale
Ingredients
2 slices of bacon, cut into 1/2 inch pieces
1 small onion, diced
1/2 red bell pepper, seeded and chopped
2 1/2 cups chicken broth
2 medium potatoes (about 12 oz total), peeled and cubed
2 cups whole kernel corn, either fresh or frozen
1/4 cup half and half
Salt to taste
---
Instructions
Place a soup pot over medium high heat and add the bacon. Cook until crisp. Transfer the bacon to a paper towel lined plate with a slotted spoon.
Add the onion and bell pepper to the pot and saute until soft, about 5 minutes. Add the chicken broth and the potatoes and bring the mixture to a boil. Reduce the heat and simmer, partially covered, until the potatoes are almost tender, about 15 minutes. Stir in the corn and cook for another 5 minutes. Season with salt, then remove from the heat and allow to cool slightly.
Transfer about 2 cups of the soup to a blender or a food processor. Process until smooth. Pour the soup back into the pot. Stir in the half and half.  Heat to serving temperature. Serve topped with the bacon pieces.
Nutrition
Calories: 253
Sugar: 8 g
Sodium: 369 mg
Fat: 4 g
Saturated Fat: 2 g
Unsaturated Fat: 1 g
Trans Fat: 0 g
Carbohydrates: 41 g
Fiber: 5 g
Protein: 10 g
Cholesterol: 16 mg
SHOP THIS POST: