Creamy and hearty, this Bacon Cheeseburger Chowder adds the flavors of a bacon cheeseburger into a comforting bowl of thick chowder.

Yum

I have always been a believer in all things in moderation. I try to cook healthy, wholesome food most of the time. But I can never give up dessert. I don't have it daily, but I do indulge every once in awhile. I also try to use healthy ingredients. But every now and again, you just have to have something that may fall into that not-so-good-for-you group.
I had been eyeing this Bacon Cheeseburger Chowder for some time until it found its way onto my weekly menu. Well, one of the ingredients is processed cheese – aka Velveeta. I had actually thought about trying to make my own (yes – you can make your own! I googled a few recipes that looked promising), but then I remembered I had some leftover from the Easy Cheesesteak Recipe that I had made. And really, there is no reason to go to a lot of extra trouble when you have an ingredient sitting right there. Let's be honest, as well – I'm no food snob. So Velveeta, it was.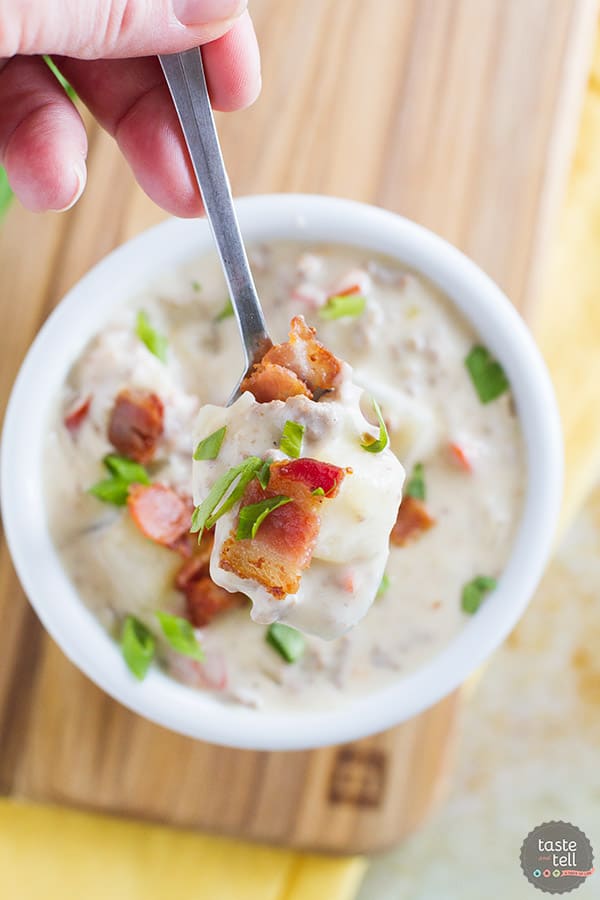 If you are looking for a big bowl of creamy, hearty, comforting, flavor-packed soup, this is it. When we sat down to dinner and my husband started eating, he asked it this Bacon Cheeseburger Chowder had Velveeta in it. I told him yes, and he commented that sometimes, there is just no substitute, and it definitely worked in this soup over regular cheese. We demolished this soup. My daughter, the soup lover, downed 2 full bowls. This was one of those few instances when we had no leftovers.
And since winter is not letting go of its grip here in Utah just yet, I think it's a perfect time to make this Bacon Cheeseburger Chowder!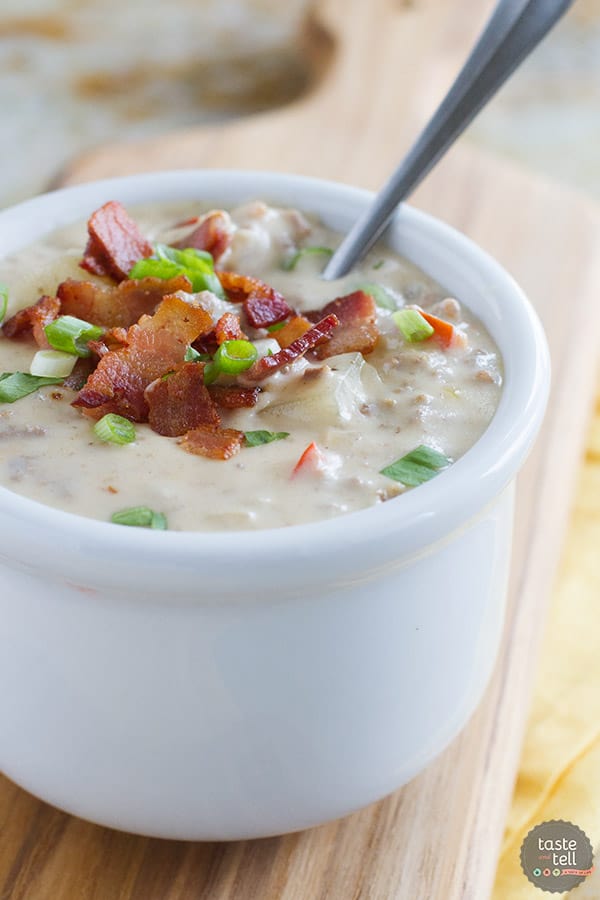 Like what you see here? Make sure you are following Taste and Tell for more recipes and ideas!
Facebook | Pinterest | Instagram | Twitter | Google+ | Weekly Newsletter | Feedly | Bloglovin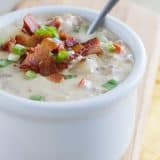 Bacon Cheeseburger Chowder
---
Author:
Prep Time: 15 mins
Cook Time: 30 mins
Total Time: 45 mins
Yield: 6 servings 1x
Description
Creamy and hearty, this Bacon Cheeseburger Chowder adds the flavors of a bacon cheeseburger into a comforting bowl of thick chowder.
---
Scale
Ingredients
1 lb ground beef
1 medium onion, diced (about 1 cup)
1 medium red sweet bell pepper, diced (about 1 cup)
1 clove garlic, minced
3 tablespoons all-purpose flour
2 1/2 cups milk
2 cups beef broth
1 lb potatoes, peeled and diced
6 slices bacon, diced
12 oz processed cheese (such as Velveeta), cubed
sliced green onions, optional
---
Instructions
Heat a large soup pot or Dutch oven over medium-high heat. Add the ground beef, the onion and the pepper and cook, breaking up the beef as it cooks, until the beef is browned and cooked through and the vegetables are soft.
Stir in the garlic and the flour. Cook for 1 minute.
Slowly stir in the milk. Stir in the beef broth and potatoes. Bring the mixture to a boil, then reduce the heat and simmer until the potatoes are cooked through, 15-20 minutes.
While the soup is cooking, place the bacon in a small saucepan and cook until crisp. Remove to a paper-towel lined plate with a slotted spoon.
When the potatoes are tender, stir in the cheese until melted. Add the bacon, reserving some for topping the soup, and stir to combine. Season to taste with salt and pepper.
Serve the soup topped with the bacon and sliced green onions, if desired. Serve warm.
Recipe Notes:
I used the white queso version of Velveeta because that is what I had on hand, so using the traditional version will give your soup some more color.
adapted from Taste of Home November 2014
USEFUL PRODUCTS:
More Comforting Chowder Recipes: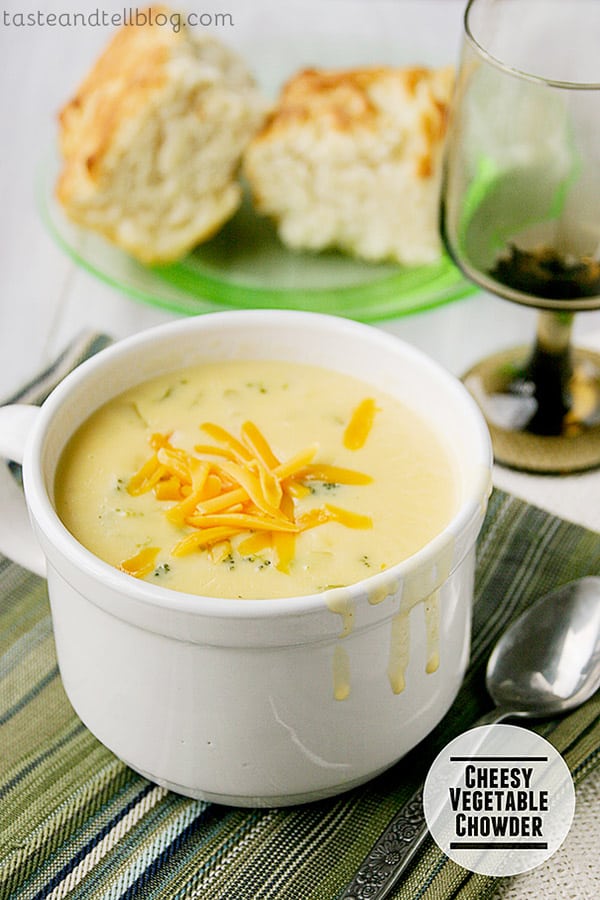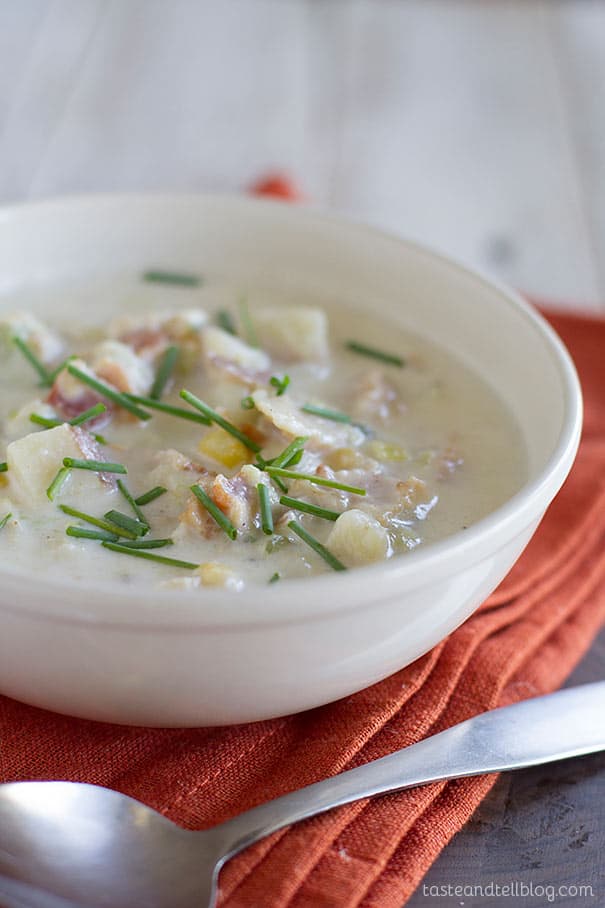 Around the Web:
Southern Chicken and Corn Chowder from Add a Pinch
Summer Corn Chowder from Cooking Classy
Cheesy Chicken and Potato Chowder from The Comfort of Cooking
Don't miss a thing! Follow me on Pinterest to see what I'm pinning!
Visit Taste and Tell's profile on Pinterest.