Dinner at our house is not perfect.
It seems as though I have tricked you all into thinking that I have dinner on the table every night for my family. A perfectly balanced, delicious meal. Every night. It's all a lie.
The truth of the matter is that I cook for a living. Whether it's for the blog or for a freelance job I'm working on, I'm usually cooking every day. And when dinnertime comes around, either a) I'm so tired that I don't want to cook another meal, or b) I've got so much food from cooking all day that there is really no reason to make anything else. So what usually happens is dinner is re-heated. And sometimes a mish-mash of several different meals.  And sometimes, it's just grilled cheese sandwiches.
Throw pregnancy into all of this, and things get even crazier. I'm even more tired, and even more picky. Really, I'm am probably one of the least picky eaters you can come across. I love pretty much everything, and most things that I don't love, I'll tolerate. But when pregnancy cravings kick in, sometimes you have to just go with it, because that is all that sounds good.
I know you probably don't want to hear about pregnancy cravings again, but this time, it's leading to something really fun:

HOT DOG WEEK!!
I gave up posting every day awhile back, but you'll want to stick with me this week as I post 5 new hot dog recipes. I haven't been able to get enough of hot dogs lately, and over the course of the last month, I've ended up with quite a few different versions. And boy, has it been fun!! So I hope you like hot dogs, because you are going to get your fill of them this week!!
Up first – Mexican Hot Dogs. These are super simple, topped with diced avocado, cotija cheese and cilantro, and they get some heat from a chipotle mayonnaise. A perfect addition to your backyard bbq, or a great change up for Mexican night. I seriously loved these!!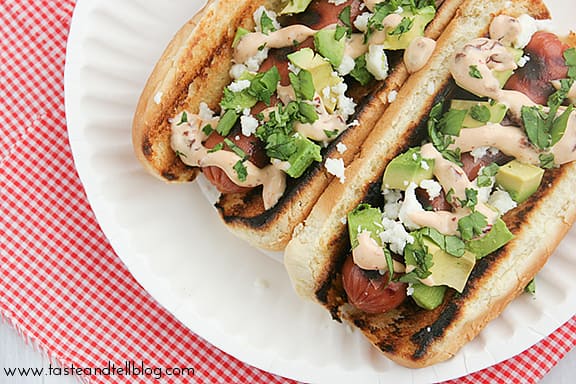 Mexican Dogs
Hot dogs with Mexican flair - topped with chipotle mayonnaise, cotija cheese, avocado and cilantro.
Ingredients
½ cup mayonnaise
3-4 tablespoons finely chopped chipotle in adobo sauce plus sauce
4 beef hot dogs
4 hot dog buns
⅓ cup crumbled cotija cheese
1 California Avocado, diced
fresh cilantro, chopped
Instructions
In a small bowl, combine the mayonnaise and the chipotle in adobo. Set aside.
Grill the hot dogs until warmed through. Grill the buns. Top the hot dogs with the chipotle mayonnaise, cotija cheese, avocado and sprinkled with chopped cilantro.
----------------
inspired by Food Network Magazine 1000 Easy Recipes
More Mexican inspired hot dogs:
Mexican Dogs with Pineapple Salsa and Chipotle Mayonnaise from Homesick Texan
Mexican Hot Dogs from Sweet Treats and More
Sonoran Hot Dog from One Perfect Bite
Join I Wash… You Dry and Southern Fairytale for the California Avocado Cinco de Mayo Recipe Fiesta, sponsored by the California Avocado Commission.