A classic chili dog – a beef hot dog on a bun, topped with a beef chili, onions and mustard.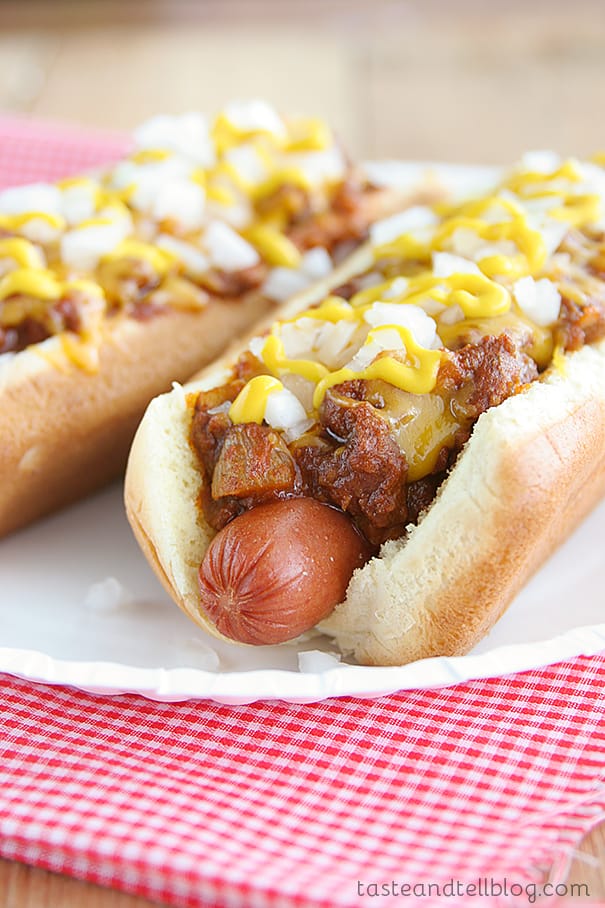 Pregnancy cravings are a funny thing. And a very real thing. I'm lucky that I've never had the horribly crazy I-have-to-have-ice-cream-right-now-even-though-it's-midnight kind of cravings, but when I get something in my head, it is most of the time really hard to get rid of until I have it. And let's just say that I'm lucky that there isn't a Sonic right around the corner from me lately, because I had a major hankering for a chili dog that wouldn't be satisfied until I had one in my belly.
So what do I do? Of course we had chili dogs for dinner one night!! I went to my girl, Rachael Ray, and of course she had a recipe. These were super simple to throw together. I do have to admit, though, I was a little worried about the chili at first. Mine was super thick, so I ended up adding about twice as much water as the recipe called for. And when I first tasted it when it was done, it was just…. ok. But then I added some salt and pepper, and all of a sudden, it was transformed. (Isn't it amazing what a little salt and pepper can do??) And combined with the hot dog, cheese, onions and mustard – let's just say I was a very happy girl that night.
And don't worry – I have more pregnancy cravings coming your way. It's part of the fun of being pregnant, right?? 🙂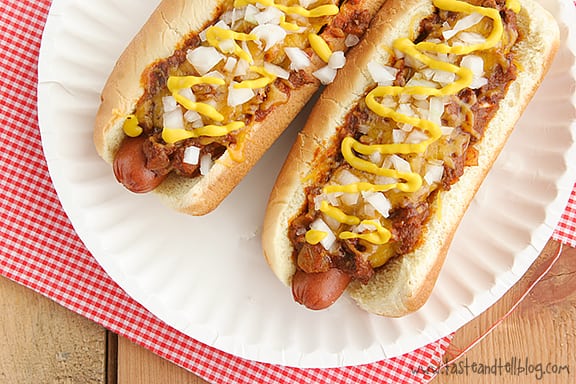 Like what you see here? Make sure you are following Taste and Tell for more great recipes and ideas!!

Facebook ** Pinterest ** Twitter ** Instagram ** Google+
or you can subscribe to my newsletter or Feedly or Bloglovin


Coney Island Hot Dogs
A classic chili dog - a beef hot dog on a bun, topped with a beef chili, onions and mustard.
Ingredients
8 hot dog buns
1 pound ground beef
1 large onion, finely chopped
2 cloves garlic, finely chopped
2 tablespoons chili powder
1 tablespoon ground cumin
1 cup water
1 (6-oz) can tomato paste
1 tablespoon yellow mustard, plus more for topping
1 tablespoon Worcestershire sauce
2 teaspoons brown sugar
salt and pepper
8 beef hot dogs
shredded cheddar cheese
Instructions
Preheat the oven to 300F. Wrap the hot dog buns in foil.
In a large skillet over medium-high heat, cook the beef, half of the onion and the garlic until the beef is cooked through, breaking up as you cook. Stir in the chili powder and cumin and cook for 3 minutes. Stir in 1 cup of water, the tomato paste, mustard, worcestershire sauce and brown sugar. Bring to a boil, cover and reduce heat. Cook until thickened, about 20 minutes. If the chili becomes too thick, add more water. Season to taste with salt and pepper.
Meanwhile, put the hot dogs in a large saucepan and cover with water. Bring to a boil and cook until the hot dogs are heated through, about 8 minutes. Place the buns in the oven and cook until heated through
Place the hot dogs in the buns and top with the chili. Top with cheese if desired, then the remaining onions and mustard.
------------------
slightly adapted from Every Day with Rachael Ray April 2010
More takes on the chili dog:
Oven Baked Turkey Chili Cheese Dogs from Cooking with My Kid
Jalepeno Chili Dogs from Coupon Clipping Cook
Chili Dog Pizza from Behind the Bites
Gourmet Chili Dogs from Bev Cooks
7-Layer Chili Dog Dip from Taste and Tell
Chili Dog Casserole from Framed Cooks
Follow my Hot Dog Love board on Pinterest!