These Green Chile Hot Dogs take a New Mexican turn – topped with a green chile cheese sauce and lots of diced green chiles.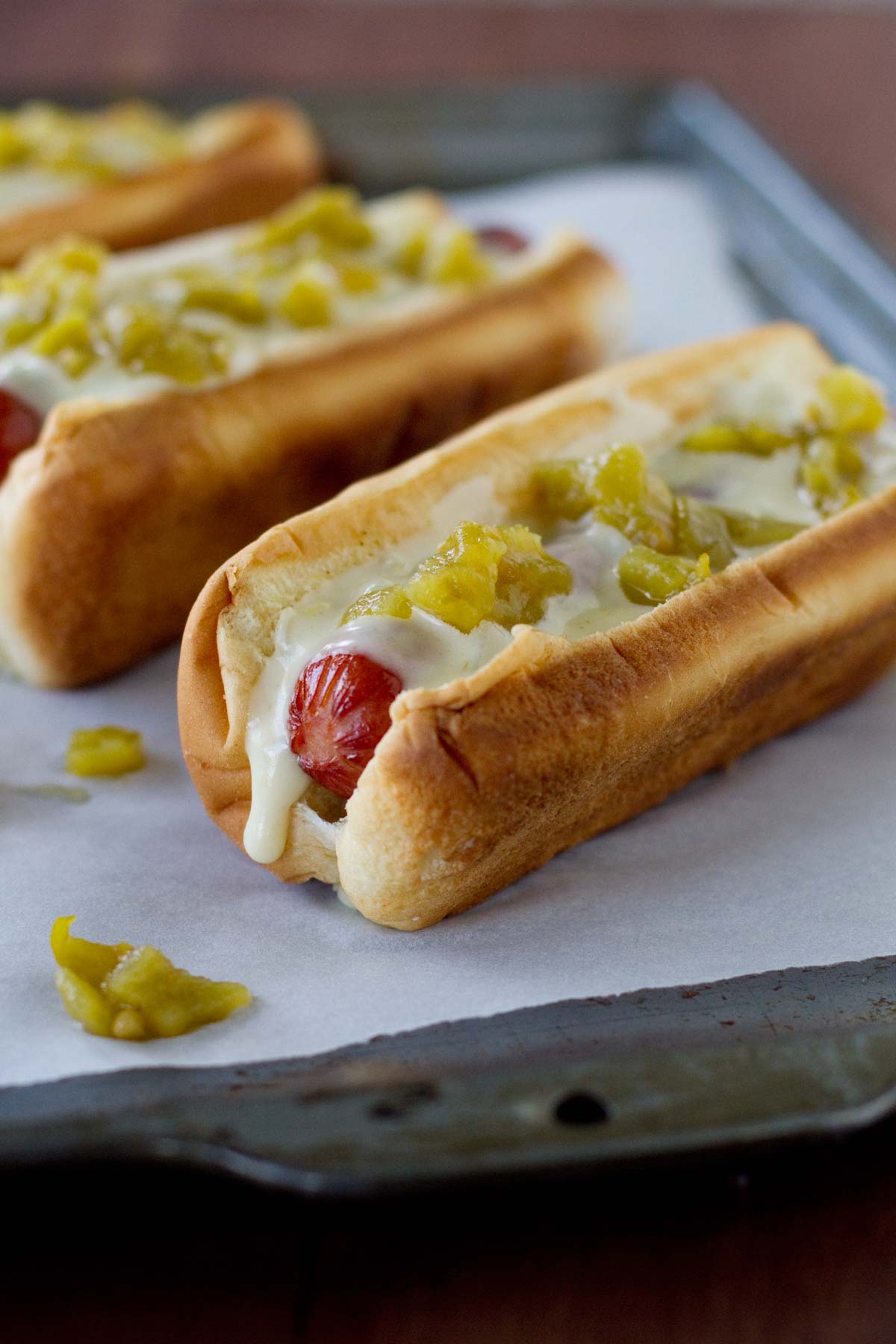 I think I will always be a New Mexico girl at heart. I did, after all, spend the first 18 years of my life there. And even though I've been gone for quite some time now, and even though I consider Utah my home, New Mexico will always be the place I think of when I think of my childhood.
And one thing that will always remind me of my childhood – green chiles.
As a New Mexican, I think it's an unwritten rule that you must adore green chiles. I remember seeing the large chile roasters in different store parking lots, where the smell of roasting chiles was intoxicating. And while the Hatch chiles are the most popular, I'm pretty sure you can get a pretty mean green chile in most parts of New Mexico. Don't be surprised to find these chiles on the menu in most restaurants. (Goodness, how I want a green chile burger from Blake's Lotaburger right about now!)
So I decided to give a wink and a nod to my home state with today's hot dog for Hot Dog Week. Sure, they might not be actual New Mexico chiles, but this hot dog was so good that I don't even care. Just think about it – a hot dog topped with a cheesy green chile sauce, then add some more green chiles to the top. And to be honest, I didn't want to look crazy for the photos, but I ate mine with a lot more green chiles than I put on the hot dogs for the photos. I kinda like green chiles…
And next time I get nostalgic for my childhood, all I have to do is whip up one of these dogs to remind me of days past!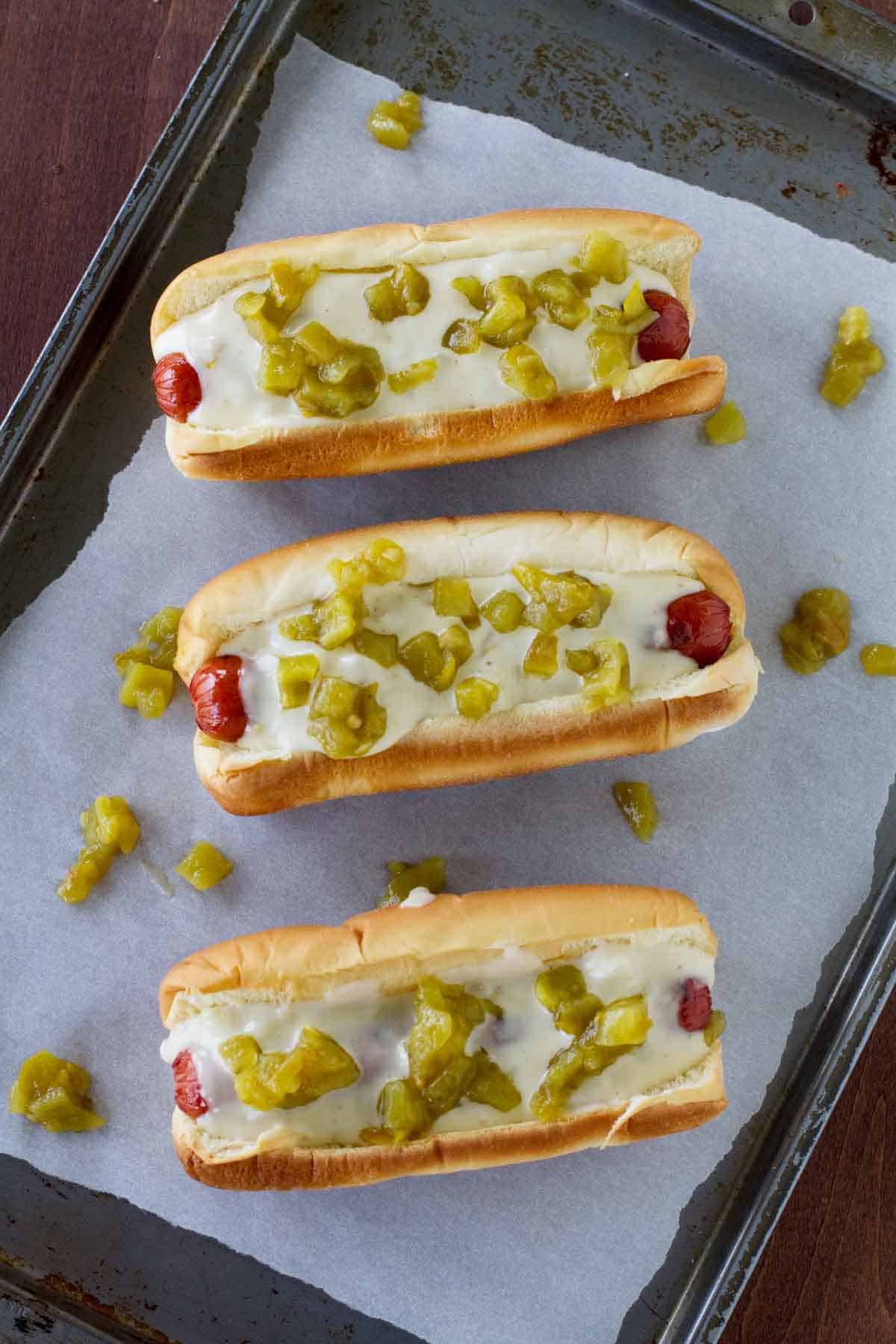 More Hot Dog Recipes
Coney Island Hot Dogs
Cubano Hot Dogs
Corn Dog Recipe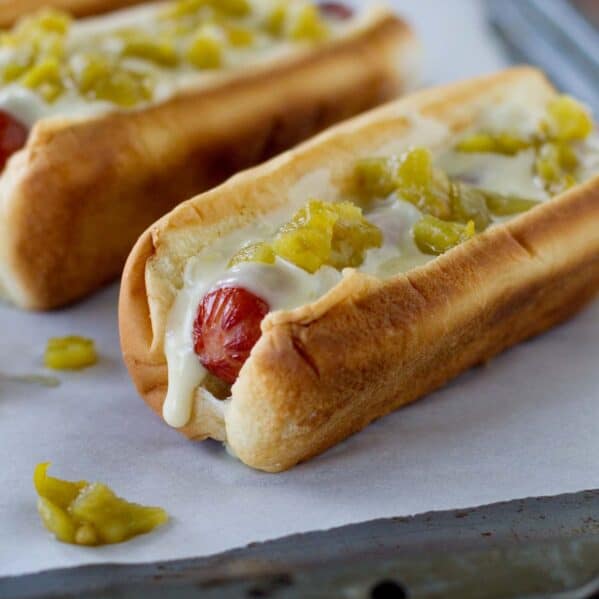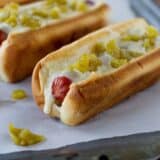 Green Chile Hot Dogs
---
Author:
Prep Time: 10 minutes
Cook Time: 15 minutes
Total Time: 25 minutes
Yield: 8 hot dogs 1x
Category: Main Dish
Method: Stove Top
Cuisine: American
Description
These Green Chile Hot Dogs take a New Mexican turn – topped with a green chile cheese sauce and lots of diced green chiles.
---
Scale
Ingredients
1 tablespoon butter
1 clove garlic, minced
1 tablespoon flour
1 cup chicken stock
1/2 cup sour cream
4 oz diced green chiles
1/4 teaspoon cumin
1/8 teaspoon chili powder
1/4 teaspoon salt
2 cups shredded Monterey jack cheese
8 hot dogs
8 buns
Additional diced green chiles
---
Instructions
Melt the butter in a large skillet. Add the garlic and cook until fragrant. Whisk in the flour, then the chicken stock. Cook until slightly thickened. Stir in the sour cream, chiles, cumin, chili powder and salt. Stir in the cheese until melted.
Cook the hot dogs according to preference. Place a hot dog in each bun, then top with the green chile cheese sauce. Add on additional chopped green chiles.
Keywords: green chile hot dogs