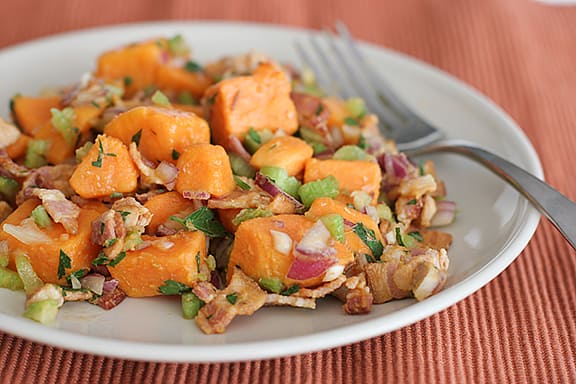 Being the Rachael Ray fan that I am, I have lists long of her recipes that I want to try.  But one of the things I really love about her show – 30 Minute Meals – is that she shows a whole meal, not usually just one dish.  This side dish here – she served it with the Sliced Steak Sloppy Johnnies that I showed here last Saturday, and the salad was a perfect companion. And sweet potatoes are so healthy, I actually felt quite healthy eating this – despite the bacon in it!!  And for a girl that always struggles to decide what to make as a side dish, I thought these were a perfect fit.  I loved this salad and could see making it especially during the summer for a backyard bbq – but it was perfect in the middle of winter as well!!
Sweet Potato Salad with Bacon
Ingredients
1 ½ pounds sweet potatoes, peeled and cut into bite-sized chunks
salt
extra-virgin olive oil, for liberal drizzling
4 slices good quality lean bacon, chopped
½ cup beef stock
2 tablespoons red wine vinegar
a few dashes of hot sauce
1 teaspoon sweet paprika
freshly ground black pepper
½ small red onion, finely chopped
2 to 3 small celery ribs, finely chopped
a handful of parsley leaves, finely chopped
Instructions
Put the potatoes in a pot over medium heat and cover them with water. Bring to a boil then salt the water and cook until just tender, about 15 minutes. Drain the potatoes and return them to the hot pot. Heat a small pan over medium-high heat and drizzle in some extra-virgin olive oil. Add the bacon and cook until just about crisp. Add the stock to the pot with the potatoes along with the vinegar and hot sauce and stir over low heat until combined. Turn off the heat and season with paprika and salt and pepper, to taste. Transfer the potatoes to a serving bowl and stir in chopped onions, celery, parsley and bacon. Dress the salad with a liberal drizzle of extra-virgin olive oil and serve immediately.