This hot dog recipe gets a reuben twist by wrapping hot dogs in pastrami then covering them in Swiss cheese, sauerkraut and a homemade Russian dressing.
I've been blogging a long time. And I've heard a lot of the conversations that go on between food bloggers. There is one that I've heard come up several times over the years that goes something like this:
"I just made this amazing recipe that I haven't posted yet, but then I got online this morning and saw that so-and-so had made something similar! What do I do? Can I still post mine?? I promise I didn't copy!"
The answer usually comes back from the other bloggers that – of course the recipe should still get posted. It is extremely hard to come up with anything 100% original these days, and there are variations of every recipe out there.
Well, with this hot dog recipe today, I'm copying myself. Or Rachael Ray for the second time, to be exact.

This is what happened. I was looking through an old version of Every Day with Rachael Ray, and came across an article with a whole bunch of ideas for hot dog toppings. If you've been reading the past couple years, you might remember I did a hot dog week in both 2012 and 2013. I just ran out of time this year, and I was feeling kind of sad about it one day when I came across this article. All of the ideas sounded great, but this pastrami wrapped reuben dog was really calling my name. I put it on the menu.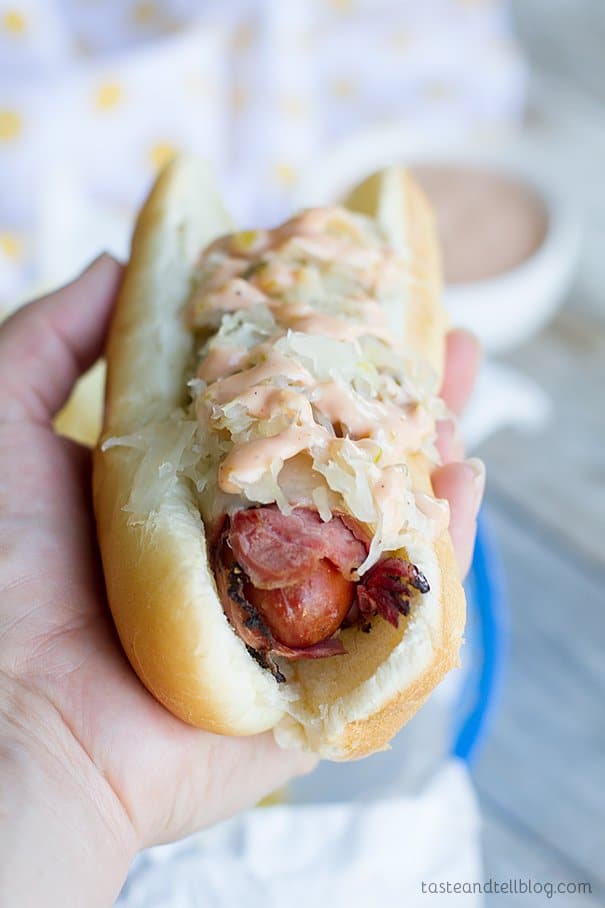 When the day came to make these, I made them, and I went to photograph them. All of a sudden, something felt very familiar to me. And then it hit me. I've done Reuben Dogs!! I ran to my computer and pulled up the recipe and had to laugh at myself. I must really like a good reuben dog!
I almost didn't photograph these hot dogs. And then I decided that they are just different enough that I could post them. Same idea, different execution. There's nothing wrong with that, right? 😉
Needless to say, I loved this hot dog recipe. And I would make them again. (Just don't be surprised if you find another version pop up in the next year or two. Just kidding! I think…)
They are quite simple – an easy Russian dressing that goes on top of hot dogs that are wrapped in pastrami and then grilled. Oh yeah – don't forget the Swiss cheese that gets melted on top, or the sauerkraut! Every bite was as delicious as the last and I found myself craving another one for lunch the next day. I think we have a winner!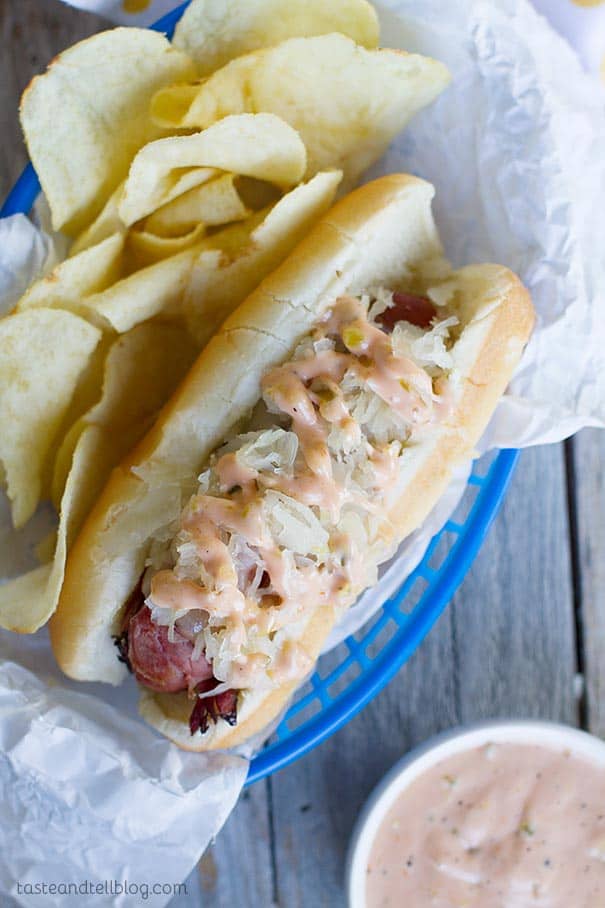 Like what you see here? Make sure you are following Taste and Tell for more great recipes and ideas!!

Facebook ** Pinterest ** Twitter ** Instagram ** Google+
or you can subscribe to my newsletter or Feedly or Bloglovin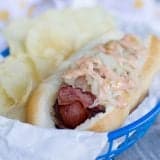 Pastrami Wrapped Hot Dog Recipe
---
Prep Time: 10 mins
Cook Time: 10 mins
Total Time: 20 mins
Yield: 4 hot dogs 1x
Description
This hot dog recipe gets a reuben twist by wrapping hot dogs in pastrami then covering in Swiss cheese, sauerkraut and a homemade Russian dressing.
---
Scale
Ingredients
1/2 cup mayonnaise
1/4 cup ketchup
2 tablespoons pickle relish
salt and pepper, to taste
4 beef hot dogs
4 slices deli-sliced pastrami
4 slices Swiss cheese
4 hot dog buns
1/2 cup sauerkraut
---
Instructions
In a small bowl, combine the mayonnaise, ketchup and relish. Season to taste with salt and pepper. Set aside. (I find that it's easiest to put this on the hot dogs when I put it in a small ziptop bag and cut the corner off.)
Heat a grill or griddle over medium-high heat. Wrap each of the hot dogs in a slice of pastrami. Place on the grill, seam side down, and cook until the hot dog is warmed through and the pastrami is lightly crisped. Add a slice of cheese to the top of each, cover, and cook another minute or two until the cheese has melted. Transfer the hot dogs to the buns.
Top each hot dog with some of the sauerkraut, then drizzle the dressing on top.
Recipe Notes:
inspired by Every Day with Rachael Ray July/August 2013
More of my Favorite Hot Dog Recipes: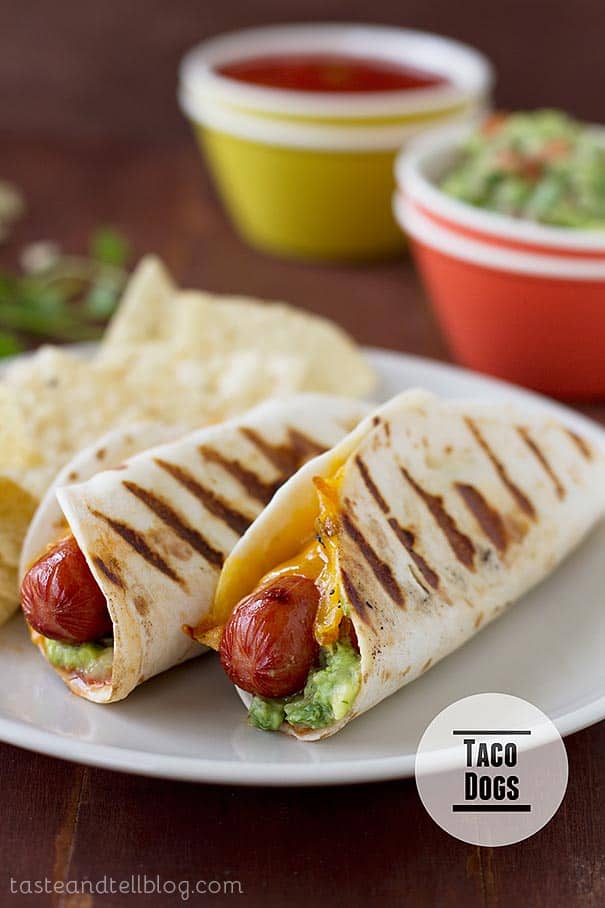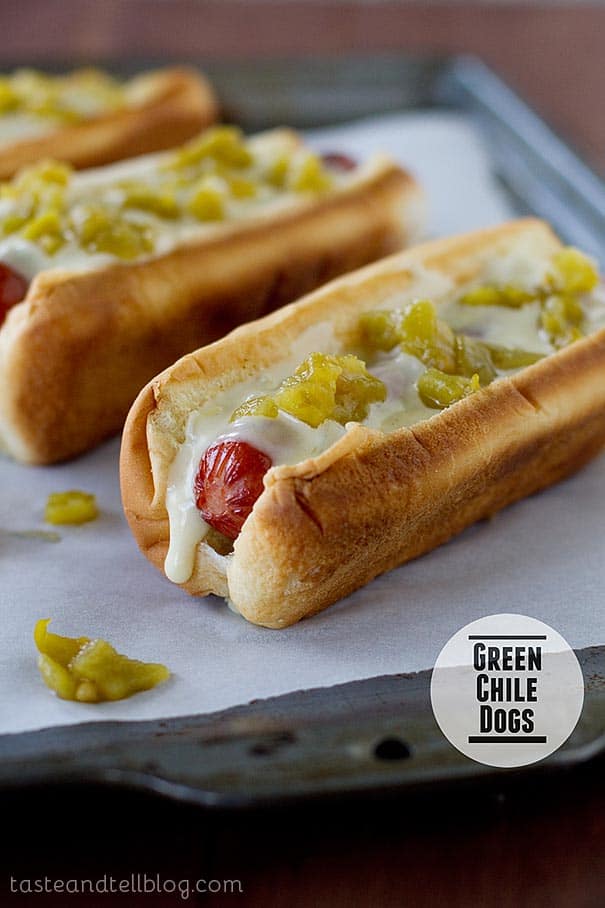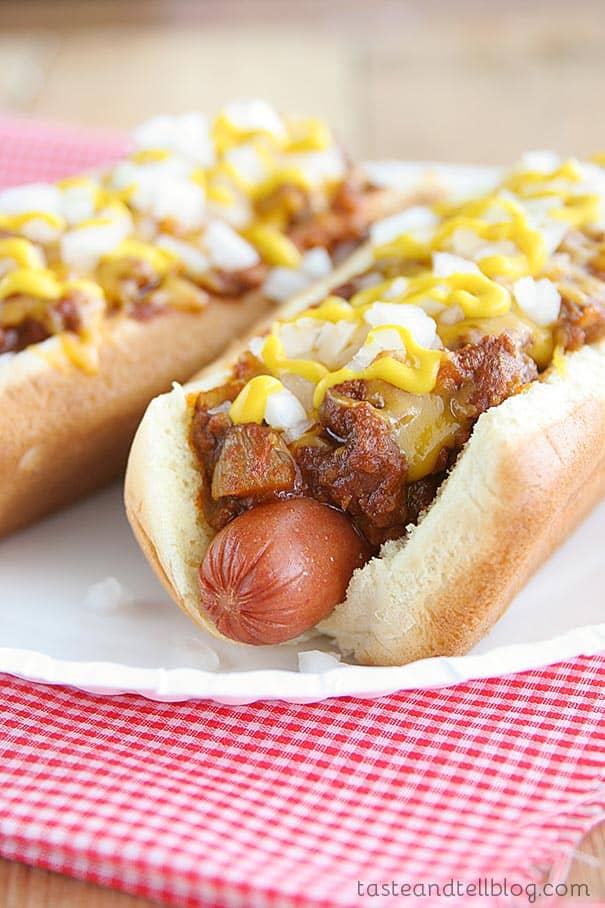 Around the Web:
7-Layer Dip Hot Dogs from Sweet Basil
Breakfast Hot Dogs from Wanna Be a Country Cleaver
Sweet Pork and Tomatillo Ranch Hot Dogs from Creme de la Crumb