A great way to use up the summer vegetables, a perfect summer dinner is done in a snap with minimal clean up with this Sheet Pan Balsamic Shrimp and Summer Vegetables.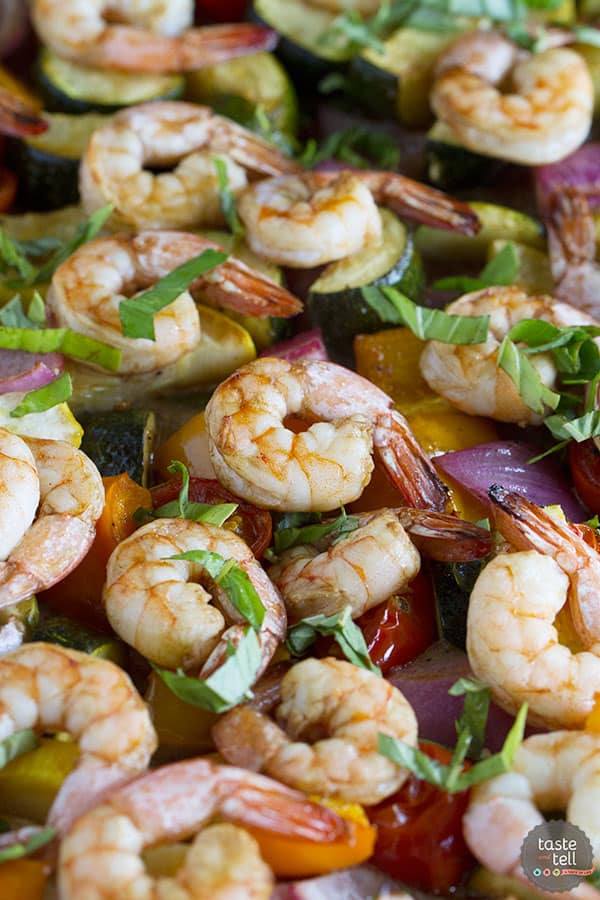 I'm not sure if I'm dreading the start of school, or if I'm excited for it. After a 10-day trip through northern California last week, I'm kind of craving some sort of normal schedule – especially for my kids. But at the same time, I am so not ready to let go of summer yet. We start school on Wednesday, and I know I'm going to be cramming as much of summer that I can in the 2 days of summer vacation that we have left.
One thing is for sure, though, whether the kids are already back to school or if they are getting ready to go back – it's time to start thinking about weeknight meals. I tend to be a lot more relaxed during the summer about dinner. But when school is back in session, and when I know we need that routine, and especially the family time around the table – I know that I need a plan. And since things get pretty hectic this time of year, today's cookbook review is rather timely.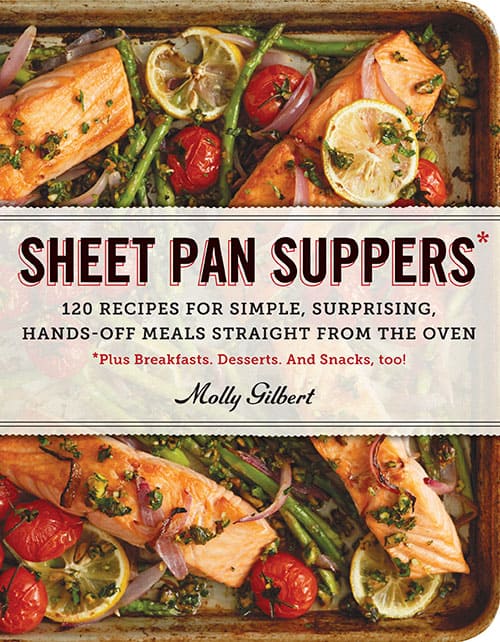 I've actually had a copy of Sheet Pan Suppers by Molly Gilbert in my hands for a few months. And I've tried a few of the recipes. I am so in love with this concept that seems to be gaining popularity – everything goes on one sheet pan for a simple supper. Count me in for a simple supper with less dishes to do after dinner!!
A few of the things that I love about this cookbook – easy recipes with easy prep, and lots of fresh ingredients. This is a cookbook that I feel good about cooking from, with mostly healthy, whole ingredients. (Except maybe not as healthy from the dessert section, but hey – it's dessert!!) I love that there are very few dishes to do – most of the time it is the sheet pan and maybe another bowl or two that you can clean up easily while everything is in the oven. And it's not just about dinner – there are also chapters dedicated to appetizers, side dishes, brunch and dessert. This is definitely turning into a favorite!
Here are the details:
Number of Photos: Lots While not all full page, almost every recipe has a photo. The pages aren't glossy like a lot of cookbooks with photos, but I don't think that detracts from the book, and it makes it cheaper!
Difficulty Level of Recipes: Easy This is a book that would be great for a beginning cook!
Availability of Ingredients: Easy All of these ingredients should be easy to find at any grocery store.
Other recipes I want to try:
Crispy Mushroom and Burrata Crostini
Chicken Jerome
Classic Roast Chicken with Mustardy Potatoes
Tilapia Tacos with Zucchini and Fresh Mango Salsa
Smoked Cheddar and Apple Grilled Cheese
Biscuits and Bacon
Banana Cinnamon Toast
Pear and Almond Oven Oatmeal
Broiled Plums with Meringue Hats
Pumpkin Brioche Puddings
Italian Chocolate Sheet Cake
Buy Sheet Pan Suppers on Amazon.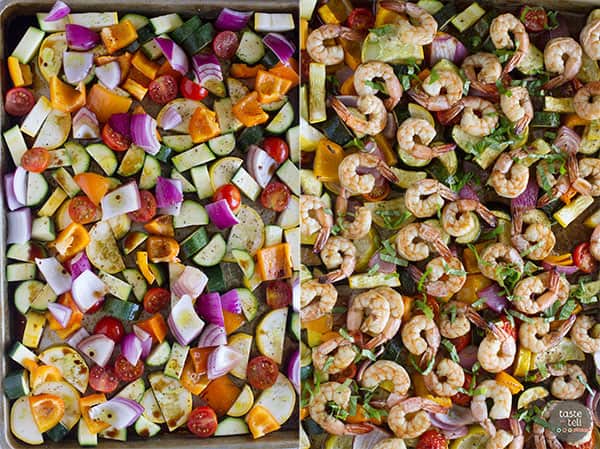 I'm going to be honest – I wanted so badly to jump right into the brunch section, because I love me some brunch. And pretty much every single one of those recipes are recipes that I want to try. But as I started reading through more recipes, I started marking more and more of the dinner recipes. And let's face it – we all need dinner recipes the most.
This Sheet Pan Balsamic Shrimp and Summer Vegetables stood out to me immediately. I've been on a bit of a shrimp kick lately, and this recipe just added fuel to the fire. Shrimp and balsamic vinegar? Throw in some fresh, seasonal summer vegetables? It wasn't hard for me to be convinced.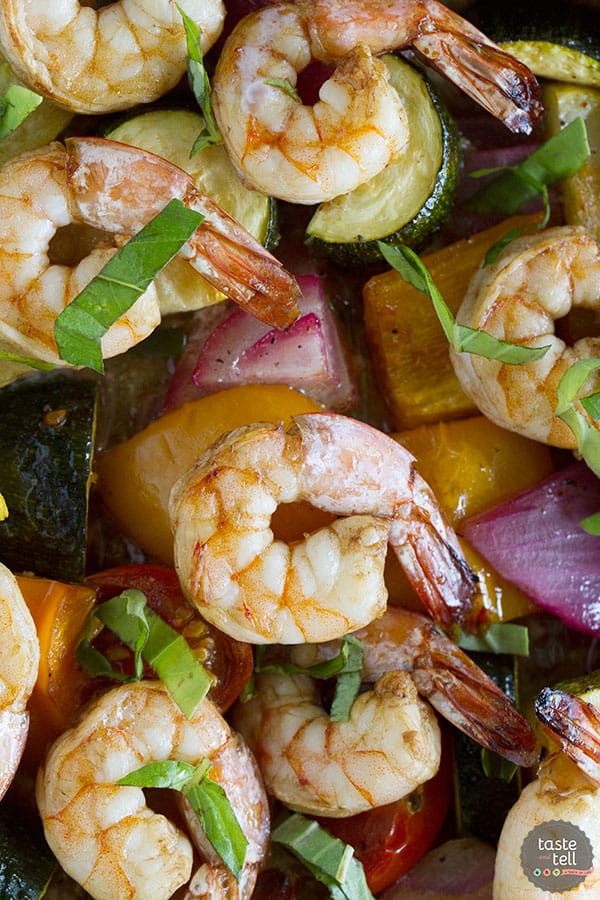 The only part of this recipe that took any time was chopping the veggies. And I'm the crazy girl who actually loves chopping vegetables – I find it therapeutic and calming for some reason. (Calming with a knife? Yeah – it makes no sense.) But once the vegetables are chopped, all you really have to do is wait for everything to cook. You start by roasting the vegetables, and then you top them with the shrimp and throw it all under the broiler until the shrimp is cooked. The vegetables should only take 20-25 minutes to roast, which leaves them with a little bit of a bite, still. If you like your veggies really soft, feel free to leave them in the oven longer, but I like to have some texture left.
The book says to serve this with bread or couscous, but to be honest, we ate it as is. And I loved every bite. It is a bit of a pain to have to pull the shrimp tails off as you are eating, so feel free to remove the tails at the beginning, but it does make it prettier to leave them on. 🙂
This Sheet Pan Balsamic Shrimp and Summer Vegetables is the perfect end of summer meal. Take advantage of the fresh summer vegetables, and make this the next time you need an easy weeknight meal!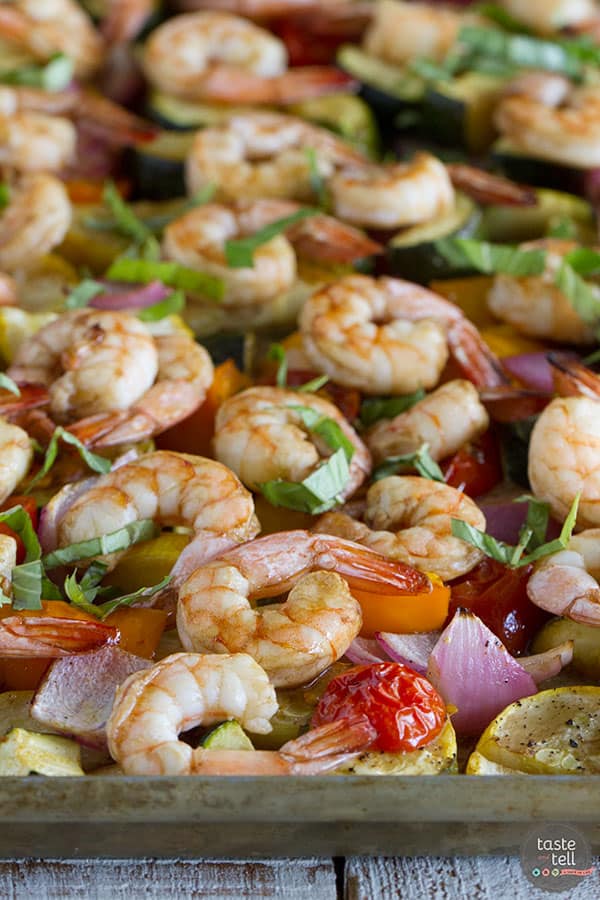 Like what you see here? Make sure you are following Taste and Tell for more recipes and ideas!
Facebook | Pinterest | Instagram | Twitter | Google+ | Weekly Newsletter | Feedly | Bloglovin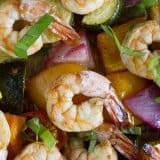 Sheet Pan Balsamic Shrimp and Summer Vegetables | Sheet Pan Suppers Review
---
Prep Time: 15 mins
Cook Time: 30 mins
Total Time: 45 mins
Yield: 4 servings 1x
Description
A great way to use up the summer vegetables, a perfect summer dinner is done in a snap with minimal clean up with this Sheet Pan Balsamic Shrimp and Summer Vegetables.
---
Scale
Ingredients
2 medium zucchini, sliced into 1/2-inch thick half moons
1 medium yellow summer squash, sliced into 1/2-inch thick half moons
1 medium red, yellow or orange bell pepper, stem and seeds removed, cut into 1-inch chunks
1 cup cherry or grape tomatoes, halved
1 medium red onion, cut into 1-inch chunks
kosher salt and black pepper
1/4 cup plus 1 tablespoon extra virgin olive oil, divided
3 tablespoons balsamic vinegar, divided
juice of 1 lemon
1 1/2 lbs shrimp, peeled and deveined (tails left on, if desired)
1/2 teaspoon Worcestershire sauce
1/4 cup roughly chopped basil leaves
---
Instructions
Place one oven rack in the center of the oven, and the other rack 4 inches from the top heat. Spray a sheet pan with cooking spray. Preheat the oven to 375ºF.
Combine the zucchini, yellow squash, bell pepper, tomatoes, and onion on the prepared sheet pan and season with 1/2 teaspoon salt, 1/2 teaspoon pepper, 1/4 cup of the olive oil, 2 tablespoons of the vinegar and the lemon juice. Toss to coat.
Roast the vegetables on the center rack until they are softened and they are beginning to brown on the edges, about 20-25 minutes. Remove the sheet pan from the oven.
While the vegetables are cooking, place the shrimp in a large bowl and add 1/4 teaspoon salt, the remaining 1 tablespoon of olive oil, the remaining 1 tablespoon of vinegar, and the Worcestershire sauce. Toss gently. Let the shrimp marinate at room temperature while the vegetables are roasting.
Once you remove the vegetables from the oven, turn the oven to broil. Scatter the shrimp and the marinade over the vegetables in a single layer. Broil on the upper rack in the oven until the shrimp are cooked through, about 5 minutes. Scatter the basil over the finished dish.
Serve with bread or a side of couscous.
Don't miss a thing! Follow me on Pinterest to see what I'm pinning!
Visit Taste and Tell's profile on Pinterest.