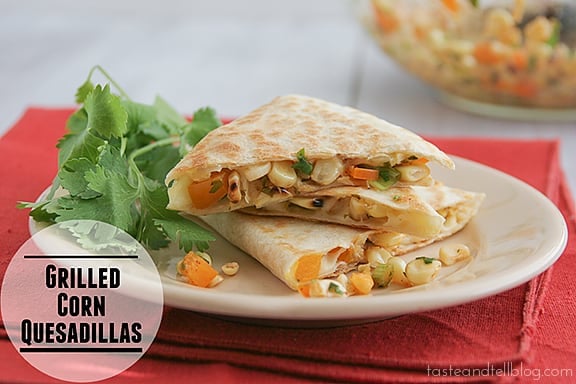 Am I totally throwing you off here?  Are you thinking that maybe you skipped Friday and it's all of a sudden Saturday?
Ok, so for the last – oh goodness, I don't know how many years – I have been doing one of my favorite features here – Saturdays with Rachael Ray.  And also for the last year+, I've been doing Blogger Spotlights.  Well, as I sit here and type with swollen ankles, I have decided that something has to go.  At least for the next 3 or 4 months, until after the baby comes.  I'm human, and I just can't keep up anymore.  I have actually been thinking about this for weeks and weeks, but I love Saturdays with Rachael Ray, and I love the Blogger Spotlights.  And I don't want to give up one of my two recipe posting days.
So, I'm doing what I think is the best solution.  I'm not necessarily giving anything up.  But Fridays will be alternating between a Rachael Ray recipe and a Blogger Spotlight.  This way, I get to cut back a bit, but I don't have to give anything up!!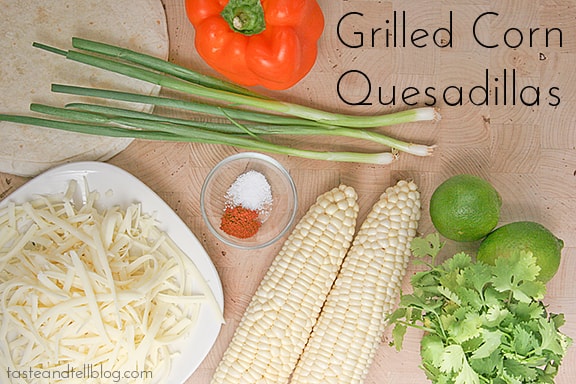 And if you can't tell from this week's recipes – I have a little thing for grilled corn this summer.  I don't know what it is, but I can't seem to get enough of it.  I'm pretty sure my grill has seen more corn this summer than anything else.
I've also had a thing for quesadillas lately.  Not just your cheese filled tortillas, but cheese filled tortillas with lots of other goodness.  Like this grilled corn salsa.  The salsa was good enough to eat on it's own, but add it to the center of a quesadilla, and it's a whole new ballgame.  This, my friends, is a quesadilla done right.  I didn't even serve mine with any sort of dipper or sauce – they were good just straight up.  But I think a side of guacamole would be fantastic.
Don't let summer pass you by without grilling up some corn and making these Grilled Corn Quesadillas.  They just might end up being a summer favorite!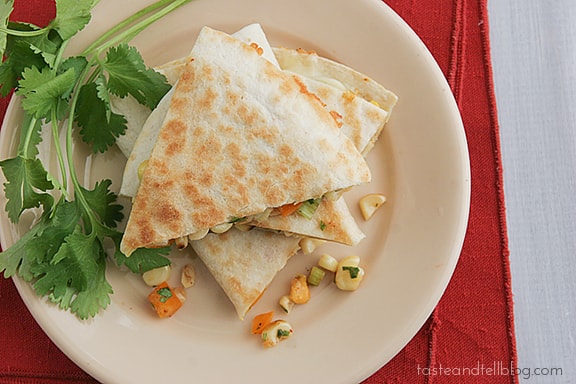 Grilled Corn Quesadillas
Quesadillas are filled with a grilled corn salsa and Monterey Jack cheese.
Ingredients
2 ears fresh corn
½ chopped red or orange bell pepper
2-3 chopped scallions
2 tablespoons chopped cilantro
juice from 1 lime
¼ teaspoon chili powder
salt
6 (8-inch) tortillas
2 cups shredded Monterey Jack cheese
Instructions
Heat a grill to medium-high. Cook the corn until charred. Let cool and cut from cob.
In a bowl, combine the grilled corn, bell pepper, scallions, cilantro, lime juice, chili powder and salt to taste.
Heat a skillet over medium heat. Spray with nonstick cooking spray and lay one tortilla in the skillet. Add one sixth of the cheese and one sixth of the corn salsa to one half of the tortilla and fold over. Cook until browned on one side and then flip over to brown the other side and finish melting the cheese. Remove and cut into wedges. Repeat with the remaining tortillas and filling.
------------------
adapted from Every Day with Rachael Ray August 2011
Check out these other great takes on the quesadilla:
Apple Cheddar Quesadilla from Cookie and Kate
Peach, Chicken and Pepper Jack Quesadillas from Gimme Some Oven
Greek Quesadillas from Annie's Eats
Chicken and Apple Quesadillas from Eclectic Recipes
Cuban Quesadillas from Taste and Tell
Mango Quesadillas from Sweet Basil