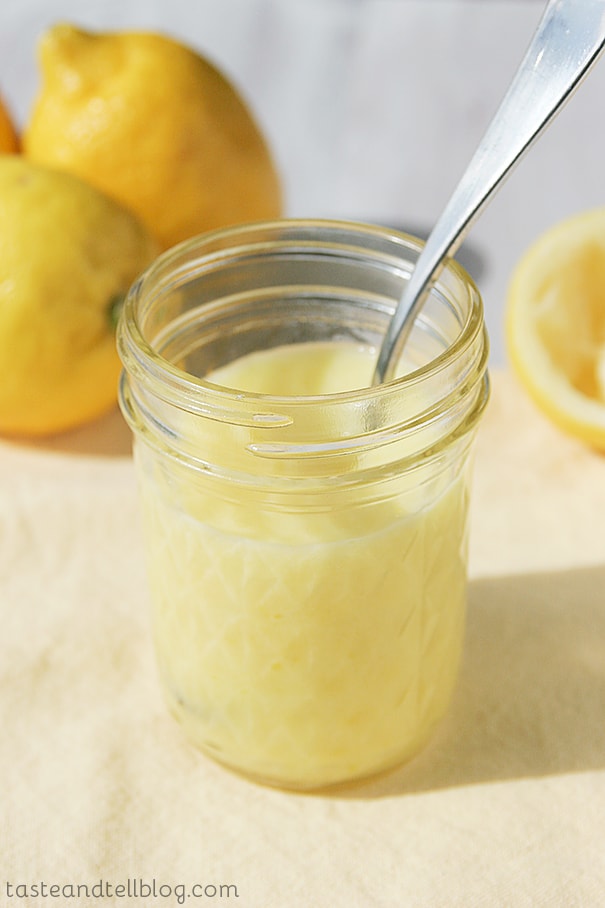 Ok, yes. I know. I'm being a little redundant here.
But as I was starting another batch of lemon curd the other day, (I think my sixth or seventh in the last couple of weeks!), I started thinking that maybe I need a whole separate post on how to make lemon curd. You know the other day when I asked you if you all like step by step photos? Well, I'm not going to be going to step by step in every post, but I think this recipe is a perfect recipe for a how-to post.
So here you go – lemon curd again, but in a little more detail! (And yes – I do have another recipe coming up this week that you can use this for!)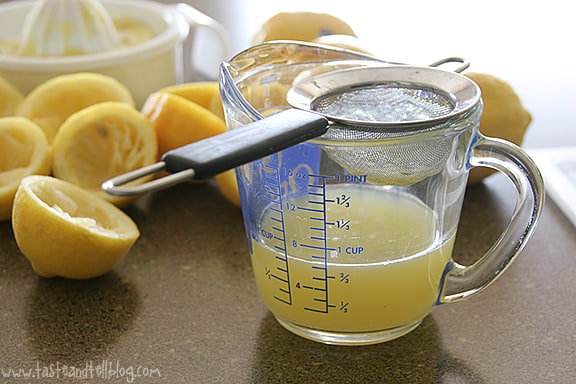 The most important component, of course, is lemon juice. Now, I've never actually tried making this with the bottled stuff, but I say – if you are going to go to the work of making your own lemon curd, you better use freshly squeezed lemon juice!!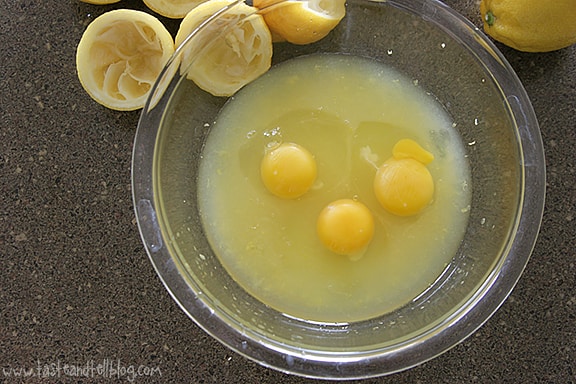 The thing I love about this recipe is that you pretty much just throw everything in a bowl, minus the butter. No separating eggs. As much as I love lemon curd made with just yolks, I hate having the whites leftover, and feeling like I have to use them instead of throwing them out. No extras in this recipe!
Oh yeah – and this is one reason I don't normally do step by step photos. I don't realize how spotty my dishes are until I pull up the pictures. Darn rental dishwasher!!
You'll whisk all the ingredients together in a heat-proof bowl. I always use glass. I've heard that if you use metal, your curd will end up with a metallic taste. Stick the bowl over a pot that has about an inch of water simmering. And start stirring or whisking.   I'm a whisker, myself.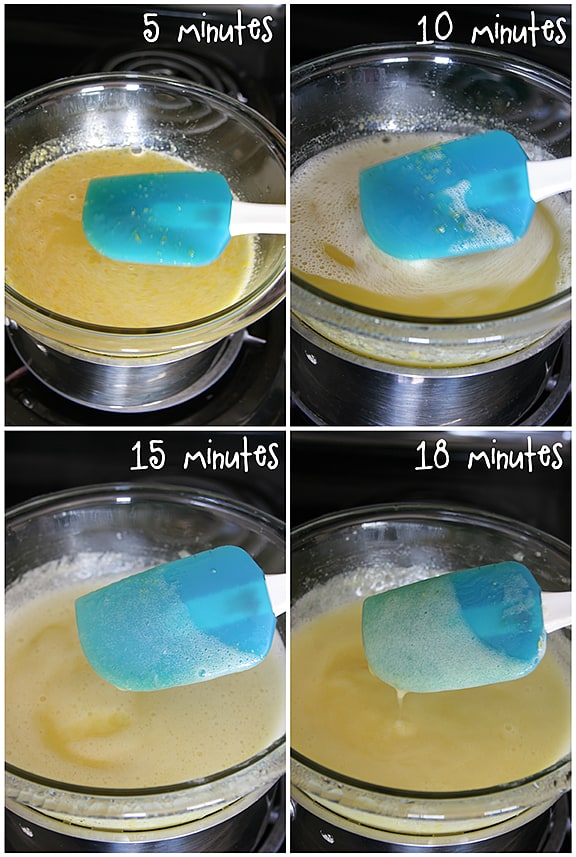 I think this is the part that is most intimidating to people. How do you know how long to cook it? Well, I'm here to show you!! You do have to note, though, that this will take a different amount of time, depending on your elevation. If you are say, about 4,373 feet above sea level, this is about how long it should take. But the good news is that the stages of consistency are the same no matter where you are.
Excuse the blurry top pictures, (another thing that make step by steps difficult – a kitchen with not a whole lot of natural light…), but after 5 minutes, you'll see that the mixture pretty much looks the same as when you started.  In fact, it might not even be warm at this point.  At 10 minutes, it's still super thin, but it's coming together a little more.  At 15 minutes, you can tell that it has thickened up a bit.  I think this is the point where most people will start questioning.  Is it done?  Does it need more time?  Me, I go a little bit further.  I want to make sure that it is nice and thick, so I went an extra 3 minutes until it was to the point where I like it.  And you'll want to make sure you are stirring or whisking the whole time so that your eggs don't curdle.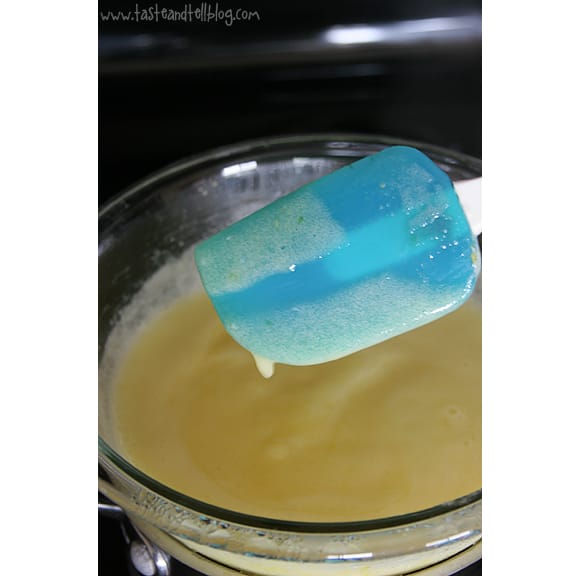 You have probably seen many recipes where it says to cook until it coats the back of a spoon.  This is what you are looking for.  If you run your finger down the back of the spoon, the line should stay and not run together.
At this point, I turn off the heat, but I keep the bowl on top of the pan of water.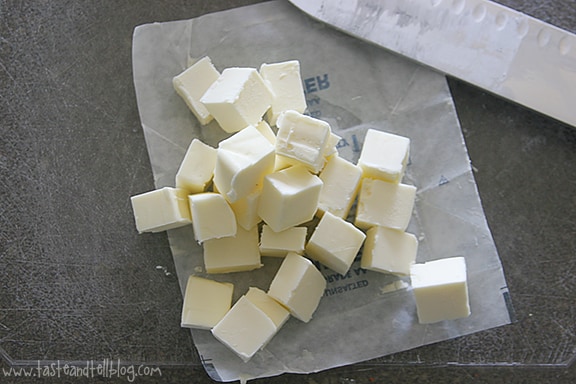 Take your butter that is cut into small cubes, and start adding it to the curd, one or two cubes at a time.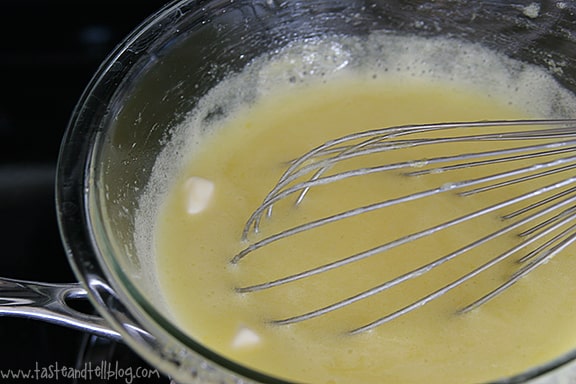 And whisk, whisk, whisk.  I wait until the cube of butter is at least halfway melted into the curd before adding another cube or two.  Be patient, this part takes a little while.  And your arm might be getting tired by this point, :), but just think of it as your workout for the day!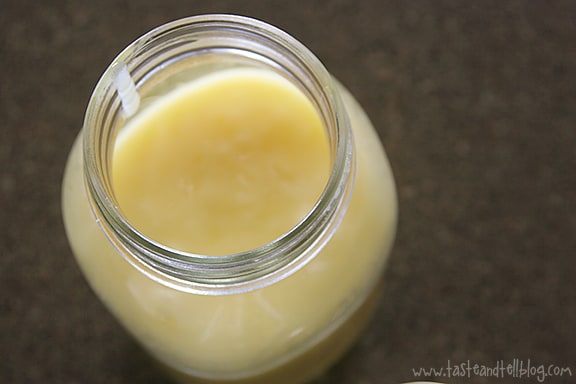 Once all of the butter has been incorporated, transfer the curd to an airtight container.  I love putting mine in a jar, mostly because I love to open the refrigerator and see a big jar of that deliciousness sitting there.  But any container will do.  Refrigerate it until it is completely cool, and ta-da!  Homemade lemon curd!
It does take a little bit of time to make, but it is worth every minute.  You will never go back to store-bought again!
Lemon Curd
---
Prep Time: 5 minutes
Cook Time: 30 minutes
Total Time: 35 minutes
Yield: 2 cups 1x
Description
Full of lemon flavor, this lemon curd is easy and practically fool-proof!
---
Scale
Ingredients
3/4 cup fresh lemon juice (from 4–6 lemons)
zest from 1 lemon
3/4 cup sugar
3 eggs
1/2 cup butter, cut into small cubes
---
Instructions
Fill a small pot with about 1 inch of water and place on the stove over medium heat.
In a larger glass bowl, (you'll want it big enough to sit on top of the pot of water on the stove without the bowl touching the water), combine the lemon juice, lemon zest, sugar and eggs. Whisk well. Place on the pot on the stove, and start whisking.
Whisking the whole time, cook until the mixture starts to thicken and will coat the back of a spoon. This will take anywhere from 10 minutes to 30 minutes. Once it has started to thicken, start adding in the butter. Add the butter, one cube at a time, waiting until one cube is almost melted before adding the next. Once all the butter has been incorporated, transfer the curd to a jar or container and refrigerate until cool.
You've made lemon curd.  Now what?
Coconut and Lemon Poke Cake
Lemon Marshmallow Tart
Lemon Cheesecake
Lemon-Lime Perfect Party Cake
Lemon Cream Tart with Meringue