Full of lemon flavor, this Lemon Curd is easy and practically fool-proof! You'll never want to buy it store bought again.
If you are a lemon lover like I am, this is the base recipe you need in your repertoire! It's a basic recipe that you can use in lots of other recipes, or if you're like me, you'll enjoy just stealing spoonfuls!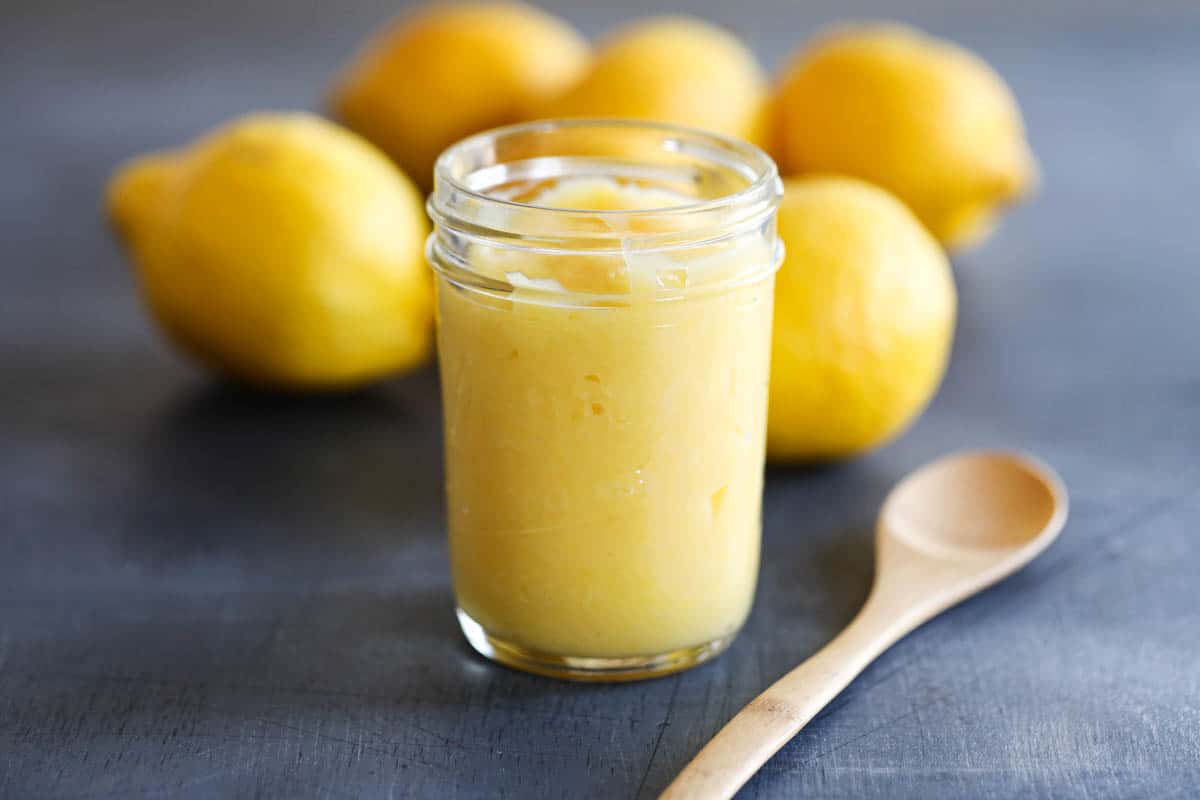 It's no secret that if I had to choose my favorite flavor, it will always be lemon. Lemon Pie, Lemon Pancakes, Lemon everything.
If you are as obsessed with lemon as I am, then you'll be equally obsessed with lemon curd. (And if you've never had lemon curd before, then you are in for a treat!) But if you've been spending your hard earned money on those little tiny jars of lemon curd at the grocery store, now is the time to stop. And to make it yourself at home. It's really easy, a lot less expensive, and it's one of those recipes that is satisfying to make yourself at home.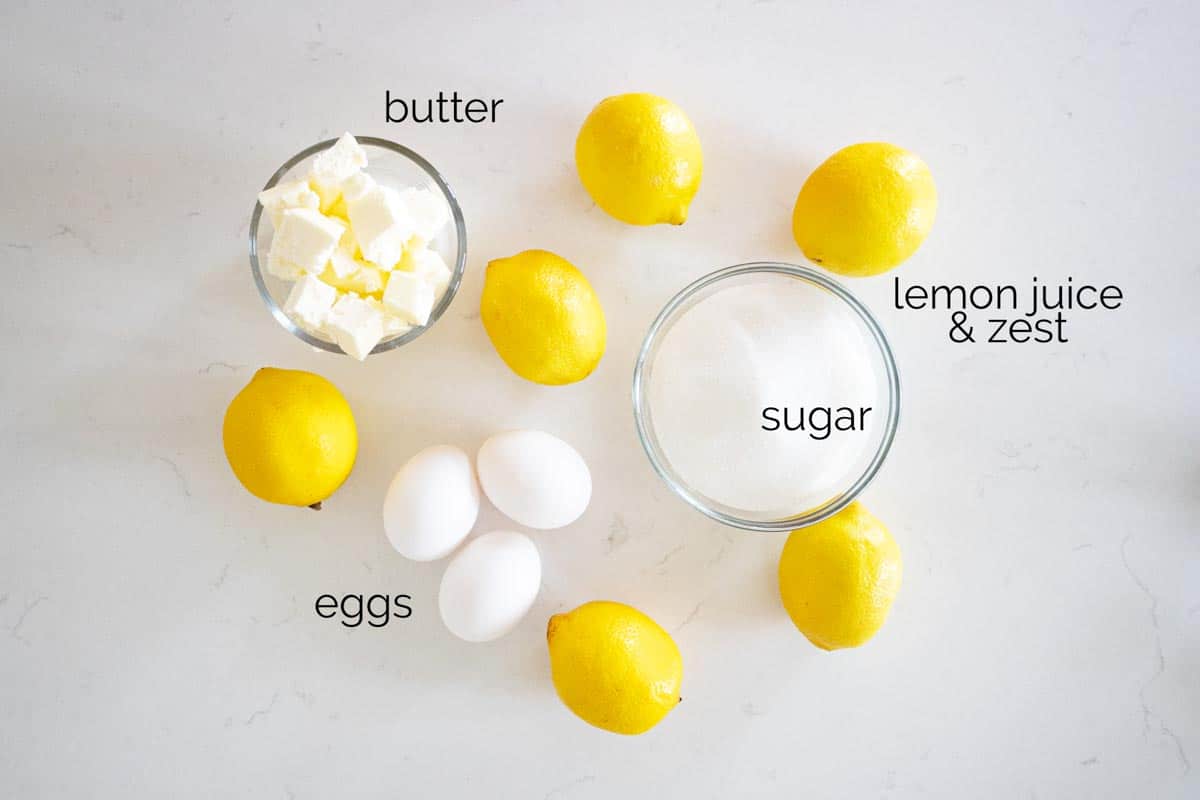 Ingredients
Lemons: As tempting as it is to buy the bottled lemon juice, you're going to need fresh lemons for this recipe. You'll need the zest from one (do this before juicing the lemons!) as well as 3/4 cup of fresh lemon juice. This usually takes me 4-6 regular sized lemons.
Sugar: You just need regular, granulated sugar. I haven't tried cutting back the amount of sugar, because the sugar is what helps it all to thicken. It is sweet, but it's also very tangy. I think it's the perfect combination.
Eggs: I use whole eggs in my recipe. Most lemon curd recipes you'll find use only egg yolks. But when I started making this, I hated the waste, so I started using the whole egg and it all worked out just fine! Many, many batches later, I still swear by using the whole egg.
Butter: I usually use unsalted butter, because that is what I keep on hand. But you could use salted butter, as the salt will actually help to enhance the flavors in this lemon curd. In fact, you could use unsalted butter and add a pinch of salt just for that balance, if desired.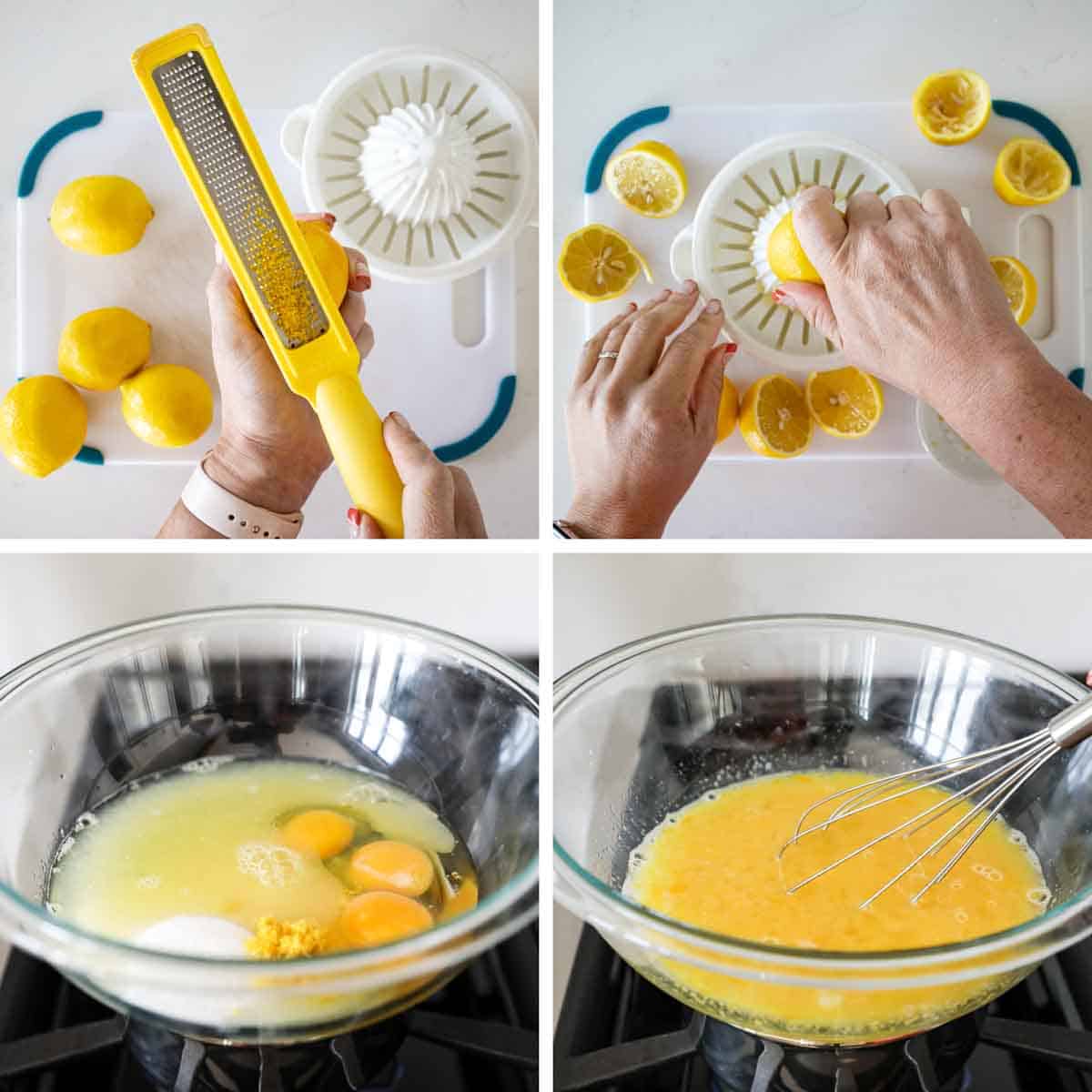 How to Make Lemon Curd
ZEST AND JUICE:Zest one of your lemons, then juice the lemons until you have 3/4 cup of lemon juice.
COMBINE AND WHISK:If you have a double boiler, you can definitely use it here to make the lemon curd. But I think most people do not own one, (including me!), so I just make my own using a small pot and a bowl. Fill the pot with about 1 inch of water, and place a bowl on top that is big enough so that it is gently heated by the hot water, but not touching the water. Place this over medium heat. Combine the lemon juice and zest, sugar, and eggs in the bowl and whisk to combine it all.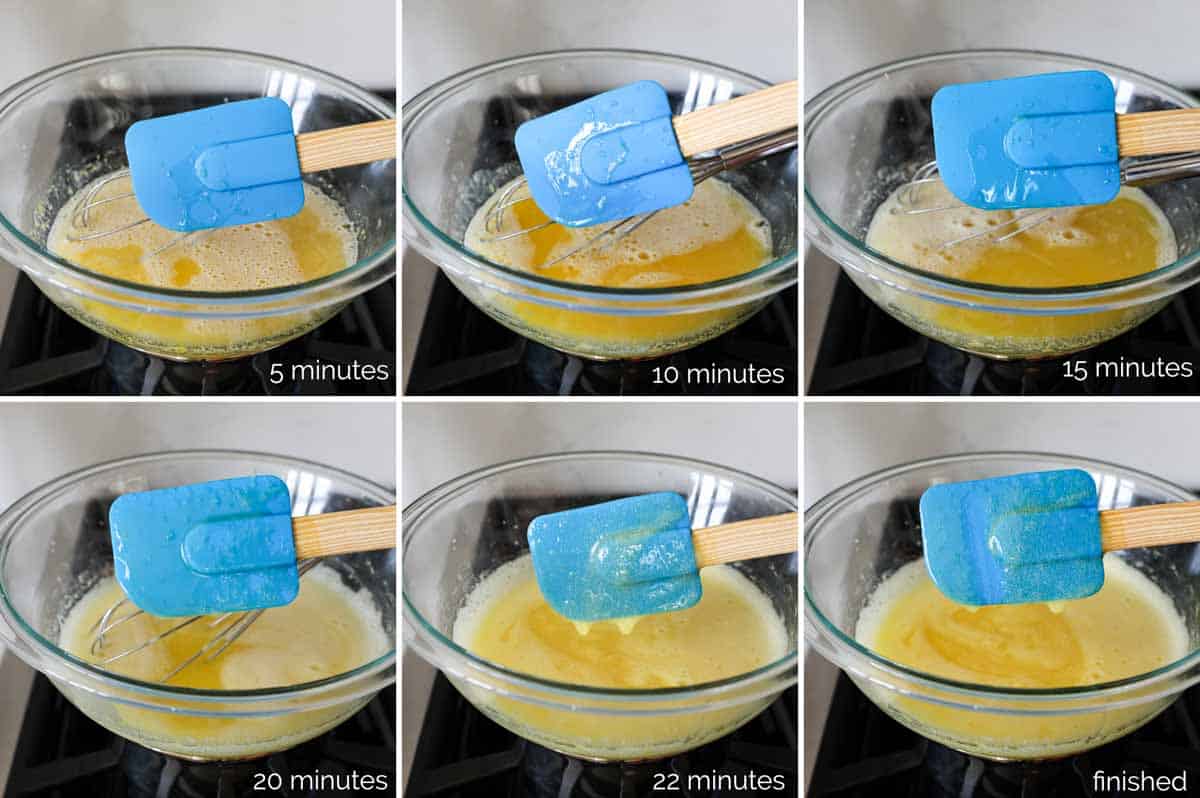 COOK TO THICKEN: This is the step that most people are intimidated by, because sometimes you just don't know how long to cook the curd. There are factors that can affect the cook time. Elevation is one thing that can affect how long it takes for the curd to thicken. I am above 4,300 feet above sea level, and it usually takes me 20-30 minutes until mine thickens. But if you are closer to sea level, it will thicken faster. It's mostly important to watch the lemon curd and to know when to move onto the next step.
In the photos above, I walk you through the thickening stages. For me, even after 10 minutes the mixture is still pretty thin and doesn't stick to a spatula. By 15 minutes, it starts to stick a bit more, and at 20 minutes, you can really see the curd forming. At 22 minutes, the curd sticks to the spatula enough to come off in big drops, and if I run my finger down through the curd on the spatula, (carefully, because it's hot!), the curd will stay where it is instead of covering up the line that I drew. This is when you want to start adding the butter.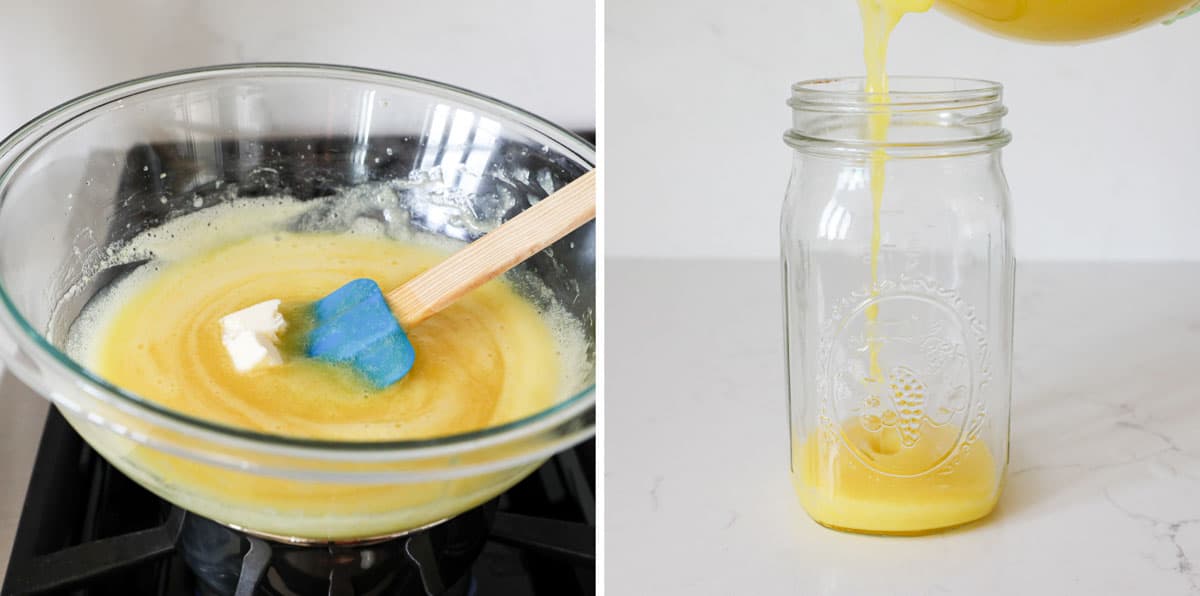 ADD THE BUTTER: Your butter should be cut into small pieces, and you'll start whisking it in, 1-2 pieces at a time. Whisk until the butter is at least halfway melted before adding another piece. Continue until it is all whisked in and melted.
REFRIGERATE: You are pretty much finished – it just needs to go into the refrigerator to continue to thicken up. I like to pour it into a glass jar, but any container with a lid will work.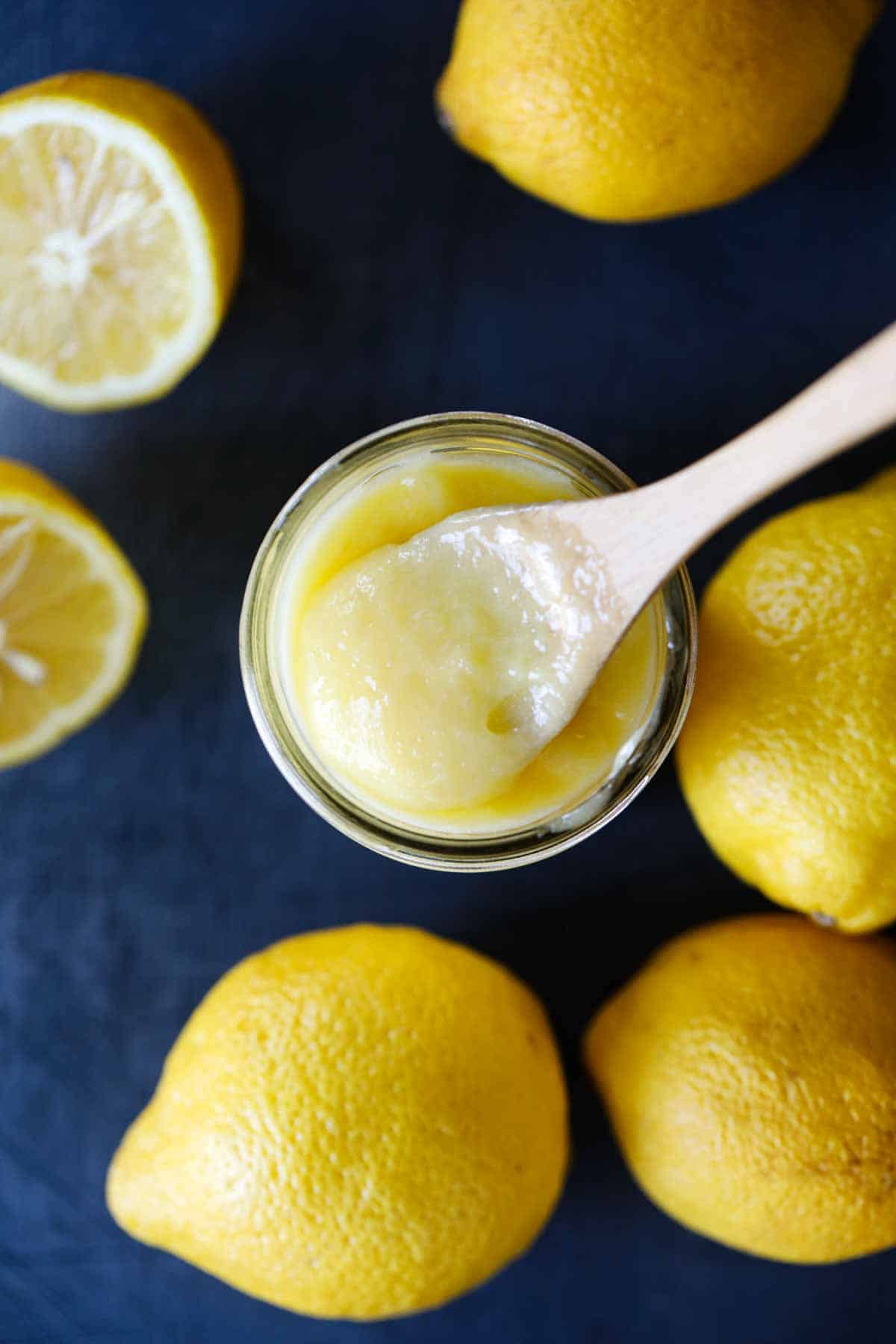 Uses For Lemon Curd
Now that you've got your homemade lemon curd, you may be wondering how to use it. Here are some of my favorite uses!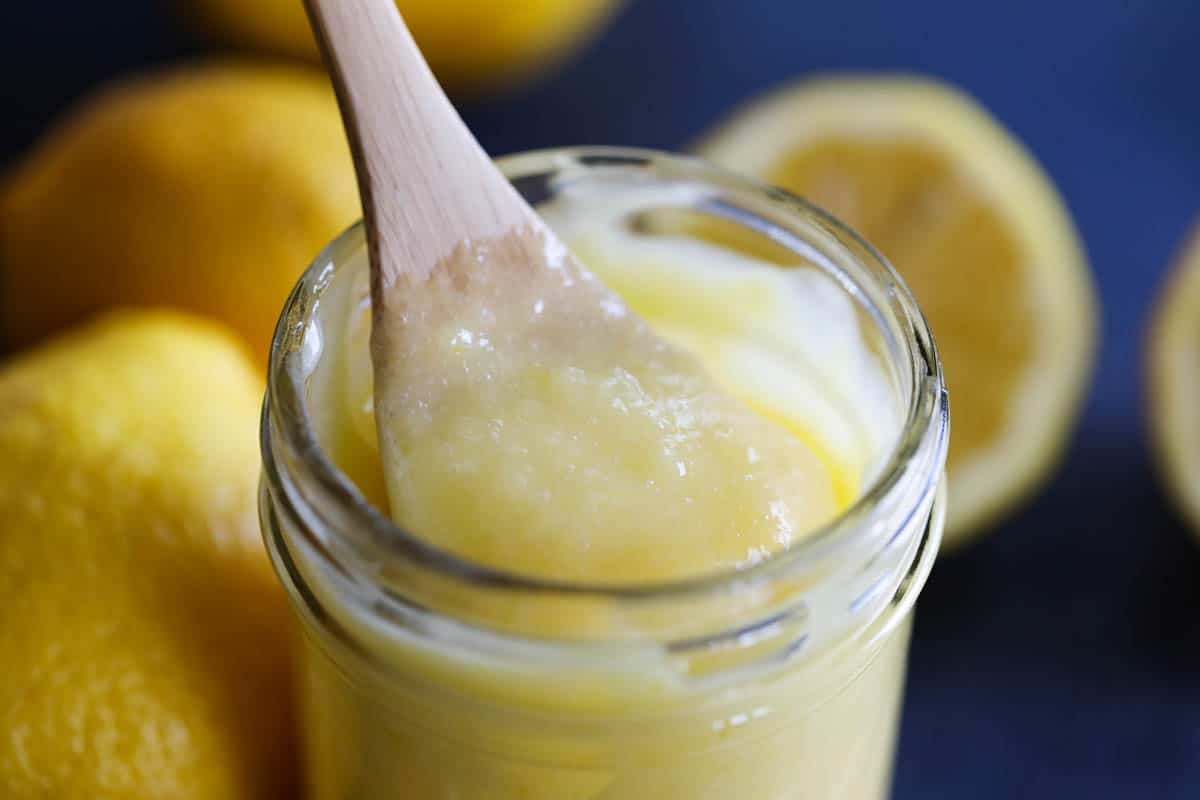 More Lemon Recipes
Lemon Ice Cream
Lemon Muffins
Lemon Cheesecake
Lemon Cream Cheese Fruit Dip
Lemon Cream Pie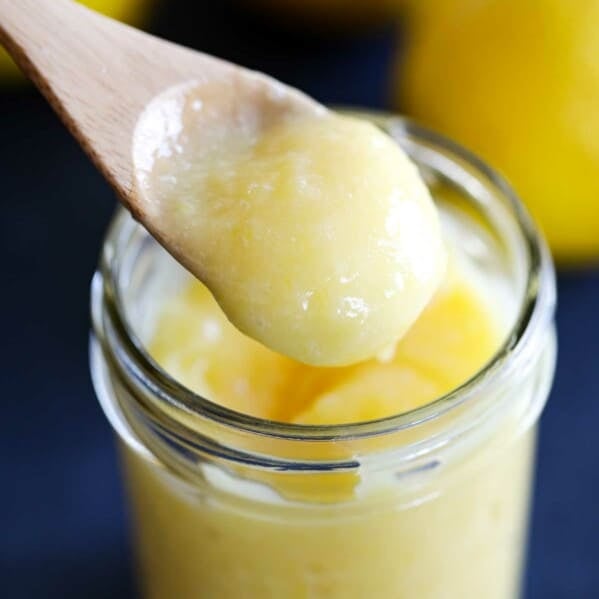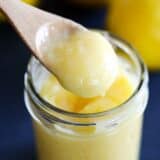 Lemon Curd
---
Author:
Prep Time: 5 minutes
Cook Time: 30 minutes
Total Time: 2 hours
Yield: 2 cups 1x
Category: Sauce
Method: Stove Top
Cuisine: English
Description
Full of lemon flavor, this Lemon Curd is easy and practically fool-proof! You'll never want to buy it store bought again.
---
Scale
Ingredients
Zest from 1 lemon
3/4 cup fresh lemon juice (from 4-6 lemons)_
3/4 cup granulated sugar
3 eggs
1/2 cup butter, cut into pieces
---
Instructions
Fill a small pot with about 1 inch of water and place on the stove over medium heat.
In a larger glass bowl, (you want one that will sit on top of the pot on the stove without touching the water), combine the lemon zest, lemon juice, sugar and eggs. Whisk well to combine. Place the bowl on the pot on the stove and start whisking.
Whisking the whole time, cook until the mixture starts to thicken and will coat the back of a spoon. This can take anywhere from 10 minutes to 30 minutes. When it starts to thicken, feel free to switch to a spatula, or you can use a whisk the whole time.
Once it has thickened enough to coat the back of a spoon, start adding in the butter, one small piece at a time, whisking until it is almost melted before adding another piece.
Once all of the butter has been incorporated, transfer the curd to a glass jar or lidded container and refrigerate until cool.
Recipe Notes:
Nutrition information provided as an estimate only. Various brands and products can change the counts. Any nutritional information should be used as a general guide.
Nutrition
Serving Size: 2 tablespoons
Calories: 103
Sugar: 10 g
Sodium: 14 mg
Fat: 7 g
Saturated Fat: 4 g
Unsaturated Fat: 2 g
Trans Fat: 0 g
Carbohydrates: 10 g
Fiber: 0 g
Protein: 1 g
Cholesterol: 50 mg
Keywords: lemon curd, lemon curd recipe, curd, how to make lemon curd