A perfect way to cool down, these Lemon Ice Cream Sandwiches have chewy lemon cookies with lemon ice cream sandwiched in between.
Ice cream is the way to go when it is hot outside! For more delicious frozen treats, try this Mango Sorbet, Red Velvet Ice Cream Cake, or Cookies and Cream Ice Cream Cupcakes!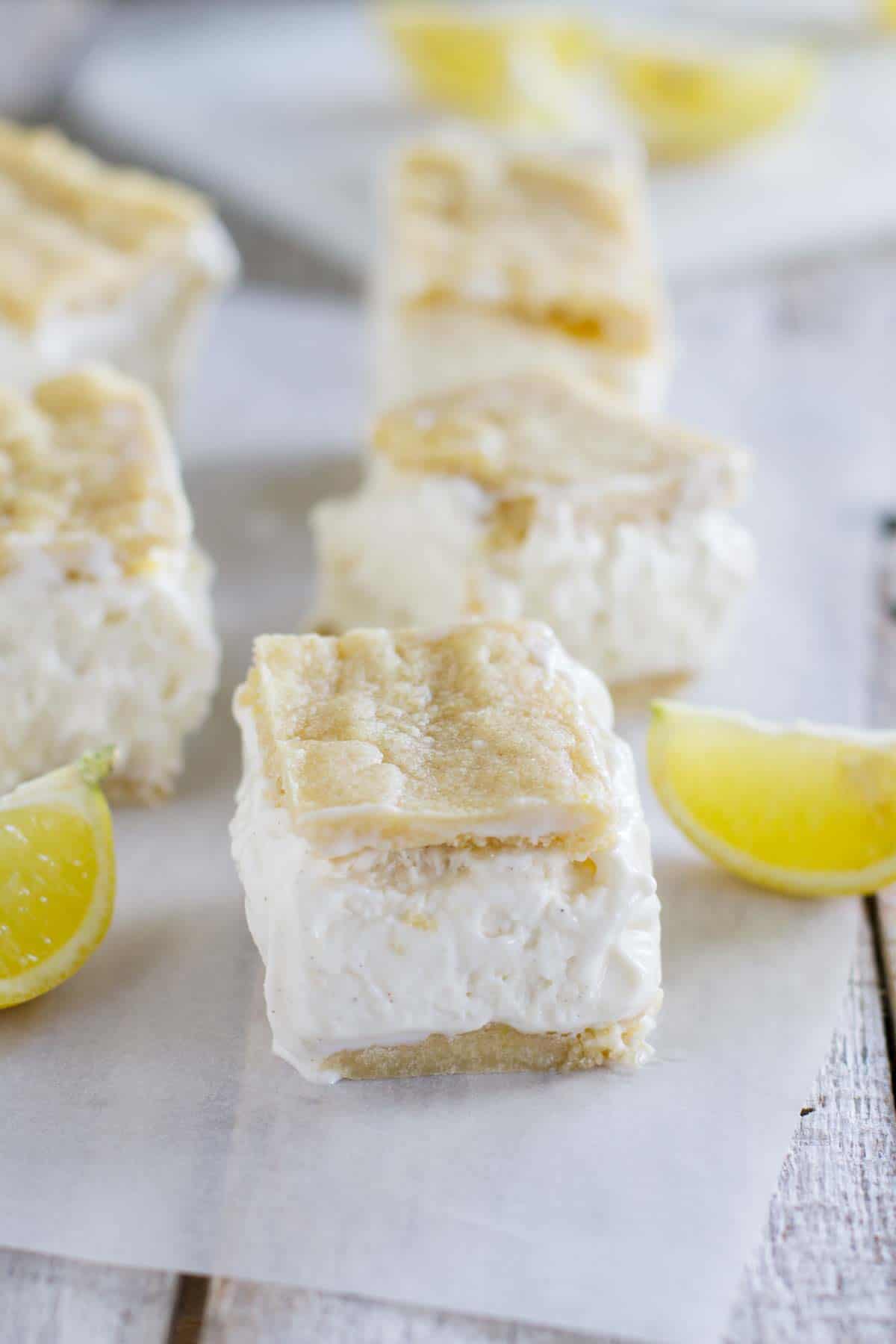 Homemade Ice Cream Sandwiches with a Lemon Twist
I know, I know, lemon again. You all are going to think that I have a lemon addiction or something. (Ahem. Maybe I do…)
The truth is that I saw a magazine cover. That said magazine cover had a lemon dessert on it. And then somehow that magazine just jumped into my cart. And if that weren't bad enough, that magazine sat on my counter, taunting me with it's lemony deliciousness until I had no choice but to make that cover recipe.
It also didn't hurt that ice cream was on sale. And that it's eleven billion degrees outside. I think this dessert was just begging to be made.

Ice cream sandwiches are actually one of my many weaknesses. I rarely buy them, because I want to eat the entire box all by myself in the matter of 2 days. Something about the ice cream paired with the soft cookie – it's just a match made in heaven. So when you combine a lemon bar cookie with ice cream that has been infused with lemon curd? Call me smitten.
This Lemon Ice Cream Sandwich Recipe is a perfect recipe for hot summer days!
Ingredients
Butter: I use unsalted butter. Make sure it is at room temperature.
Sugar: Just regular granulated sugar.
Lemon Zest: The lemon zest is the only thing that gives the cookies a taste of lemon so don't skip it!
Baking Soda: So that you don't have dense, flat cookies.
Cream of Tartar: The cream of tartar helps give the cookies a great texture, and also helps them so that they are not flat and dense.
Salt: To balance the flavors.
Egg: All you need is one large egg.
Vanilla: A pure extract is always best!
Flour: I have only made this recipe with all-purpose flour.
Ice Cream: The recipe calls for regular vanilla ice cream. You could really up the lemon flavor by using lemon ice cream, but that might be a little overkill.
Lemon Curd: Ever since I started making my own lemon curd a few years ago, I haven't been able to handle the jarred kind. If you really must, you can take a shortcut and buy lemon curd, but I highly suggest that you make it yourself. It's totally worth it.
Tips and Tricks
This recipe calls for two 8×8-inch baking dishes. If you don't have 2, I would suggest just baking them one at a time. Technically you could just bake all of the dough in a 9×13-inch pan (they would be a little smaller and thicker) but then it wouldn't fit as well into the 8×8-inch dish that you'll need to form the ice cream sandwiches.
This ice cream sandwich recipe makes a sandwich that is pretty thick, so you'll want to make sure they are frozen through to avoid the ice cream just squishing out all over. The lemon bar cookie does stay pretty soft, but I originally only froze them for about 4 hours and they were a bit messy. But I didn't mind licking every bit from my fingers.
If you are going to eat the ice cream sandwiches quickly, you can store the finished sandwiches in an airtight container in the freezer. I wouldn't keep them this way for over 2 weeks, though. If you want to store them longer, I would suggest wrapping them individually in plastic wrap, then storing in an airtight container.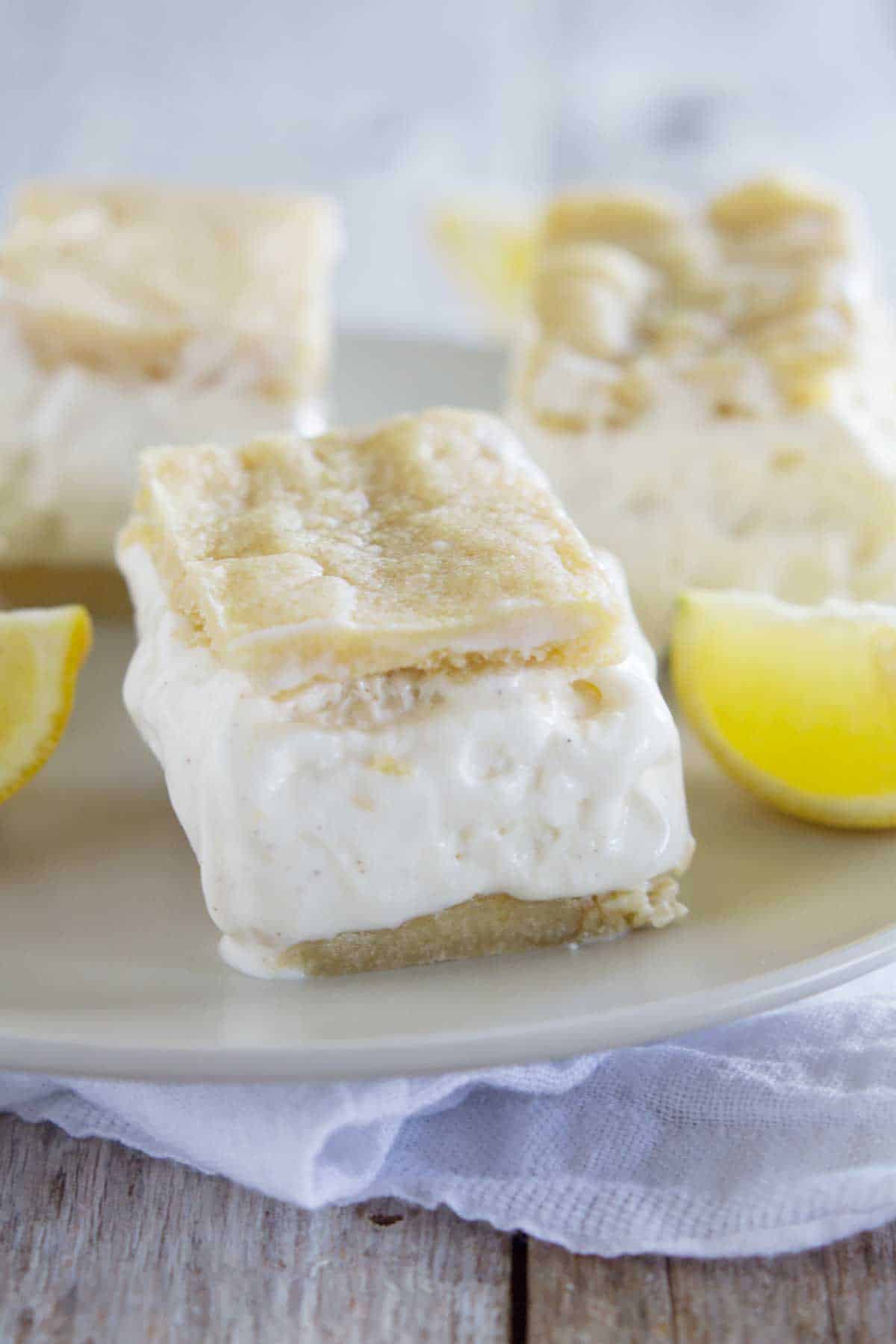 More Frozen Desserts to Cool You Down
Strawberry Milkshake Ice Cream Cake
Iced Chocolate
Salted Caramel Ice Cream with Fudge and Toasted Coconut
Fried Ice Cream Recipe
Vanilla Ice Cream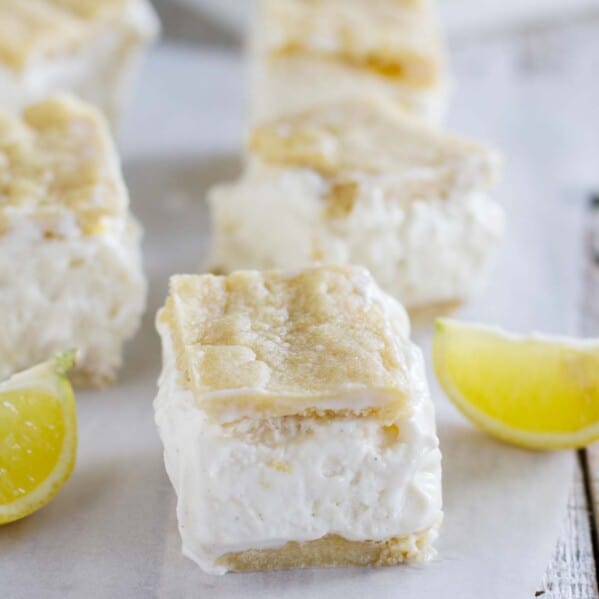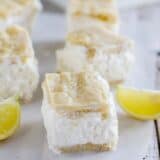 Lemon Ice Cream Sandwiches
---
Author:
Prep Time: 20 minutes
Cook Time: 13 minutes
Total Time: 8 hours 45 minutes
Yield: 16 servings 1x
Category: Dessert
Method: Baked
Cuisine: American
Description
A perfect way to cool down, these Lemon Ice Cream Sandwiches have chewy lemon cookies with lemon ice cream sandwiched in between.
---
Scale
Ingredients
1/2 cup unsalted butter, softened
3/4 cup sugar
1 tablespoon lemon zest
1/2 teaspoon baking soda
1/4 teaspoon cream of tartar
1/4 teaspoon salt
1 egg
1/2 teaspoon vanilla extract
1 1/2 cups all purpose flour
1 1/2 quarts vanilla ice cream
1 cup lemon curd
---
Instructions
Preheat the oven to 350ºF. 
Line 2 8×8-inch baking dishes with foil, then lightly spray with nonstick cooking spray. Set aside.
Place the butter in the bowl of a stand mixer (or a large bowl is making by hand). Cream the butter until it is smooth, then add the sugar, baking soda, cream of tartar, and salt. Beat until combined. Beat in the egg and the vanilla, scraping the bowl as needed. Start adding the flour 1/2 cup at a time and mix until fully combined.
Press half of the dough mixture into each of the prepared baking dishes. Press into an even layer. Bake I the preheated oven until the bars are just set, about 12-13 minutes. Remove from the oven, let them sit in the pan for 5 minutes, then lift the foil out and place on a cooling rack to cool completely.
Slightly soften the ice cream and place in a large bowl. Add the lemon curd and stir to combine.
Take one of the baking dishes that you used for the bars and line with plastic wrap, letting the excess hang over the edges. Place one of the cookie bars in the pan. Spread the ice cream evenly over the cookie bar, then set the second cookie bar on top. Wrap with plastic wrap and place in the freezer to freeze overnight.
When ready to serve, remove the bars from the pan using the plastic wrap. Remove the plastic wrap and cut into 16 squares with a sharp knife. Serve immediately, or place back in the freezer until ready to serve.
Recipe Notes:
adapted from Better Homes and Gardens
Nutrition information provided as an estimate only. Various brands and products can change the counts. Any nutritional information should be used as a general guide.
Nutrition
Serving Size: 1 bar
Calories: 205
Sugar: 18 g
Sodium: 103 mg
Fat: 10 g
Saturated Fat: 6 g
Unsaturated Fat: 2 g
Trans Fat: 0 g
Carbohydrates: 27 g
Fiber: 0 g
Protein: 2 g
Cholesterol: 53 mg
Keywords: ice cream sandwich, ice cream sandwiches