Love angel food cake and lemon meringue pie? This Lemon Meringue Angel Cake combines the best of both for an impressive dessert!
Want more impressive looking cakes? Check out this Italian Cream Cake, my favorite Carrot Cake, or this Coconut Bundt Cake.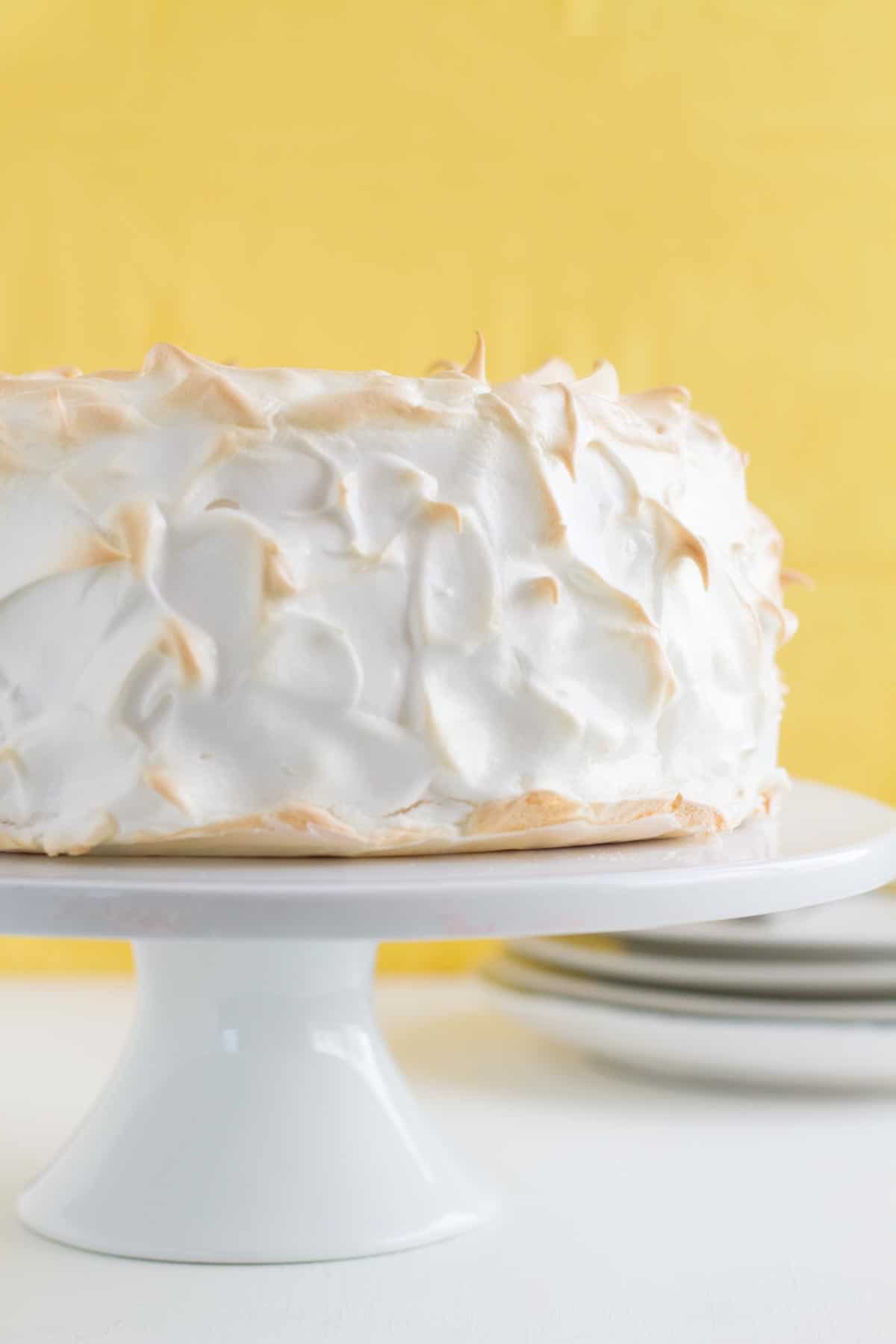 Today is my blog birthday (7 years!), so I decided that I needed cake. A cake that I would love. And I knew I couldn't go wrong with lemon!
I actually spotted this Lemon Meringue Angel Cake a few weeks ago, and had been dying to make it. What better excuse than a birthday celebration? My history with homemade angel food cakes has been mixed, so when this cake came out of the oven and it looked so completely perfect, I squealed with joy and had to text some foodie friends. That's just how excited I was!!
I decided to go with homemade lemon curd instead of store bought (because the homemade is SO good!). The biggest obstacle I ran into was when I discovered that I don't have an ovenproof serving plate. I wasn't quite sure what to do, so I thought I'd put it on a piece of parchment paper on a baking sheet, then transfer it to a cake plate. BIG mistake. I didn't think that meringue and parchment paper equals stuck, stuck, stuck. So I cut the paper back, but still had some issues trying to get the slices off of the paper. Next time I would either make sure I have an ovenproof plate, or I would just use my kitchen torch to brown the meringue.
Regardless of my issues, this cake was just what I was hoping it would be. Light and delicate with just the right amount of tart lemon flavor. This definitely is best served the day it's made as the meringue gets a bit sticky after being refrigerated, but either way, this cake tastes fantastic. And it's gorgeous, to boot.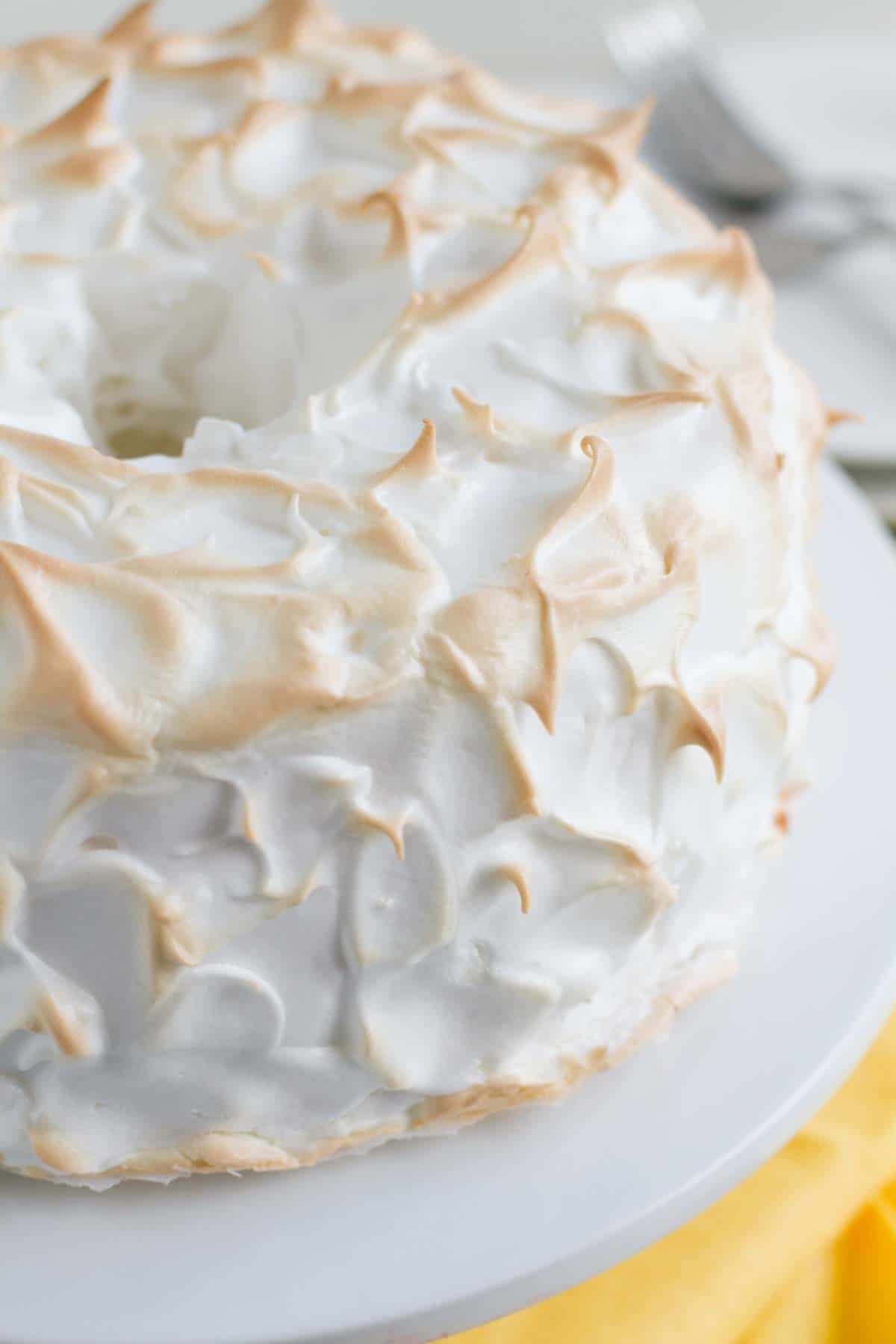 Ingredients
For the Cake:
Sugar – If you have superfine sugar, it will work best here, but I have also used regular granulated sugar.
Cake Flour – Cake flour is best for angel food cake because it is lower in protein and will produce a tender cake.
Egg Whites – You'll need lots of egg whites! Use large eggs, and make sure they are at room temperature.
Cream of Tartar – This helps to stabilize the egg whites.
Vanilla Extract – I like to use pure vanilla extract for the best flavor.
Salt – To balance flavors.
For the Lemon Curd:
For the Meringue:
Egg Whites – More egg whites, and again, have them at room temperature for best results.
Cream of Tartar – again, to stabilize the egg whites.
Sugar – Use granulated sugar.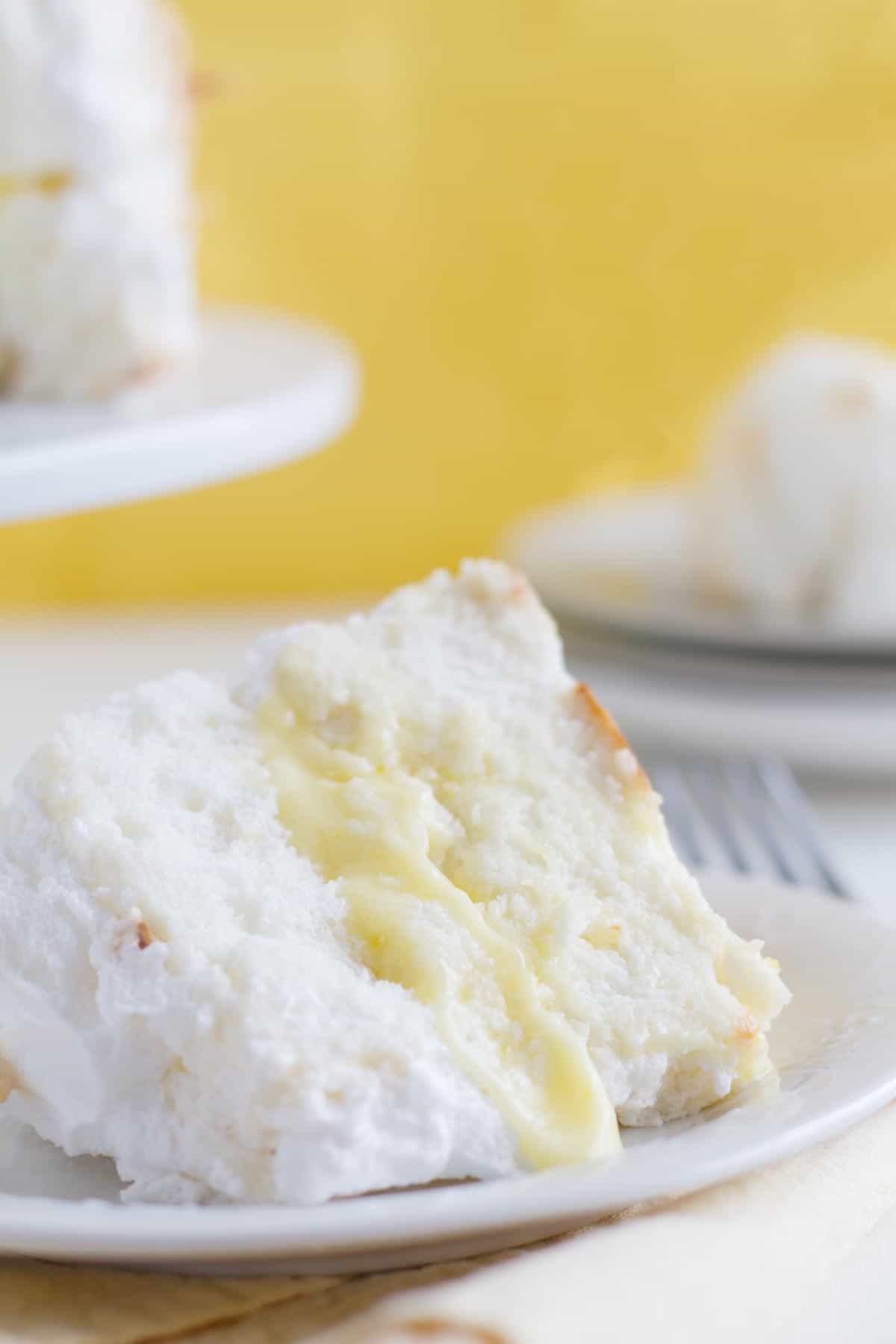 Tips and Tricks
For ease, you can use a boxed angel food cake mix and store bought lemon curd. But I think it is definitely worth making it from scratch!
You'll need a lot of egg whites for this recipe. Save the egg yolks and make Butterscotch Budino, Banana Cream Pie, or Lemon Ice Cream.
I mentioned above that my cake stuck to the parchment paper, but some commenters jumped in with some great ideas for transferring the cake to and from the oven! Some of those ideas are to use the bottom of a springform pan or to use a ceramic quiche dish turned upside down. I do have a kitchen torch now, and I think that might be the easiest.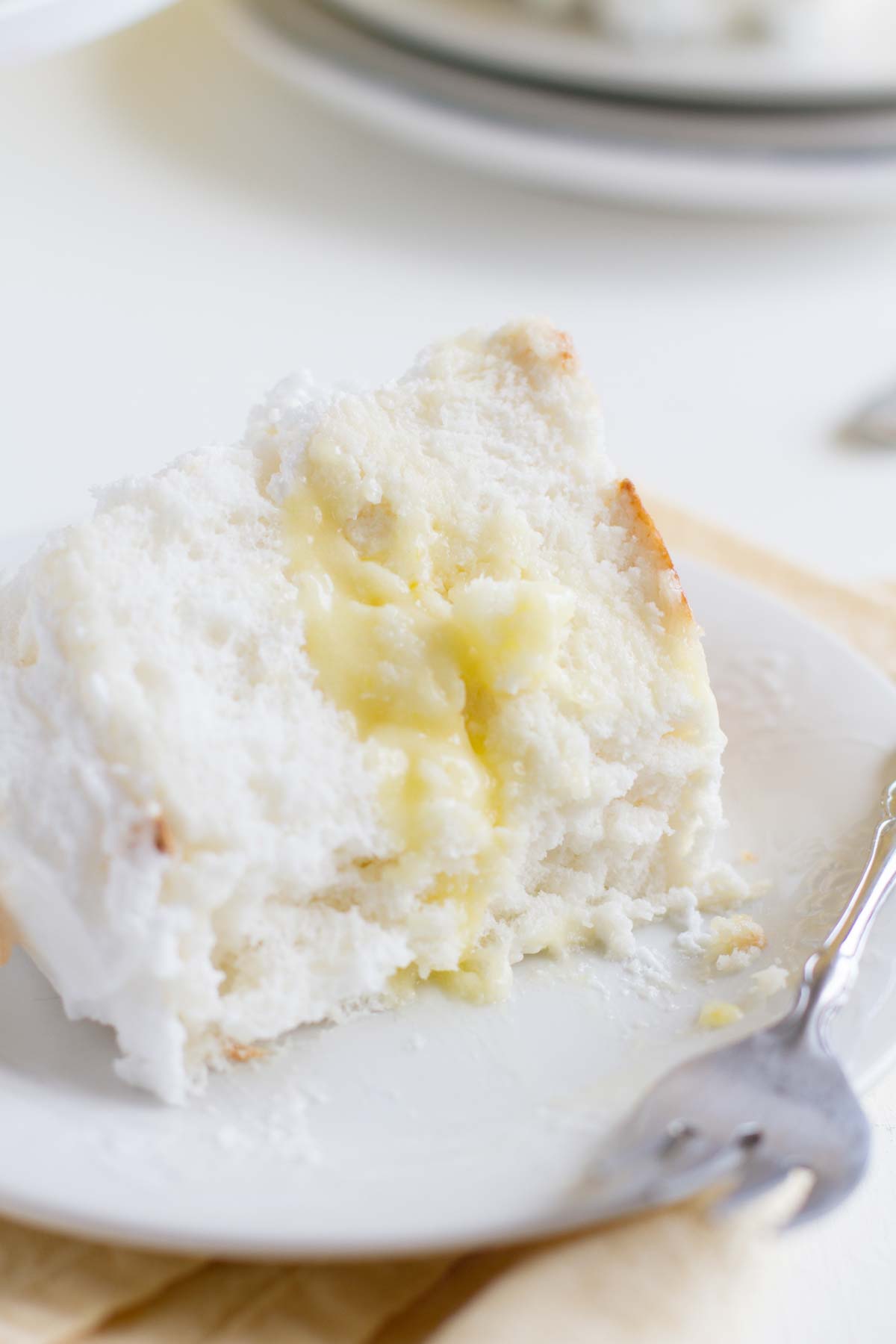 More Lemon Desserts
Lemon Cream Pie
Lemon Marshmallow Cookies
Lemon Meringue Pie
Coconut and Lemon Poke Cake
Lemon Cheesecake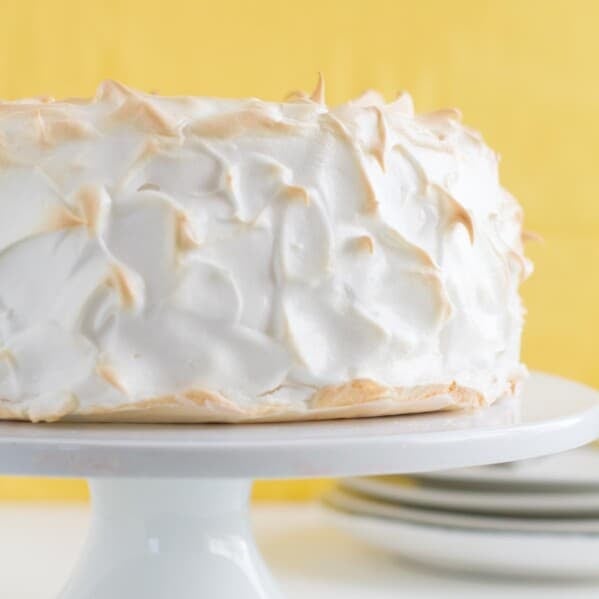 Lemon Meringue Angel Cake
---
Author:
Prep Time: 40 minutes
Cook Time: 35 minutes
Total Time: 1 hour 15 minutes
Yield: 14 servings 1x
Category: Dessert
Method: Baked
Cuisine: American
Description
Love angel food cake and lemon meringue pie? This Lemon Meringue Angel Cake combines the best of both for an impressive dessert!
---
Scale
Ingredients
Cake
1 1/2 cups sugar, divided
1 cup cake flour
12 egg whites, at room temperature
2 teaspoons cream of tartar
1 1/2 teaspoons vanilla extract
1/4 teaspoon salt
Filling
Meringue
4 egg whites, at room temperature
3/4 teaspoon cream of tartar
1/2 cup sugar
---
Instructions
Place the oven rack in the lowest position and preheat to 350F.
Sift together 1/2 cup of the sugar and the flour twice. Set aside.
Mix together the egg whites, cream of tartar, vanilla extract and salt. Beat on medium speed until soft peaks form. Gradually add the remaining 1 cup sugar, 2 tablespoons at a time, until stiff, glossy peaks form and the sugar has been dissolved. Fold in the flour mixture, half a cup at a time, until combined.
Gently pour the batter into an un-greased 10-inch tube pan. Use a butter knife to cut through the batter to make sure there aren't any air pockets. Bake until the top is browned and appears dry, 35-40 minutes. Remove from the oven and immediately invert until completely cooled.
Once cooled, run a knife around the outside of the cake to release from the pan, if needed. Split the cake into 2 layers horizontally. Place the bottom layer of the cake on an ovenproof serving plate*. Spread the lemon curd on top of the cake, then place the top layer over the curd.
To make the meringue, preheat the oven to 350F. Place the egg whites in a bowl with the cream of tartar and beat on medium until soft peaks form. Gradually add the sugar and continue to beat until stiff peaks form. Spread the meringue over the top and sides of the cake. Bake for 15-18 minutes, or until browned.
Recipe Notes:
*If you don't have an ovenproof serving plate, you can also use a kitchen torch to brown the meringue.
slightly adapted from Taste of Home
Keywords: lemon meringue angel cake, angel cake, angel cake recipe