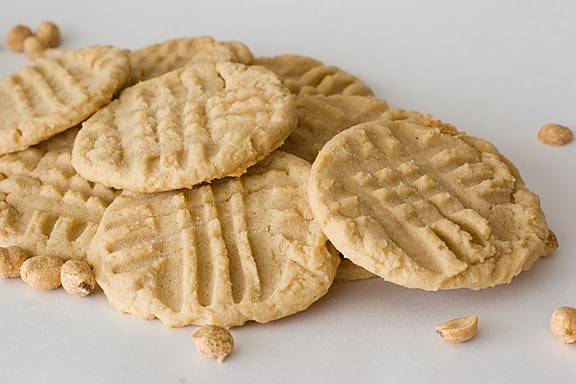 On Friday, I discovered that today is National Peanut Butter Lover's Day. And when I heard that, I knew I couldn't let today pass without proclaiming my love of peanut butter and sharing a peanut butter recipe. So off I went, in search of a fabulous recipe. But the more I looked, the more difficult it came to find something that sounded good and felt right. Nothing was exciting me. But my mind just kept going back to peanut butter cookies. Boring – I know. Everyone has had peanut butter cookies, and I'm sure 99% of you already have your favorite recipe. But that's all that sounded good to me, so I went with it!
And really, I'm glad I went with my instincts, because I found this recipe in one of my cookbooks, and now it is starred as a favorite recipe. These peanut butter cookies are G-O-O-D. In fact, I'm grateful that the recipe only makes 2 dozen, because I'm sure my husband and I could have each eaten 2 dozen by ourselves!
How are you celebrating National Peanut Butter Lover's Day?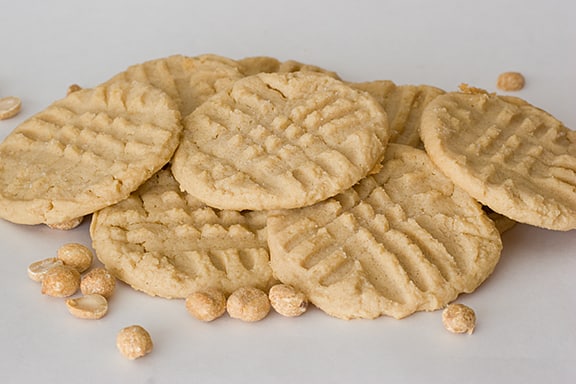 Chewy Peanut Butter Cookies
from The Sweet Melissa Baking Book
Makes 2 dozen cookies
½ cup smooth peanut butter
8 tablespoons (1 stick) unsalted butter, softened
½ cup granulated sugar
½ cup firmly packed light brown sugar
1 large egg
1¾ cups all-purpose flour
½ teaspoon baking powder
¾ teaspoon baking soda
¼ teaspoon salt
Position the rack in the top and bottom third of your oven. Preheat the oven to 325F. Line two cookie sheets with parchment paper or aluminum foil.
In the bowl of an electric mixer fitted with the paddle attachment, cream the peanut butter with the butter and sugars until light and fluffy, 3 to 4 minutes. Beat in the egg.
In a separate bowl, whisk together the flour, baking powder, baking soda, and salt. Add the flour mixture to the peanut butter mixture and mix until combined. Be sure to scrape down the sides of the bowl so that everything is combined evenly.
Scoop dough by the rounded tablespoonful and roll into balls. Place the balls about 2 inches apart on the prepared cookie sheets, and press down slightly. Using a fork dipped in flour, press down on the cookies first one way and then the other to form an "X" pattern, creating the cross hatch effect. (The cookies should now measure approximately 2 inches in diameter.) Bake for 10 minutes, or until the edges are lightly golden. Overbaking will cause these chewy cookies to become crunchy, so try to avoid it.
The cookies will keep in an airtight container at room temperature for up to 3 days. For longer storage, they can be frozen wrapped in plastic wrap and aluminum foil for up to 1 month. Do not unwrap before defrosting.