A classic that everyone loves, these Peanut Butter Cookies are soft and easy to make. They make the perfect after school snack!
Everyone loves cookies! They are great for an easy after school snack or perfect for a treat on the go. Some other favorite cookies are these No Bake Cookies, Cake Mix Cookies, and Chocolate Crinkle Cookies.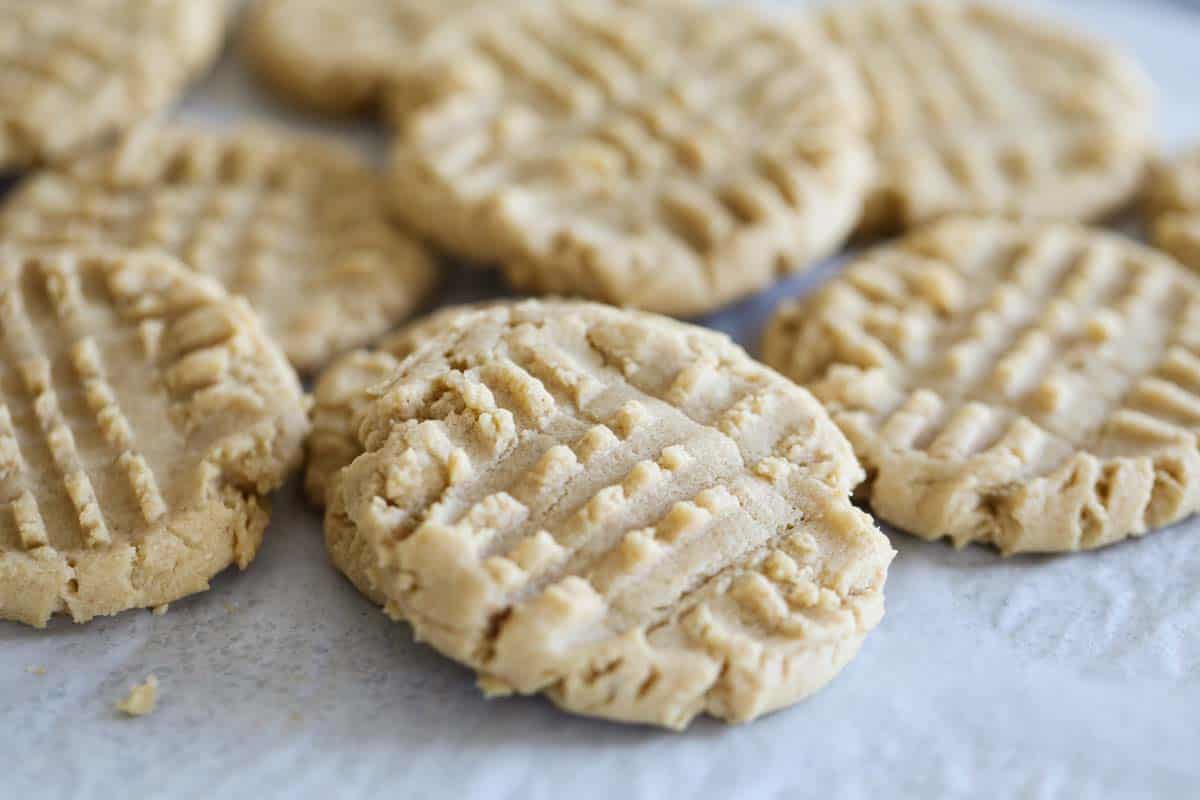 If there is one kind of cookie that goes faster than any other in our house, it is peanut butter cookies. It used to be that whenever the cookie craving would hit, we'd make chocolate chip cookies. But then one day, I remade these peanut butter cookies, and it was game over from there.
These cookies are super soft, just like I like my peanut butter cookies. And they stay like that, even when they aren't day 1 fresh. That is, if you can get them to last longer than 1 day!
I also love these cookies because they are quick to make, which means it's easy to whip up a batch before the kids get home from school. You just can't beat a classic!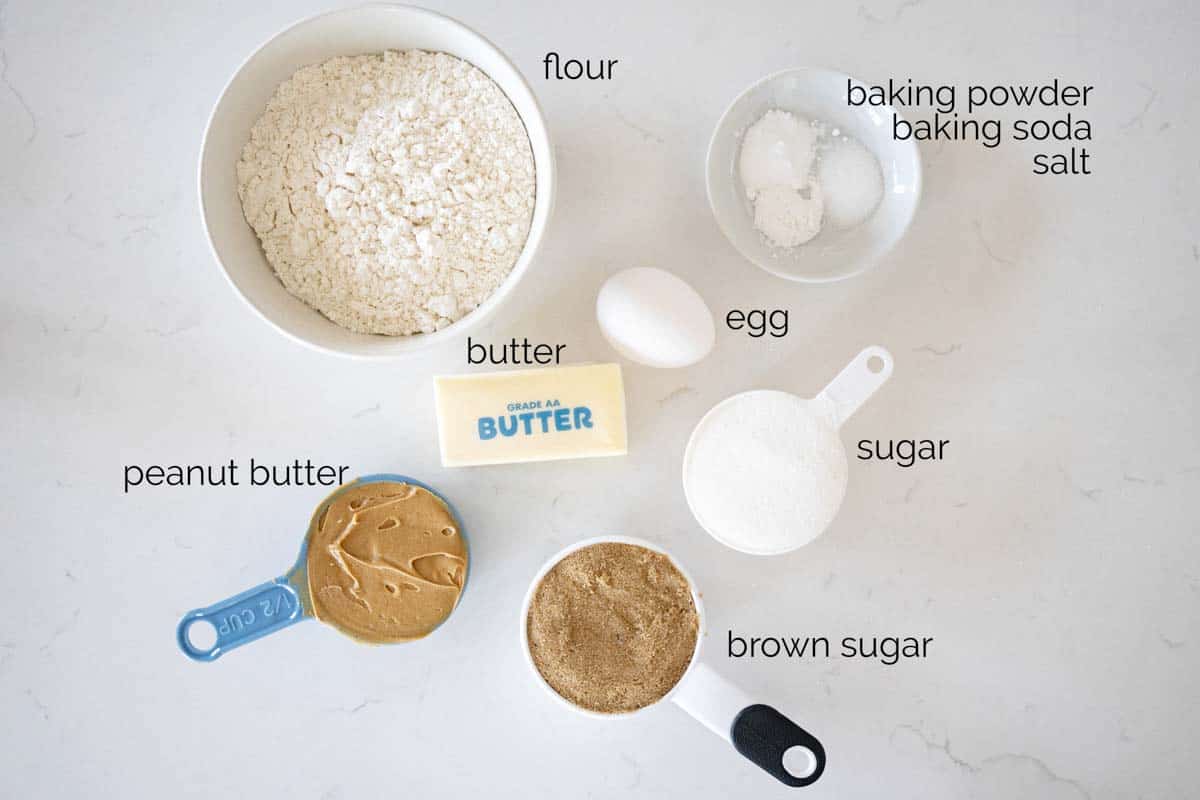 Ingredients
Peanut Butter – I would recommend using a processed peanut butter, like JIF or Skippy. While I love natural peanut butter, it just doesn't give the same results when you bake with it.
Butter – I always use unsalted butter so that I can control the salt level. If you are using salted butter, you can cut back on the salt by half.
Sugar – This is regular, granulated sugar.
Brown Sugar – I used light brown sugar, but dark brown would work as well and would give you a more robust flavor and may slightly change the texture of the cookie.
Egg – I always use large eggs.
Flour – I tested this recipe with all-purpose flour. I would guess that you could use half whole wheat, but I have not tested it this way.
Baking Soda and Baking Powder – Both baking powder and baking soda are used in this recipe. The baking powder is what acts as the leavening agent, and the baking soda is mostly for a tender cookie.
Salt – I always say it, but never skip the salt! It helps to balance out the flavors. I also love the salty edge with the peanut butter, so I will sometimes add a bit more.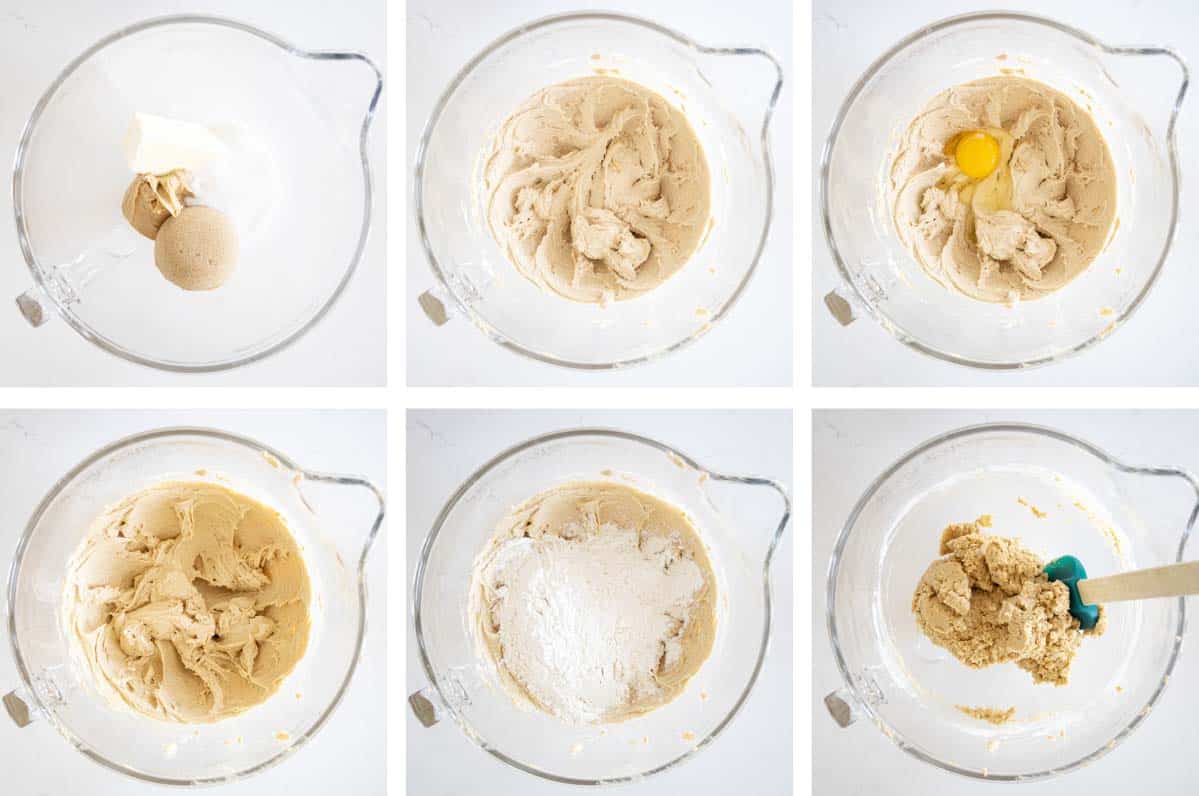 How To Make Peanut Butter Cookies
Cream together the peanut butter, butter, and both sugars. You want them light and fluffy, so mix them for 3-4 minutes.
Add the egg and mix just until it's combined.
Whisk the flour, baking soda, baking powder and salt together, then add it all to your peanut butter mixture.
Beat everything together until it is combined.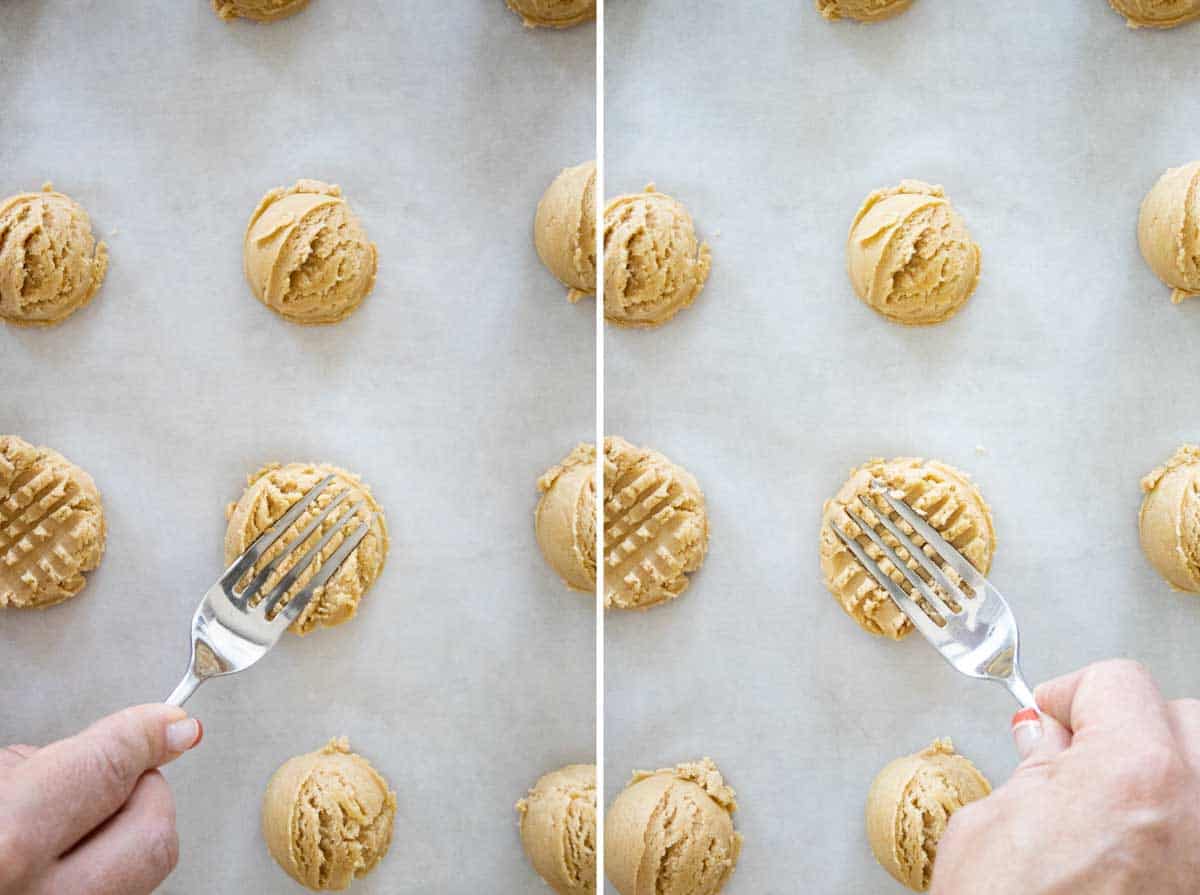 Roll the dough into balls. I like to use a cookie scoop – it makes easier to keep all of the cookies the same size.
Use a fork to create the criss cross effect, pressing down one way and then pressing down perpendicular to the first lines you made.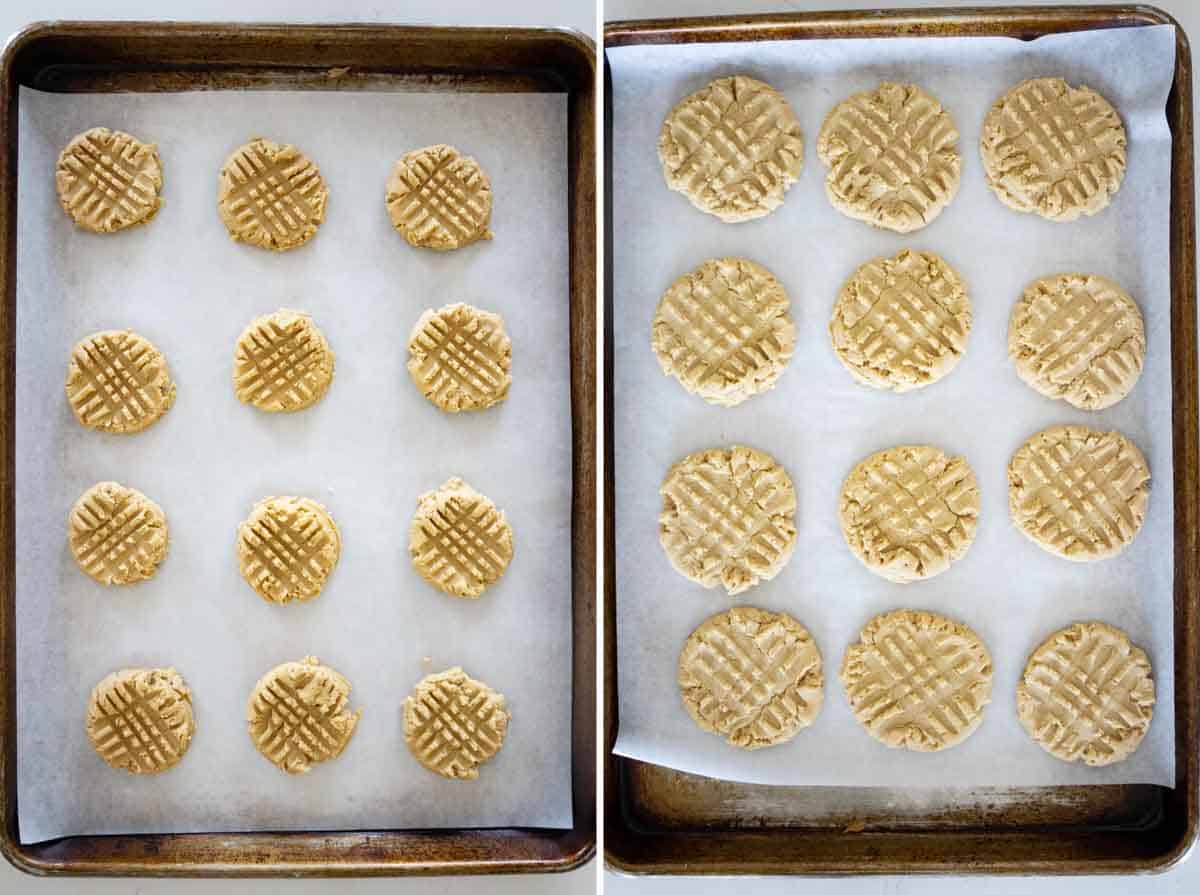 Bake the cookies until they are lightly golden on the edges.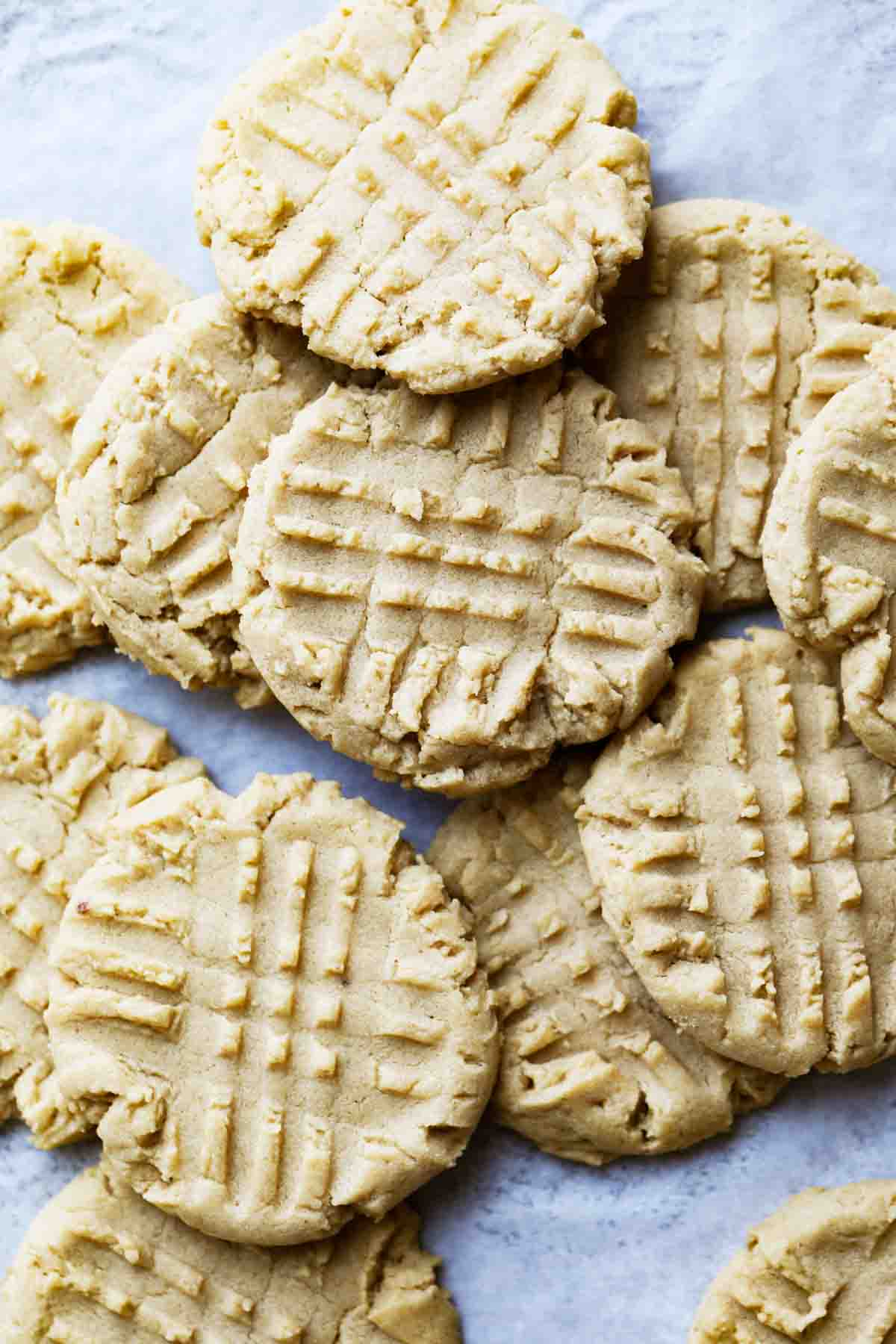 Frequently Asked Questions
Why do you criss cross peanut butter cookies?
If you bake these cookies without doing the criss cross, what will happen? Well, these cookies don't spread like a lot of other cookies will do. So you'd end up with a cookie that looks very similar coming out of the oven as it did going in – the dough would mostly remain in a ball. There are stories that say that the criss cross was to set these cookies apart from others, but I believe that it is mostly done to flatten out the cookies some. You could just do this with your hands or with the bottom of a cup, but by doing the criss cross, everyone knows that these are peanut butter cookies!
Should you refrigerate peanut butter cookie dough before baking?
A lot of times, cookies are much better when the dough is refrigerated. But it's not necessary for these cookies. Because the dough is more dense and because you don't have to worry about the cookies spreading too much, you really don't have to refrigerate the dough. If you are wanting to make the dough earlier though, and then baking it at a later time, it definitely won't hurt to refrigerate the dough.
How do you tell if peanut butter cookies are done?
This one is tricky, because they really don't look a lot different coming out of the oven as they did going in. When these cookies are done, they will be slightly golden on the edges. The biggest tip with these cookies is to not over bake them if you want a chewy cookie. Over baked peanut butter cookies will be crispy. So it's better to under bake by just a bit than to over bake!
How do you store peanut butter cookies?
These cookies can be stored at room temperature in an airtight container for up to 5 days. You can also freeze them by wrapping them in plastic wrap and then in foil. Let them defrost before you remove them from the foil and plastic wrap.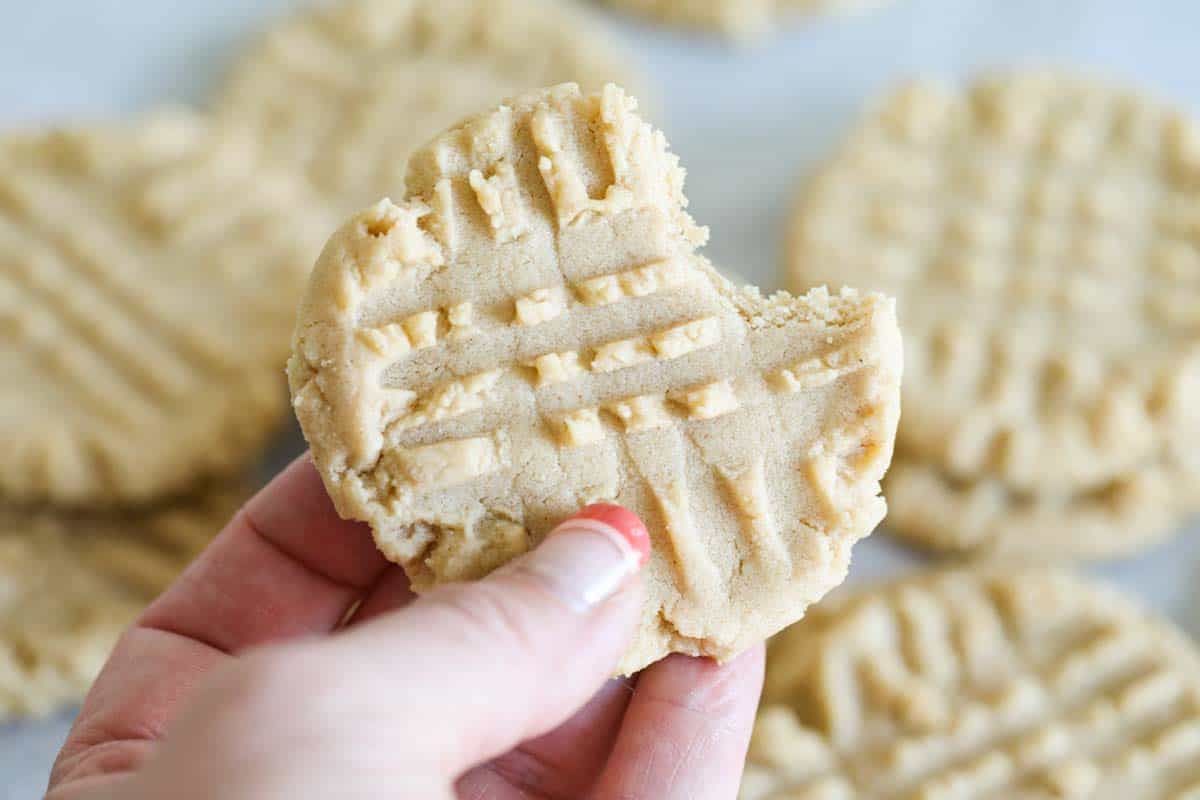 More Peanut Butter Desserts
Peanut Butter Blossoms
Reeses Peanut Butter Cheesecake
Peanut Butter Banana Bread with Chocolate Chips
Peanut Butter Popcorn
Peanut Butter Banana Bran Muffins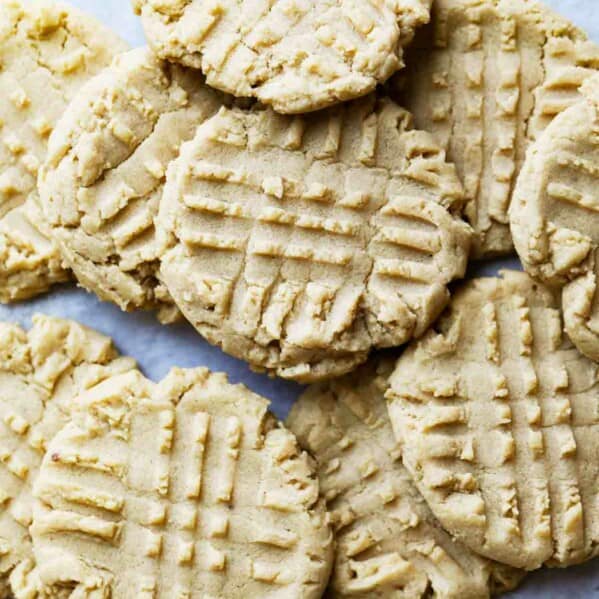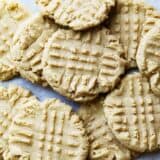 Peanut Butter Cookies
---
Author:
Prep Time: 10 minutes
Cook Time: 16 minutes
Total Time: 35 minutes
Yield: 24 cookies 1x
Category: Dessert
Method: Baked
Cuisine: American
Description
A classic that everyone loves, these Peanut Butter Cookies are soft and easy to make. They make the perfect after school snack!
---
Scale
Ingredients
1/2 cup (132 g) peanut butter
1/2 cup (115 g) butter, at room temperature
1/2 cup (100 g) granulated sugar
1/2 cup (100 g) packed brown sugar
1 large egg
1 3/4 cups (210 g) all-purpose flour
3/4 teaspoon baking soda
1/2 teaspoon baking powder
1/4 teaspoon salt
---
Instructions
Preheat the oven to 350ºF. Line 2 baking sheets with parchment paper or a silpat liner.
In a large bowl or the bowl of a stand mixer, combine the peanut butter, butter, sugar and brown sugar. Cream until light and fluffy, 3-4 minutes.
Add the egg and beat until combined.
In a separate bowl, whisk together the flour, baking soda, baking powder and salt.
Add the flour mixture to the peanut butter mixture. Beat until combined. Make sure to scrape down the sides of the bowl to make sure everything is incorporated.
Scoop the dough by tablespoonfuls (I like to use a cookie scoop to make sure they are all uniform) and roll into balls. Place the balls about 2 inches apart on the prepared cookies sheets.
Using a fork, press down on the cookies first one way, then perpendicular to form an "x" pattern. If the fork is sticking in the cookie dough, you can dip it in flour.
Bake the cookies, one sheet at at time in the middle of the oven, for 8-10 minutes, or until the edges are lightly golden. Do not overbake.
Let the cookies sit on the baking sheet for about 5 minutes, then remove to a clean piece of parchment or a cooling rack to cool completely.
Recipe Notes:
Store in an airtight container at room temperature for up to 5 days.
These cookies can be frozen, wrapped in plastic wrap and aluminum foil, for up to 1 month. Do not unwrap before defrosting.
Nutrition information provided as an estimate only. Various brands and products can change the counts. Any nutritional information should be used as a general guide.
Nutrition
Serving Size: 1 cookie
Calories: 134
Sugar: 5 g
Sodium: 90 mg
Fat: 7 g
Saturated Fat: 3 g
Unsaturated Fat: 1 g
Trans Fat: 0 g
Carbohydrates: 16 g
Fiber: 1 g
Protein: 2 g
Cholesterol: 18 mg
Keywords: peanut butter cookies