A classic – you can't go wrong with this lemon meringue pie!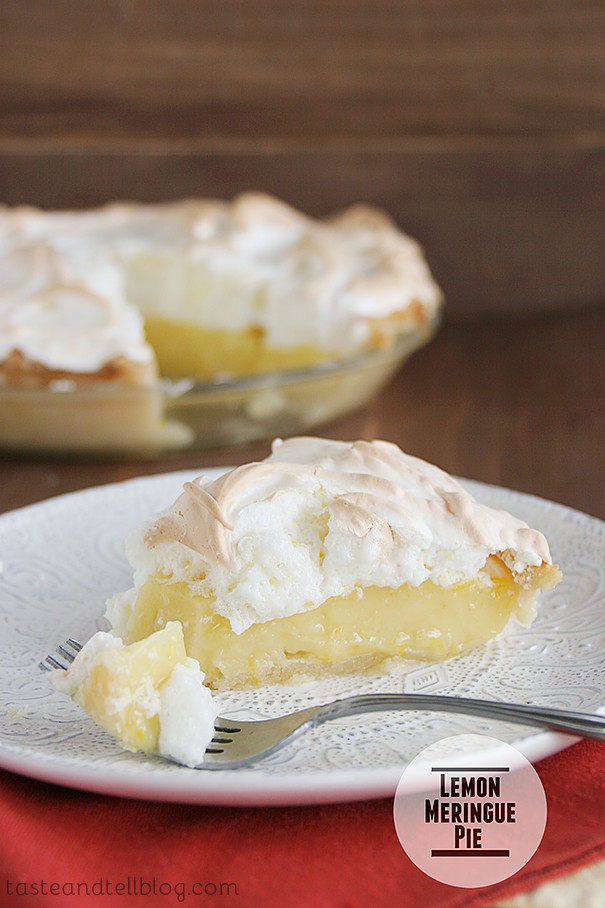 Sometimes, the holidays are all about the classics.
Don't get me wrong – I love trying new recipes.  (Which is why I have over 1400 recipes here on Taste and Tell!)  But there is something about Thanksgiving – where even if you do decide to do something a little bit different, you need to stick with at least one or two classics.  Luckily, my family loves pie.  In fact, when it comes to Thanksgiving, we usually end up with enough pies to feed an army.  I seriously think we had enough last year that each person could have had their own pie.  And amidst all of those pies and desserts, there are 2 pies that are must haves for me – pumpkin and lemon meringue.
When I decided to make a pre-Thanksgiving meal so that I could share some great recipes with all of you, I let my mom take over the pie duty.  She is the pie master, after all.  I gave her free reign to make whatever she wanted, and I have to say I was more than a little happy when she decided to make her perfect lemon meringue pie.  This, my friends, is probably one of my top 3 all-time favorite pies.  No holiday is complete without mom's lemon meringue pie.
So if you are going to go the classic route, this is the only Lemon Meringue Pie recipe you'll need!!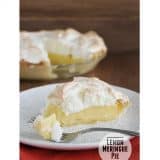 Lemon Meringue Pie
---
Prep Time: 20 minutes
Cook Time: 5 minutes
Total Time: 30 minutes
Yield: 8 servings 1x
Description
A classic pie – you can't go wrong with this lemon meringue pie!
---
Scale
Ingredients
1 (9-inch) pie crust, cooked and cooled
1 cup sugar
1/4 cup flour
3 tablespoons cornstarch
1/4 teaspoon salt
2 cups water
3 egg yolks, beaten
1 tablespoon butter
2 teaspoons grated lemon peel
1/4 cup lemon juice
3 egg whites
6 tablespoons sugar
---
Instructions
Preheat oven to 425F.
In a saucepan, combine the 1 cup sugar, flour, cornstarch and salt. Stir in the water. Cook over medium heat until thickened, stirring constantly. Add some of the hot mixture to the egg yolks, whisking constantly to prevent scrambling the eggs. Return to the hot mixture. Cook for 1 minute, stirring constantly.
Remove from heat and stir in the butter, lemon peel and lemon juice. Pour the mixture into the pie crust.
In another bowl, beat the egg whites until soft peaks form. Gradually add in the 6 tablespoons of sugar. Beat to stiff peaks. Spread the meringue over the hot filling. Bake in the preheated oven for 5 minutes or until browned.

Want more pie ideas for your Thanksgiving table?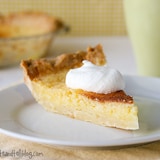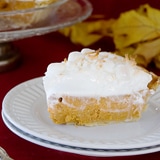 Sweet Potato Coconut Pie with Marshmallow Meringue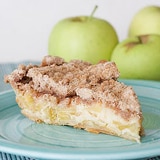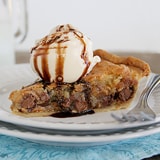 Peanut Butter and Milk Chocolate Chip Cookie Pie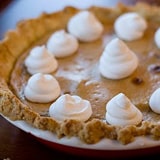 Around the web:
Cranberry Blueberry Pie from Completely Delicious
Coconut Cream Pie with a Coconut Cookie Crust from Barbara Bakes
Chocolate Peanut Butter Cheesepie from Lilikoi Joy
Chocolate Cream Pie from The Cake Merchant
Disney's Caramel Apple Pie from What's Cooking with Ruthie