A simple lemon pie is only a few ingredients away! This Lemon Cream Pie comes together with very little prep, is practically fail-proof, and is a pie everyone will love!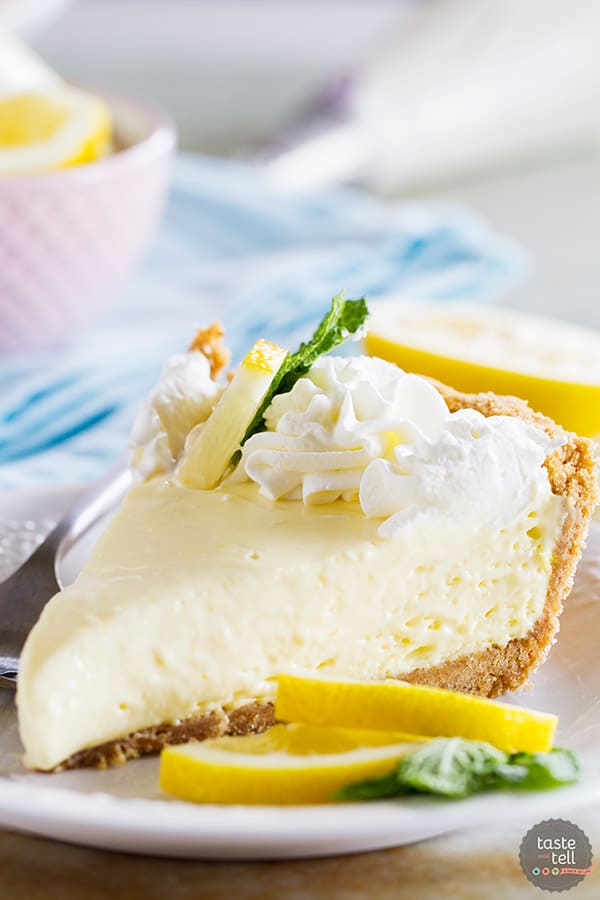 Yum


Happy Pi Day!! Not to be confused with Pie Day, which is January 23, but Pi Day since it's 3.14. Get it?
Well, since it's the Year of Pie here on Taste and Tell, I couldn't let the day pass without posting a new pie recipe! So behold – March's pie, this Lemon Cream Pie.
First of all, let me warn you – I'm on a bit of a lemon kick. Which, let's face it – is nothing new. You all know that I'm a lemon addict, so adding another lemon recipe here is no surprise, right?? (And ps – at least 3 more lemon and/or lime recipes coming this month!) As I was trying to think about what pie recipe I wanted to make this month, I kept thinking Easter, which made me think of lemon and coconut. Yes, January's pie was lemon and coconut. Since I just did lemon and coconut, I decided to skip the coconut and just keep the lemon. And that's when this Lemon Cream Pie came to mind.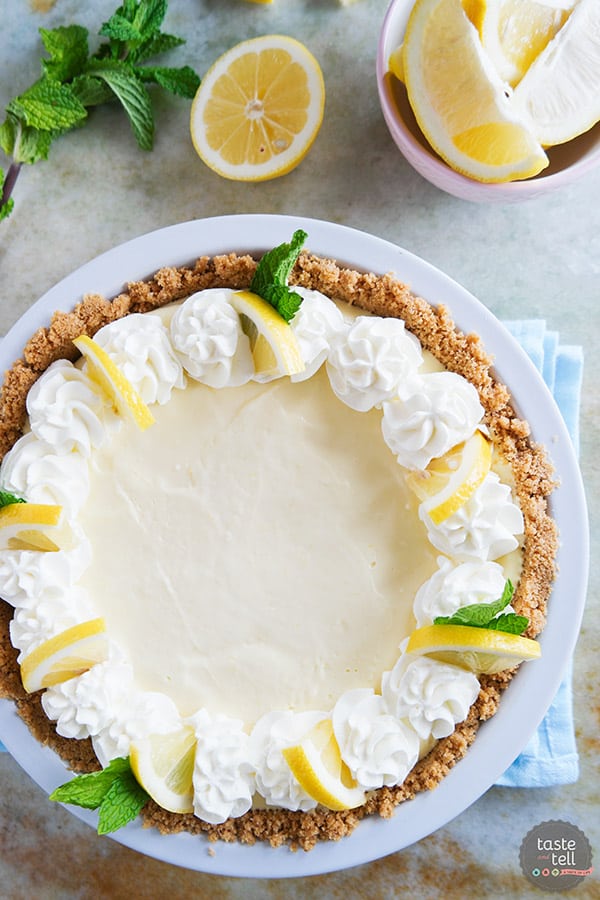 This pie recipe is a recipe that is probably in all of our grandmother's recipe boxes. It is nothing new, but there is a reason this pie has stood the test of time. Not only is it super easy, but it is pretty delicious and addictive. I'm even going to call it fail proof. I made the crust from scratch, because a) it only takes a few minutes and b) it tastes better, but if you are going for super easy, feel free to sub in a store bought graham cracker crust. The filling takes just minutes to mix together, then you just have to give it some time to chill in the refrigerator. Easy, peasy!
Now I just need to find a way to celebrate Pie/Pi day every month – and this Lemon Cream Pie may just have to make a showing more than once!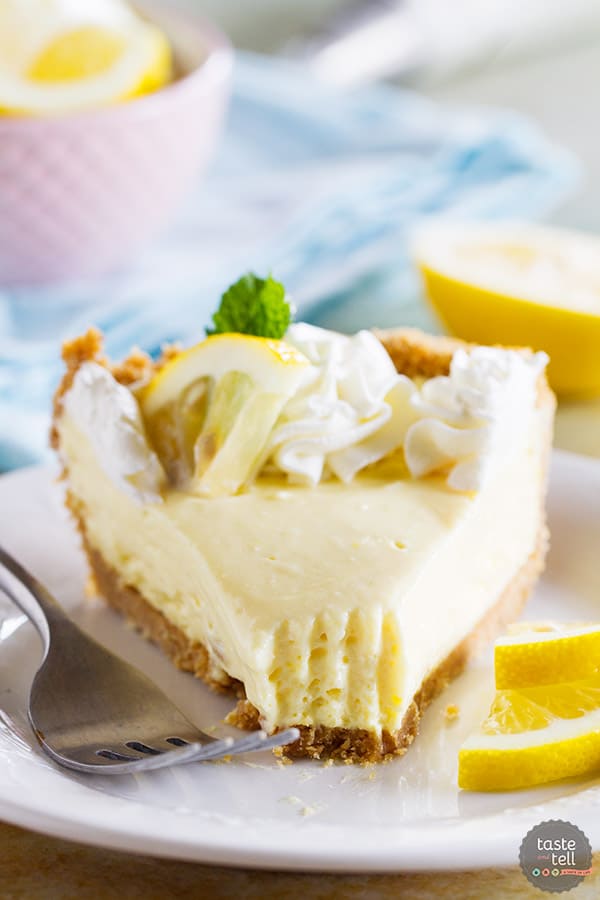 Like what you see here? Make sure you are following Taste and Tell for more recipes and ideas!
Facebook | Pinterest | Instagram | Twitter | Google+ | Weekly Newsletter | Feedly | Bloglovin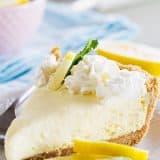 Lemon Cream Pie
---
Author:
Prep Time: 2 hours 10 mins
Cook Time: 7 mins
Total Time: 2 hours 17 mins
Yield: 8 servings 1x
Description
A simple lemon pie is only a few ingredients away! This Lemon Cream Pie comes together with very little prep, is practically fail-proof, and is a pie everyone will love!
---
Scale
Ingredients
Crust:
1 1/2 cups graham cracker crumbs (from about 9 full crackers)
1/4 cup sugar
pinch of salt
6 tablespoons butter, melted
Pie:
1 (8 oz) package cream cheese, softened
1 (14 oz) can sweetened condensed milk
1/3 cup lemon juice
1 tablespoon lemon zest
whipped cream, for serving
---
Instructions
For the crust: preheat the oven to 350ºF*. In a bowl, stir the graham cracker crumbs, sugar and salt together. Add the butter and stir to mix. Pour the crumbs into a 9-inch pie dish, and press the crumbs firmly and evenly into the bottom of the dish and up the sides. I think it is easiest to use a cup to press the crumbs firmly into the dish. Bake the crust in the oven for 7 minutes, then remove and let cool completely.
For the pie: place the cream cheese in a large bowl and beat until smooth. Add the sweetened condensed milk, lemon juice and lemon zest and continue to beat until as smooth as possible. This may take a few minutes. If desired, mix in a few drops of yellow food coloring. Pour the filling into the pie crust and smooth the top with an offset spatula. Cover the pie with plastic wrap and refrigerate for at least 2 hours.
To serve, top with whipped cream, if desired.
Recipe Notes:
*if you want to make this pie completely no-bake, you can skip the baking, but the crust won't stay together as well when cut.
Useful Products:
More Pie Recipes for Pi Day: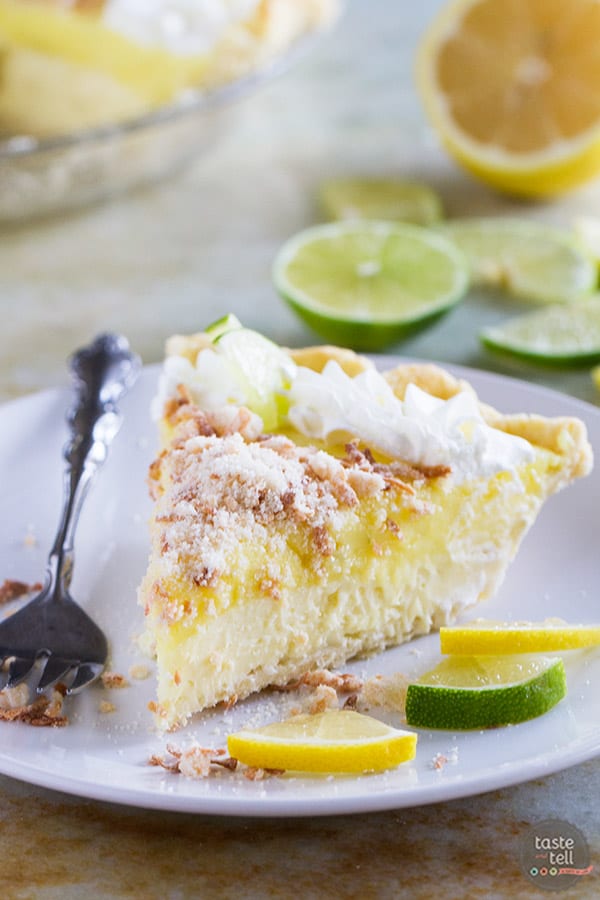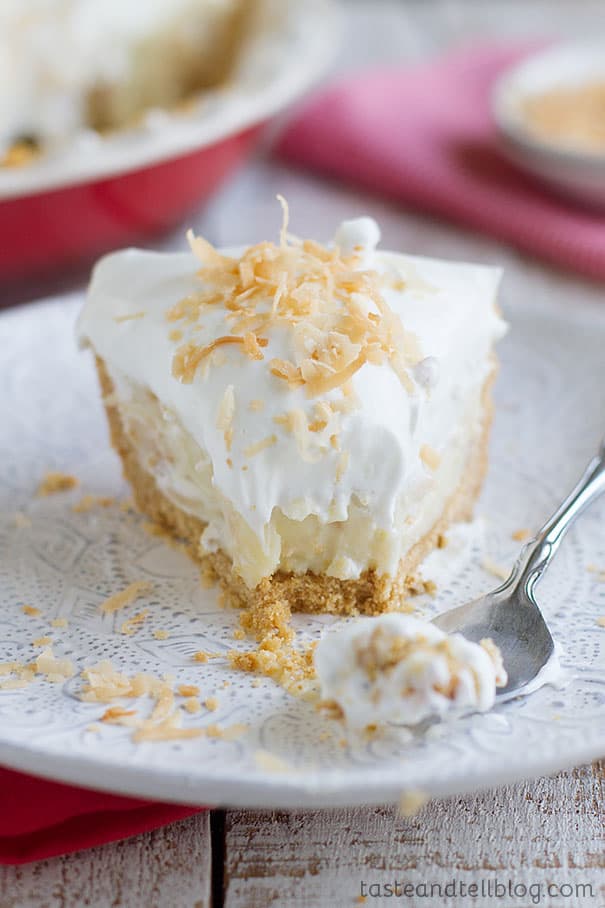 Around the Web:
No Bake Strawberry Lemon Cookie Pie from Life, Love and Sugar
Raspberry Apple Pie with Oatmeal Cookie Crumble from Carlsbad Cravings
Chocolate Chess Pie from Crazy for Crust
Don't miss a thing! Follow me on Pinterest to see what I'm pinning!
Visit Taste and Tell's profile on Pinterest.