Crepes are a piece of cake with this Simple Crepe Recipe with Peaches and Cream! Homemade crepes are filled with a cream cheese mixture and topped with fresh sautéed peaches for a delicious dessert or decadent breakfast.
Looking for more fresh peach recipes? Try this Peach Frozen Yogurt or Peach Melba Pie.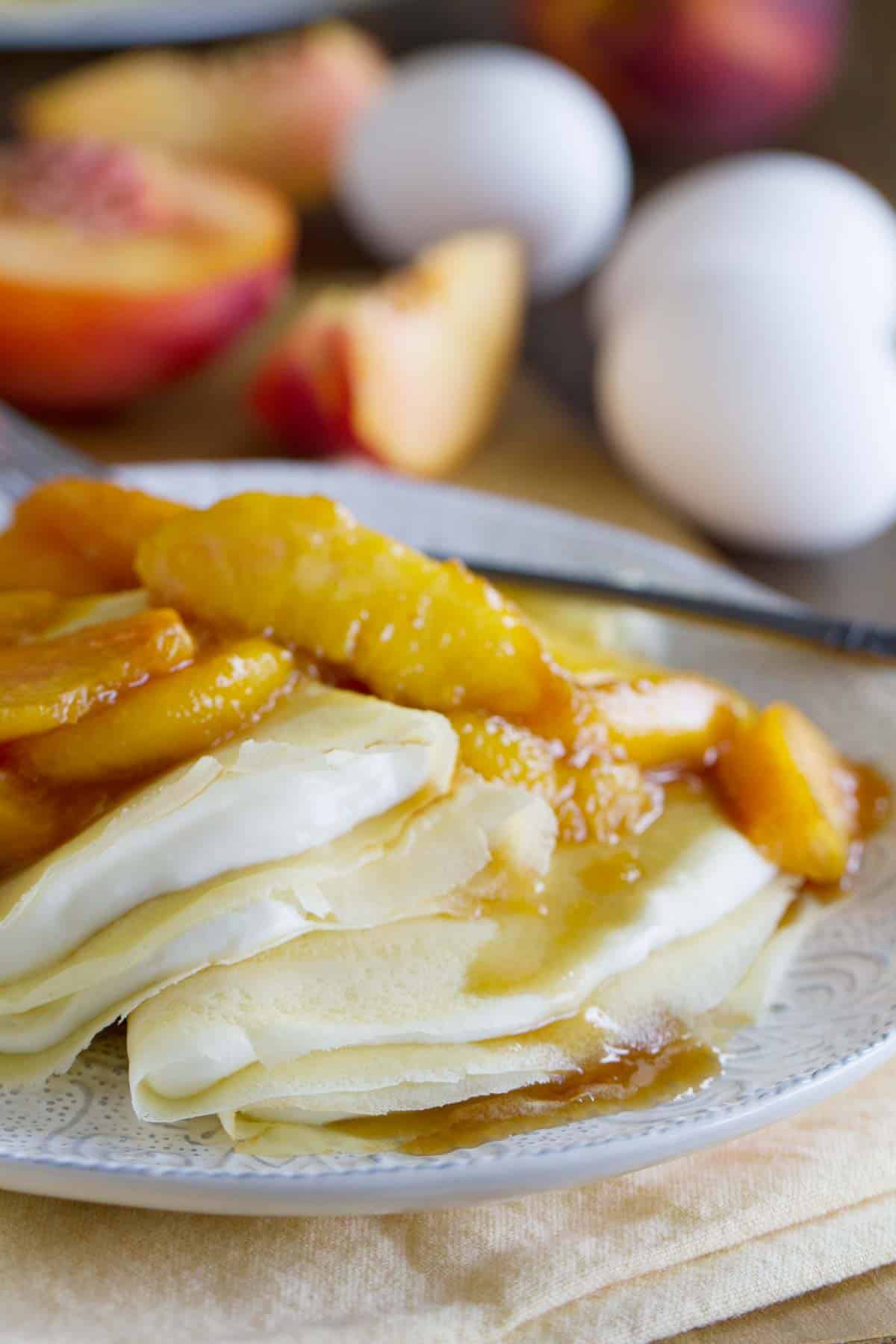 This Simple Crepe Recipe with Peaches and Cream is pretty much a dream. Seriously – the crepes are perfect, and the cream cheese filling and the sautéed peaches come together to form a dish that no one will want to stop eating.
I think that people often think that crepes are hard to make, or something that they can't make at home without special equipment. Well, I'm here to tell you that is false!! Crepes are actually really easy to make. They take a little more time, just because you make them one at a time, but believe me – they are totally worth it.
How to make homemade crepes
This easy crepe recipe is super simple. You start by adding the crepe ingredients to a blender. Pulse the blender a few times to combine all of the ingredients, and then you need to wait about 30 minutes so that the flour can absorb the liquid.
Once the crepe batter is ready, you will make the crepes. You can buy special crepe pans, but I have always just used an 8-inch nonstick skillet. Coat it with a little bit of butter (really – go very lightly!) and then add about 1/4 cup of the batter to the pan. Lift the pan up and swirl it with your wrist until the batter is covering the bottom of the pan in an even layer. Let it cook for a minute or two before using a spatula to gently lift the edges to flip the crepe to cook the other side.
Cream cheese crepe filling and peach topping
Once your crepes are made, you can fill them with this creamy cheesecake filling and top them with sautéed peaches. I look forward to peach season every year and I can't wait to start using them every year!!
This filling is super simple – whipped cream, cream cheese, powdered sugar, vanilla extract and almond extract. You'll want to make sure that the cream cheese is at room temperature so that you don't have lumps of cream cheese in your filling. The filling can even be made ahead of time to save you time in the morning or when you decide to serve these simple crepes.
The topping is divine – fresh peaches, cooked in butter and brown sugar. And I love the hint of flavor the almond extract brings! The cooked peaches will form a sort of syrup that you pour over the crepes with the peaches and you end up with a decadent and unforgettable dish.
I think this simple crepe recipe is the perfect way to splurge for breakfast, or it's a great way to end a meal. I could eat them any time of day!!
More sweet breakfast ideas
Sunrise Sweet French Toast
Raspberry Lemon Breakfast Biscuits
Salted Caramel Slow Cooker Monkey Bread
Liege Waffles
Carrot Cake Pancakes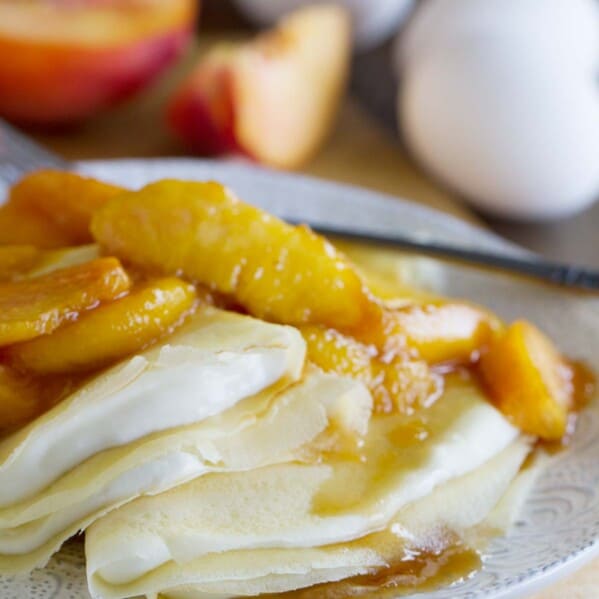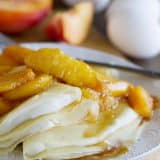 Simple Crepe Recipe with Peaches and Cream
---
Author:
Prep Time: 20 minutes
Cook Time: 50 minutes
Total Time: 1 hour 10 minutes
Yield: 7 servings 1x
Category: Breakfast
Method: Stove Top
Cuisine: French
Description
Crepes are a piece of cake with this Simple Crepe Recipe with Peaches and Cream! Homemade crepes are filled with a cream cheese mixture and topped with fresh sautéed peaches for a delicious dessert or decadent breakfast.
---
Scale
Ingredients
For the Crepes:
1 cup milk
1 cup water
4 eggs
1 teaspoon vanilla extract
2 cups flour
2 tablespoons sugar
1/2 teaspoon salt
1/4 cup butter, melted and slightly cooled
For the Filling:
1 cup heavy whipping cream
8 oz cream cheese, softened
2 cups powdered sugar
1/2 teaspoon vanilla extract
1/2 teaspoon almond extract
For the Peaches:
1/4 cup butter
1 cup brown sugar
6 cups peeled, sliced peaches
1/2 teaspoon almond extract
---
Instructions
In a blender, combine the milk, water, eggs and vanilla extract. Pulse to combine. Add in the flour, sugar and salt and pour the butter on top. Pulse again until all of the ingredients are combined and the batter is smooth. Cover the batter and refrigerate for about 30 minutes.
While the batter is sitting, make the filling. In a large bowl, beat the cream until stiff peaks have formed. Set aside. In another bowl, beat the cream cheese until it is smooth, then slowly add in the powdered sugar until combined. Beat in the extracts. Add about 1/4 of the whipped cream to the mixture and stir with a rubber spatula. Add the remaining cream and fold it in gently. Refrigerate the mixture until needed.
To make the crepes, very lightly butter a small skillet (I use an 8-inch nonstick skillet) and place over medium low heat. Once hot, add about 1/4 cup of batter to the skillet and using your wrist, tilt the pan around to spread the batter, forming an even, thin crepe. Let the batter cook for a minute or two, then loosen the sides with a rubber spatula and flip the crepe over. Cook the second side for another minute or two, then remove to a plate. Repeat with the remaining batter, only buttering the pan if the batter starts to stick. (I usually only butter it once in the beginning – sometimes I need to again halfway through, but not usually.)
To make the peaches, melt the butter in a large skillet. Add the sugar and stir to combine, then add in the peaches. Cook until the peaches start to get soft and give up some of their juices and a syrupy sauce is created, a few minutes. Turn the heat off and stir in the almond extract.
To serve, spread some of the cream over a crepe, then fold in half twice. Top with the peaches. I like this best when the peaches are warm, but it's also good when the peaches are cold.
Recipe Notes:
Nutrition information provided as an estimate only. Various brands and products can change the counts. Any nutritional information should only be used as a general guideline.
Nutrition
Serving Size: 2 crepes plus filling and topping
Calories: 820
Sugar: 63 g
Sodium: 452 mg
Fat: 41 g
Saturated Fat: 24 g
Unsaturated Fat: 13 g
Trans Fat: 0 g
Carbohydrates: 104 g
Fiber: 4 g
Protein: 13 g
Cholesterol: 227 mg
Keywords: blender crepe recipe, cream cheese crepe filling