Super soft and tender because of the addition of ricotta, these Lemon Muffins will quickly become a morning favorite! Perfect for brunch or for a weekend breakfast at home.
If you love lemon for breakfast, you definitely need to also check out my recipes for Lemon Pancakes, Raspberry Lemon Breakfast Biscuits, or these Lemon Scones with Nutmeg and Cherries.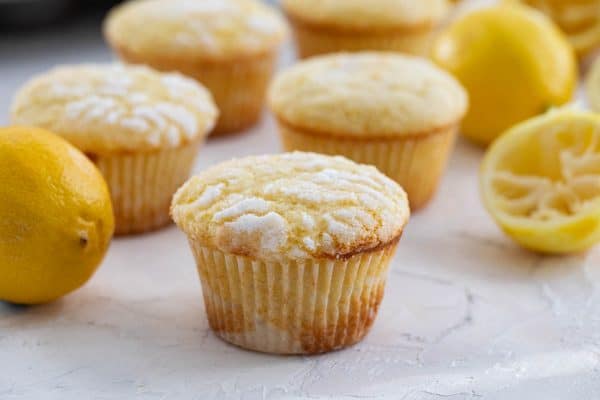 If you've been following along for any time at all you know that I'm a citrus girl. Specifically a lemon girl. I'll choose lemon over chocolate any day.
So give me lemon for breakfast, lunch and dinner. And dessert.
So let's start with breakfast. Because when you combine lemon and muffins, you get something that I just can't resist.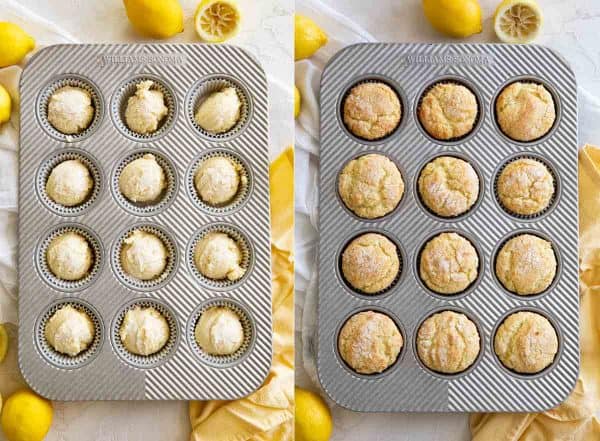 Using Ricotta in Muffins
These lemon muffins are a little bit different in the fact that they are made with ricotta. Not your typical muffin ingredient. But what you end up with is a super tender, moist muffin. And it will make you want to start adding ricotta to all of your muffins!
What is ricotta? Ricotta is a rich Italian cheese that is made from whey that is cooked to form a mild, soft, somewhat nutty cheese. You often see it in savory Italian dishes, like lasagna or manicotti. What you may not realize is how well it works in sweet recipes, as well.
I know I'm a fan – you can find it in these Chocolate Orange Ricotta Cookies, these Lemon Ricotta Cookies, these Ricotta Doughnuts (one of my favs!) and even these Strawberry Lemon Ricotta Pancakes.
Using ricotta in baked goods gives you extra moisture to keep things from getting dry and brings an incredible texture.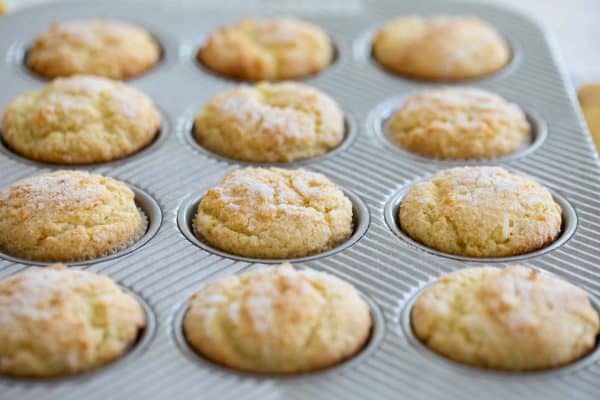 How to Make these Lemon Muffins
These muffins are just as easy as any other muffins to make! Hands on time is very minimal and you'll be able to serve warm muffins in no time at all. Make sure and check out the recipe card at the bottom of the post for full ingredients and instructions.
First, you'll start by making the lemon sugar. This is a little trick that I learned years ago – it's a great way to bring out the most lemon flavor. Take your sugar and your lemon zest and combine them in a bowl. Using your fingers (this is definitely the most effective way), rub the sugar and the zest together. The sugar will take on some of the moisture from the zest, and you'll be able to start smelling the oils coming out of the zest. This should only take a minute or so, and you'll have a fluffy, aromatic sugar.
Add the butter to your sugar mixture and beat until the mixture is light and fluffy.
Add the ricotta, the egg, the lemon juice and the lemon extract to the butter and mix until combined.
Next you'll add the dry ingredients. You can mix these together in a separate bowl, but I will admit that I'm lazy and don't like having an additional bowl to clean so I usually just add everything in to the bowl with the wet ingredients and I've never had issues this way. But if you end up having problems with your muffins, it may be because your dry ingredients are dispersed unevenly. But – I've never had an issue.
Mix just until the batter is combined. I'm sure you've heard this a million times, but the more you mix, the tougher the muffins will be. Be gentle and don't overmix.
Divide the mixture between your muffin cups, then sprinkle them with a sprinkling of sugar. This is not required, but I wouldn't skip it!
Bake the muffins until they are cooked through – you can test them with a toothpick, or by gently pressing the top of a muffin. If the muffin springs back up, they are done. If imprint is left, you'll want to keep them in the oven a little longer.
You can serve these lemon muffins warm or at room temperature.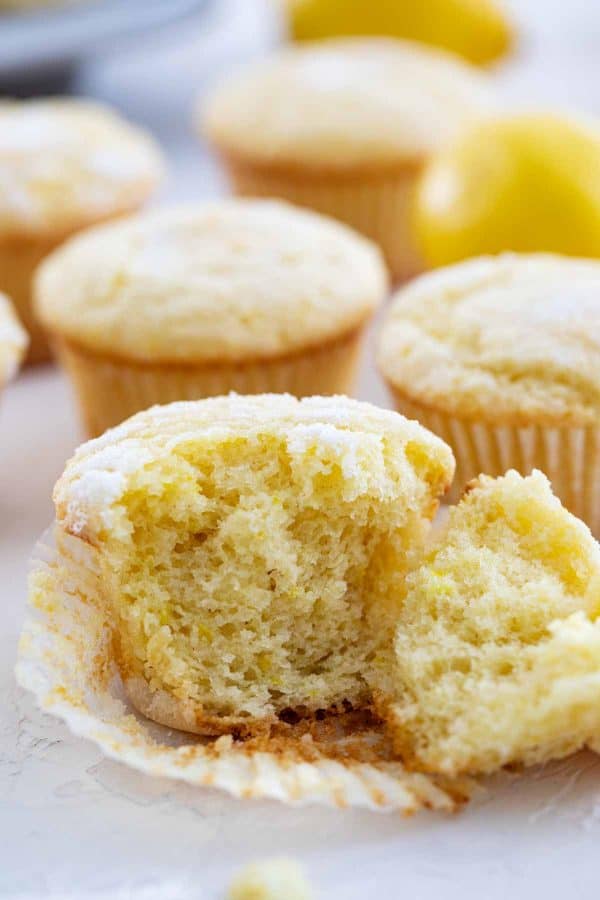 More Favorite Muffin Recipes
Cinnamon Muffins
Brown Sugar Muffins
Cocoa Oatmeal Muffins
Apple Cinnamon Muffins
Easy Pumpkin Muffins with Chocolate Chips
Banana Crumb Muffins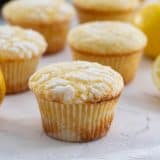 Lemon Muffins
---
Author:
Prep Time: 10 mins
Cook Time: 20 mins
Total Time: 30 minutes
Yield: 12 servings 1x
Category: Breakfast
Method: Bake
Cuisine: Italian
Description
Super soft and tender because of the addition of ricotta, these Lemon Muffins will quickly become a morning favorite! Perfect for brunch or for a weekend breakfast at home.
---
Scale
Ingredients
1 cup plus 1 tablespoon granulated sugar, divided
Zest of 2 lemons
1/2 cup butter, at room temperature
1 cup ricotta cheese
1 large egg
1 tablespoon fresh lemon juice
1/2 teaspoon vanilla extract
2 cups all-purpose flour
1/2 teaspoon baking powder
1/2 teaspoon baking soda
1/2 teaspoon salt
---
Instructions
Preheat the oven to 350ºF. Line a 12-cup muffin tin with paper liners. (Alternately, you can spray the cups with nonstick cooking spray.)
Place 1 cup of sugar and the lemon zest in a large bowl. With your fingers, rub the sugar and zest together until the sugar is moist and fragrant.
Add the butter to the bowl and beat with a hand mixer until light and fluffy. Beat in the ricotta, followed by the egg, lemon juice and vanilla extract.
Add the flour, baking powder, baking soda and salt to the bowl. Stir until blended – the batter will be thick.
Divide the batter evenly between the prepared muffin cups. Sprinkle with the remaining 1 tablespoon of sugar.
Bake the muffins in the preheated oven until they are golden and cooked through, 18-20 minutes.
Cool slightly before serving.
Recipe Notes:
Adapted from Food Network Favorites
Nutrition information provided as an estimate only. Various brands and products can change the counts. Any nutritional information should only be used as a general guideline.
Nutrition
Serving Size: 1 muffin
Calories: 249
Sugar: 19 g
Sodium: 145 mg
Fat: 11 g
Saturated Fat: 7 g
Unsaturated Fat: 2 g
Trans Fat: 0 g
Carbohydrates: 34 g
Fiber: 1 g
Protein: 4 g
Cholesterol: 48 mg
Keywords: lemon muffins, ricotta muffins