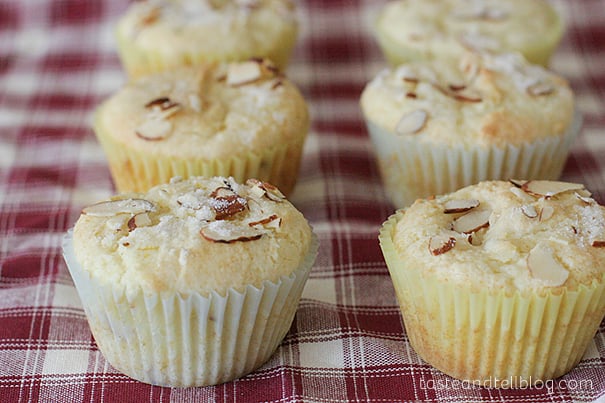 Yesterday was one of those days for me. You know the kind – where you feel totally unmotivated to do anything at all. I did manage to bake up a batch of these in the morning, and I spent the rest of the day being lazy, reading a book, and eating way too many of these!!
Biscuits…why are they called biscuits? They are nothing like a biscuit to me, but that is what Giada calls the, so I'll stick with the name. They are a muffin – a completely delicious muffin at that. I've had some really good luck baking with ricotta, so I knew I wanted to try these out. And they were probably even better than I expected! The original recipe called for almond extract – which I'm sure would have made them even better – but for some reason, I was out. Regular vanilla extract worked just fine, though, and probably highlighted the lemon flavor of these. The ricotta makes them nice and moist, and they have a wonderful texture to them. And for some reason, I don't usually use liners for muffins, but the recipe called for them, so I used them. I'm sure these would come out of the pan just fine with a light spray of cooking spray. Would I make these again? Most definitley!
Recipe Rating: 4.5 out of 5
Nonna's Lemon Ricotta Biscuits
adapted from Food Network Favorites
Makes 12-18
2 c. all purpose flour
1/2 tsp baking powder
1/2 tsp baking soda
1/2 tsp salt
1 c plus sugar, plus more for sprinkling
1/2 c (1 stick) unsalted butter, room temperature
zest of 2 lemons, finely grated
1 c. ricotta cheese
1 large egg
1 tbsp fresh lemon juice
1/2 tsp vanilla extract
1/3 c thinly sliced almonds
Line 12 muffin cups with paper liners. Preheat oven to 350 degrees F.
Whisk the dry ingredients in a medium bowl to blend. Using an electric mixer, beat 1 cup sugar, butter and lemon zest in a large bowl until light and fluffy. Beat in ricotta. Beat in egg, lemon juice and vanilla extract. Add the dry ingredients and stir until blended ( the batter will be thick and fluffy).
Divide the batter among the prepared muffin cups. Sprinkle the almonds and sugar over the muffins. Bake until the muffins become pale golden on top, about 20 minutes. Cool slightly. Serve warm or at room temperature.