Have home cooked beans in much less time with these Instant Pot Pinto Beans. No soaking time is needed to have tender, perfectly spiced beans in just an hour and a half!
Using an Instant Pot (or other pressure cooker) is such a time saver when it comes to making things that normally have to cook for a long time! We love it for weeknight meals (like Cashew Chicken) but it's also perfect for the basics!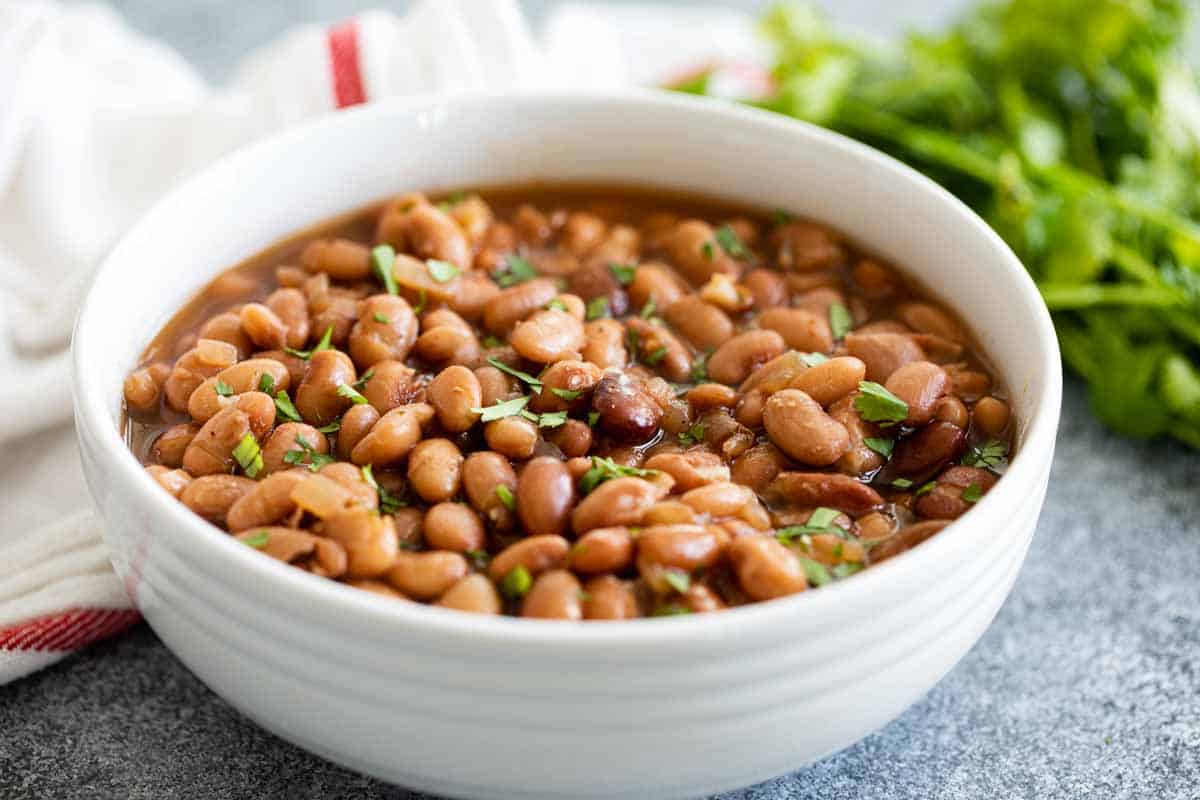 I have always been fascinated with the idea of making everything from scratch – from cakes to bread. While my life right now doesn't make that possible, (hello, 3 kids!), I have been trying to educate myself and try new things when I can.
Cooking beans from scratch is one of those things that have been on my list for a long time. I already have a recipe for slow cooker black beans, so next up was pinto beans. And this time, I wanted to make them faster, so I went to the Instant Pot!
This recipe actually took many, many tests and trials until I felt like I got it right. I didn't want to have to soak the beans, and I wanted beans that would were better than canned beans.
So after all of those trial runs, I'm finally ready to share!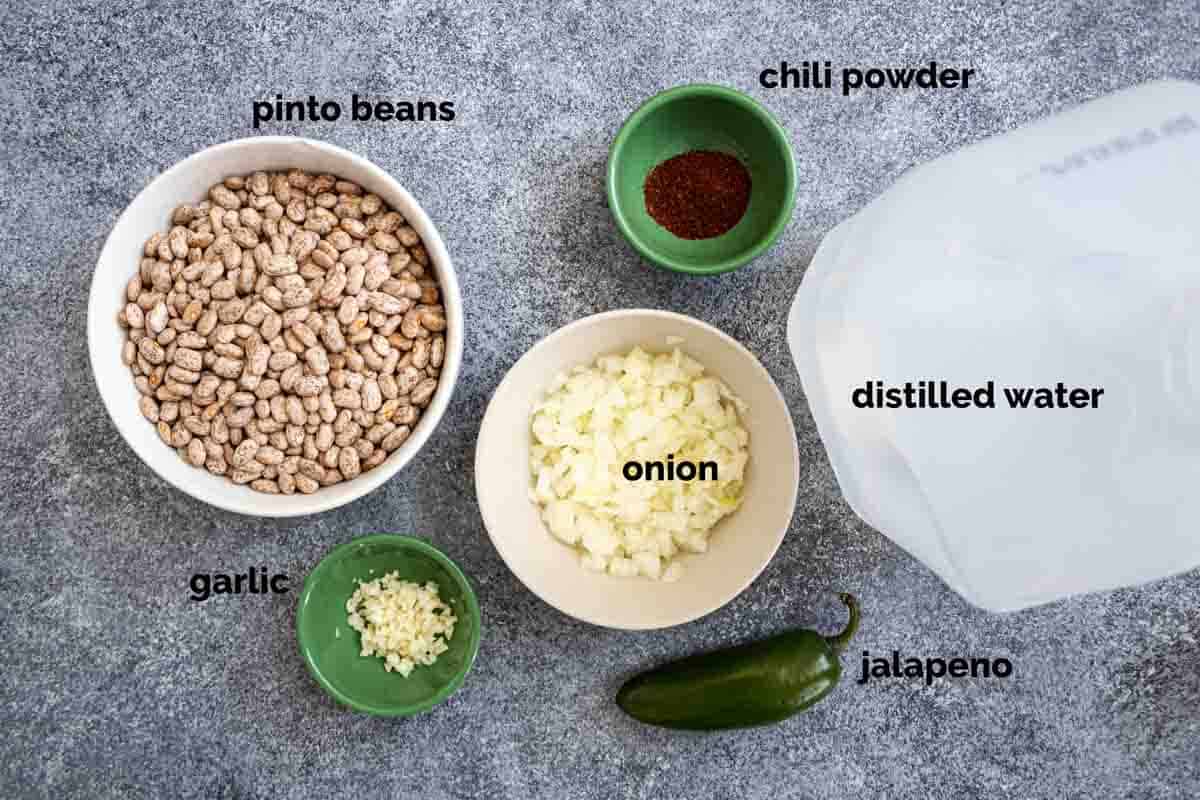 INGREDIENTS
Dry Pinto Beans – While dried beans won't go "bad" over time, (they will still be safe to consume), they will start to lose some of their nutritional value and will take longer to cook, the older they are. Just keep this in mind when it comes to cooking time.
Distilled Water – For the longest time, I could never get beans to soften up. Even with soaking, they were never quite right. And then I learned that because of the hard water in our area, the minerals make it harder to get soft beans. So I started using distilled water to cook my beans, and haven't had the same problems. If your water isn't hard, you may be able to just use tap water.
Onion, Jalapeno, Garlic and Chili Powder – You can technically leave these out, but they give your beans some great flavor. It's not overpowering (so you can still use your beans in other recipes) but they are flavored enough to eat plain, as well.
Salt and Pepper – Even if you leave out all of the above ingredients to flavor your beans, don't leave out the salt and pepper! I just add a small amount of salt when the beans are cooking (about a teaspoon) and then add salt and pepper to taste when the beans are done cooking.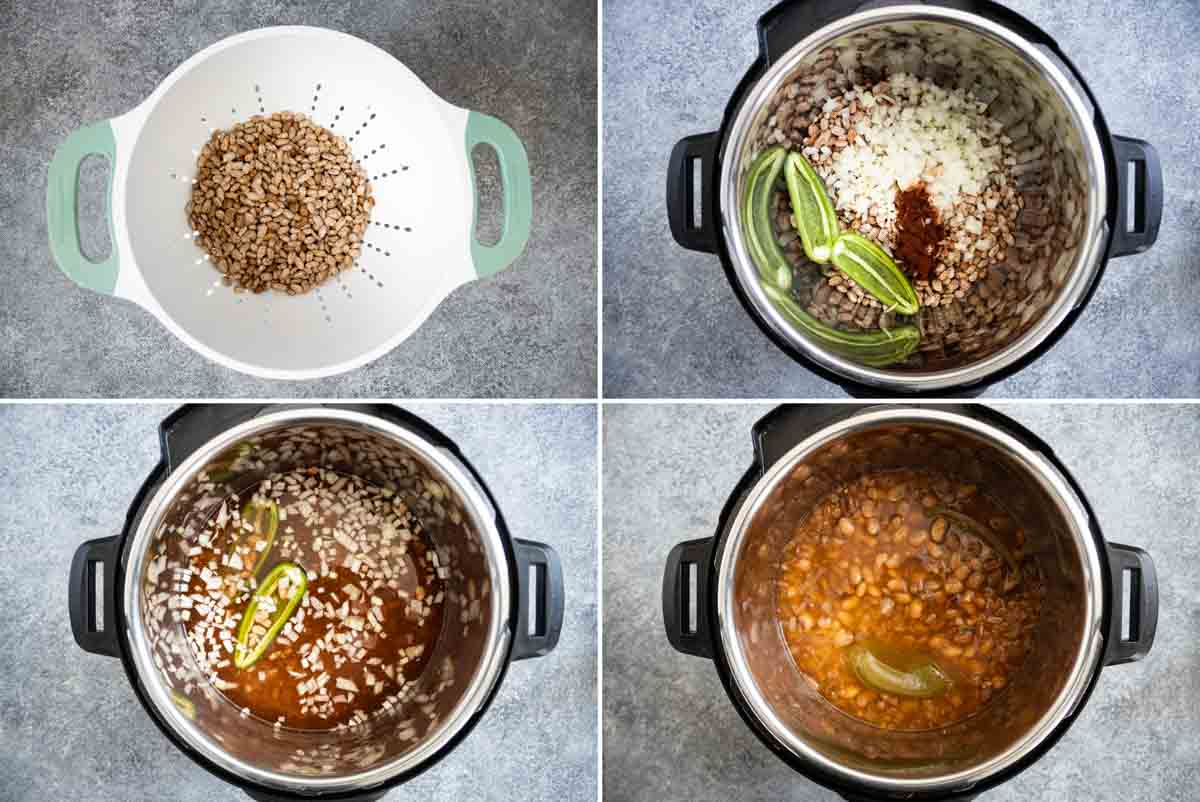 HOW TO MAKE THEM
Rinse the beans and remove any stones or debris. Place in the instant pot.
Add the water, onion, jalapeno, garlic, chili powder and salt.
Lock the lid and set to high pressure for 50 minutes.
Let the pot release pressure naturally for 15 minutes, then do a quick release.
Remove the jalapeno, add pepper, and more salt, if desired.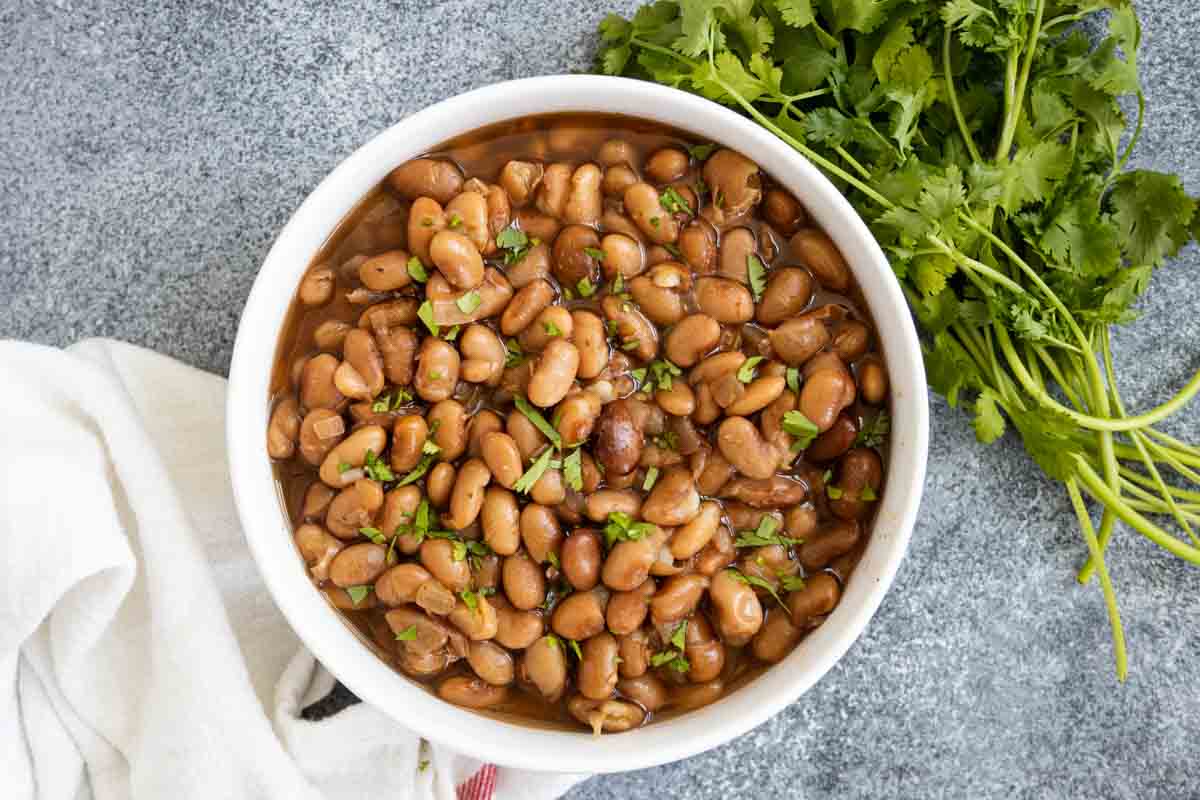 HOW TO USE THEM
I love that these instant pot pinto beans can be eaten as is, or used in other recipes! Here are some of my favorite ways to use them.
Add a bit of cilantro, and eat them as is. You can strain them, or serve them with the liquid. I love them with a scoop of cottage cheese, as well.
Use them in enchiladas. I love to use them in these Easy Enchiladas.
These beans are perfect for topping Navajo Tacos!
They are great in most chili recipes, like this Crock Pot Chili. If the recipe calls for another kind of bean, I will often use pinto beans.
These pinto beans are perfect for Refried Beans!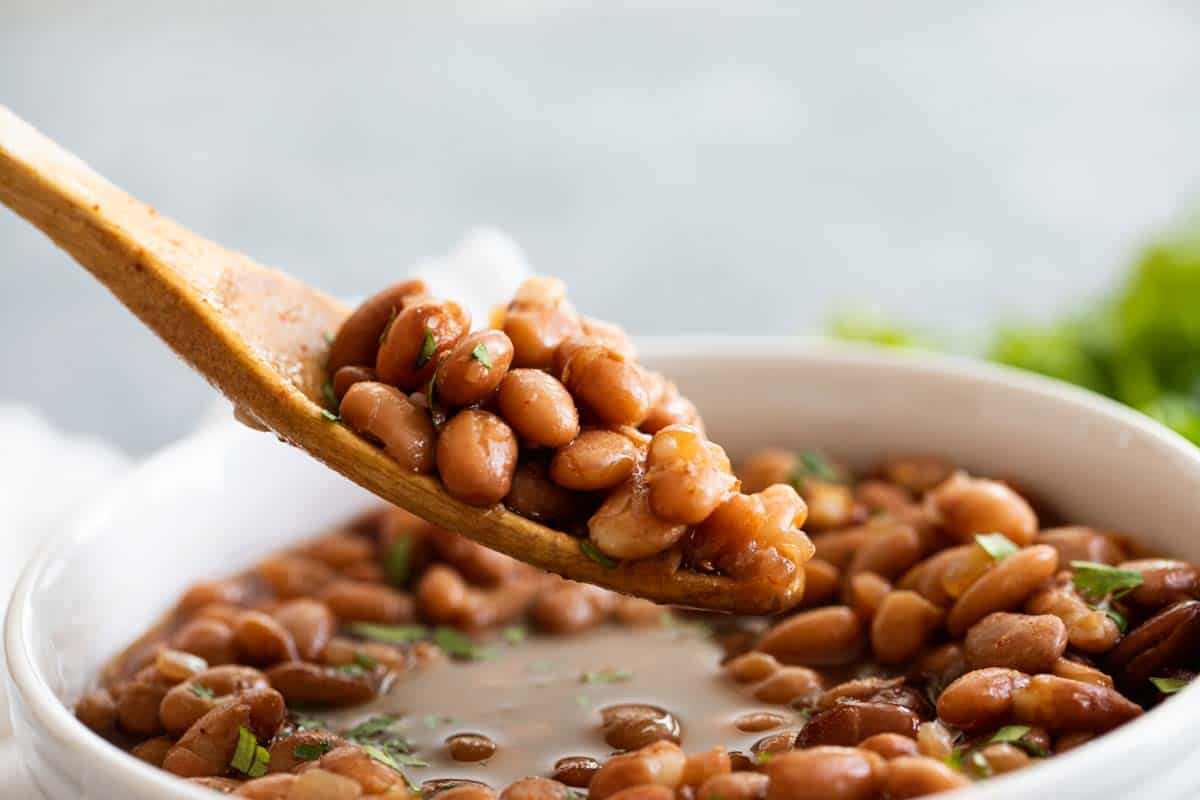 TIPS AND TRICKS
Undercooked beans will still be hard in the center. If your beans are still hard, you can cook them under pressure for another 5 minutes.
Overcooked beans will be too soft and will be falling apart. Make sure to not overcook your beans, especially if you aren't eating them right away.
The beans can be frozen for future use. I like to freeze them in glass jars with some of the cooking liquid.
More Instant Pot Recipes
Instant Pot Barbacoa Beef
Pressure Cooker Honey Garlic Chicken
Instant Pot Bolognese
Instant Pot Tuna Noodle Casserole
Instant Pot Ribs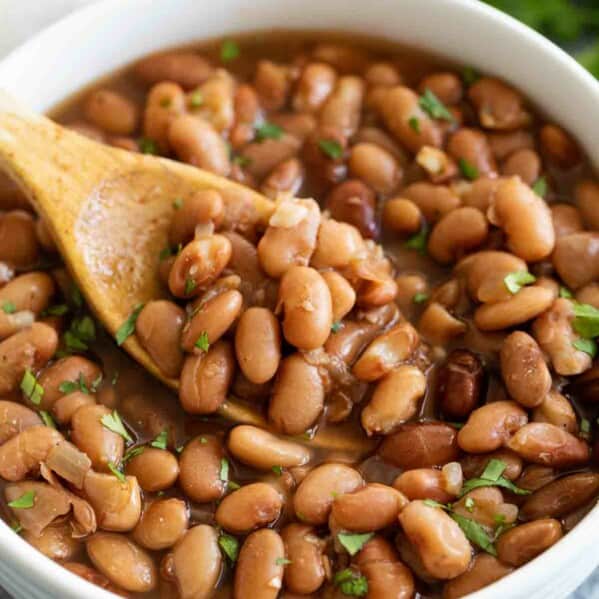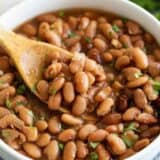 Instant Pot Pinto Beans
---
Author:
Prep Time: 10 minutes
Cook Time: 50 minutes
Total Time: 1 hour 30 minutes
Yield: about 6 cups 1x
Category: Side Dish
Method: Instant Pot
Cuisine: Mexican
Description
Have home cooked beans in much less time with these Instant Pot Pinto Beans. No soaking time is needed to have tender, perfectly spiced beans in just an hour and a half!
---
Scale
Ingredients
1 pound dry pinto beans (2 cups)
6 cups distilled water*
1 medium onion, diced
1 jalapeño pepper, cut in half lengthwise
4 cloves garlic, minced
1 teaspoon chili powder
1 teaspoon kosher salt
1/2 teaspoon black pepper
---
Instructions
Rinse the beans and remove any pebbles or debris. Place the rinsed beans in the Instant Pot.
To the pot, add the water, onion, jalapeño, garlic, chili powder and salt. Stir to combine.
Place the lid on the pot and turn the valve to seal.
Select high pressure and 50 minutes for the cook time.
Once the time has passed, let the pressure release naturally for 15 minutes, then finish with a quick pressure release. When the valve drops, carefully remove the lid.
Remove the jalapeño and stir in the pepper. Add more salt to taste, if desired.
Recipe Notes:
*Our water is pretty hard, so I find that the best way to ensure soft beans is to use distilled water. If you don't have super hard water, you may be able to use tap water instead.
Nutrition information provided as an estimate only. Various brands and products can change the counts. Any nutritional information should be used as a general guide.
Nutrition
Serving Size: 1/2 cup
Calories: 95
Sugar: 0 g
Sodium: 270 mg
Fat: 0 g
Saturated Fat: 0 g
Unsaturated Fat: 0 g
Trans Fat: 0 g
Carbohydrates: 18 g
Fiber: 6 g
Protein: 6 g
Cholesterol: 0 mg
Keywords: Instant Pot Pinto Beans, pressure cooker beans, pinto beans recipe, instant pot beans