Homemade lemon ice cream is topped with a meringue like marshmallow sauce, then sprinkled with graham cracker crumbs, reminiscent of lemon meringue pie.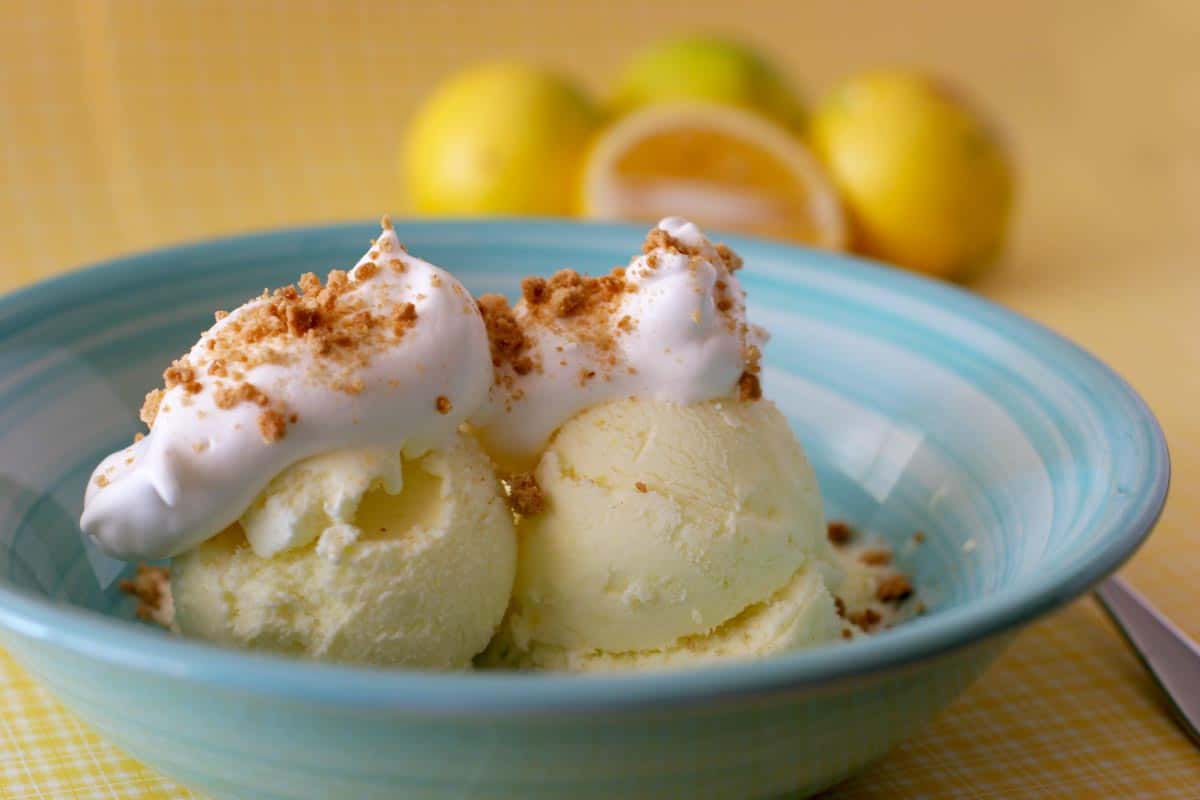 For part of our summer vacation, we went to the Oregon coast. It was my first time to Oregon, and it really is a beautiful place!! My father in law grew up in Oregon, and still has a lot of family out there, so we went out for a family reunion. One of the days, we stopped by to visit my father in law's aunt, aunt Dorothy. Her house had the most amazing view of the ocean! And even though the weather was a bit chilly and foggy, I still decided I could spend every day out on her back deck and be happy!
Especially when I looked down from the deck and saw a beautiful sight – a huge lemon tree. FULL of lemons. I quickly grabbed my husband and dragged him over to see. Oh, how I wish I could grow lemons here in Utah! My husband went down and picked a few. Upon looking at them, I said that they looked like Meyer lemons to me. I wasn't quite sure, because I've only seen them for sale her in Utah a handful of times. But my husband asked aunt Dorothy, and sure enough, they were Meyer lemons. Not only was I in heaven at the sight of that tree, but I was even more in love knowing they were Meyer lemons!
Neither my husband or his mom had ever heard of Meyer lemons, so we cut open a few of them and squeezed them generously into our sodas. They quickly learned why I was so excited that they were Meyer lemons.
My husband's uncle picked a huge bag full of lemons, and we were able to take a few home. When I got home, I immediately started thinking about what I wanted to make with some of them. Ice cream was the first thing to enter my mind. So I went to this month's Cookbook of the Month and found a recipe!
Now this ice cream is not your typical creamy ice cream. First of all, it's not custard based, and I have yet to find a non-custard based ice cream that is really creamy. Second, it is made with half and half. So while it is a little more figure friendly, you do sacrifice some of that creaminess. But it is still delicious!
The marshmallow sauce was not really what I was expecting. I was expecting the kind that you get out of a jar. But this really is like meringue. In fact, it is very similar to the actual meringue recipe I use for lemon meringue pie! It doesn't keep very long, so make sure to make it right before you plan on serving it. And don't plan on saving any for later, because it doesn't save.
I sprinkled my "mock lemon meringue pie" with graham cracker crumbs to give it even more of that pie feeling. And then I ate every bite and licked the bowl clean!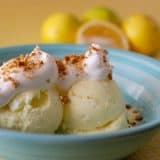 Lemon Ice Cream with Marshmallow Sauce
---
Author:
Category: Dessert
Method: Frozen
Cuisine: American
Description
Homemade lemon ice cream is topped with a meringue like marshmallow sauce, then sprinkled with graham cracker crumbs, reminiscent of lemon meringue pie.
---
Scale
Ingredients
Ice Cream:
2 lemons, preferably unsprayed
1/2 cup sugar
1/2 cup freshly squeezed lemon juice (from about 3 lemons)
2 cups half-and-half
pinch of salt
Marshmallow Sauce:
3/4 cup cold water
1 envelope (1/4 ounce) unflavored powdered gelatin
1/4 cup sugar
1/2 cup light corn syrup
1 large egg white
Big pinch of salt
1 teaspoon vanilla extract
Optional:
---
Instructions
Ice Cream:
Zest the lemons directly into a food processor or blender. Add the sugar and blend until the lemon zest is very fine. Add the lemon juice and blend until the sugar is completely dissolved. Blend in the half-and-half and salt until smooth.
Chill for 1 hour, then freeze the mixture in your ice cream maker according to the manufacturer's instructions.
Marshmallow Sauce:
Pour 1/2 cup of the cold water into a small bowl and sprinkle the gelatin over the top; set aside. In a small, heavy-duty saucepan fitted with a candy thermometer, mix the remaining 1/4 cup water with the sugar and corn syrup. Put the egg white in the bowl of an electric stand mixer.
Bring the sugar syrup to a boil. When the syrup reaches about 225°F, begin beating the egg white with the salt. Once the syrup reaches 240°F and the egg white is stiff, pour the hot syrup into the mixer bowl in a slow stream while beating on medium-high speed. (Aim the syrup between the whip and the side of the bowl to keep the syrup from clinging to the whip.)
Once you've added all the syrup, scrape the softened gelatin into the warm saucepan and stir, allowing the heat of the pan to melt the gelatin. Pour the gelatin into the egg white mixture while whipping, as you did with the sugar syrup. Continue to beat until the mixture cools to room temperature, then whip in the vanilla. Serve this sauce as soon as possible after it's made.
For Serving:
Scoop the ice cream in a bowl, then top with marshmallow sauce.
Sprinkle graham cracker crumbs on top then serve immediately.