Tart and sweet and not lacking at all in lemon flavor, this Lemon Ice Cream is the perfect summertime citrus treat.
If you know me, you know I love lemon!! Try some more of my favorite lemon recipes, like this Lemon Meringue Pie, Lemon Cheesecake, Lemon Ricotta Cookies, or Shortbread Lemon Tart.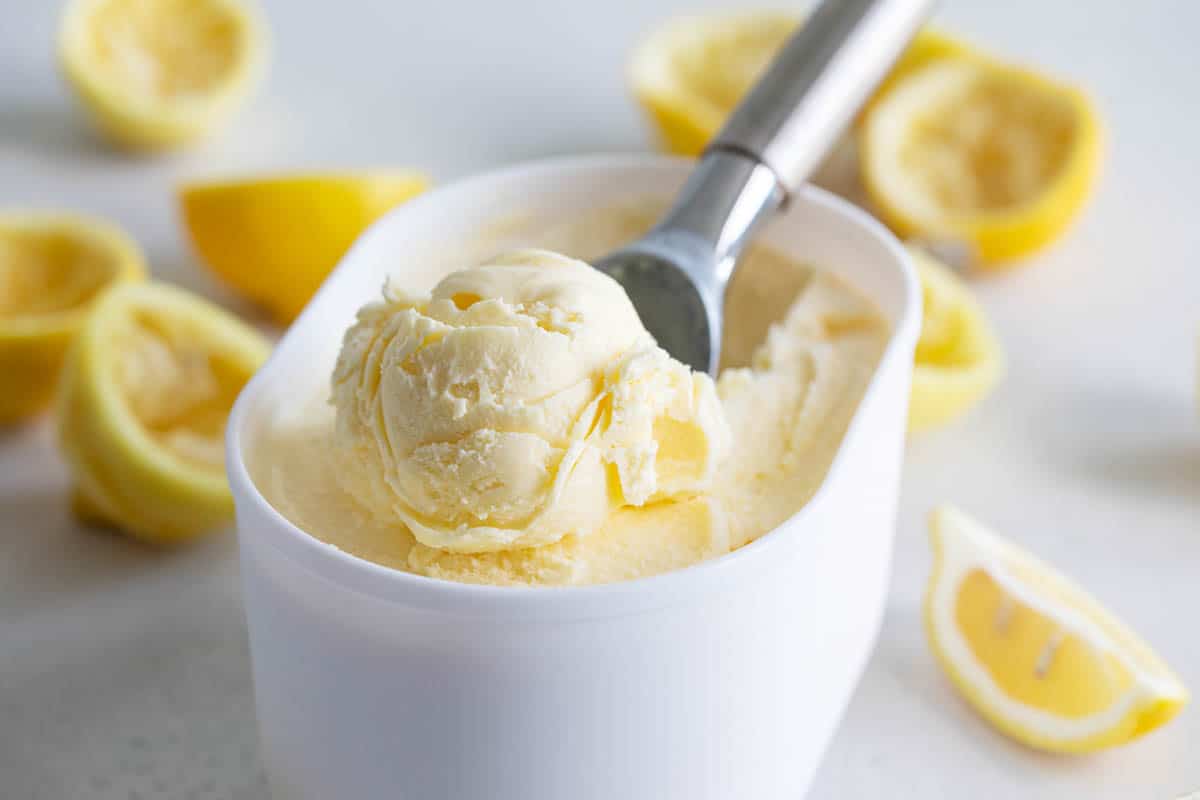 Lemon ice cream will forever and always remind me of my grandma. I think her ice cream was at every family reunion, and every family get together in the summer. So it has always been a favorite.
This recipe is not grandma's, (hers uses lemon pudding mix and raw eggs), but I still can't help but think of her every time I eat this ice cream.
When it comes to lemon, I am a tart lemon lover. So I wanted lots of tart and sweet in this ice cream recipe, and that is for sure what you get! And the good thing is that you can always cut back on the lemon zest to tone down the tartness. But if you ask me, it's pretty perfect the way it is.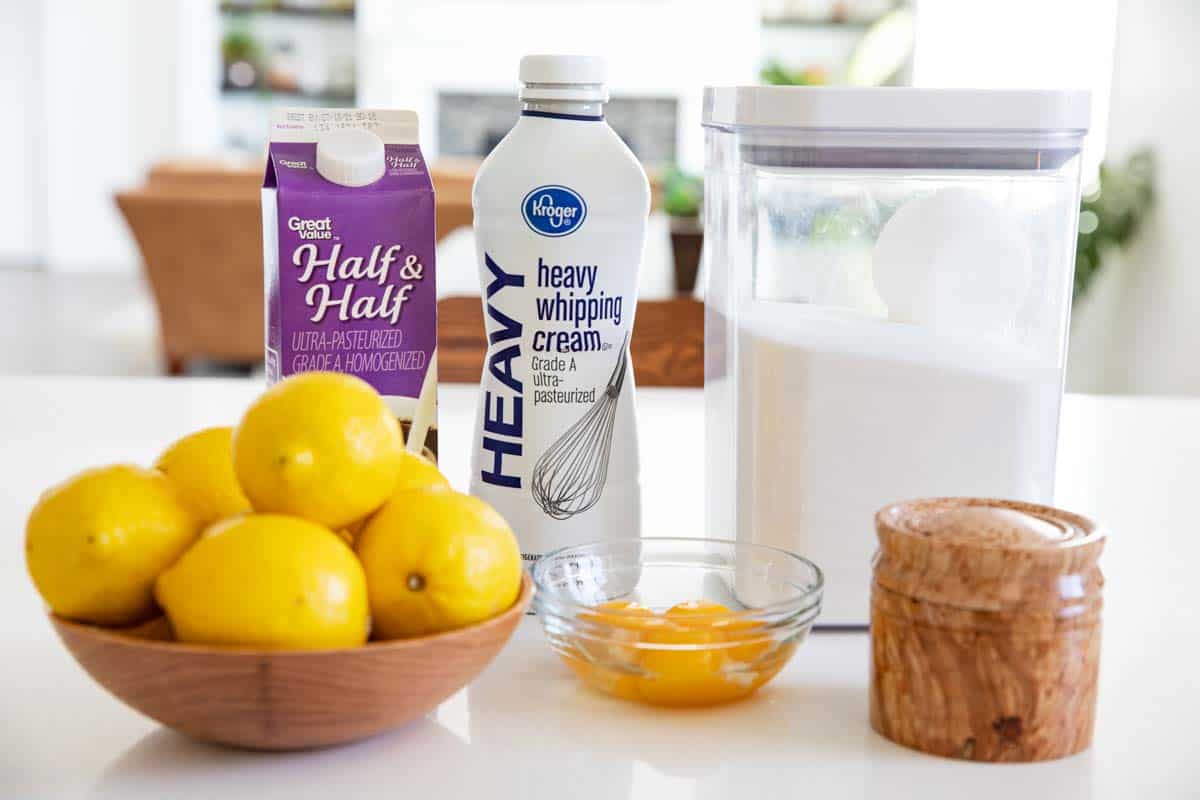 What You'll Need
This recipe is similar to Vanilla Ice Cream, but adding in lots of lemon flavor! Here is what you need:
Heavy Whipping Cream – you want the full fat stuff here. It won't be nearly as creamy if you use lower fat cream.
Half-and-Half – this will cut some of the fat. You could technically use whole milk here, but then again, your ice cream won't be as creamy.
Sugar – Regular white, granulated sugar. You could probably use a sugar substitute, but I haven't tested the recipe with any.
Lemon Zest – I like my ice cream with lots of lemon flavor and plenty of tartness, so I use the full 3 tablespoons of zest. You can cut back on this amount if you want a more subtle flavor.
Salt – this will help balance out the sweetness.
Egg Yolks – As much as I love the idea of a simple no churn ice cream, my favorite will always be a custard based recipe like this one.
Lemon Juice – Because you are adding lemon juice, the ice cream won't be quite as creamy as a regular vanilla ice cream. (Which is another reason to make sure you use heavy cream!) And again, if you want to cut back and make the ice cream a little more mellow, you can cut back on the amount of lemon juice.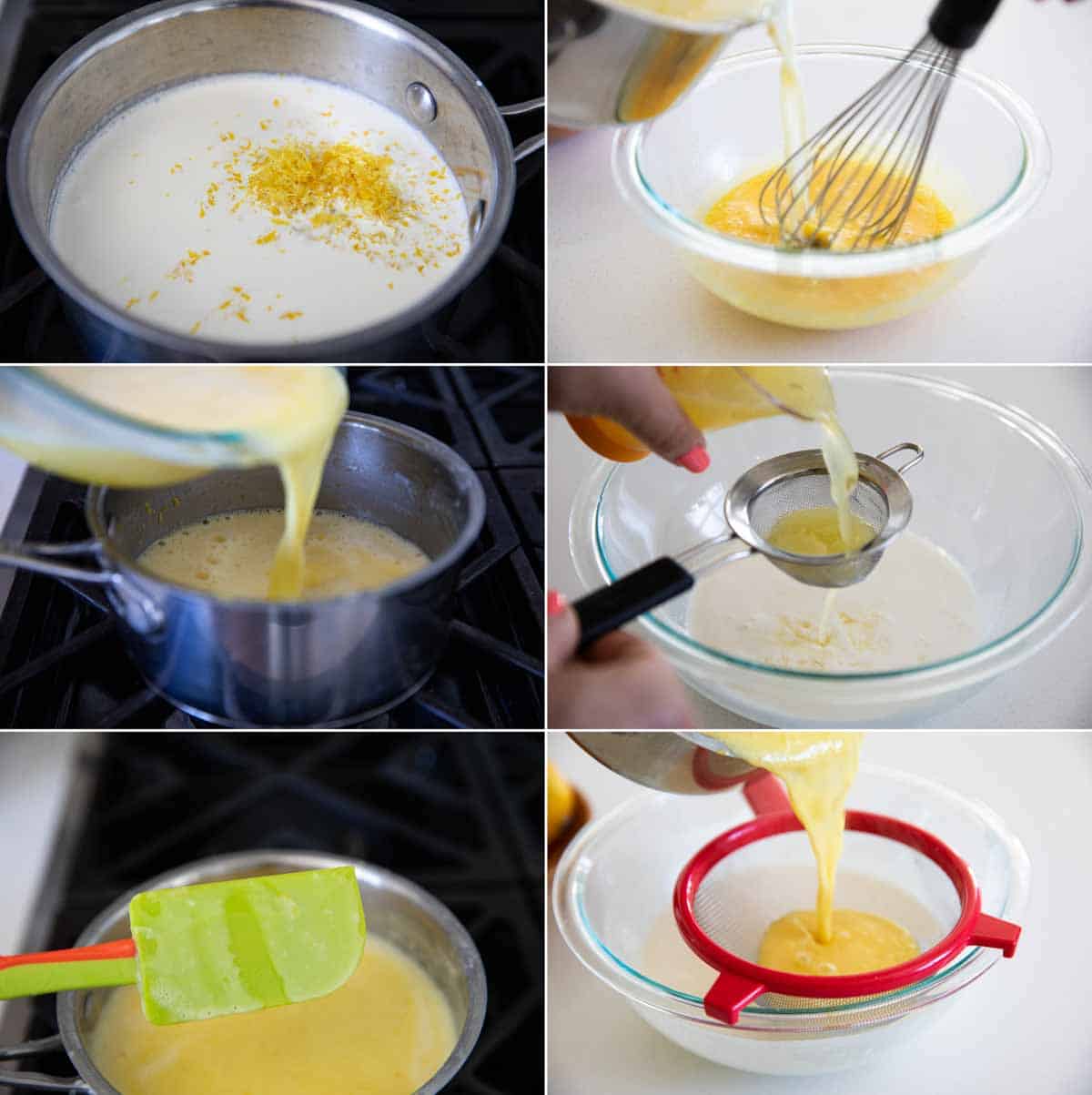 How to Make It
STEEP: Combine 1 cup of the cream, the half-and-half, sugar, lemon zest and salt and cook until the sugar is dissolved. Cover and let the mixture steep for 30 minutes.
CUSTARD: Beat the egg yolks, then slowly whisk the warm milk into the eggs. Return it all to the pan and cook until it has thickened enough to coat the back of a spoon.
STRAIN: Strain the lemon juice into the remaining cream, then strain the custard into the mixture to mix it all together.
COOL AND CHURN: Refrigerate the mixture until it is chilled completely, then churn in your ice cream maker.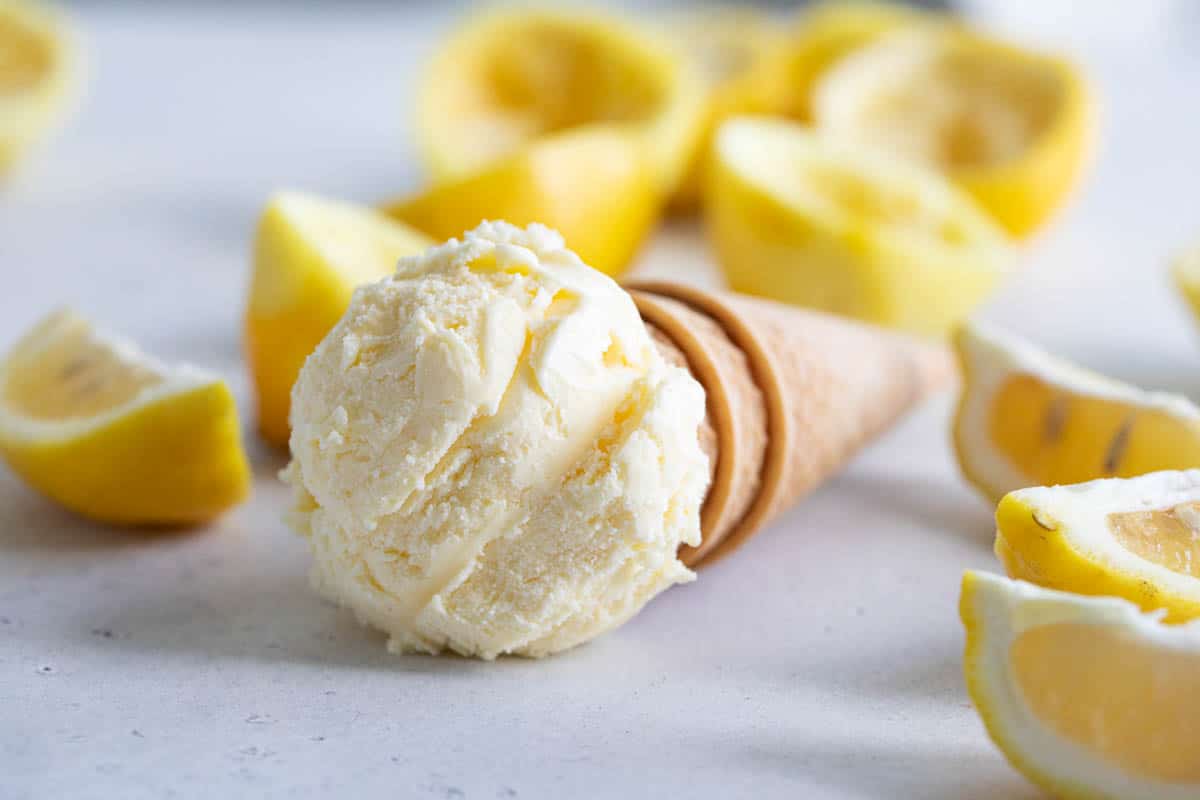 Tips and Tricks
I would suggest using fresh lemon juice. You need the zest anyway, and bottled lemon juice is never as good as fresh.
You will need an ice cream maker to make this ice cream. I have a fairly inexpensive one (this Cuisinart – affiliate link) and it works just fine.
When the ice cream comes out of the ice cream maker, I like to put it in a freezer safe container and freeze it until firm. With my ice cream maker, it is the consistency of soft serve when it is finished churning, so I like to firm it up.
This would be a great base. Add in some coconut, cookie pieces, or even chocolate chunks. Or just keep it simple and let the lemon flavor shine!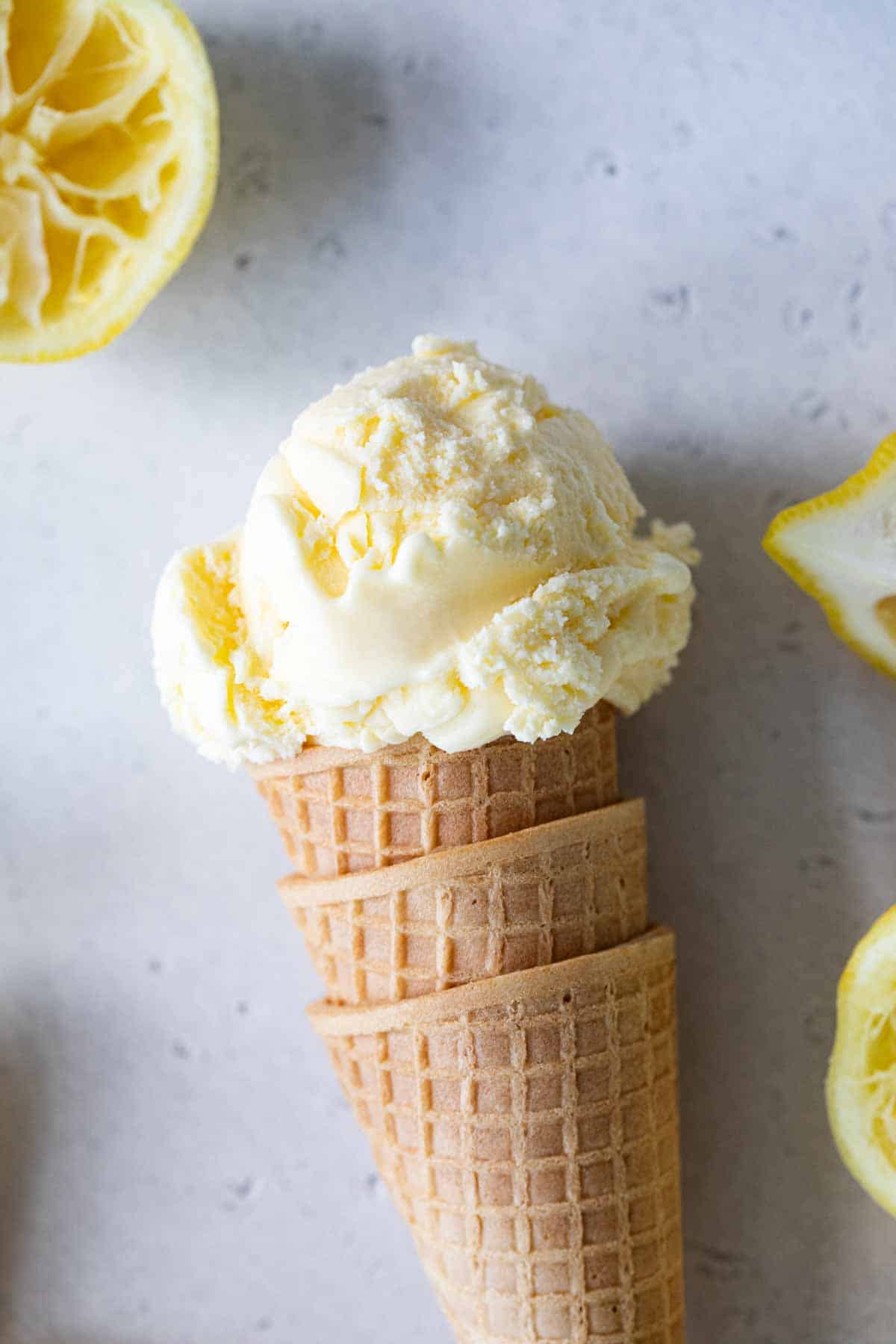 More Ice Cream Recipes
Fried Ice Cream Recipe with Cinnamon Sugar Tortilla Bowls
Red Velvet Ice Cream with Marshmallow Swirl
Toasted Coconut Ice Cream
Salted Caramel Ice Cream with Fudge and Toasted Coconut
Mango Sorbet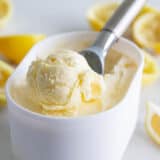 Lemon Ice Cream
---
Author:
Prep Time: 10 minutes
Cook Time: 15 minutes
Total Time: 9 hours 30 minutes
Yield: 1 1/2 quarts, 10 servings 1x
Category: Dessert
Method: Frozen
Cuisine: American
Description
Tart and sweet and not lacking at all in lemon flavor, this Lemon Ice Cream is the perfect summertime citrus treat.
---
Scale
Ingredients
2 cups heavy whipping cream, divided
1 cup half-and-half
1 cup granulated sugar
2–3 tablespoons freshly grated lemon zest
Pinch of salt
5 egg yolks
3/4 cup freshly squeezed lemon juice
---
Instructions
In a medium saucepan, combined 1 cup of the heavy cream, the half-and-half, sugar, lemon zest and salt. Place over medium heat and cook, stirring, until the sugar has dissolved. Turn the heat off and place a cover over the pan and let the mixture sit for 30 minutes.
Place the egg yolks in a bowl and beat lightly.
When the cream mixture has sat for 30 minutes, gradually stir the mixture into the eggs, whisking the eggs continuously. Pour the mixture back into the saucepan and return it to medium heat. Cook, stirring constantly with a spatula, until the mixture is thick enough to coat the back of a spoon.
In a large bowl, combine the remaining cup of cream and the lemon juice. (I like to run the lemon juice through a sieve to keep any pulp and seeds out.) Place a large strainer over the mixture and pour the thickened mixture in the strainer to remove any lumps and the lemon zest.
Stir the mixture together well and cover with plastic wrap. Refrigerate until completely chilled, preferably overnight.
Once chilled, freeze the ice cream according to your ice cream maker's manufacturer instructions.
*At this point, my ice cream is the consistency of a soft serve ice cream, so I like to place it in a freezer safe container and freeze until fully set up.
Recipe Notes:
For very tart ice cream, add the full 3 tablespoons of lemon zest. For not as much tartness, add 2 tablespoons.
Nutrition information provided as an estimate only. Various brands and products can change the counts. Any nutritional information should be used as a general guide.
Nutrition
Serving Size: 1/2 cup
Calories: 289
Sugar: 21 g
Sodium: 52 mg
Fat: 23 g
Saturated Fat: 12 g
Unsaturated Fat: 0 g
Trans Fat: 0 g
Carbohydrates: 23 g
Fiber: 0 g
Protein: 1 g
Cholesterol: 97 mg
Keywords: lemon ice cream, lemon ice cream recipe, homemade ice cream, lemon dessert, summer dessert