This Easy Waffle Recipe makes basic waffles that are light and fluffy. Serve with maple syrup or with your favorite fruit and jam.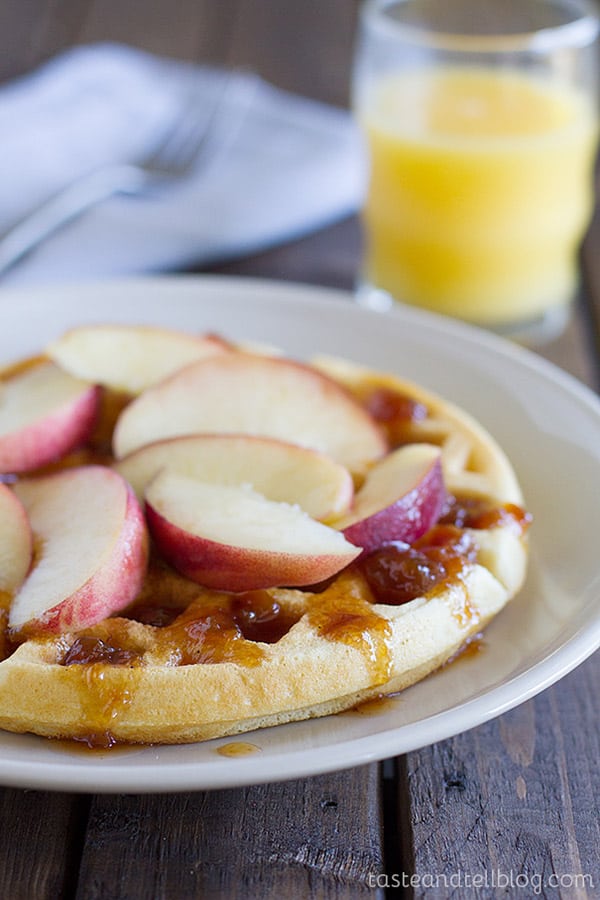 Photos Updated June 2014
I love waffles. I love peaches. So I really love it when you put the two together – like with this Easy Waffle Recipe!!
I might be posting every day through the end of this month. I have so many dishes that I want to blog about (like this waffle post that has been sitting on my computer for over a month), plus a Daring Bakers post coming up on Monday, plus the last of my adventures with my first Cookbook of the Month. So here goes!!
Peaches are no longer at their prime here, but as I mentioned above, I made this over a month ago. I bought a box of peaches because I wanted to try my hand at making peach jam. So I did it, and it wasn't nearly as hard as I expected it to be!! I wasn't sure how much jam the recipe I was using would yield, so I just went to town on the peaches. The most labor intensive part of making the jam was peeling and chopping the peaches, but it really wasn't that bad. But I ended up with a HUGE bowl full of peaches, and in the end, I ended up with a TON of jam. So I'm guessing that my friends and family will be receiving jam for Christmas this year!! I ended up making 2 batches. In the first batch, I added some vanilla bean seeds at the very end, but I haven't tried the vanilla version yet. I will report back when I do.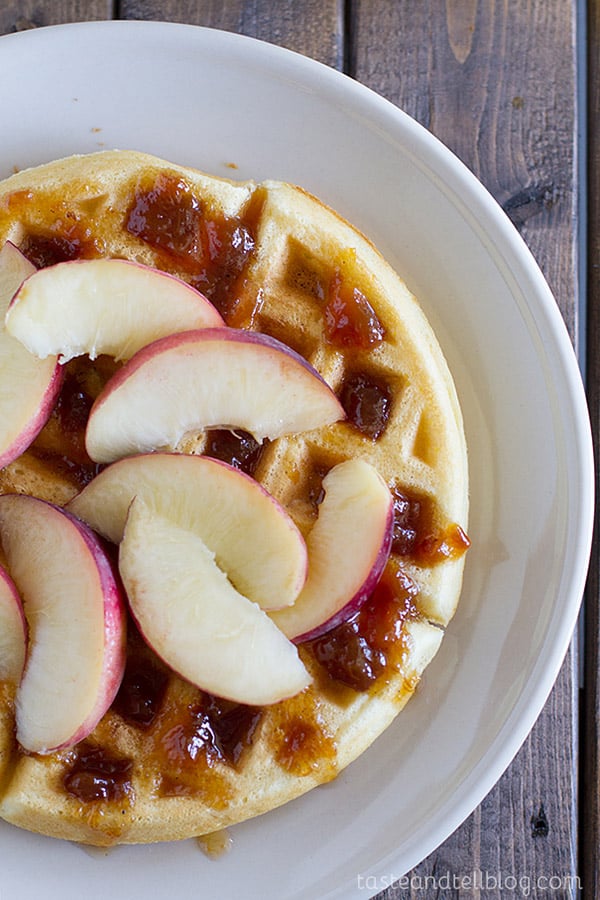 So what to do with the rest of the peaches?? I made a pie, and still had quite a few, and I didn't want these wonderful peaches to go to waste. So I made breakfast on a Saturday morning. I don't usually make breakfast. Not that I don't like it – but my husband is just the designated breakfast-maker. But I wanted to use the peaches, and my husband was going golfing, so I whipped up a batch of waffles for him to eat before he left.
This is my all-time favorite easy waffle recipe. What makes it different? Most of the waffles I have ever had are quite heavy and very filling. These are very light. In fact, my brother in law came over (he was going golfing with my husband) so I offered him some waffles to eat before they left. He accepted, but only took one square. After eating it, he told me that he only took one square because he is usually not a waffle lover because of how heavy they are, but these were definitely different. He ended up eating more. 🙂
We ate these with some of the peach jam and with fresh peaches on top. Mmmmm, now I'm craving waffles!!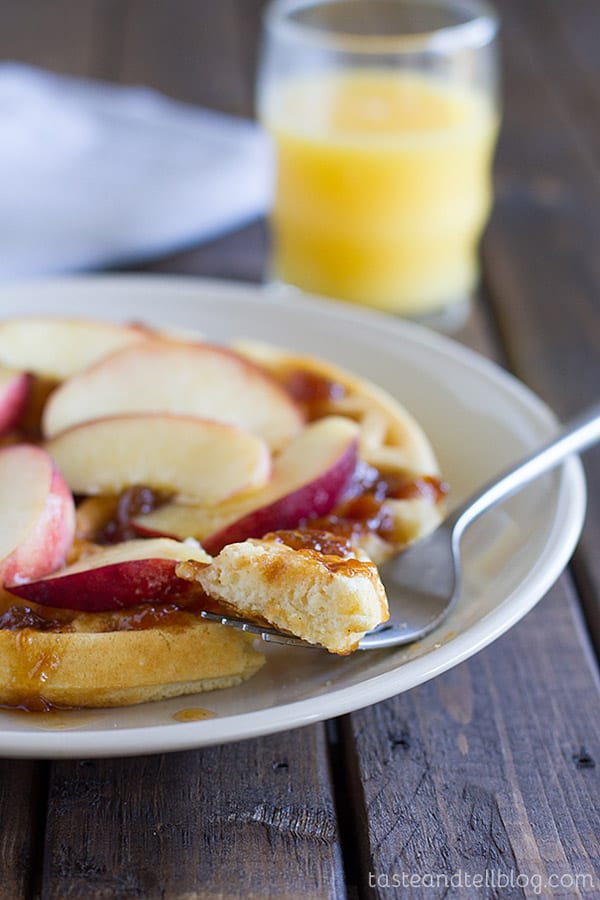 Like what you see here? Make sure you are following Taste and Tell for more recipes and ideas!
Facebook | Pinterest | Instagram | Twitter | Google+ | Weekly Newsletter | Feedly | Bloglovin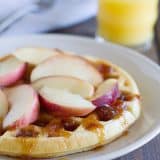 Easy Waffle Recipe
---
Prep Time: 15 mins
Cook Time: 15 mins
Total Time: 30 mins
Yield: 4 servings 1x
Description
This Easy Waffle Recipe makes basic waffles that are light and fluffy. Serve with maple syrup or with your favorite fruit and jam.
---
Scale
Ingredients
1 3/4 cups all-purpose flour
1 tablespoon baking powder
1/4 teaspoon salt
1 3/4 cups milk
2 eggs, separated
1/4 cup vegetable oil
---
Instructions
Preheat a waffle maker to high.
In a large mixing bowl, combine the flour, baking powder and salt. Make a well in the center of the mixture.
In a small bowl (or I use a large measuring cup) combine the milk, 2 egg yolks and the oil. Beat to break up the egg yolks and combine. Pour into the middle of the dry ingredients and stir just until moistened. The batter will still be lumpy.
In another bowl, beat the egg whites until they have stiff peaks. Add 1/4 to 1/3 of the egg whites to the batter and stir to combine and lighten the batter. Add the rest of the whites and fold gently until no white streaks appear.
Cook the waffles according to the directions of your waffle maker.
Don't miss a thing! Follow me on Pinterest to see what I'm pinning!
Visit Taste and Tell's profile on Pinterest.


More Waffle Love: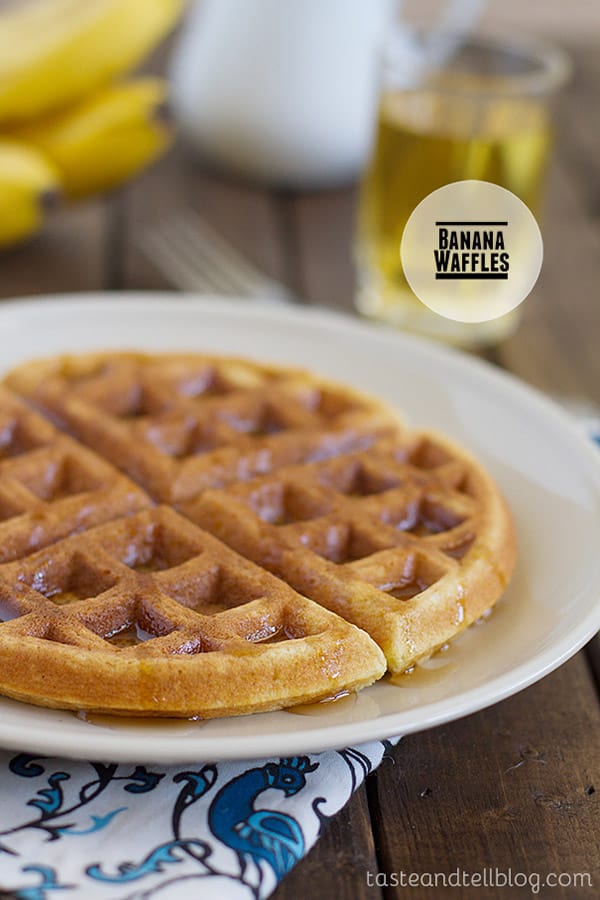 Around the Web:
Cake Batter Birthday Waffles from Dear Crissy
Apple Cider Waffle Recipe from Add a Pinch
Coconut Waffles from Belly Full