This is the best Waffle Recipe! It makes easy waffles that are light and fluffy. Serve with maple syrup or with your favorite fruit and jam.
If you love this waffle recipe, make sure you check out my other breakfast recipes, including one of my favorite muffin recipes.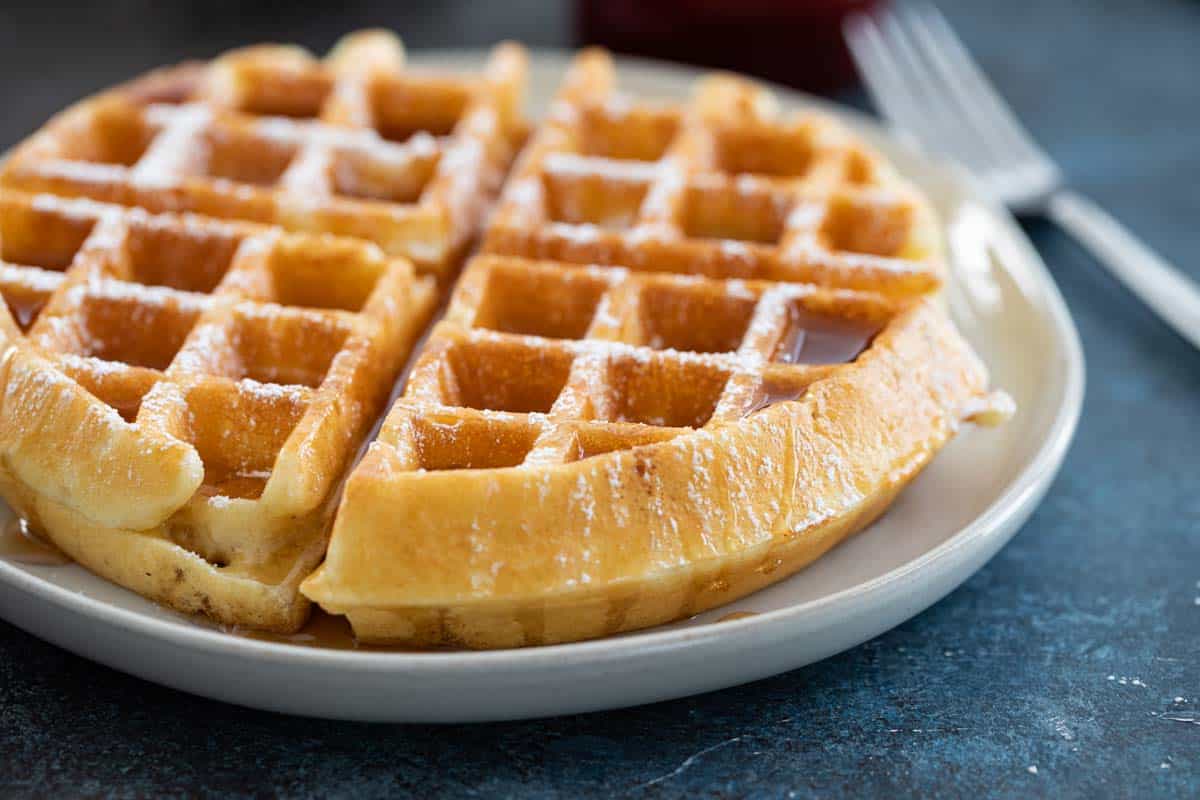 The Best Waffle Recipe
When it comes to breakfast, we are a house divided. My daughter and one of my sons are pancake lovers, while my husband and my other son are team waffles. I don't complain, because I really do love both of them.
Whether waffles or pancakes, though, we all have a deep love of breakfast. So really, there are no complaints when I make this waffle recipe for breakfast.
This is one of those recipes that I have made countless times. As much as we love a fancy flavored waffle, we always go back to this basic waffle recipe. It's been made so many times for a reason – it really is the best!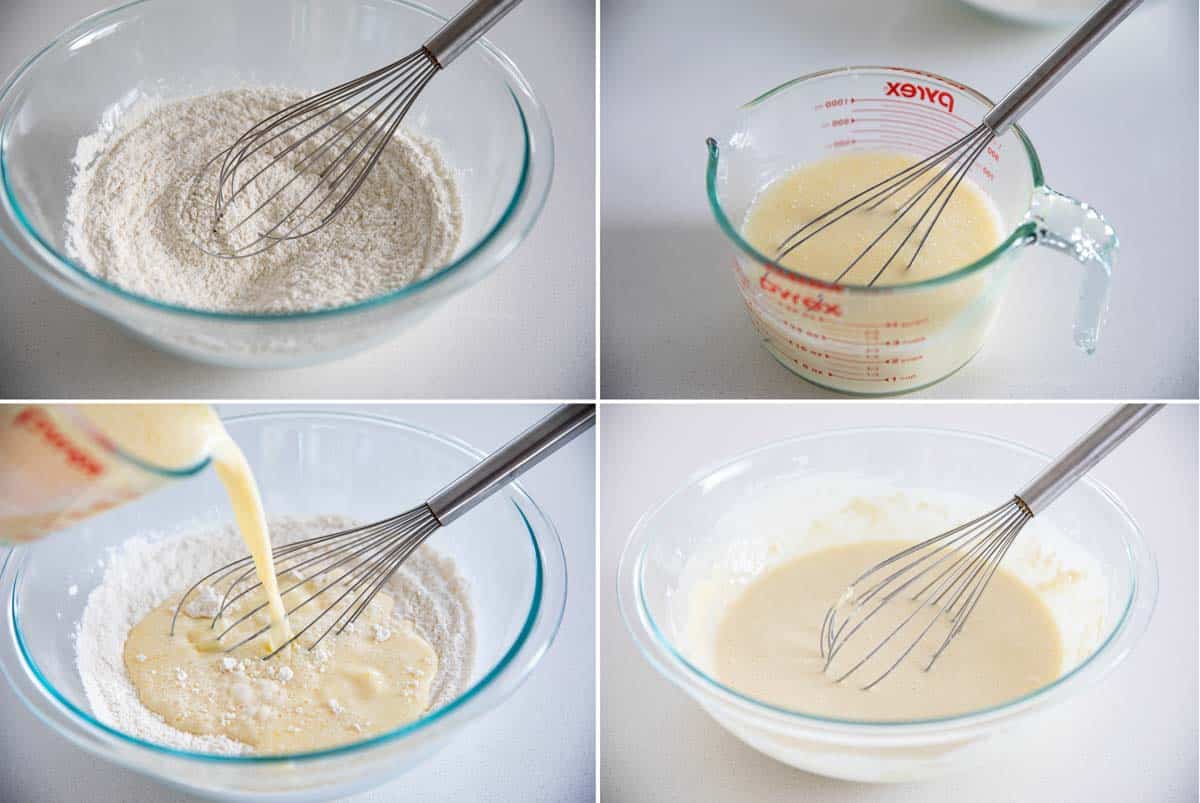 How to Make This Waffle Recipe
This recipe is so easy that I have it memorized now. And while it may take a step or two more than just using a mix, the flavor and texture are totally worth it! Here's how you make them:
DRY: Start by whisking together your dry ingredients.
WET: In another bowl or measuring cup, mix together the wet ingredients except for the egg whites.
POUR: Pour the wet ingredients into the dry ingredients.
MIX: Mix the two together, just until barely moistened. Do not overmix.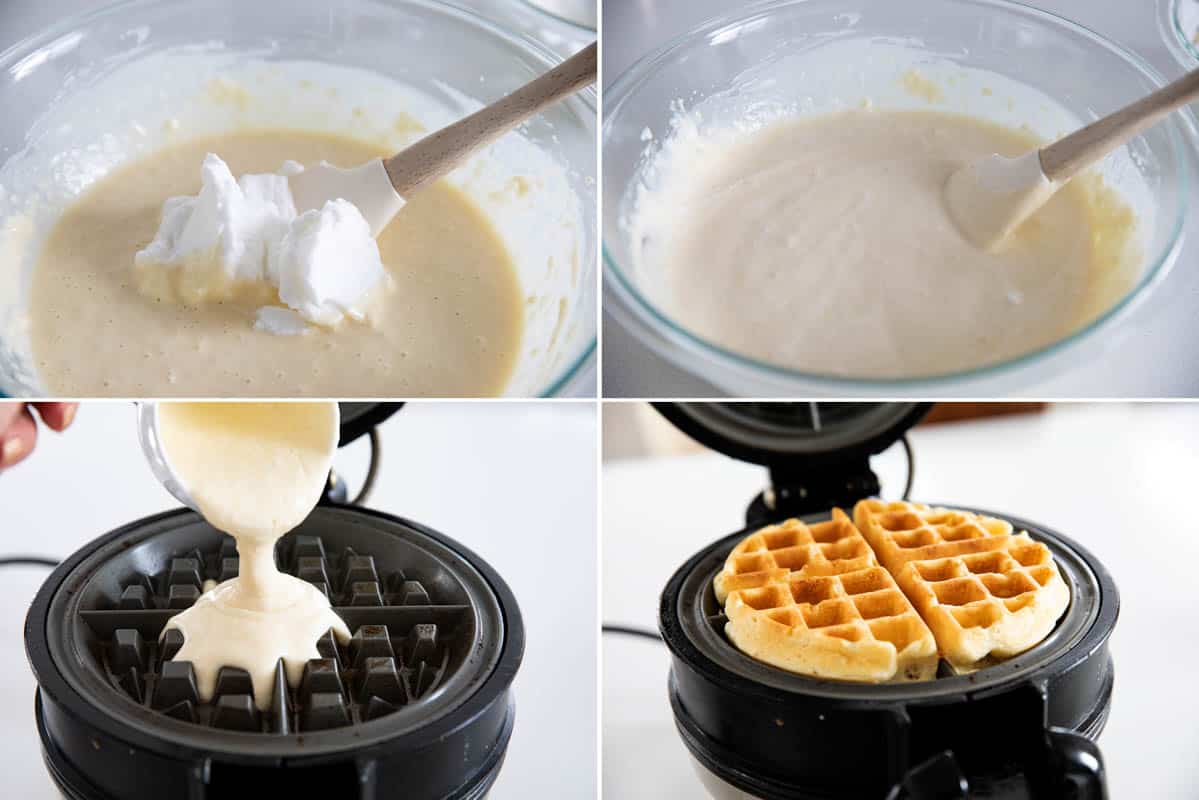 BEAT: Beat the reserved egg whites until they are stiff. Add about 1/4 of the egg whites to the batter and mix to combined.
FOLD: Add the remaining egg whites and gently fold them in, just until no more white remains. Again, do not overmix!
POUR: Pour the batter onto your waffle maker.
BAKE: Bake according to the directions for your waffle maker. All waffle makers are a little bit different, so cook times will vary.
Tips and Tricks
As much as I hate to say this, the waffle maker will make a difference. I've probably been through dozens of waffle makers, and many don't cook hot enough to crisp up the outside, leaving you with limp, soggy waffles. So if you are having lots of problems with your waffles, you may want to try a new waffle maker. The waffle maker I use is no longer in production, but it is similar to this waffle maker. If you don't love your waffle maker, ask around and try a new one – it might make all the difference.
I like to use a deep waffle maker, often called Belgian Waffle Makers. I like that you get the crisp exterior and a tender, fluffy interior.
I hate doing extra dishes, so I just use a large liquid measuring cup to not only measure, but also to mix the wet ingredients.
I don't always add sugar, especially when we are just eating these with syrup, which is already sweet. But for grab and go, I like the little bit of added sweetness.
You can totally skip the separated eggs, but you won't have a waffle that is as light or fluffy. But they are still delicious. I think the extra few minutes are totally worth it, though!
Unless I'm in a hurry, I usually don't start preheating the waffle maker until my batter is ready because I like to let it sit for a bit before using it. It gives the batter some time for the baking powder to activate and make the waffles nice and fluffy.
I use regular 2% milk. If you have buttermilk, you can definitely use it, and you will get great results. But I love this recipe because it only uses ingredients I always have on hand.
Add some vanilla extract (anywhere between a teaspoon and a tablespoon) for even more flavor.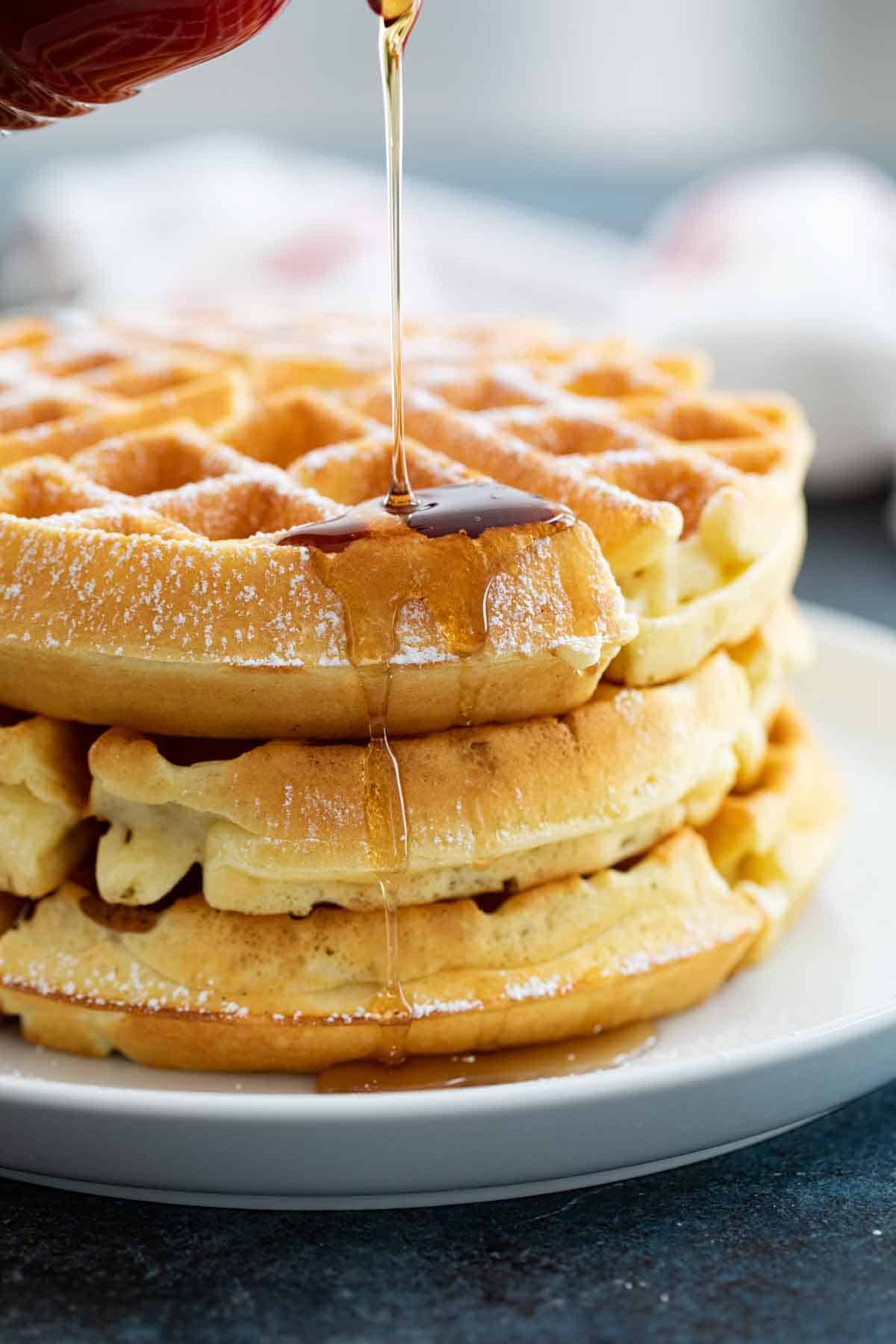 Ideas for Waffle Toppings:
We usually just use powdered sugar or maple syrup, but here are some other waffle topping ideas!
Whipped Cream
Berries
Sliced Peaches
Chocolate Sauce
Caramel Sauce
Nutella or Biscoff Spread
Peanut Butter
Reheating and Freezing Waffles
These waffles are super easy to reheat and freeze. In fact, I like to make a double batch and save some for later in the week or freeze for another day.
Storing Leftover Waffles
Leftover waffles can be stored in the refrigerator for 2-3 days. Make sure they are covered. I like to use a ziplock bag or a glass dish with a lid.
Freezing Leftover Waffles
Once the waffles are cool, I like to place the waffles on a baking sheet in a single layer and place in the freezer. Let them freeze for 30-60 minutes, then you can take them and stack them in a freezer safe container or freezer bag.
Reheating Waffles
When you are ready to use the waffles, we simply put them in the toaster (if you have a toaster that will fit them) or place them in the oven just until they are thawed and crisped back up. You'll want to cook them at around 250ºF for 10-15 minutes, depending on if they are frozen or not. I do not recommend reheating these in the microwave.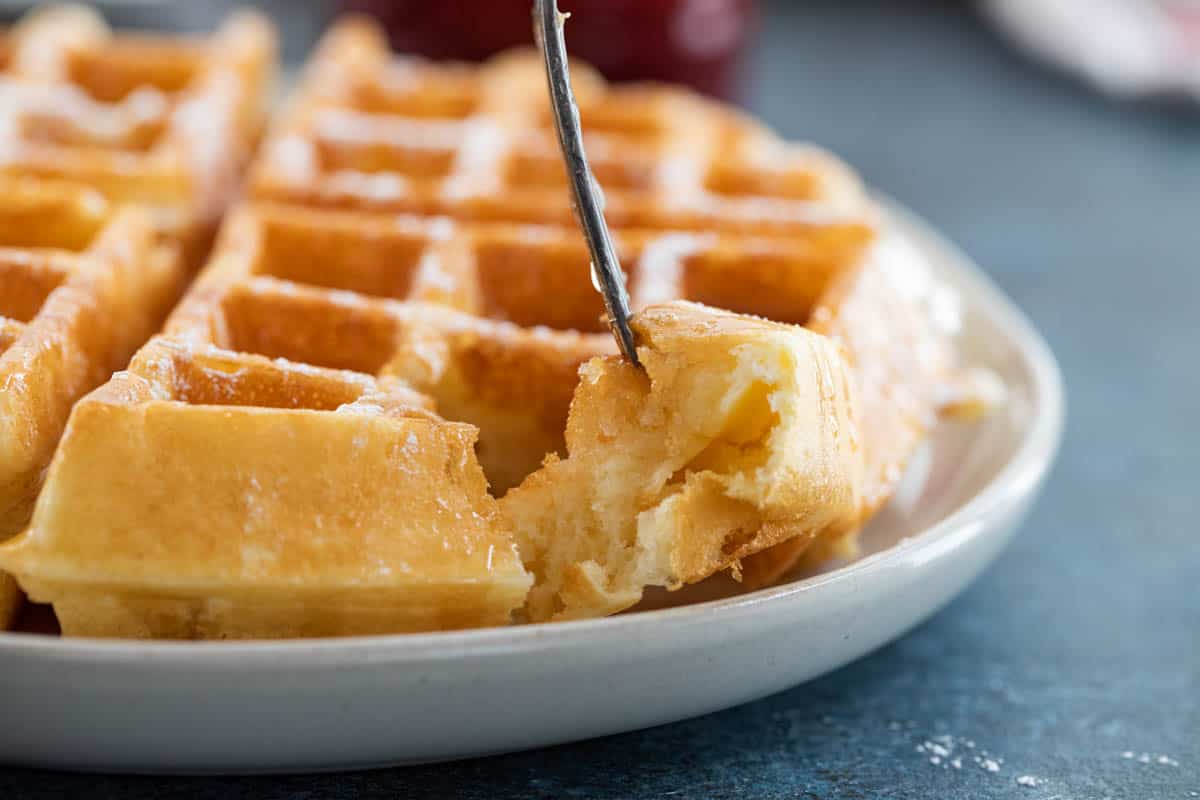 More Waffle Recipes
Liege Waffles
Banana Waffles
Blueberry Waffles
Chocolate Waffles
Red Velvet Waffles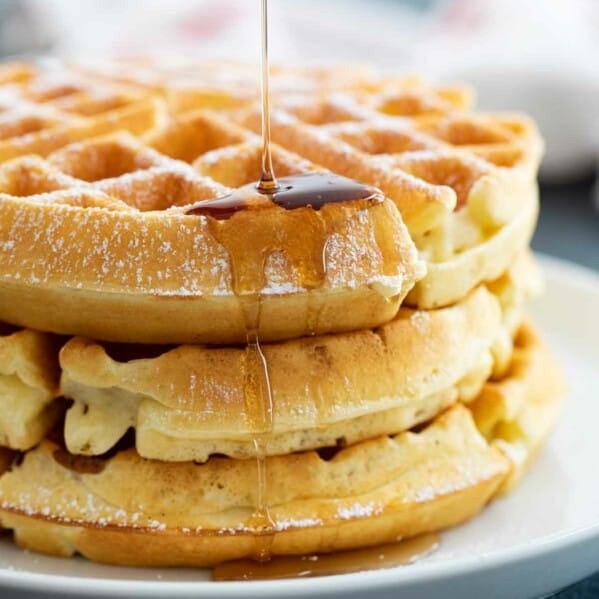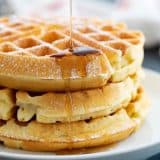 Waffle Recipe
---
Author:
Prep Time: 15 mins
Cook Time: 15 mins
Total Time: 30 mins
Yield: 6 servings 1x
Category: Breakfast
Method: Bake
Cuisine: American
Description
This is the best Waffle Recipe! It makes easy waffles that are light and fluffy. Serve with maple syrup or with your favorite fruit and jam.
---
Scale
Ingredients
2 cups all-purpose flour
1 tablespoon baking powder
1 tablespoon sugar (optional)
1/4 teaspoon salt
1 3/4 cups milk
1/4 cup vegetable oil
2 eggs, separated
---
Instructions
In a large mixing bowl, combine the flour, baking powder, sugar and salt. Make a well in the center of the mixture.
In a small bowl (or I use a large liquid measuring cup) combine the milk, oil and egg yolks. Beat to break up the yolks and combine.
Pour the liquid ingredients into the center of the dry ingredients. Stir just until moistened – the batter will still be lumpy.
In another bowl, beat the egg whites until they have stiff peaks.
Add about 1/3 of the stiff egg whites to the waffle batter and stir in in to combine and lighten the batter. Add the remaining egg whites and gently fold until no white streaks appear.
Heat a waffle maker to high.
Cook the waffles according to the directions on your waffle maker.
Recipe Notes:
Nutrition information provided as an estimate only. Various brands and products can change the counts. Any nutritional information should only be used as a general guideline.
Nutrition
Serving Size: 1/6 of recipe
Calories: 271
Sugar: 3 g
Sodium: 374 mg
Fat: 12 g
Saturated Fat: 2 g
Unsaturated Fat: 8 g
Trans Fat: 0 g
Carbohydrates: 34 g
Fiber: 1 g
Protein: 7 g
Cholesterol: 74 mg
Keywords: waffle recipe, waffles, easy waffle recipe, how to make waffles