Photo updated June 2012

Ahhhh, childhood memories…..My mom always cooked for us growing up. I don't remember ever going out – even to McDonald's. She made breakfast every day. Even though I am not very old, times sure have changed. I think a home-cooked breakfast every day is becoming rarer and rarer, so I applaud everyone who cooks breakfast every day!!
This was always one of my favorites growing up. My mom would make this wonderful lemon sauce to serve on top of our pancakes. It is super sweet and almost like eating desert – maybe that's why I liked it so much!!
When I saw that Barbara at winosandfoodies was hosting an event for LIVESTRONG Day, I knew that this would be my entry. I have not had anyone really close to me die of cancer, but I see that people all around me struggle with it every day. I actually just received and email about a man that served in my church 2 years ago that passed away earlier this week because of cancer. I think that this is a wonderful event that Barbara is hosting. So if you want to participate, head over to winosandfoodies for A TASTE OF YELLOW!!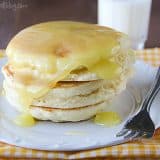 Lemon Sauce for Pancakes
---
Prep Time: 5 minutes
Cook Time: 10 minutes
Total Time: 15 minutes
Description
A perfect splurge for breakfast – a hot lemon sauce to top pancakes or waffles.
---
Scale
Ingredients
3/4 c sugar
2 T cornstarch
3 T lemon juice
2 egg yolks
3/4 c water
1/2 t to 1 t lemon extract
---
Instructions
Combine the sugar and cornstarch in a saucepan. Add in the lemon juice and stir. Add remaining ingredients, stir well, and cook over medium heat until thickened, stirring often.
*can also be made in the microwave
Original photo from 2007