Bring a little bit of England into the kitchen with this Crumpet Recipe. These Crumpets only take a few simple ingredients to make this delicious English snack.
Make your favorites at home! Instead of going out, try these Crumpets, Homemade Soft Pretzels, or your own Apple Cider Donuts.
Crumpet Recipe
A few years ago, I was gifted a cookbook – Good Food, Good Life by Curtis Stone. If you know me and my love of cookbooks, you would know that this is a perfect gift for me.
While I was looking through the cookbook, I stopped dead in my tracks when I saw a recipe for crumpets. You see, just the weekend before, I was in Seattle for just under 24 hours. I was on a mission to try as many places as I could, and one of those places was The Crumpet Shop in Pike Place Market. It was at that restaurant that I tried a glorious crumpet that was topped with ricotta and lemon curd. It was my last stop, and I almost didn't stop because the line was long and I was so full, but it ended up being probably my favorite thing that I ate. So needless to say, I had to make the crumpets.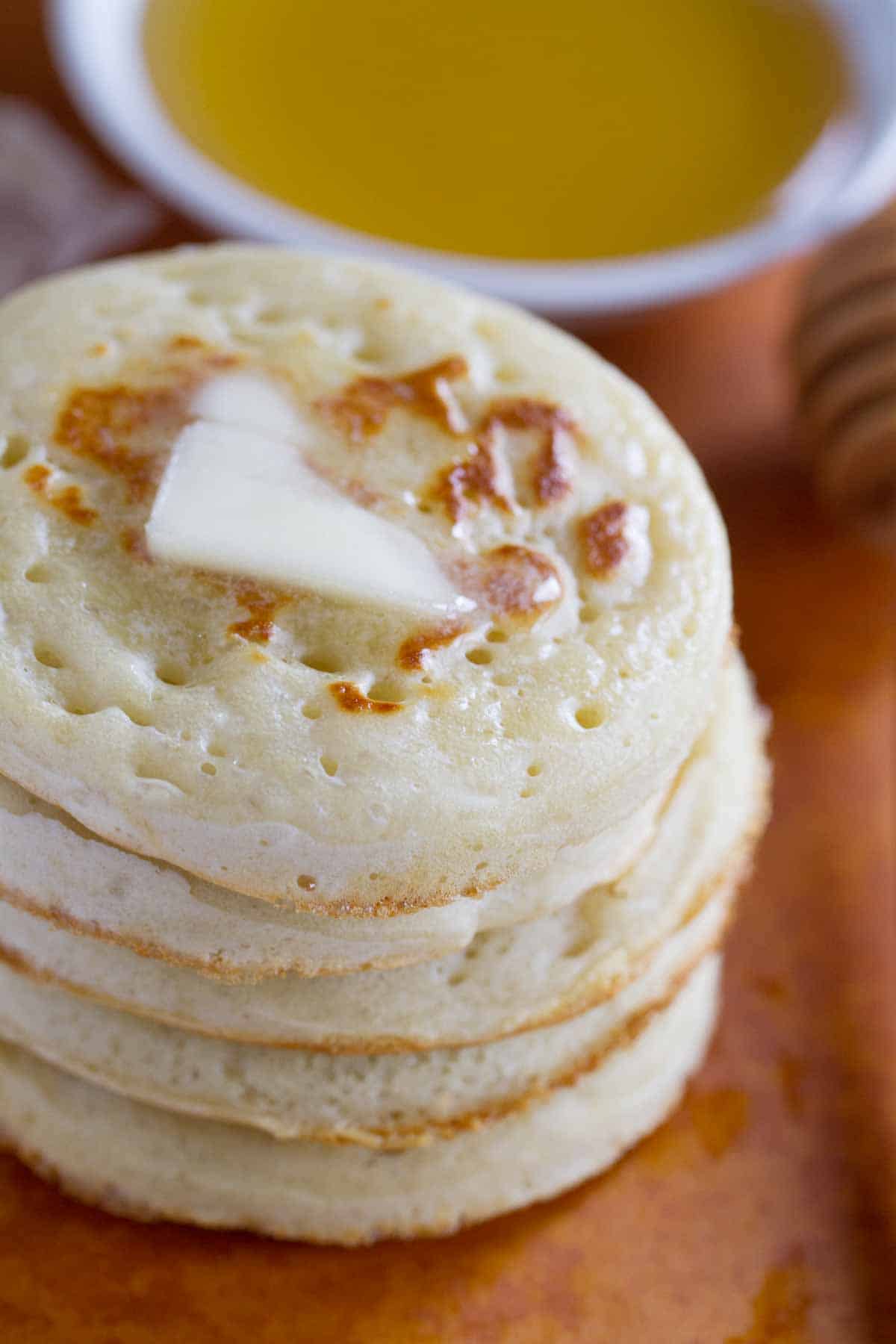 What is a crumpet?
A crumpet is a small griddle cake, usually made with just flour, water or milk, and yeast. Crumpets traditionally come from the United Kingdom, eaten for breakfast or with afternoon tea, depending on the region.
The crumpets of today are no doubt different than when they first originated, but that doesn't make them any less delicious! Crumpets are soft and almost spongy – the holes that form are the perfect vehicle for butter, honey and/or jam. They almost remind me of a fatter pancake with lots and lots of holes and crevices.
The Difference Between a Crumpet and an English Muffin
They may look somewhat similar, but crumpets and English muffins are not the same. While English muffins and crumpets are both a type of griddle cake, English muffins are breadier, and a lot dryer.
The dough/batter for each is also very different. Crumpets have a looser batter, more like a pancake batter, while English muffins are made from a dough. And just as a technicality, English muffins are split in half when they are eaten, while crumpets are not.
Here in the United States, English muffins can be found at any grocery store, but I have never seen crumpets sold at our grocery stores. (They might be found in some regions, but they are definitely not as easy to find as English muffins!)
How to Make Crumpets
Because crumpets are made with a looser batter, you do have to have a special ring to make them. There are rings that you can order online, called a crumpet ring, English Muffin ring, or egg ring. I bought these on Amazon. (affiliate link) I bought 2 packages, and the minimal investment was totally worth it. Because these babies are good.
These crumpets do take a little bit of time to make, but they are pretty simple.
Combine your milk, sugar and yeast and allow the yeast to bubble up and foam.
Add the flour and mix in until the mixture is smooth. Then you'll want to cover the bowl and set it aside to rise until the mixture has doubled and the batter is bubbly.
Stir together your water and baking soda, then add that to the dough and mix. Then you will let it sit again for about 30 minutes. All of this waiting is to make sure your crumpets will end up with lots of little nooks and crannies for butter and jam. 🙂
Heat a griddle or a skillet, and spray with nonstick cooking spray. Place your rings on the griddle, and make sure your rings are sprayed as well so that the crumpets will not stick. Pour your batter into the mold and allow the batter to bubble up and cook for 5-9 minutes.
Use tongs to remove the ring, then flip the crumpet over to cook quickly on the other side, only about 1 minute. Traditionally, crumpets are not cooked on both sides, but I like to cook that second side very briefly.
Serve your crumpets with lots of butter, honey, or jam!
These crumpets aren't as tall as the ones at The Crumpet Shop, but I think the flavor was right there. And I'm guessing that if you added more batter to the rings, you'd get taller crumpets. They are so good, you'll find yourself going back for more and more. In fact, it may be dangerous that I have this recipe now!!
Tips and Tricks
Make sure to keep the heat on medium-low. The crumpets will cook through on the one side, so if your crumpets are burning, you're heat is on too high.
Make sure to grease the rings – otherwise, the crumpets will stick.
If you make these ahead of time, you'll want to toast them before serving so that the outsides are crisped up.
Crumpets can also be frozen. Again, once they are thawed, you'll want to toast them before serving.
I love to eat these with a bit of butter and honey, but as I mentioned above, the first time I had a crumpet it was served with ricotta and lemon curd, and it was divine! They also topped them with all kinds of things, like eggs, pesto, and even smoked salmon.
More fun breakfast recipes:
The breakfast recipe we make the most at our house is pancakes, and I really believe that this is the Best Pancake Recipe.
But if my husband were to choose a favorite, it would be this Best Waffle Recipe.
Perfect for a weekend or a holiday, I love this Overnight French Toast Casserole.
If you are a muffin lover, try these Cinnamon Muffins or Brown Sugar Muffins.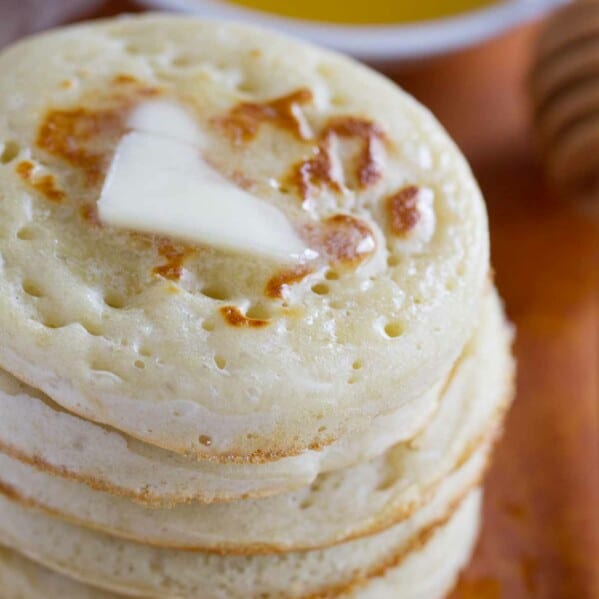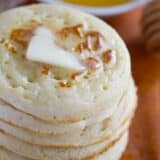 Crumpets
---
Author:
Prep Time: 1 hour 40 mins
Cook Time: 27 mins
Total Time: 2 hours 7 mins
Yield: about 12 crumpets 1x
Category: Breakfast
Method: Stovetop
Cuisine: English
Description
Bring a little bit of England into the kitchen with this Crumpet Recipe. These Crumpets only take a few simple ingredients to make this delicious English snack.
---
Scale
Ingredients
1 cup whole milk, heated to 110ºF – 115ºF
1 teaspoon sugar
1 tablespoon active dry yeast
1 1/2 cups all-purpose flour
1 teaspoon kosher salt
1/3 cup water
1/2 teaspoon baking soda
---
Instructions
In the bowl of a stand mixer, combine the milk, sugar and yeast. Let them sit until the yeast starts to bubble, about 5 minutes.
Add the flour and salt to the yeast mixture and beat on medium-high speed for 3 minutes, or until the batter is smooth and it stretches when you lift out the beater. Remove the bowl from the mixer and cover tightly with plastic wrap. Place in a warm, draft-free area until the mixture has doubled in size and is bubbly on top, about 1 hour.
In a small bowl, stir together the water and baking soda. Stir this mixture into the batter, then set aside for 30 minutes.
Heat a large skillet over medium low heat. Spray the surface lightly with nonstick cooking spray, and spray 4- 2 1/2 -inch crumpet molds. Place the molds in the skillet. Add 1 1/2 tablespoons of the batter to the center of each mold and then cook until the bottoms are a deep golden brown and air bubbles have formed on the top, about 9 minutes. Use a pair of tongs to remove the molds, then turn the crumpets over to cook on the second side for about a minute.
Remove the crumpets to a plate or serving platter, then repeat until you have used all of the batter. Serve warm.
Recipe Notes:
The original recipe says you should get 20 crumpets, but I only got 12.
recipe source: Good Food, Good Life by Curtis Stone
Nutrition information provided as an estimate only. Various brands and products can change the counts. Any nutritional information should only be used as a general guideline.
Nutrition
Serving Size: 1 crumpet
Calories: 68
Sugar: 1 g
Sodium: 154 mg
Fat: 1 g
Saturated Fat: 0 g
Unsaturated Fat: 0 g
Trans Fat: 0 g
Carbohydrates: 12 g
Fiber: 1 g
Protein: 2 g
Cholesterol: 2 mg
Keywords: crumpets, crumpet recipe, english recipe, homemade