Bring a little bit of England into the kitchen with this Crumpet Recipe – a few simple ingredients are all it takes for this delicious English snack. Plus a review of Good Food, Good Life by Curtis Stone.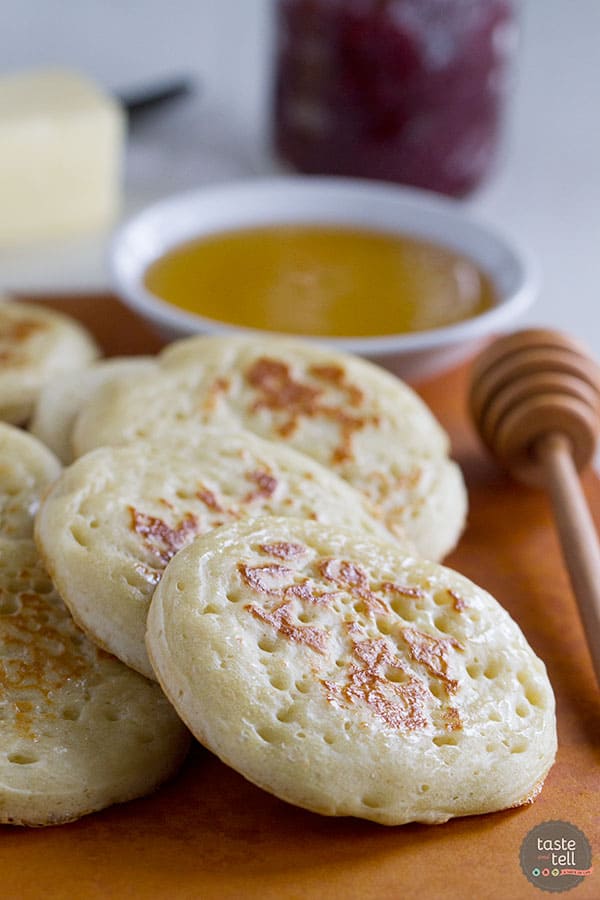 Having foodie friends is the best. A few weeks ago, I was on a culinary cruise with a group of food bloggers. The cruise just happened to have left on my birthday. I really didn't expect anything – I stopped counting birthdays years ago, right? – but the girls, along with the PR rep from Princess Cruises (who I had met on my previous cruise and now consider her my friend:) ) surprised me with a cake at dinner that night and a card and a gift. It was truly a surprise, and very touching.
And the gift?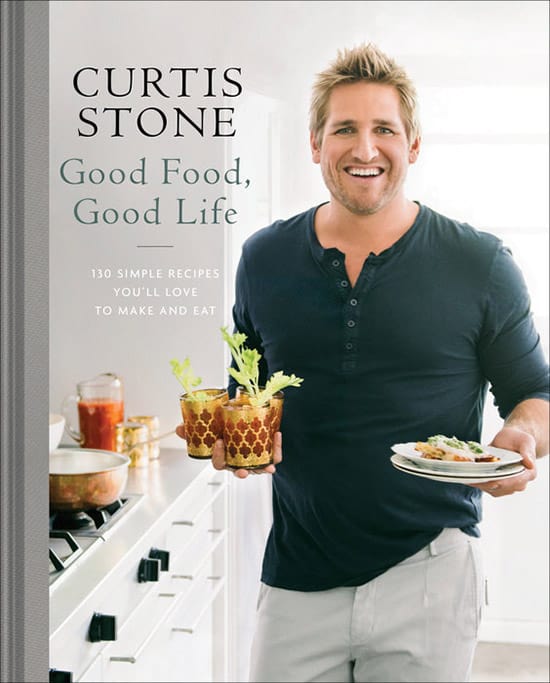 This baby – Good Food, Good Life by Curtis Stone. Not only the cookbook, but a signed copy of the cookbook. Curtis Stone has partnered with Princess Cruises and is creating new menu items, and I heard a rumor that he will have restaurants aboard some of the ships as well. So she was able to get her hands on a signed copy. I was extremely excited, as I was already a Curtis Stone fan. I've been watching him since the Take Home Chef days. (And let's be honest – he's not bad on the eyes. Forget about his gorgeous wife and adorable son, right???)
I couldn't wait to dig right into the book. It is filled with recipes that Curtis makes at home for his family and friends. I love that the recipes are somewhat sophisticated, yet they are still simple and not made with 500 ingredients.
Here are the details:
Number of Photos: lots. There is almost a photo of every finished recipe. There are a few that have a more artistic photo instead of the finished dish, but the photos are beautiful and it is a fun book to look through.
Difficulty Level of Recipes: Easy to Medium. I think they are mostly on the easy side, but if you are new to the kitchen, you might be a little bit intimidated with some of the recipes. But I think the instructions are done well, and that as long as you follow the instructions, they shouldn't be too difficult.
Availability of Ingredients: Easy to Medium. So, I like to go to Amazon and read through reviews of books, and there were a few low rated reviews because people said the ingredients were hard to find or out of the ordinary. To be honest, skimming through the book, I'm not seeing anything that I wouldn't be able to find at my grocery store. Some of the ingredients aren't every day ingredients (like escarole or kimchi) but I think that any well stocked grocery store should carry all of the ingredients.
Other Recipes I Want to Make:
Penne with Sausage and Broccoli Rabe
Baja Salad
Quick Curry Noodle Soup
Chicken Chile Verde
Maple-Glazed Planked Salmon
My Favorite Potato Salad
Roasted Banana Souffles with Caramel Sauce
Mulita-Style Quesadillas
Buy Good Food, Good Life on Amazon.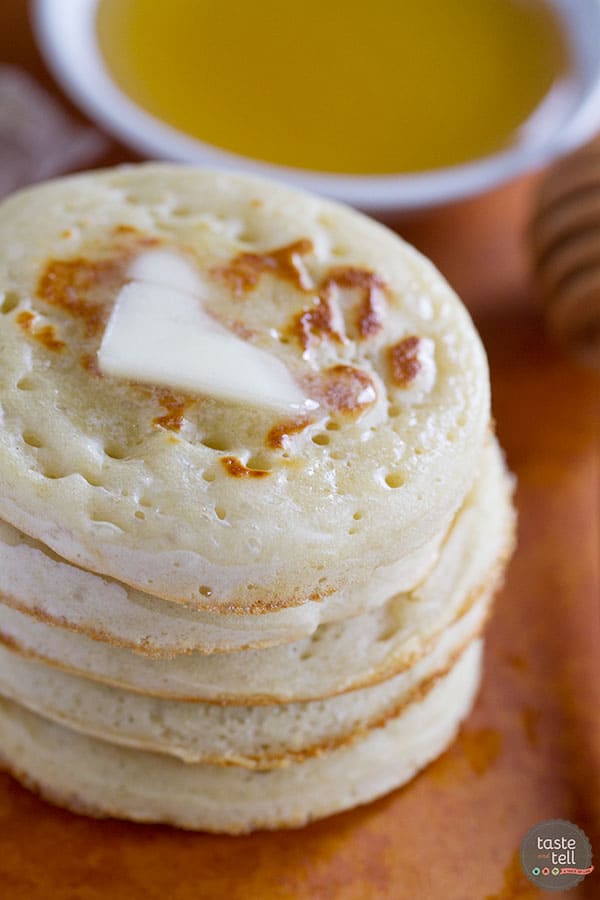 While I was looking through the cookbook, I stopped dead in my tracks when I saw a recipe for crumpets. You see, just the weekend before, I was in Seattle for just under 24 hours. I was on a mission to try as many places as I could, and one of those places was The Crumpet Shop in Pike Place Market. If you follow me on Instagram or Snapchat (follow me! @tasteandtell) you would have seen the glorious crumpet I ate there with ricotta and lemon curd. It was my last stop, and I almost didn't stop because the line was long and I was so full, but it ended up being probably my favorite thing that I ate.
So needless to say, I had to make the crumpets. You do have to have special rings – they call them crumpet rings, or English muffin rings, or even egg rings. I bought these on Amazon – I bought 2 packages, and the minimal investment was totally worth it. Because these babies are good. They aren't as tall as the ones at The Crumpet Shop, but I think the flavor was right there. And I'm guessing that if you added more batter to the rings, you'd get taller crumpets.
If you've never had a crumpet, they are kind of like English muffins, but different. They have the holes (perfect for soaking in butter and honey!) but they are a bit spongier and not dry like English muffins. They are so good, you'll find yourself going back for more and more. In fact, it may be dangerous that I have this recipe now!!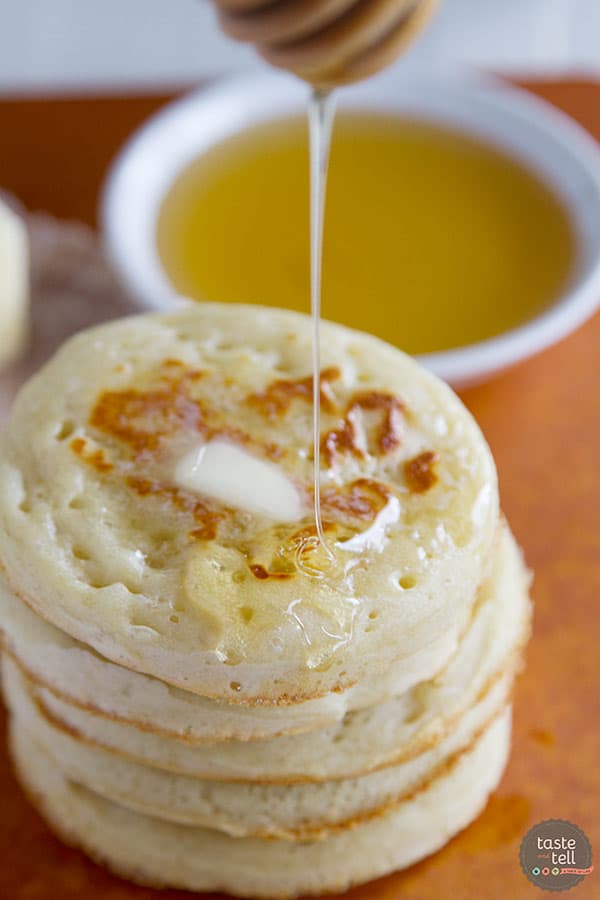 Like what you see here? Make sure you are following Taste and Tell for more recipes and ideas!
Facebook | Pinterest | Instagram | Twitter | Google+ | Weekly Newsletter | Feedly | Bloglovin
Print
Crumpet Recipe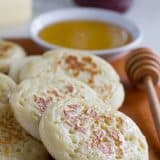 Bring a little bit of England into the kitchen with this Crumpet Recipe – a few simple ingredients are all it takes for this delicious English snack.
Prep Time:

1 hour 40 mins

Cook Time:

27 mins

Total Time:

2 hours 7 mins

Yield:

about 12 crumpets
Ingredients
1 cup whole milk, heated to 110ºF – 115ºF
1 teaspoon sugar
1 tablespoon active dry yeast
1 1/2 cups all-purpose flour
1 teaspoon kosher salt
1/3 cup water
1/2 teaspoon baking soda
Instructions
In the bowl of a stand mixer, combine the milk, sugar and yeast. Let them sit until the yeast starts to bubble, about 5 minutes.
Add the flour and salt to the yeast mixture and beat on medium-high speed for 3 minutes, or until the batter is smooth and it stretches when you lift out the beater. Remove the bowl from the mixer and cover tightly with plastic wrap. Place in a warm, draft-free area until the mixture has doubled in size and is bubbly on top, about 1 hour.
In a small bowl, stir together the water and baking soda. Stir this mixture into the batter, then set aside for 30 minutes.
Heat a large skillet over medium low heat. Spray the surface lightly with nonstick cooking spray, and spray 4- 2 1/2 -inch crumpet molds. Place the molds in the skillet. Add 1 1/2 tablespoons of the batter to the center of each mold and then cook until the bottoms are a deep golden brown and air bubbles have formed on the top, about 9 minutes. Use a pair of tongs to remove the molds, then turn the crumpets over to cook on the second side for about a minute.
Remove the crumpets to a plate or serving platter, then repeat until you have used all of the batter. Serve warm.
Don't miss a thing! Follow me on Pinterest to see what I'm pinning!
Visit Taste and Tell's profile on Pinterest.