This Marshmallow Lemon Tart Recipe not only packs great lemon flavor, but it's extremely easy as well!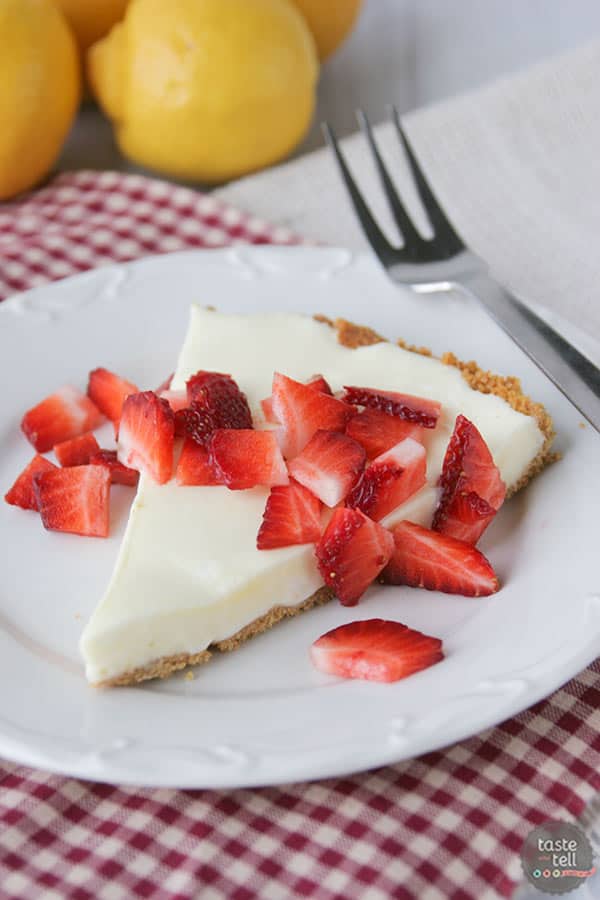 Do you want to know one thing I love about spring? All of the lemon recipes that you start seeing.
I love lemon.
Seriously. Love. I can't get enough of it. Savory or sweet. (Although I tend to be more drawn to the sweet – but I do have a bit of a sweet tooth!)
Last week, I was thinking about different ways I could change up a few lemon desserts. Out of the blue, I had this crazy idea – lemon curd plus marshmallow creme. Honestly, I had no idea how it would turn out, or if it would even turn out at all. All I could do is try, right?
I started with a simple graham cracker crust. Graham cracker crumbs, sugar and butter, bake it up, and let it cool. Then stir together some lemon curd and marshmallow creme. When I first started stirring these together, I thought to myself – this is never going to work. But you have to really whisk them together. Get in there, and use some of that muscle. I whisked for a couple of minutes, and tada! It all smoothed out and mixed together!! Pour that into your graham cracker crust, refrigerate for a few hours, and that's all! A seriously simple dessert.
I went an extra step and made my own lemon curd. Not only is it cheaper than the store-bought stuff, but I think it tastes a heck of a lot better. And I have discovered that the higher your elevation, the longer it will take you to make it. Lucky people at sea level, I've heard that you can make a lemon curd in about 10 minutes. For me, here in Utah, it takes a good 30-40 minutes. The trick to a perfect lemon curd, in my opinion, is the double boiler and constant whisking. I'll admit that I don't whisk it constantly at the beginning, when it's not warm yet, but the second it starts warming up, I whisk. And whisk. And whisk. I know, all of this whisking, right? I figure it's my workout to earn a big slice of this tart when I'm done!!
If you are a lemon lover, you will go crazy for this tart. Hey, even if you aren't a lemon lover, I'm guessing you'll go crazy over it, too!!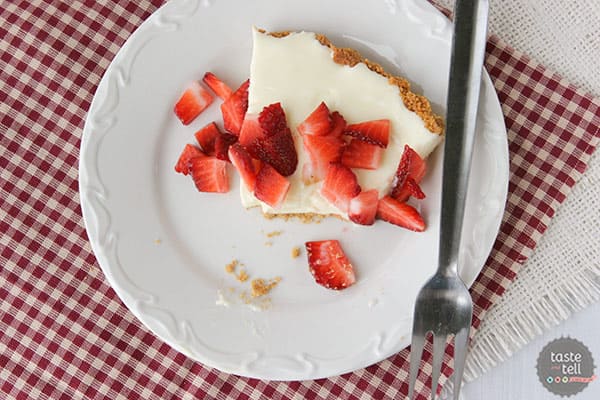 Like what you see here? Make sure you are following Taste and Tell for more great recipes and ideas!!

Facebook ** Pinterest ** Twitter ** Instagram ** Google+
or you can subscribe to my newsletter or Feedly or Bloglovin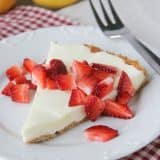 Marshmallow Lemon Tart Recipe
---
Prep Time: 15 mins
Cook Time: 10 mins
Total Time: 25 mins
Yield: 6-8 servings 1x
Description
This marshmallow lemon tart recipe not only packs great lemon flavor, but it's extremely easy as well!
---
Scale
Ingredients
1 1/4 cups graham cracker crumbs (9 whole graham crackers, or 1 sleeve)
2 tablespoons sugar
4 tablespoons butter, melted
2 cups lemon curd
1 (7-oz) jar marshmallow creme
---
Instructions
Prepare the crust: Preheat the oven to 350F. In a bowl, mix together the graham cracker crumbs, sugar and butter. Press into an 11-inch tart pan. Bake in the preheated oven for 6-8 minutes, or until golden brown. Remove and cool completely.
When the crust is cool, combine the lemon curd and the marshmallow creme in a bowl. Whisk until smooth. Pour into the cooled crust, and refrigerate until set up, at least a couple of hours. Serve with diced strawberries or with raspberries.