If you love fluffy and soft pancakes, this really is the Best Pancake Recipe! Made from pantry staples, these pancakes are the perfect breakfast recipe.
We love breakfast! This pancake recipe is made very often at our house, but we also love these Cinnamon Muffins or a good Breakfast Casserole!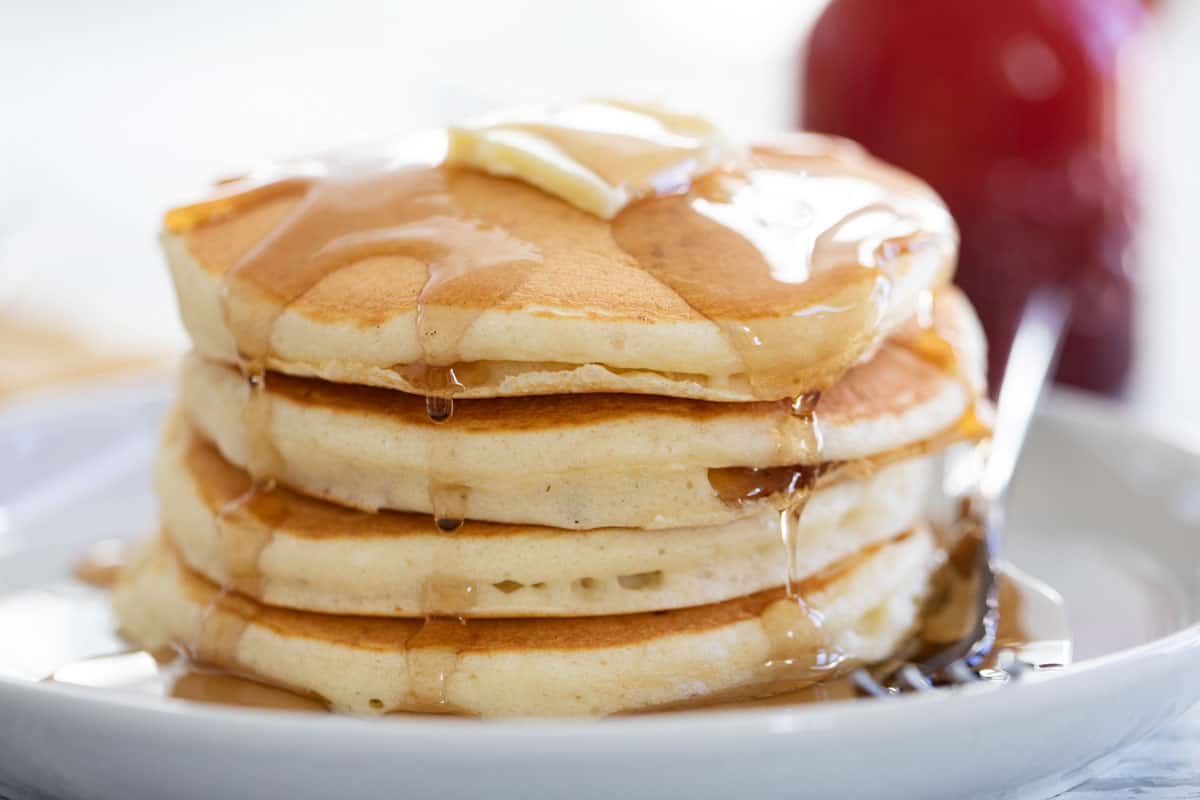 I've been blogging here for almost 13 years. That's a lot of recipes.
But somehow, I've avoided sharing my favorite pancake recipe – the one that we make on a weekly basis in our house. I guess that's technically a lie, since I did use it for some Yogurt Pancake Bites several years ago, but these pancakes needed a spot of their own.
These are the pancakes I ate as a kid. And that I hope my kids make for their kids one day. They are easy, and they are so, so good.
The biggest reason I love these pancakes so much is that they are made from pantry staples. Sure, I love a good buttermilk pancake. But I don't always have buttermilk on hand. This pancake recipe has saved me many times when I didn't have a plan for dinner and it had been much too long since I had been to the grocery store. Even when I can't make many other things, I can almost always make pancakes.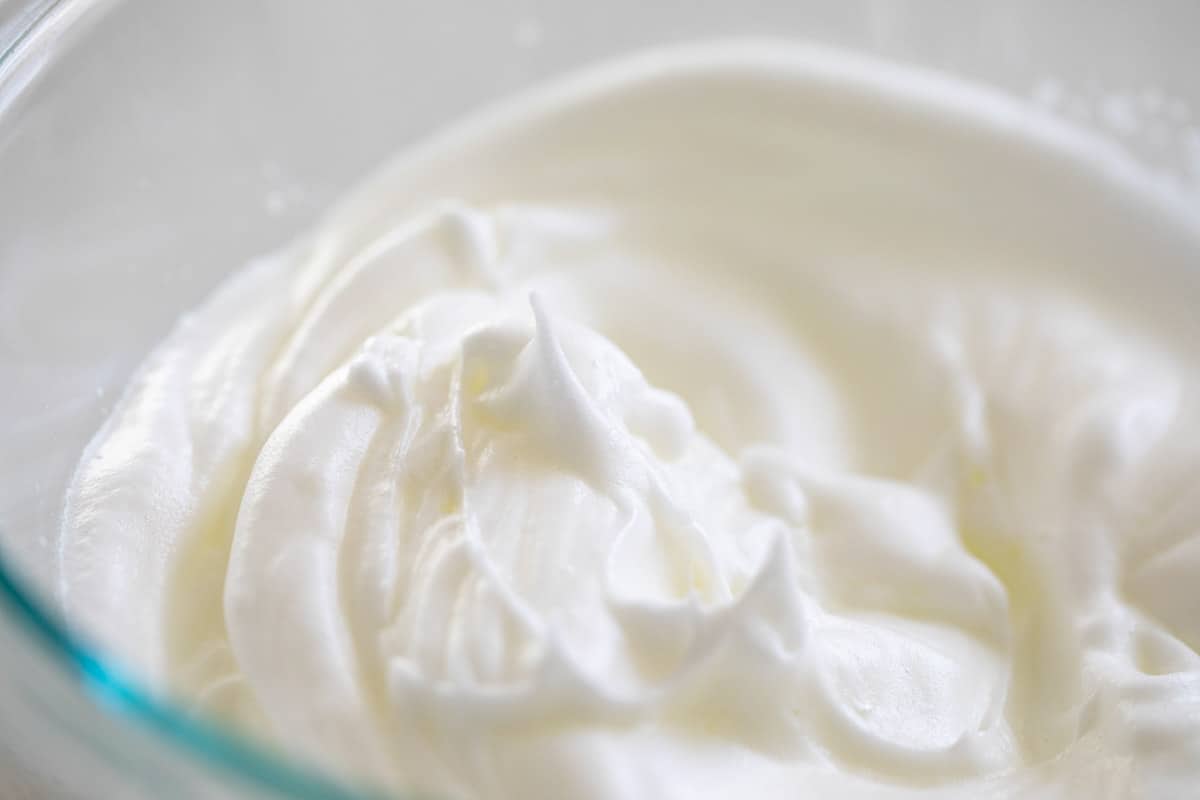 The Secret to the Best Pancakes
There is one trick that sets these pancakes apart from other pancakes. I use the same trick for my waffle recipe, and believe me – it makes all the difference!
The secret? Whipping your egg whites. Instead of just mixing in the whole egg, you separate the yolks and the whites. The yolks get mixed in, but the egg whites get beaten until they have stiff peaks. This means that when you take the beater out, the egg whites will stand up on their own. You can do this by hand, but it will take a lot of muscle. I usually just use a hand mixer and it only takes a minute or two.
Once you have your egg whites whipped, you can gently mix them into the batter. It's the secret to these fluffy, soft pancakes.
To mix the whites in, I like to take some of the egg whites, about 1/3 of them, and stir them into your batter. You don't have to be super gentle – this first step with lighten up the batter and make it so that you can easily fold in the remaining whites without being heavy handed. Once those are mixed in, then gently fold in the remaining whites.
Can you skip this egg white step and just mix in the whole egg with the liquid ingredients? Definitely! But trust me – you will notice a difference. And you'll realize the extra 3 minutes it takes to whip the egg whites is totally worth it.
How to Make Homemade Pancakes (Video)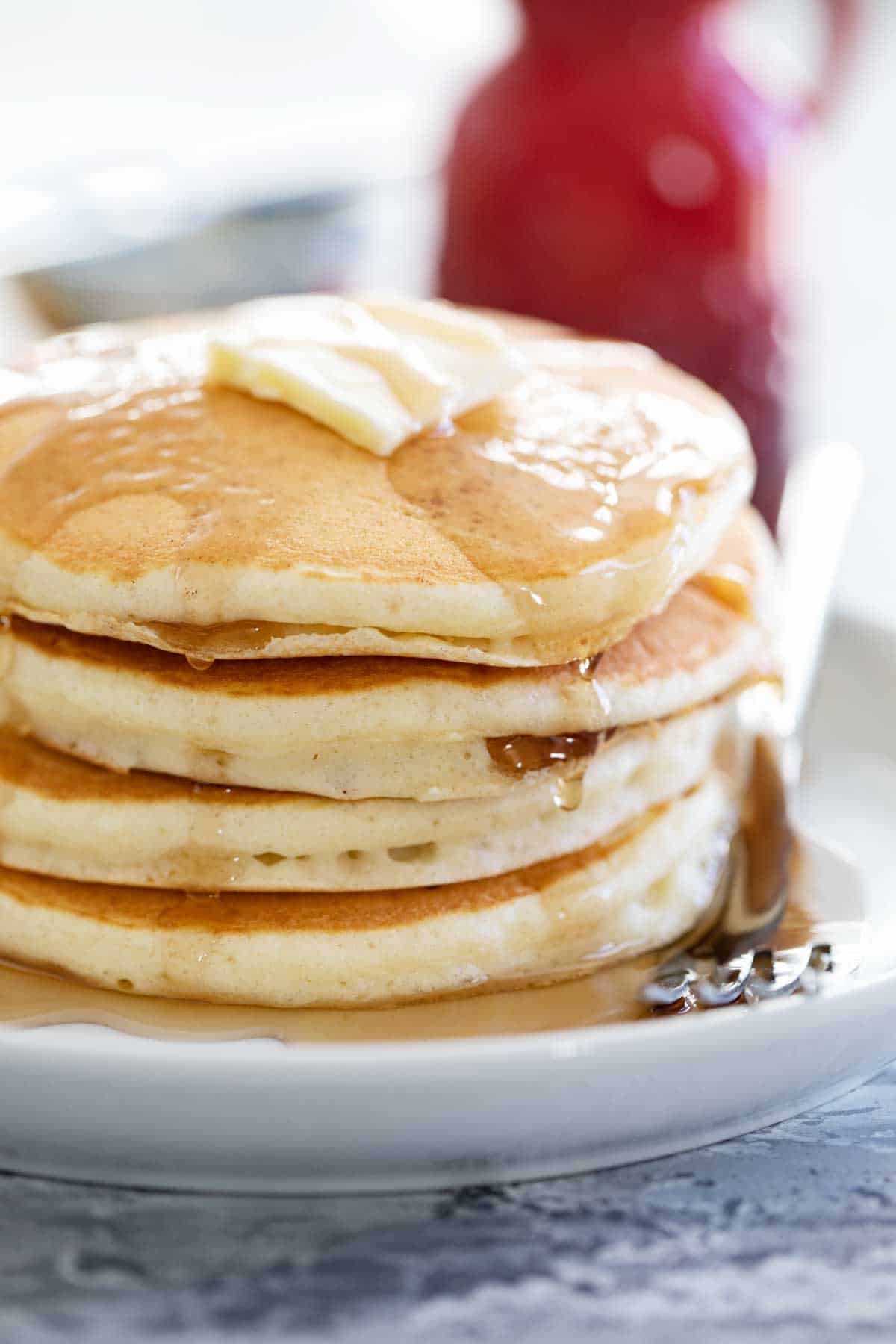 Tips and Tricks
Pancake batter doesn't have to be completely smooth. I like to have everything mixed together before I whip the egg whites, that way the batter can sit for a couple minutes and any lumps will soften.
Make the batter before heating up your skillet or griddle. The time that the batter has to sit while the griddle is heating is needed for the batter to rest and for the baking powder to have it's first activation.
Make sure your griddle or skillet is pretty hot. The heat activates the baking powder quickly, so if your pan is not hot enough, the pancakes won't be a fluffy.
Flip your pancakes gently so that the bubbles are not all popped while flipping.
Serve these up with some Homemade Buttermilk Syrup, Strawberry Syrup or Lemon Sauce for an extra special treat!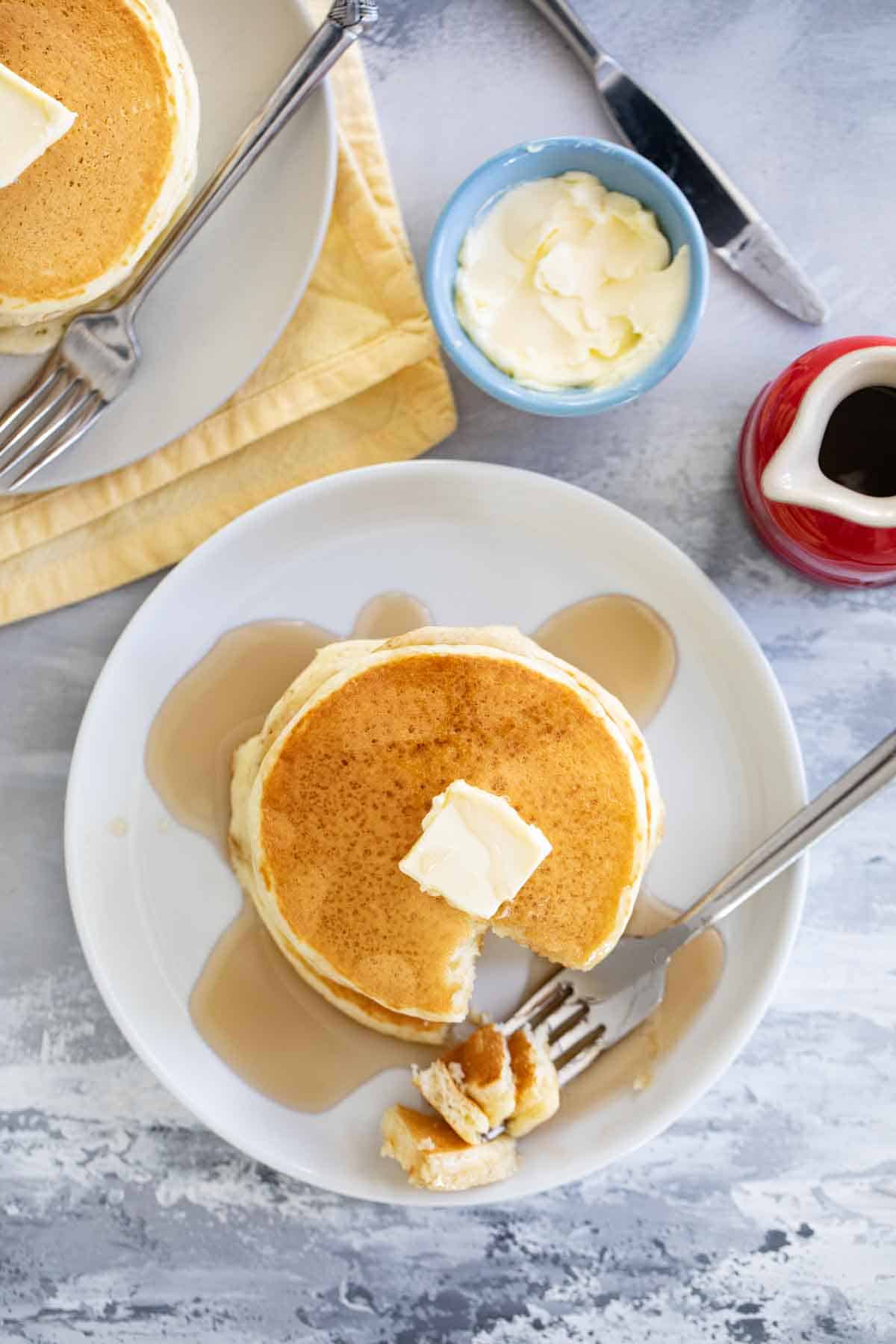 Pancake Storage
These pancakes can be made ahead of time and then stored in the refrigerator. I prefer reheating in the microwave or toaster over the stovetop, although all will work. I do think the pancakes get tougher with a second turn on the stove, though.
To freeze the pancakes, lay them on a baking sheet in a single layer and transfer to the freezer just until frozen. Then you can stack them and store them in a freezer safe container of your choice.
To reheat frozen pancakes, I like to use the toaster.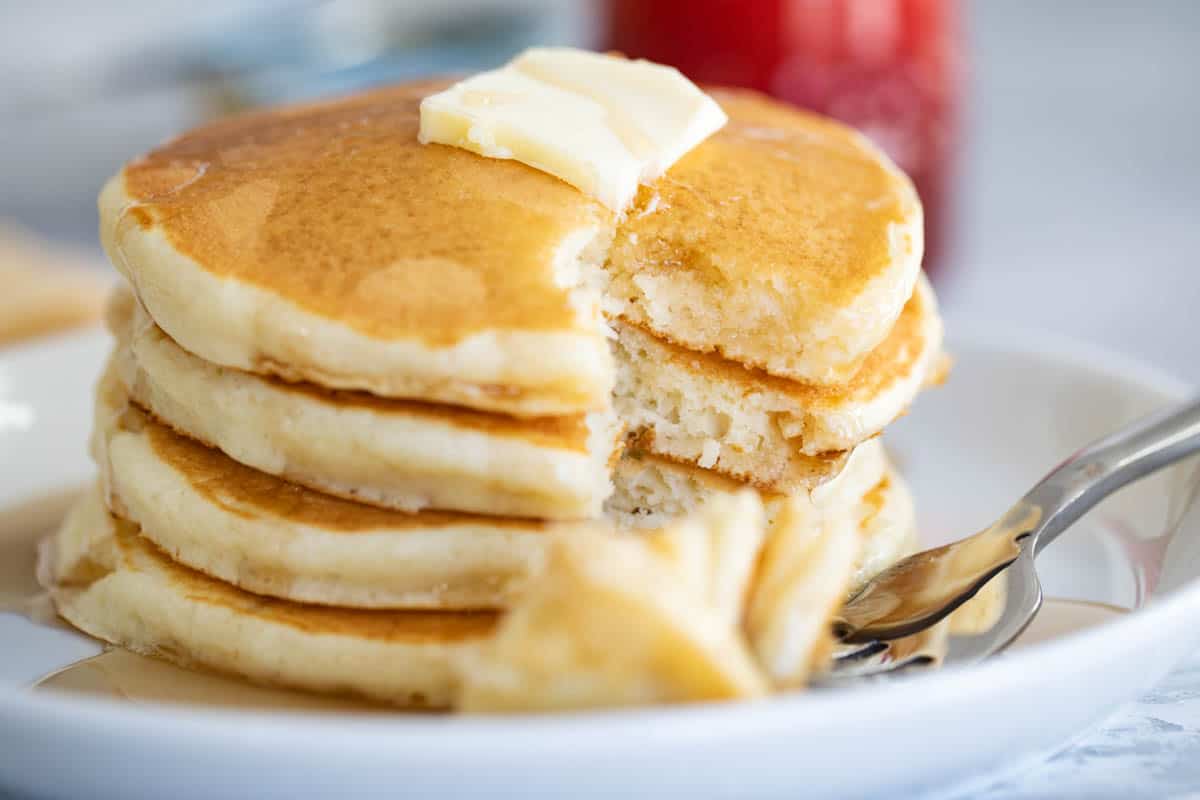 More Pancake Recipes
Funfetti Pancakes
Lemon Pancakes
Whole Wheat Oatmeal Chocolate Chip Pancakes
IHOP Corn Cake Pancakes
Whole Wheat Blender Pankcakes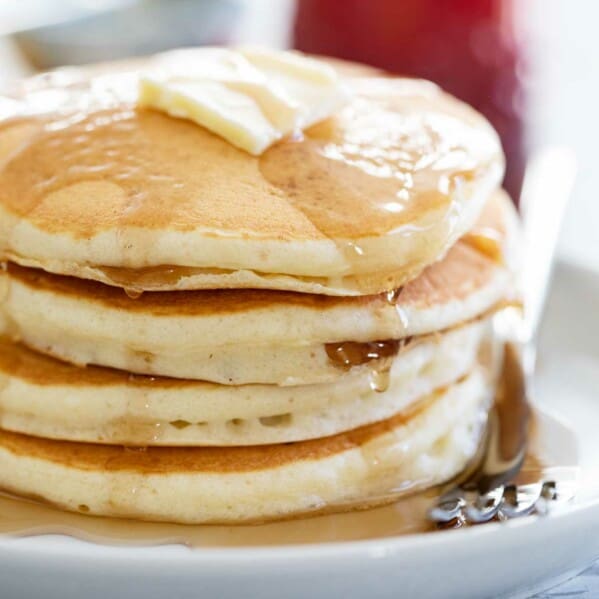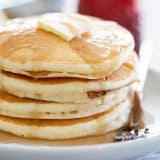 The Best Pancake Recipe
---
Author:
Prep Time: 15 minutes
Cook Time: 15 minutes
Total Time: 30 minutes
Yield: 16 pancakes 1x
Category: Breakfast
Method: Stove Top
Cuisine: American
Description
If you love fluffy and soft pancakes, this really is the Best Pancake Recipe! Made from pantry staples, these pancakes are the perfect breakfast recipe.
---
Scale
Ingredients
1 1/2 cups all-purpose flour*
3 tablespoons sugar
1 tablespoon baking powder
3/4 teaspoon salt
1 1/2 cups milk
3 tablespoons vegetable oil
2 eggs, separated
---
Instructions
Add the flour, sugar, baking powder and salt to a large bowl. Whisk to combine.
In another bowl (or I use a large liquid measuring cup) combine the milk and vegetable oil. Add the egg yolks to the milk and whisk to break up the yolks.
Pour the liquid mixture into the dry ingredients and mix to combine. There will still be small lumps.
Place the egg whites in another bowl and beat until they have stiff peaks.
Add about 1/3 of the stiff egg whites to the waffle batter and stir it in to combine and lighten the batter. Add the remaining egg whites and gently fold until no white streaks appear.
Heat a griddle or skillet over medium-high heat. Grease with butter or with nonstick cooking spray.
Pour about 1/3 cup of batter onto the hot griddle. Let the pancakes cook until bubbles form, then flip and continue to cook until browned and cooked through.
Continue with the remaining batter until all of the pancakes are cooked.
Recipe Notes:
*I will sometimes up the flour amount by 1/4 to 1/2 cup to make thicker pancakes.
Nutrition information provided as an estimate only. Various brands and products can change the counts. Any nutritional information should only be used as a general guideline.
Nutrition
Serving Size: 1 pancake
Calories: 107
Sugar: 4 g
Sodium: 251 mg
Fat: 4 g
Saturated Fat: 1 g
Unsaturated Fat: 3 g
Trans Fat: 0 g
Carbohydrates: 14 g
Fiber: 0 g
Protein: 3 g
Cholesterol: 29 mg