Bring in a little bit of sunshine with these Lemon Sunshine Cupcakes! Based on an old favorite cake, these cupcakes are filled with lemon curd and topped with a dreamy fluffy frosting. A sprinkling of coconut tops them off.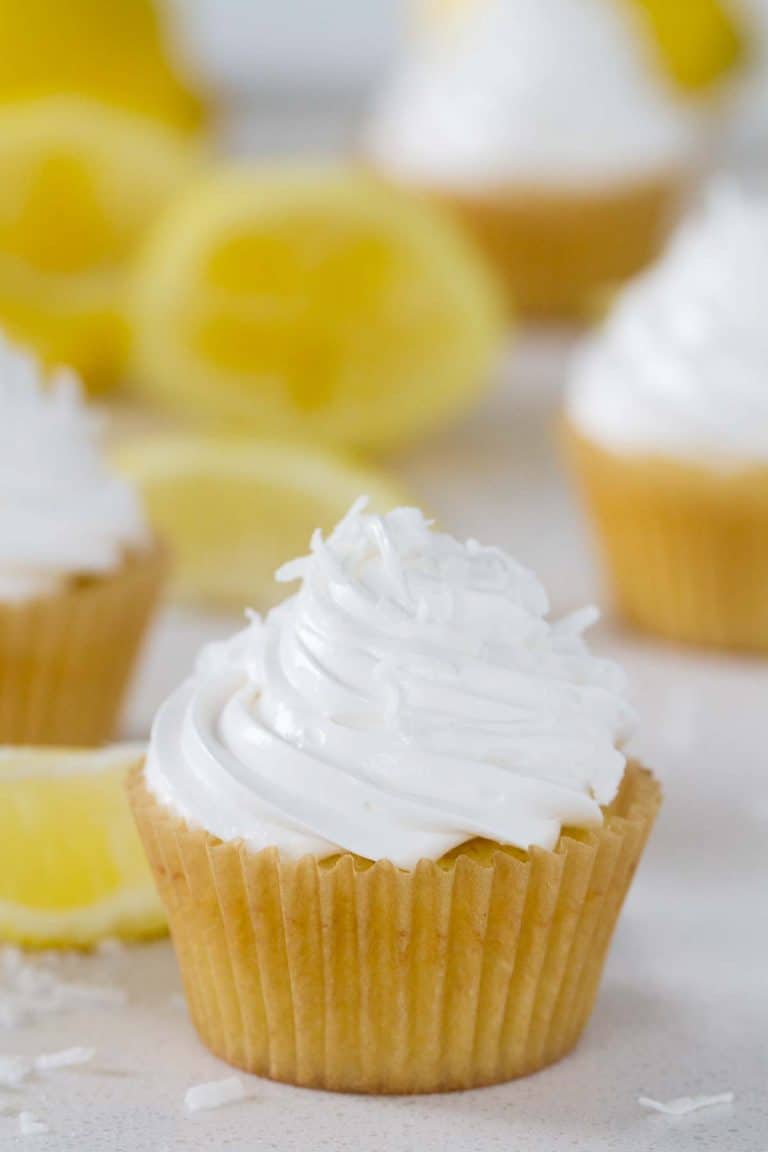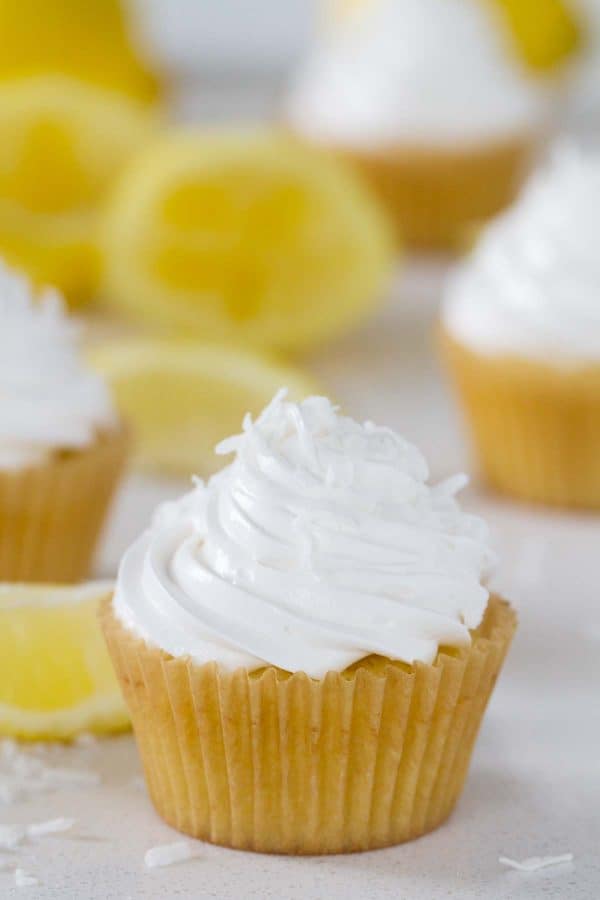 10 years.
Well, technically it has been 10 years and 3 days, because I'm a little bit late to my own party.
10 years ago, I decided to start this little blog of mine. In the past 10 years, I've given birth to 3 children, moved 5 times, gone through lots of ups and downs and somehow blogged through it all. And it has become so much more to me than my "job" – it's part of me now. I have said it before, but even if I wasn't doing this for a living, I would still be blogging. Because I truly do love it. And I feel blessed to be one of those people that love what they do for a living.

In the past 10 years, I have published over 2,400 posts. That is a lot of eating, friends. And a lot of sharing. And I can't even comprehend how many groceries went into those 2400 posts. I have seen blogs completely change and evolve over the past 10 years. Things are definitely different today than when I started way back when. But I have loved the ride. And I am excited to see where things will go in the next 10 years.
But this all wouldn't be here without all of you. It is an honor for me to influence what you are putting on the dinner table at night, or what you are bringing to that birthday party. I am so happy to be able to share. My favorite part of this job is hearing about when you make the recipes. So thank you. Whether you are a commenter or a quiet observer – thank you for being here.
I couldn't have a celebration without cake, right? I actually started thinking about what I wanted to share with all of you months ago. Because 10 years is kind of a big deal, right?
Well, one of the questions I get asked the most is "what is the first thing that you ever made yourself?" I will be the first to admit that I have the worst memory ever. But I do have this memory of making a Sunshine Cake when I was younger. My memory tells me that it was for the county fair. My mom doesn't completely remember this, but she said it was probably a church carnival or something similar. But I remember that cake, and I remember a blue ribbon that I earned from that cake. I don't remember how old I was, or if it was even any good, but I'd like to think that is where my love of being in the kitchen started.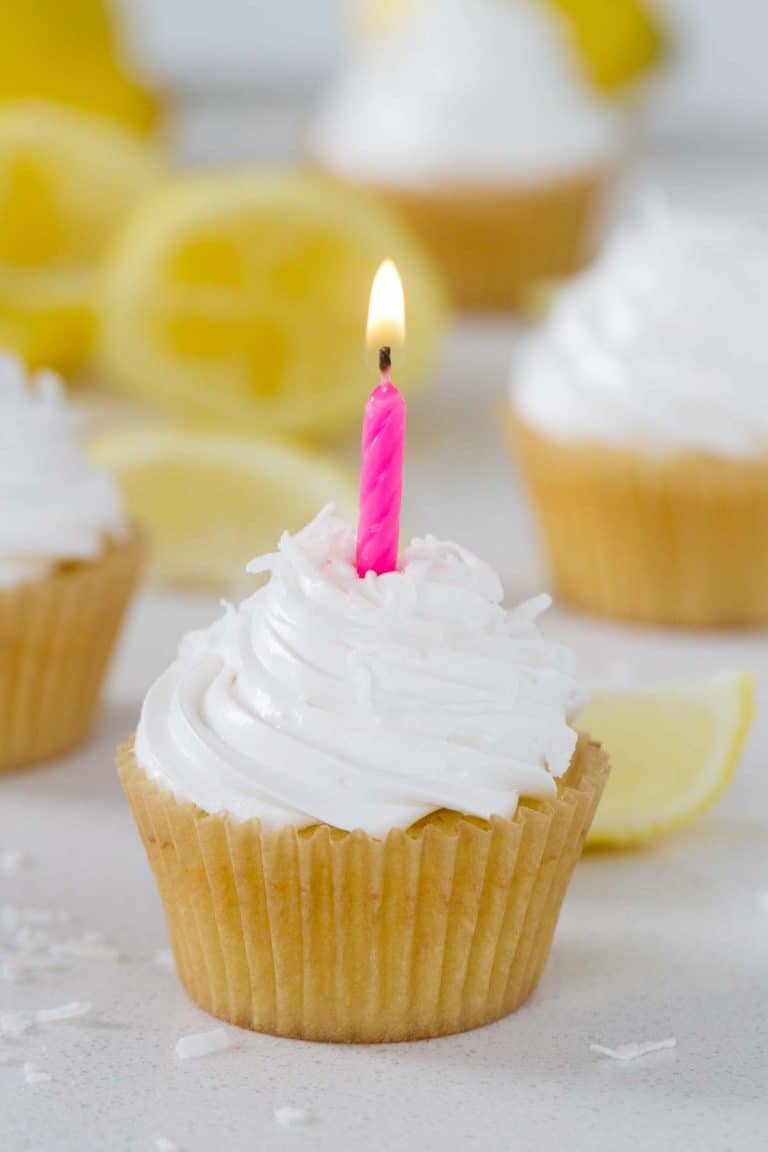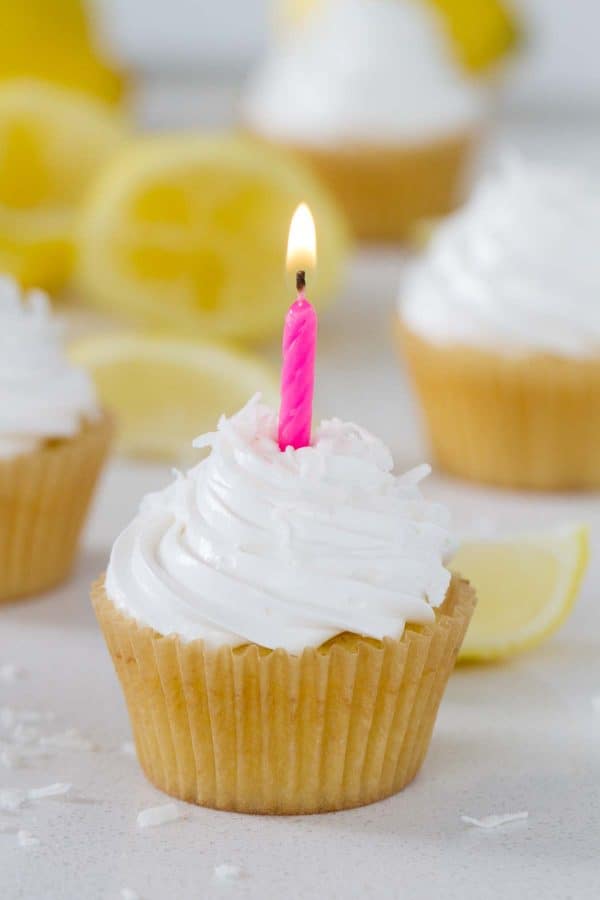 If you haven't heard of a sunshine cake, it's a white cake filled with lemon curd, then topped by a fluffy, marshmallow frosting. And then the whole thing gets sprinkled with coconut. I wanted to make this cake in honor of my blog birthday. So I did. I made the cake from scratch, then made my favorite lemon curd. I knew at the time that my curd was not firm enough for this recipe. I had only had it in the fridge for a few hours, and while a few more hours would have probably helped, it was still pretty loose. But I decided to go for it anyway. Just like expected, the cake didn't stay together. The layers wobbled and slipped and eventually just made a mess. And while it was delicious, I knew it wasn't worthy of sharing.
So to simplify things, I decided to turn the cake into Lemon Sunshine Cupcakes. Because we all know I love cupcakes anyway. And these were a true hit. I gave the cupcakes a hint of coconut flavor. And for the lemon curd, I did decided to deviate from my normal and go with the lemon curd from the original recipe. The cupcakes are topped off with my favorite fluffy frosting – aka 7 minute or marshmallow frosting – (which I've made before) and then a sprinkle of sweetened coconut. I won't even admit to how many of these Lemon Sunshine Cupcakes I ended up eating.
Happy birthday, Taste and Tell. Here's to many, many more tasty years to come!!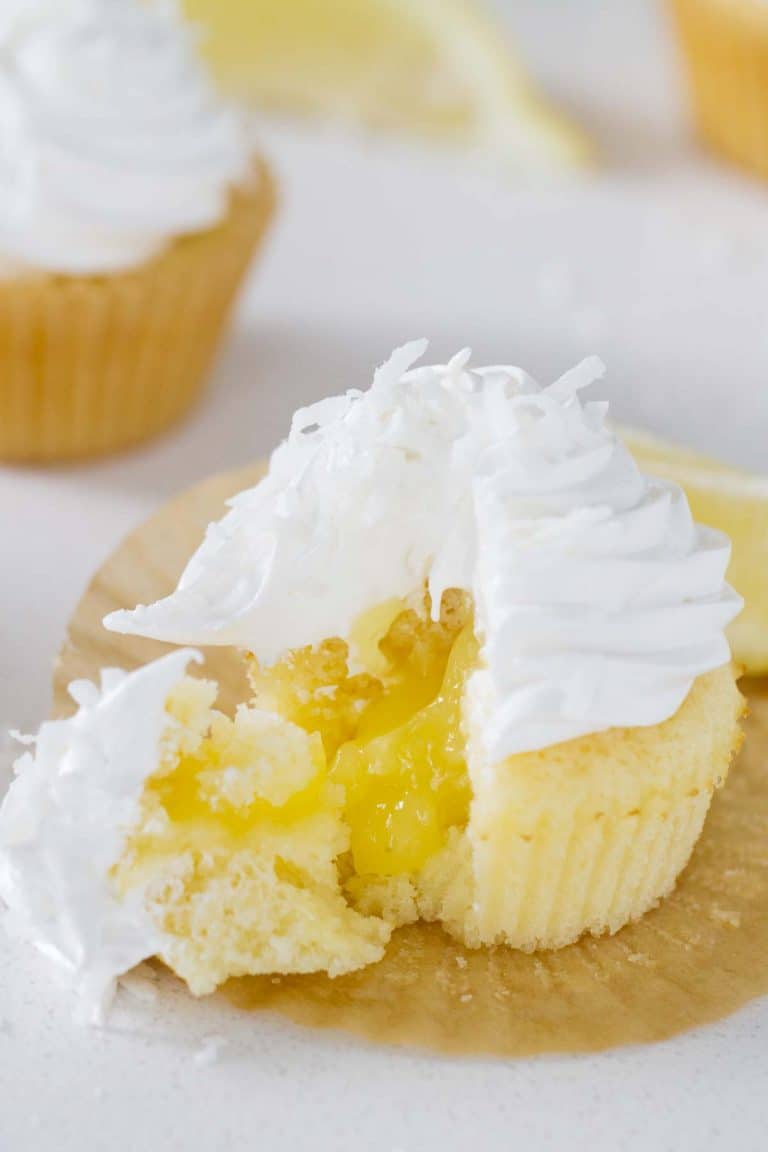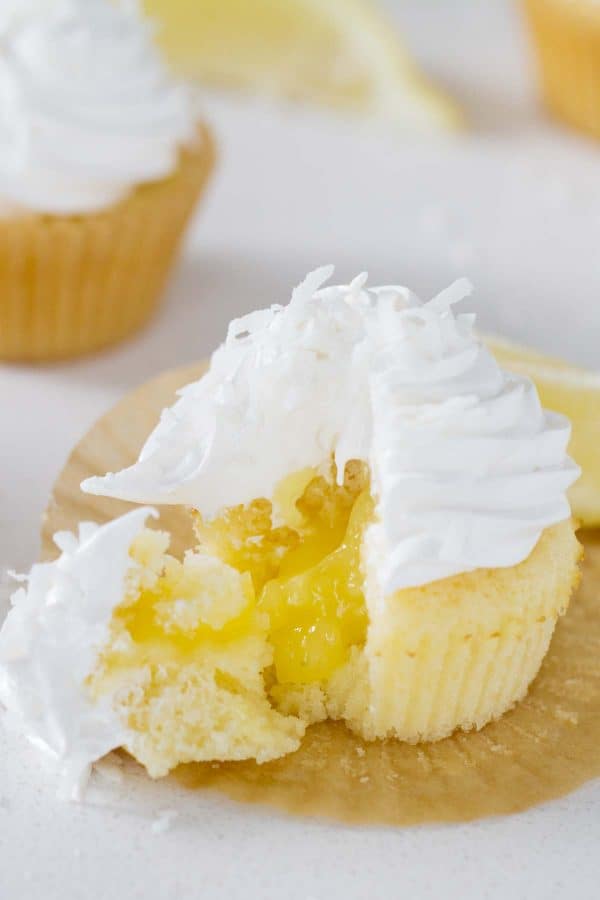 Are you as obsessed with lemon as I am? Check out these favorites of mine: Coconut Lemon Pudding (Yum!!), this Shortbread Lemon Tart is like lemon bars in tart form, and these Glazed Lemon Cakes have been a favorite for years!
Or check out these lemon recipes from around the web: Lemon Angel Pie from Your Homebased Mom, Lemon Cheesecake with Strawberry Crust from Back for Seconds, or these Lemon Whippersnaps from Mom on Timeout.
Like what you see here? Make sure you are following Taste and Tell for more recipes and ideas!
Facebook | Pinterest | Instagram | Twitter | Google+ | Weekly Newsletter | Feedly | Bloglovin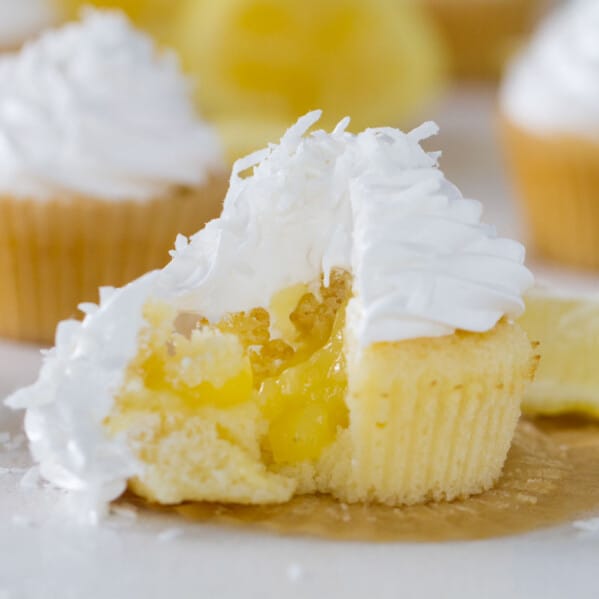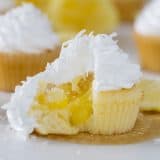 Lemon Sunshine Cupcakes
---
Author:
Prep Time: 30 min
Cook Time: 25 min
Total Time: 55 minutes
Yield: 36 cupcakes 1x
Category: Dessert
Description
Bring in a little bit of sunshine with these Lemon Sunshine Cupcakes! Based on an old favorite cake, these cupcakes are filled with lemon curd and topped with a dreamy fluffy frosting. A sprinkling of coconut tops them off.
---
Scale
Ingredients
Cupcakes:
3 cups all-purpose flour
2 teaspoons baking powder
1 teaspoon salt
2 cups granulated sugar
1 cup butter, softened
4 eggs
1 teaspoon coconut extract
1 teaspoon vanilla extract
2 cups buttermilk
Lemon Curd Filling:
3/4 cup granulated sugar
2 tablespoons cornstarch
dash of salt
3/4 cup water
2 slightly beaten egg yolks*
3 tablespoons lemon juice
1 tablespoon butter
1 teaspoon lemon zest
Fluffy Frosting:
4 egg whites*, at room temperature
1 cup granulated sugar
2/3 cup light corn syrup
1 teaspoon vanilla extract
sweetened, flaked coconut
---
Instructions
To make the cupcakes: Preheat the oven to 350ºF.  Line 36 muffin tins with cupcake liners.
In a medium bowl, mix the flour, baking powder and salt; set aside. In a large bowl, beat the sugar and the butter with an electric mixer on medium speed. Add the eggs, 1 at a time, beating well after each addition. Beat in the extracts. On low sped, alternately add the ⅓ of the flour mixture, ½ of the buttermilk, another ⅓ of the flour, the remaining buttermilk and then the remaining flour, beating just until blended.
Divide batter evenly among muffin cups, filling each about ⅔ full.
Bake for 15 to 18 minutes, or until a toothpick inserted in the middle comes out clean. Cool for 5 minutes; remove to a cooling rack to cool completely.
To make the lemon curd: Combine the sugar, cornstarch and salt in a medium saucepan.  Add the water, egg yolks and lemon juice and stir to combine.  Cook over medium heat, stirring often, until it thickens.  Remove from the heat and stir in the butter and the lemon zest.  Transfer to a bowl and cover.  Refrigerate until completely cooled.
To make the fluffy frosting: In a stand mixer, beat the egg whites until they form stiff peaks.
Meanwhile, heat the sugar and corn syrup over medium heat. Heat until it comes to a full boil, then remove from the heat.
Once the egg whites are stiff, slowly pour in the hot sugar mixture. Do not scrape the sides of the bowl, or you will have sugar crystals in the frosting. Beat the frosting until it forms a shiny, fluffy marshmallow frosting, 5-7 minutes. Beat in the vanilla extract.
To assemble the cupcakes: Use a sharp knife to cut a cone out of the center of each cupcake, reserving the cut out piece. Fill the center with 1 teaspoon of lemon curd. Replace the cut out piece of the cupcake. Repeat with the remaining cupcakes.
Pipe the frosting onto the cupcakes, then sprinkle with coconut.
Recipe Notes:
*when separating the eggs, reserve the egg whites to use in the frosting.
Nutrition
Serving Size: 1 cupcake
Calories: 214
Sugar: 27 g
Sodium: 142 mg
Fat: 7 g
Saturated Fat: 4 g
Carbohydrates: 36 g
Fiber: 1 g
Protein: 3 g
Cholesterol: 45 mg
SHOP THIS POST!
Don't miss a thing! Follow me on Pinterest to see what I'm pinning!