A knock off of the Cheesy Garlic Bread from Black Angus, this bread is gooey and full of garlic flavor.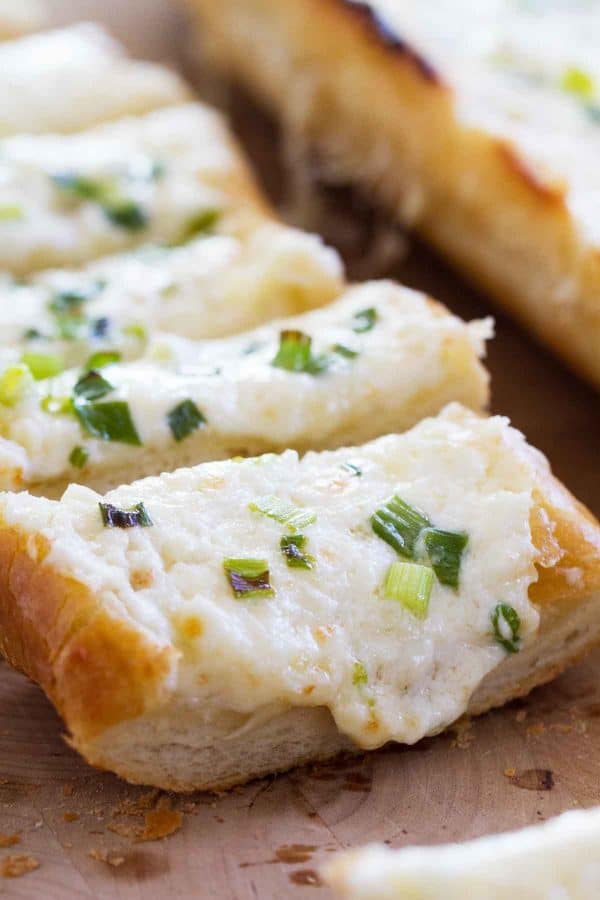 Originally posted July 28, 2008 – If you are looking for the most indulgent, irresistible, addictive garlic bread recipe, you have found it here!! This Cheesy Garlic Bread has been a family favorite for years now. It's a step up from your normal garlic bread, and it's oh, so delicious. We have even been known to eat just this bread for dinner! Just beware – it's hard to only eat one slice!
The original post from 2008 follows:
Has anyone ever heard of a watermelon allergy? I don't know if my husband has developed an allergy, or if I just bought a few bad watermelons. A few weeks ago, I cut up a watermelon to go along with our breakfast. Both my husband and I ate some, but a few hours later, my husband said that his stomach was hurting. We went to church, and as we were sitting there, he said that he was going to run home to take something for it. A few minutes later, I got a call – he had gotten sick and couldn't keep anything down. (There's really no nice or polite way to say that he was throwing up, is there?!?) He was sick for a few days. Poor guy, his birthday was the next day, but he was still not feeling well at all and spent the day between the couch and the bathroom.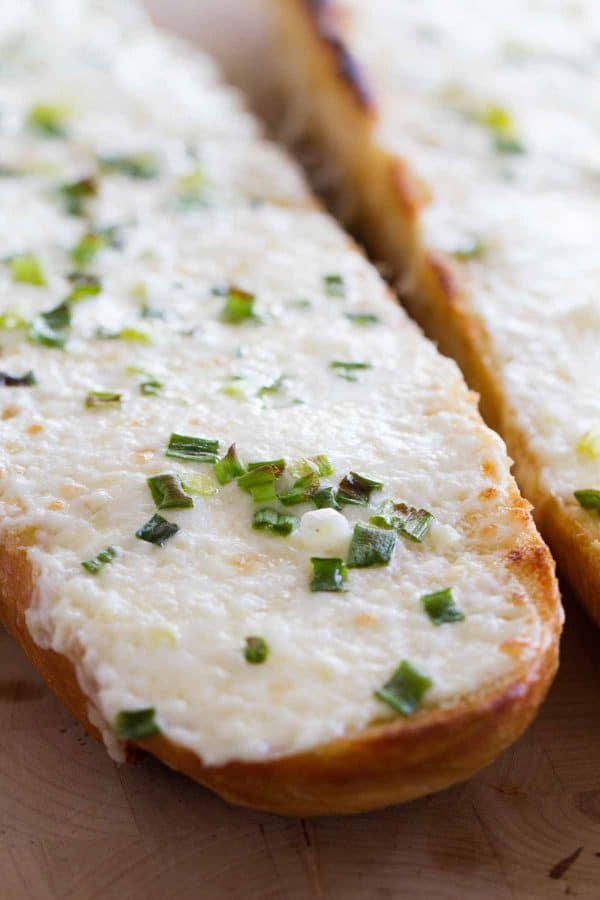 Not thinking that it could be tied to anything we ate – because I didn't get sick at all – the next weekend we cut up a new watermelon. We were supposed to go to a family dinner that night, but sure enough, after eating that watermelon, my husband started to throw up again. I still didn't feel sick at all, so now I'm wondering if he has developed an allergy to watermelon. We threw all of the watermelon away, not wanting to take any chances, and he has been ok since then. I did buy both of the watermelons at the same store, so I don't know what is wrong.
What does this have to do with this cheesy bread? Well, like I mentioned, we were supposed to go to my parent's house for a family dinner, but my husband ended up getting sick, so we decided to stay home. My mom was making lasagna, and my contribution to the meal was going to be this Cheesy Garlic Bread. Instead, my husband and I got stuck with enough of this bread to feed 12 adults and a bunch of kids. Luckily, I hadn't assembled the bread yet, so we've been able to make some here and there to eat. And I have to admit that we've had just this bread for a few dinners now!
My husband isn't a big bread eater. In fact, if we are out to eat, you can usually just stick the bread basket in front of me, because I could eat the whole thing while my husband will usually pass on it. But he loved this bread, and definitely ate his fair share of it. That says a lot! It is supposedly a knock off from the cheesy bread they serve at Black Angus. I've never been to Black Angus before, so I can't compare them, but I do know I'm a fan of this bread!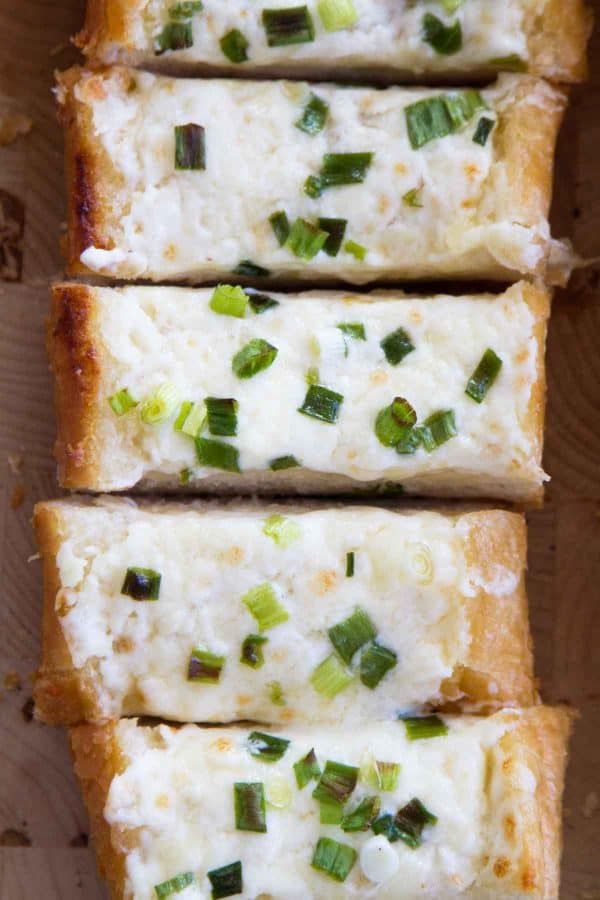 See how to make this Cheesy Garlic Bread here:
Looking for more bread recipes?
Grandma's French Bread
Ranch Cheese Bread Recipe
Green Chile Cheddar Bread
Fluffy Garlic Butter Breadsticks from The Comfort Kitchen
Garlic Herb Pull Apart Bread from Grab a Plate
Whole Wheat Oatmeal Honey Bread from Gather for Bread
Like what you see here? Make sure you are following Taste and Tell for more recipes and ideas!
Facebook | Pinterest | Instagram | Twitter | Google+ | Weekly Newsletter | Feedly | Bloglovin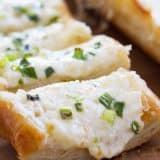 Cheesy Garlic Bread
---
Author:
Prep Time: 10 mins
Cook Time: 10 mins
Total Time: 20 minutes
Yield: 20 servings 1x
Category: Side Dish
Description
A knock off of the Cheesy Garlic Bread from Black Angus, this bread is gooey and full of garlic flavor.
---
Scale
Ingredients
1 cup shredded Mozzarella cheese
1 cup shredded Monterey Jack cheese
1 cup mayonnaise
1/2 cup butter, softened
2–3 cloves garlic, peeled and minced
1 loaf French bread (about 1 lb)
1 small bunch of green onions, sliced
---
Instructions
Preheat the oven to 350ºF.
In a large bowl, stir together both cheeses, the mayonnaise, butter and garlic.
Cut the French bread in half horizontally.  Spread the prepared mixture evenly over the cut sides of the bread.  Sprinkle the onions evenly over the top.
Place the bread, spread side up, on a baking sheet. Bake in the preheated oven for 7 minutes, then turn on the broiler and broil until the cheese is melted, about 3 minutes.
Slice to serve.
Recipe Notes:
slightly adapted from Robbie's Recipes
Nutrition information provided as an estimate only. Various brands and products can change the counts.
Nutrition
Serving Size: 1 slice
Calories: 210
Sugar: 1 g
Sodium: 318 mg
Fat: 16 g
Saturated Fat: 6 g
Unsaturated Fat: 7 g
Trans Fat: 0 g
Carbohydrates: 12 g
Fiber: 1 g
Protein: 5 g
Cholesterol: 25 mg
SHOP THIS POST:
Don't miss a thing! Follow me on Pinterest to see what I'm pinning!