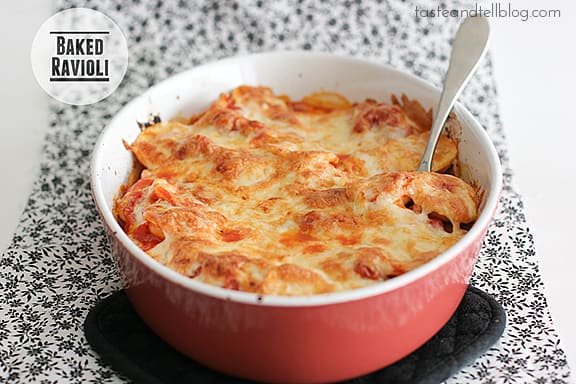 My daughter was never a good sleeper. In fact, those first few months after she was born, it was next to impossible to get her to sleep in her bed by herself. She only wanted to be held. So when Easton was born, I just prayed that he was a good baby – especially a good sleeper! Well, my prayers were answered, because he has been such a dream. I'm usually up twice during the night to feed him, but he goes right back down after he eats. But of course, every once in awhile, there are hiccups. Like Saturday night. That boy did not want to go to sleep. All day Sunday, I was a zombie. I haven't been that tired in a long time!!
Kids or no kids, we all have those days when we feel like we just don't have the energy to do anything. Especially cook dinner. In comes a recipe like this one. You get a head start by using frozen ravioli, but add in a homemade sauce and you have a wonderful, homemade dinner with very little effort. My husband absolutely loved this meal – he said it was the combination of the chunky sauce and the melted cheese on top. It was a real winner at our house!!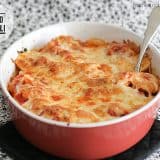 Baked Ravioli
---
Prep Time: 25 minutes
Cook Time: 25 minutes
Total Time: 50 minutes
Yield: 4 to 6 servings 1x
Description
Frozen ravioli is combined with a homemade pasta sauce and topped with cheese for an easy dinner.
---
Scale
Ingredients
2 tablespoons olive oil
1 medium onion, chopped
3 garlic cloves, minced
coarse salt and freshly ground pepper
1 1/2 teaspoons dried thyme or oregano
1 can (28-ounces) whole tomatoes
1 can (28-ounces) crushed tomatoes
2 pounds frozen ravioli
1 1/2 cups shredded mozzarella
1/2 cup grated parmesan
---
Instructions
Preheat oven to 425 degrees. Heat oil in a large saucepan over medium heat. Add onion and garlic, and season with salt and pepper; cook, stirring occasionally, until softened, about 5 minutes. Add thyme and tomatoes. Bring to a boil, reduce heat, and simmer, breaking up tomatoes with spoon, until sauce is thickened and reduced to about 5 1/2 cups, 20 to 25 minutes.
Meanwhile, cook ravioli in a large pot of boiling salted water just until they float to the top (pasta will continue to cook in oven). Drain pasta; return to pot.
Toss sauce with pasta. Pour pasta into a large gratin dish or 9-by-13-inch baking dish, and sprinkle with cheeses. Bake until golden, 20 to 25 minutes. Cool slightly before serving.
—————————-