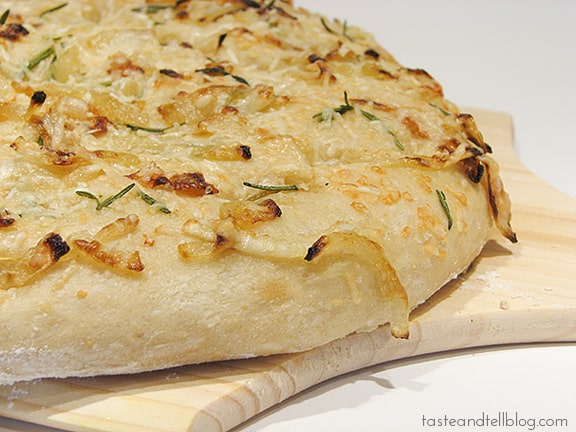 The daring bakers are at it again!! This time there are no sweets to present, but potato bread instead!! Each month, one of the Daring Bakers choses the recipe for the month, and I this time around, the recipe comes from Tanna at My Kitchen In Half Cups. I was really excited when I saw this recipe, because potato bread is one of my favorites. I always thought that if it ever gets around to my turn to chose the monthly challenge, I would have chosen potato bread!! This was especially exciting because we were given a lot of freedom on how we wanted to top and shape the bread.
This went off without a hitch for me. I chose to make a loaf as well as foccacia. To top the foccacia, I chose rosemary, caramelized onions and Parmesan cheese. I used 16 oz. of potatoes, and the minimum amount of flour – about 6 1/2 cups. The dough was still quite sticky, but I didn't want it to end up too heavy.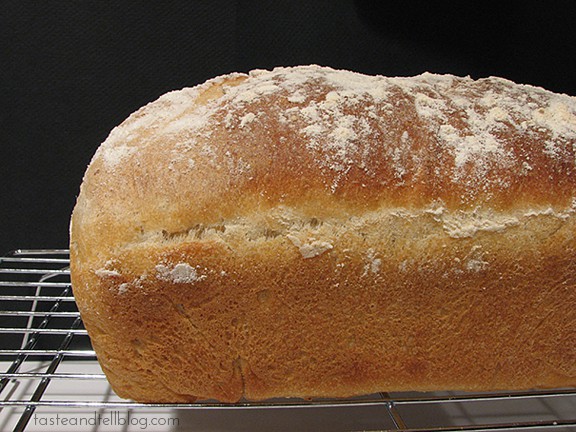 The foccacia was amazing. I rose a lot more than I intended it to, so it was quite tall, but it was delicious!! I was a little disappointed in my loaf, though. It ended up quite heavy – not light and tender like potato bread usually is for me. But I would definitely go back to this recipe for the foccacia again.
I'll keep this short since there are about a bazillion Daring Bakers now, but make sure and check out the other versions of the Tender Potato Bread at the Daring Bakers Blogroll. And for the recipe, check out Tanna's post.