Yeah, so you would think that after a week of red-filled, over indulgent treats last week, that I'd have a really healthy, veggie filled, light recipe for you today.  But I'm not going there.  At least not today!
Because it is Valentine's week, after all.
My husband loves Fettuccine Alfredo.  It's probably his favorite meal.  I know that if I want to put him in a good mood, that is what goes on the menu.  But really, we don't have it really often.  It's not very good for you, after all.  But for special occasions?  Of course!!
And since we rarely go out for Valentine's Day, (neither of us are big fans of going out to a crowded restaurant for the holiday), I often make him a big plate of Fettuccine Alfredo.  Because even though it's his favorite, it's one of my favorites, too!  And with this version, I added one of my favorite ingredients – bacon!!
Bacon, alfredo and pasta – pretty much a match made in heaven.  But I did take a few steps to lighten it up.  Just a little bit.  There's only 1/4 pound of bacon in the whole recipe, but by utilizing the bacon grease as part of the fat to make the alfredo, you get tons of bacon flavor in every bite.  And instead of using all heavy cream, chicken broth is substituted in for over half of the liquid.  It makes you feel a little less guilty, right?
This is the perfect meal for a night in!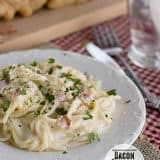 Bacon Alfredo Pasta
---
Prep Time: 15 minutes
Cook Time: 15 minutes
Total Time: 30 minutes
Yield: 4-6 servings 1x
Description
A decadent dinner idea, this Bacon Alfredo Pasta would be the perfect meal for a special night in.
---
Scale
Ingredients
1/4 cup bacon
1/4 cup butter
1/2 cup all-purpose flour
1 1/2 cups chicken broth
1 cup heavy cream
1 cup grated Parmesan cheese
16 oz spaghetti noodles
parsley, for garnish (optional)
---
Instructions
Bring a large pot of salted water to a boil. Add the pasta and cook until al dente. Reserve a mug full (about 1 cup) of the pasta water then drain pasta. Return to the pan.
Meanwhile, cut the bacon into bite-sized pieces. Cook in a pan over medium heat until crisp. Remove bacon with a slotted spoon. Add the butter to the bacon grease and cook until the butter is melted. Whisk in the flour and cook for a minute or two. Slowly whisk in the chicken broth and the cream. Cook for a few minutes until the sauce has stared to thicken up. Add in the Parmesan and stir until melted.
Pour the alfredo over the cooked pasta. Add in pasta water as needed to thin out the sauce, stirring to coat the pasta.
Serve topped with chopped parsley, if desired.
More Pasta & Alfredo Favorites: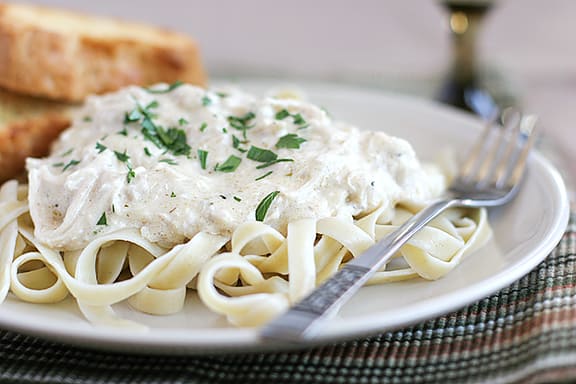 Slow Cooker Chicken Fettuccine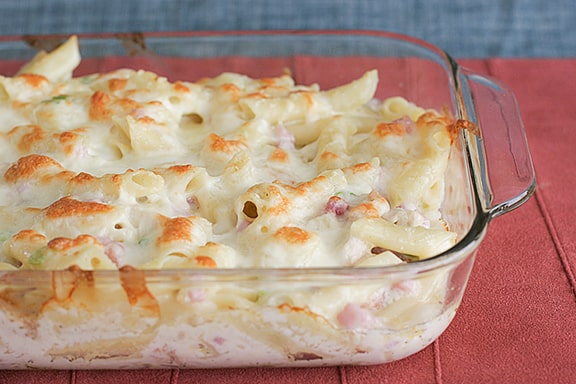 Chicken Cordon Bleu Pasta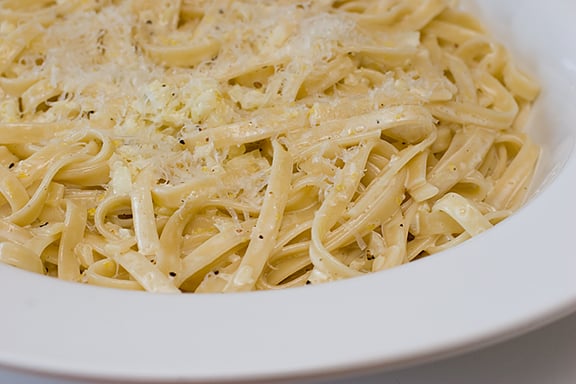 Lemon-Pepper Fettuccine
Around the Web:
Pumpkin Fettuccine Alfredo from Cookie and Kate
Skinny Chicken Broccoli Alfredo from Lovin' From the Oven
Roasted Red Pepper and Goat Cheese Alfredo from Lauren's Latest