Photo Updated January 2013

I went to the grocery store for the first time in 3 weeks yesterday.  I've sent my husband to the store for odds and ends since then, but this was my first "big" menu -planned grocery trip in about 3 weeks.  I'm so excited to get back into the kitchen, but I couldn't believe how much that cart of groceries cost me.  It seems like every week, the prices just keep going higher and higher!
I know there are all kinds of things you can do to save at the grocery store – and I need to start implementing more of them – but one thing is for sure.  Making food from scratch is going to save you money.  And you know exactly what is going into your food.  And it usually just tastes better!!
This is a great – and super easy! – bread recipe.  It's basically a no-knead bread, so if you are yeast-phobic, this would be a great place to start if you want to make your own bread.  In fact, I don't know how anyone can say that making bread is hard after trying this bread!!  It goes great with soup, (we had it with the Tomato-Basil Parmesan Soup from yesterday), but it's also great just on it's own with a little butter.
What is your favorite thing to make from scratch at home?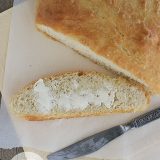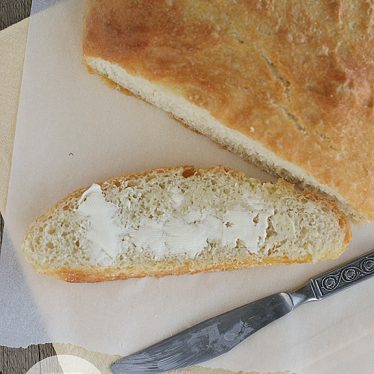 French Peasant Bread
---
Prep Time: 10 minutes
Cook Time: 25 minutes
Total Time: 2 hours 45 minutes
Yield: 2 round loaves 1x
Description
An easy no knead bread recipe.
---
Scale
Ingredients
1 tablespoon quick rising yeast
2 cups warm water
1 tablespoon sugar
1 teaspoon salt
4–5 cups all-purpose flour (you may need more or less than this)
corn meal
1/4 cup butter, melted
---
Instructions
Combine the yeast, water and sugar in a large bowl. Allow the yeast to bloom for a few minutes. Add the flour and salt and stir just until combined. Do not knead. Cover and let rise until doubled in size, about an hour. Dust a cookie sheet with corn meal. Remove from the bowl, and with floured hands, shape into 2 round loaves. Place loaves on the prepared cookie sheet. Let rise for an additional hour.
Preheat oven to 425F. Use half of the melted butter and brush on top of the loaves. Bake in the preheated oven for 10 minutes, then reduce heat to 375F and cook an additional 15 minutes. Remove from oven and brush with the remaining butter.
—————————
adapted from Recipe Shoebox