These Parmesan Breadsticks are light and tender breadsticks that are coated with a Parmesan butter. They are the best homemade breadsticks!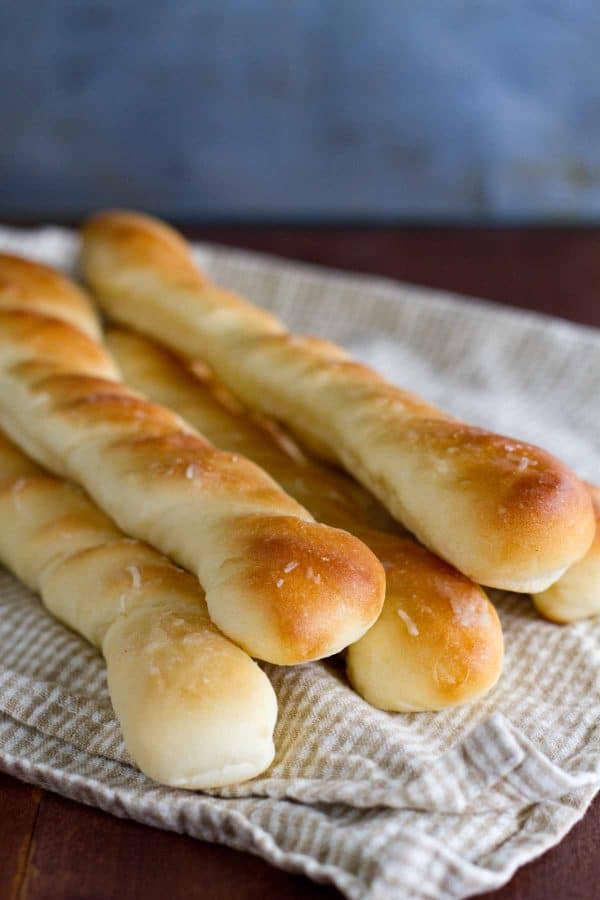 These breadsticks were originally posted with the Herb Tortellini Salad.
I wanted some nice, soft, tender breadsticks to go along with a salad. I found this recipe on allrecipes.com and decided to try it out. It was very easy, even without a mixer, but I did have to add at least an extra cup of flour. I don't know what I was thinking when I cut them, though. The recipe says that it makes 36 breadsticks, but I only ended up with 20-something. They were very LARGE breadsticks!! It would have been better if I would have cut them smaller, though, because the bottoms on some of them were still a bit underdone. But I would have to say, not a bad job for my first time!
These Parmesan Breadsticks were just what I was looking for – very light and tender. The only problem with this recipe is that it is not easy to cut down because it only requires one egg for the whole recipe. This is a lot of breadsticks for 2 people!!
This recipe would also be easy to change to what you are making, as well. You could add different herbs to the parmesan butter (I think an Italian blend would be so good!)
For this recipe, I used freshly grated Parmesan cheese. I don't ever buy the parmesan in a can, but I'm guessing this is one instance where that would work well.
I loved these alongside the Herb Tortellini Salad, but I also think they would be great with a big plate of pasta, like this Baked Ravioli. Or a big bowl of this Chicken and Gnocchi Soup. Actually, I think these breadsticks would go along with pretty much anything!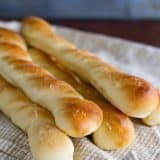 Parmesan Breadsticks
---
Author:
Prep Time: 25 minutes
Cook Time: 10 minutes
Total Time: 1 hour 40 minutes
Yield: 36 breadsticks 1x
Category: Bread
Method: Bake
Cuisine: Italian
Description
These Parmesan Breadsticks are light and tender breadsticks that are coated with a Parmesan butter. They are the best homemade breadsticks!
---
Scale
Ingredients
2 (.25 ounce) packages active dry yeast
1/2 cup sugar, divided
2 cups warm water (110 degrees to 115 degrees), divided
3 tablespoons vegetable oil
1 egg
1 teaspoon salt
5 1/2 cups all-purpose flour
1/2 cup butter, softened
2 tablespoons grated Parmesan cheese
1/4 teaspoon garlic powder
---
Instructions
In a large bowl, or the bowl of a stand mixer, dissolve the yeast and 1 tablespoon of the sugar in 1 cup of the warm water. Add in the oil, egg, salt and 2 cups of the flour, the remaining sugar and remaining water. Beat the mixture until smooth. Continue adding flour until it is soft and tacky but not sticky. If using a mixer, change to the dough hook and knead until it is smooth and elastic. If not using a mixer, turn out onto a floured surface and knead until smooth and elastic.
Place the dough in a greased bowl, turn over to coat, cover, and let sit until doubled, about 40 minutes (depending on the temperature of the room).
Punch the dough down. On a floured surface, cut the dough in half. Working with one piece at a time, roll the dough out, then use a pizza cutter to cut the dough into 18 pieces. Twist each breadstick and place on a greased baking sheet, 2 inches apart. Continue with the remaining dough. Cover the dough and let rise until doubled, about 25 minutes.
Preheat the oven to 400F. Bake for 10-12 minutes, or until golden brown.
Meanwhile, in a small bowl, cream the butter. Add in the Parmesan cheese and garlic powder. Brush the Parmesan butter over the breadsticks as soon as they come out of the oven.